Abstract
In Switzerland, as in many other European states, there is an increasing emphasis in public policy on promoting later retirement from the labour market. But this accelerating drive in Swiss policy-making to extend occupational activity does not mean that every worker is currently likely to retire late, nor does it imply that all those who do retire late do so voluntarily. This article uses a life-course approach, first to study the determinants of late retirement, and secondly to analyse whether the decision to postpone retirement is made voluntarily or involuntarily. Both objectives are addressed on the basis of data from the Swiss survey Vivre/Leben/Vivere. The results of logistic regression modelling indicate that, whereas self-employed and more highly educated individuals are more likely to retire late, people with access to private pension funds and workers who have benefited from periods of economic growth have a lower tendency to retire late. Regarding voluntariness, those who are more likely to opt for voluntary late retirement tend to be Swiss citizens, more highly educated, and also benefited from periods of economic expansion, while the self-employed, men and widowed individuals leaving the labour market late tend to do so involuntarily. In conclusion, the article discusses the absence of a social inequality debate in the design of active ageing policies.
Access options
Buy single article
Instant access to the full article PDF.
USD 39.95
Price excludes VAT (USA)
Tax calculation will be finalised during checkout.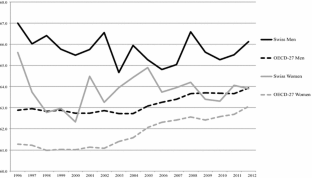 Notes
An ETH educational level corresponds to a degree from one of the Swiss Federal Institutes of Technology.
References
Ackers L, Dwyer P (2004) Fixed laws, fluid lives: the citizenship status of postretirement migrants in the European Union. Ageing Soc 24(3):451–475

Balthasar A, Bieri O, Grau P, Künzi K, Guggisberg J (2003) Le passage à la retraite: trajectoires, déterminants et consequences. Office fédéral des assurances sociales, Berne

Beehr TA, Glazer S, Nielson NL, Farmer SJ (2000) Work and nonwork predictors of employees' retirement ages. J Vocat Behav 57(2):206–225

Blau DM, Gilleskie DB (2001) The effect of health on employment transitions of older men. In: Polachek SW (ed) Worker wellbeing in a changing labor market. JAI Press, London, pp 35–65

Blossfeld H-P, Buchholz S, Hofäcker D (2006) Globalization, uncertainty and late careers in society. Routledge, London/New York

Bütler M, Huguenin O, Teppa F (2004) What triggers early retirement? Results from Swiss pension funds. Working Paper of the Centre for Economic Policy Research 4394

Cattacin S (2006) Retard, rattrapage, normalisation. L'Etat social suisse face aux défis de transformation de la sécurité sociale. Studien und Quellen 31:49–78

Chauvel L (1998) Le destin des générations, structure sociale et cohortes en France au XX siècle. Presses universitaires de France, Paris

De Luca G, Peracchi F (2005) Survey participation in the first wave of SHARE. In: Börsch-Supan A, Jürges H (eds) The survey of health, ageing, and retirement in Europe: methodology. Mannheim Research Institute for the Economics of Ageing, Mannheim, pp 88–101

Debrand T, Sirven N (2009) Les facteurs explicatifs du départ à la retraite en Europe. Retraite et Société 57(1):35–53

Dobson AJ (1990) An introduction to generalized linear models. Chapman and Hall, London

Dorn D, Sousa-Poza A (2004) The determinants of early retirement in Switzerland. Working Paper of the Department of Economy of the University of Saint Gallen 98

Dorn D, Sousa-Poza A (2010) Voluntary' and 'involuntary' early retirement: an international analysis. Appl Econ 42(4):427–438

Ebbinghaus B (2006) Reforming early retirement in Europe. Oxford University Press, Oxford

Esping-Andersen G (2011) Pensions at a glance 2011: retirement-income systems in OECD and G20 countries. Organisation for Economic Co-operation and Development, Paris

Finch N (2014) Why are woman more likely than men to extend paid work? The impact of work–family life history. Eur J Ageing 11(1):31–39

Foster L, Walker A (2013) Gender and active ageing in Europe. Eur J Ageing 10(1):3–10

Gaillard G, Bilger M, Candolfi P, Chaze JP, Flückiger Y (2003) Analyse des déterminants individuels et institutionnels du départ anticipé à la retraite. Office fédéral des assurances sociales, Berne

Guillemard AM, Rein M (1993) Comparative patterns of retirement: recent trends in developed societies. Annu Rev Sociol 19:469–503

Hofäcker D, Hess M, König S (2016) Delaying retirement: Progress and challenges of active ageing in Europe, the United States and Japan. Palgrave Macmillan

Kohli M, Rein M, Guillemard AM, Van Gunsteren H (1991) Time for retirement: Comparative studies of early exit from the labor force. Cambridge University Press, Cambridge

Kuehni M, Rosende M, Schoeni C (2013) Maintien en emploi et inégalités de sexe. Lien social et Politiques 69:197–213

Le Feuvre N, Kuehni M, Rosende M, Schoeni C (2014) Le genre du "vieillissement actif": du principe du traitement équitable à la multiplication des injonctions contradictoires. Swiss J Sociol 40(2):307–324

Levy R, Joye D, Guye O, Kaufmann V (1997) Tous égaux?. De la stratification aux représentations, Seismo, Zürich

Levy R, Ghisletta P, Le Goff JM, Spini D, Widmer E (2005) Towards an interdisciplinary perspective on the life course. Adv Life Course Res 10:1–411

Lumley T (2013). Survey: analysis of complex survey samples. R package version 3.28-2

Lund T, Villadsen E (2005) Who retires early and why? Determinants of early retirement pension among Danish employees 57–62 years. Eur J Ageing 2(4):275–280

Madero-Cabib I (2015) The life course determinants of vulnerability in late careers. Longitud Life Course Stud 6(1):88–106

Madero-Cabib I (2016) The gendered and liberal retirement regime in Switzerland. In Hofäcker D. Hess M. König S. (eds) Delaying retirement: progress and challenges of active ageing in Europe, the United States and Japan. Palgrave Macmillan

Madero-Cabib I, Gauthier JA, Le Goff JM (2015) The influence of interlocked employment-family trajectories on retirement timing. Work, Aging and Retirement

Marshall VW, Clarke P, Ballantyne PJ (2001) Instability in the retirement transition: effects on health and well being in a Canadian study. Res Aging 23(4):379–409

OECD (2012) Statistics on average effective age and official age of retirement in OECD countries. http://www.oecd.org/els/emp/ageingandemploymentpolicies.htm. Accessed 25 July 2015

OFS (2011) Indicateurs de la prévoyance vieillesse, résultats des indicateurs clés. Département fédéral de l'intérieur, Berne

OFS (2012a) Newsletter No 1 Information Demographiques. Département fédéral de l'intérieur, Berne

OFS (2012b) Newsletter No 2 information demographiques. Département fédéral de l'intérieur, Berne

OFS (2012c) Cotisations à l'AVS, à l'AI et aux APG. Centre d'information AVS/AI, Berne

OFS (2012d) Cotisations des personnes sans activité lucrative à l'AVS, à l'AI et aux APG. Centre d'information AVS/AI, Berne

OFS (2012e) La sécurité sociale en Suisse. Centre d'information AVS/AI, Berne

Pan W (2001) Akaike's information criterion in generalized estimating equations. Biometrics 57(1):120–125

Radl J (2013) Labour market exit and social stratification in Western Europe: the effects of social class and gender on the timing of retirement. Eur Sociol Rev 29(3):654–668

R Core Team (2012) R: a language and environment for statistical computing. R Foundation for Statistical Computing, Vienna, Austria. www.R-project.org. Accessed 25 July 2015

Rosende M, Schoeni C (2012) Seconde partie de carrière, régime de retraite et inégalités de sexe, le cas suisse. Revue française des affaires sociales 2–3:130–147

Siegrist J, Wahrendorf M, von dem Knesebeck O, Jürges H, Börsch-Supan A (2007) Quality of work, well-being, and intended early retirement of older employees—baseline results from the SHARE Study. Eur J Public Health 17(1):62–68

Stähli M, Joye D (2013) New and Emerging Methods: non-respondent surveys: pertinence and feasibility. Surv Stat 68:16–22
Additional information
Responsible editor: D.J.H. Deeg.
About this article
Cite this article
Madero-Cabib, I., Kaeser, L. How voluntary is the active ageing life? A life-course study on the determinants of extending careers. Eur J Ageing 13, 25–37 (2016). https://doi.org/10.1007/s10433-015-0355-y
Published:

Issue Date:

DOI: https://doi.org/10.1007/s10433-015-0355-y
Keywords
Late retirement

Voluntariness of retirement

Active ageing policies

Life-course determinants