Abstract
This study examined different components of personal social networks—structure, interaction, and quality—and the extent to which each is related to mental health among a 65+ sample (n = 26,784) taken from the fourth wave of the Survey of Health, Ageing, and Retirement in Europe. The first aim of the study was to determine which network components had the strongest associations with the number of depressive symptoms, measured on the EURO-D scale. Secondly, the study considered if and how age impacted the associations between social network and depression, using interaction terms that paired age category (age 65–79; age 80+) with the score on each network component. Hierarchical OLS regressions revealed that social network quality and network structure were both negatively related to the number of depressive symptoms. The association between network size (structure) and depression was even greater among those 80+. Age differences were also found for network interaction. More frequent contact with the network was related to a greater extent of depressive symptoms, but only among respondents aged 80 and older. Closer geographic proximity was related to having fewer depressive symptoms, but only among respondents aged 65–79. The findings imply that the association between meaningful personal relationships and depression in late life is nuanced by both network characteristics and by age.
This is a preview of subscription content, log in to check access.
Access options
Buy single article
Instant access to the full article PDF.
US$ 39.95
Price includes VAT for USA
Subscribe to journal
Immediate online access to all issues from 2019. Subscription will auto renew annually.
US$ 99
This is the net price. Taxes to be calculated in checkout.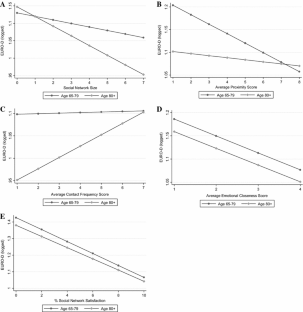 References
Antonucci TC et al (2002) Differences between men and women in social, relations, resource deficits, and depressive symptomatology during later life in four nations. J Soc Issues 58:767–783. doi:10.1111/1540-4560.00289

Ayalon L, Heinik J, Litwin H (2010) Population group differences in cognitive functioning in a national sample of Israelis 50 years and older. Res Aging 32:304–322. doi:10.1177/0164027509356875

Barger SD, Messerli-Burgy N, Barth J (2014) Social relationship correlates of major depressive disorder and depressive symptoms in Switzerland: nationally representative cross sectional study. BMC Public Health 14:273. doi:10.1186/1471-2458-14-273

Beekman ATF et al (1998) Anxiety disorders in later life: a report from the Longitudinal Aging Study Amsterdam. Int J Geriatr Psychiatry 13:717–726. doi:10.1002/(sici)1099-1166(1998100)13:10<717:aid-gps857>3.0.co;2-m

Berg AI, Hassing LB, McClearn GE, Johansson B (2006) What matters for life satisfaction in the oldest-old? Aging Ment Health 10:257–264. doi:10.1080/13607860500409435

Burt RS, Guilarte MG (1986) A note on scaling the General Social Survey network item response categories. Soc Netw 8:387–396. doi:10.1016/0378-8733(86)90004-3

Connidis IA (2010) Family ties and aging, 2nd edn. Pine Forge Press (SAGE Publications), Thousand Oaks

Cooper C et al (2011) Happiness across age groups: results from the 2007 National Psychiatric Morbidity Survey. Int J Geriatr Psychiatry 26:608–614. doi:10.1002/gps.2570

Cornwell B, Laumann EO (2015) The health benefits of network growth: new evidence from a national survey of older adults. Soc Sci Med 125:94–106

Cornwell EY, Waite LJ (2009) Measuring social isolation among older adults using multiple indicators from the NSHAP Study. J Gerontol B 64:I38–I46. doi:10.1093/geronb/gbp037

Cornwell B, Schumm LP, Laumann EO, Graber J (2009) Social networks in the NSHAP study: rationale, measurement, and preliminary findings. J Gerontol B 64:I47–I55. doi:10.1093/geronb/gbp042

Figueiras A, Domenech-Massons JM, Cadarso C (1998) Regression models: calculating the confidence interval of effects in the presence of interactions. Stat Med 17:2099–2105

Fingerman KL (2004) The consequential stranger: Peripheral relationships across the life span. In: Lang FR, Fingerman KL (eds) Growing together: personal relationships across the life span. Cambridge University Press, New York

Fiori KL, Jager J (2012) The impact of social support networks on mental and physical health in the transition to older adulthood: a longitudinal, pattern-centered approach. Int J Behav Dev 36:117–129. doi:10.1177/0165025411424089

Fiori KL, Windsor TD, Pearson EL, Crisp DA (2013) Can positive social exchanges buffer the detrimental effects of negative social exchanges? Age and gender differences. Gerontology 59:40–52. doi:10.1159/000339747

Fuller-Iglesias H, Sellars B, Antonucci TC (2008) Resilience in old age: social relations as a protective factor. Res Hum Dev 5:181–193. doi:10.1080/15427600802274043

Houtjes W, van Meijel B, van de Ven PM, Deeg D, van Tilburg T, Beekman A (2014) The impact of an unfavorable depression course on network size and loneliness in older people: a longitudinal study in the community. Int J Geriatr Psychiatry 29:1010–1017

Kawachi I, Berkman LF (2001) Social ties and mental health. J Urban Health 78:458–467. doi:10.1093/jurban/78.3.458

Li LW, Liang J (2007) Social exchanges and subjective well-being among older Chinese: does age make a difference? Psychol Aging 22:386–391. doi:10.1037/0882-7974.22.2.386

Litwin H (ed) (1996) The social networks of older people: a cross-national analysis. Praeger Publishers, Westport

Litwin H (2007) What really matters in the social network-mortality association? A multivariate examination among older Jewish-Israelis. Eur J Ageing 4:71–82. doi:10.1007/s10433-007-0048-2

Litwin H (2010) Social networks and well-being: a comparison of older people in Mediterranean and non-Mediterranean countries. J Gerontol B 65:599–608. doi:10.1093/geronb/gbp104

Litwin H (2011) The association between social network relationships and depressive symptoms among older Americans: what matters most? Int Psychogeriatr 23:930–940. doi:10.1017/s1041610211000251

Litwin H, Shiovitz-Ezra S (2011) The association of background and network type among Older Americans: is "who you are" related to "who you are with"? Res Aging 33:735–759. doi:10.1177/0164027511409441

Litwin H, Stoeckel KJ (2013) Social networks and subjective wellbeing among older Europeans: does age make a difference? Ageing Soc 33:1263–1281. doi:10.1017/s0144686x12000645

Litwin H, Stoeckel KJ, Roll A, Shiovitz-Ezra S, Kotte M (2013) Social network measurement in SHARE wave 4. In: Malter F, Börsch-Supan A (eds) SHARE wave 4: innovations and methodology. MEA, Max-Planck-Institute for Social Law and Social Policy, Munich, pp 18–37

Litwin H, Stoeckel KJ, Roll A (2014) Relationship status and depressive symptoms among older co-resident caregivers. Aging Ment Health 18:225–231. doi:10.1080/13607863.2013.837148

Menec VH, Chipperfield JG (1997) The interactive effect of perceived control and functional status on health and mortality among young–old and old–old adults. J Gerontol B 52:P118–P126

Park S, Smith J, Dunkle RE (2014) Social network types and well-being among South Korean older adults. Aging Ment Health 18:72–80. doi:10.1080/13607863.2013.801064

Pescosolido BA (2011) Social connectedness in health, morbidity and mortality, and health care: the contributions, limits and further potential of Health and Retirement Study. Forum Health Econ Policy 14(3):1–16

Phongsavan P et al (2013) Age, gender, social contacts, and psychological distress: findings from the 45 and up study. J Aging Health 25:921–943. doi:10.1177/0898264313497510

Prince MJ et al (1999) Development of the EURO-D scale: a European Union initiative to compare symptoms of depression in 14 European countries. Br J Psychiatry 174:330–338. doi:10.1192/bjp.174.4.330

Sonnenberg CM, Deeg DJH, van Tilburg TG, Vink D, Stek ML, Beekman ATF (2013) Gender differences in the relation between depression and social support in later life. Int Psychogeriatr 25:61–70. doi:10.1017/s1041610212001202

Stevens NL, van Tilburg TG (2011) Cohort differences in having and retaining friends in personal networks in later life. J Soc Pers Relat 28:24–43. doi:10.1177/0265407510386191

Tabachnick BG, Fidell LS (2013) Using multivariate statistics. Harper Collins, New York

Thompson A, Fan M-Y, Unuetzer J, Katon W (2008) One extra month of depression: the effects of caregiving on depression outcomes in the IMPACT trial. Int J Geriatr Psychiatry 23:511–516. doi:10.1002/gps.1929

van Tilburg TG (1994) Social network size and support. In: Deeg DJH, Westendorp-de Seriere M (eds) Autonomy and well-being in the aging population: report from the Longitudinal Aging Study Amsterdam 1992–1993. VU Uitgeverij, Amsterdam, pp 79–88

van Tilburg T (1998) Losing and gaining in old age: changes in personal network size and social support in a four-year longitudinal study. J Gerontol B 53:S313–S323
Acknowledgments
This paper uses data from SHARE wave 4 release 1.1.1, as of March 28, 2013 (doi:10.6103/SHARE.w4.111). The SHARE data collection has been primarily funded by the European Commission through the 5th Framework Programme (project QLK6-CT-2001-00360 in the thematic programme Quality of Life), through the 6th Framework Programme (projects SHARE-I3, RII-CT-2006-062193, COMPARE, CIT5-CT-2005-028857, and SHARELIFE, CIT4-CT-2006-028812), and through the 7th Framework Programme (SHARE-PREP, No. 211909, SHARE-LEAP, No. 227822 and SHARE M4, No. 261982). Additional funding from the U.S. National Institute on Aging (U01 AG09740-13S2, P01 AG005842, P01 AG08291, P30 AG12815, R21 AG025169, Y1-AG-4553-01, IAG BSR06-11 and OGHA 04-064) and the German Ministry of Education and Research as well as from various national sources is gratefully acknowledged (see www.share-project.org for a full list of funding institutions).
Additional information
Responsible editor: D.J.H. Deeg.
About this article
Cite this article
Litwin, H., Stoeckel, K.J. & Schwartz, E. Social networks and mental health among older Europeans: are there age effects?. Eur J Ageing 12, 299–309 (2015). https://doi.org/10.1007/s10433-015-0347-y
Keywords
SHARE

Depression

Network size

Network satisfaction

Proximity