Abstract
The financial deficits of many social security systems caused by ageing populations and stagnating economies are forcing workers to retire later from the labour market. An extended working life, combined with rapid technological progress in many sectors, is likely making older workers' skills obtained in school obsolete. In this context, lifelong investment in training is widely recognised among the international research and policy community as a key element to increase or at least limit the decline in productivity of older workers. This paper investigates the relationship between training undertaken by European older workers and their wages, relying on the Survey of Health, Ageing and Retirement in Europe. There is no evidence of training wage premium for older workers residing in many European countries including Denmark, Sweden, Belgium, the Netherlands, and Switzerland. Very high premiums are instead found for Austria, Germany, Greece and Italy. It is, however, likely that these high premiums are overestimated due to training endogeneity and sample selection bias.
Access options
Buy single article
Instant access to the full article PDF.
US$ 39.95
Tax calculation will be finalised during checkout.
Subscribe to journal
Immediate online access to all issues from 2019. Subscription will auto renew annually.
US$ 79
Tax calculation will be finalised during checkout.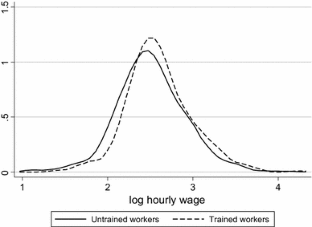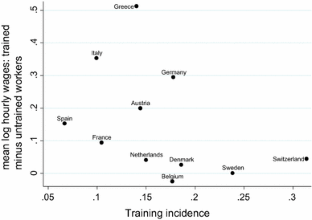 References
Acemoglu D, Pischke S (1999) Beyond becker: training in imperfect labor markets. Econ J 119:F112–F142

Bassanini A (2006) Training, wages and employment security: an empirical analysis on European data. Appl Econ Lett 13(8):523–527

Bassanini A, Booth A, Brunello G, De Paola M, Leuven E (2007) Workplace training in Europe. In: Brunello G, Garibaldi P, Wasmer E (eds) Education and training in Europe. Oxford University Press, Oxford, pp 8–13

Becker G (1964) Human capital: A theoretical and empirical analysis, with special reference to education. The University of Chicago Press, Chicago

Becker G (1993) Human capital: A theoretical and empirical analysis, with special reference to education, 3rd edn. The University of Chicago Press, Chicago

Becketti S, Gould W, Lillard L, Welch F (1988) The panel study of income dynamics after fourteen years: an evaluation. J Labor Econ 6(4):472–492

Blackburn MK, Neumark D (1992) Unobserved ability, efficiency wages, and interindustry wage differentials. Q J Econ 107(4):1421–1436

Booth A (1991) Job-related formal training: who receives it and what is it worth? Oxford B Econ Stat 53:281–294

Booth A (1993) Private sector training and graduate earnings. Rev Econ Stat 75(1):164–170

Budria S, Pereira PT (2007) The wage effects of training in Portugal: differences across skill groups, genders, sectors and training types. Appl Econ 39(6):787–807

Case A, Paxson C (2008) Stature and status: height, ability, and labor market outcomes. J Polit Econ 116:499–532

Christelis D, Jappelli T, Padula M (2010) Cognitive abilities and portfolio choice. Eur Econ Rev 54:18–38

Cunha F, Heckman J (2007) The technology of Skill Formation. Am Econ Rev 97:31–47

Dearden L, Reed H, Van Reenen J (2006) The Impact of training on productivity and wages: evidence from British panel data. Oxford B Econ Stat 68(4):397–421

Dostie B, Léger PT (2011) Firm-sponsored classroom training: is it worth it for older workers? CIRPEE Working Paper 11–36

Flores M, Kalwij A (2013) What do wages add to the health-employment nexus? Evidence from older European workers. Documentos de trabajo—Analise Economica 0054, IDEGA—Instituto Universitario de Estudios e Desenvolvemento de Galicia

Flores M, García-Gómez P, Kalwij A (2013b) Early life circumstances and life-cycle labor market outcomes. In: Flores M essays on early life circumstances, health and labor market outcomes in Europe. Dissertation, chapter 4

Fouarge D, Schils T (2009) The effect of early retirement incentives on the training participation of older workers. Labour 23:85–109

Fougère D, Goux D, Maurin E (2001) Formation continue et carrières salariales. une évaluation sur données individuelles. Annales d'Économie et de Statistique 62:49–69

Gerfin M (2004) Work-Related Training and Wages: an empirical analysis for male workers in Switzerland. IZA DP 1078

Goux D, Maurin E (2000) Returns to firm-provided training: evidence from French worker-firm matched data. Labour Econ 7(1):1–19

Gruber J, Wise DA (2004) Introduction and summary. In: Gruber J, Wise DA (eds) Social security programs and retirement around the world: Micro-estimation. University of Chicago Press, Chicago, pp 1–40

Havari E, Mazzonna F (2014) Can we trust older people's statements on their childhood circumstances? Evidence from SHARELIFE. Eur J Pop (forthcoming)

Lang J (2012) The aims of lifelong learning: Age-related effects of training on wages and job security. SOEPpapers on multidisciplinary panel data research, DIW Berlin, 478/2012

Leist AK, Glymour MM, Mackenbach JP, van Lenthe FJ, Avendano M (2013) Time away from work predicts later cognitive function: differences by activity during leave. Ann Epidemiol 23(8):455–462

Mazzonna F, Peracchi F (2012) Ageing, cognitive abilities and retirement. Eur Econ Rev 56(4):691–710

Mühler G, Beckmann M, Schauenberg B (2007) The returns to continuous training in Germany: new evidence from propensity score matching estimators. RMS 1:209–235

OECD (1999) Training of adult workers in OECD countries: Measurement and analysis. Employment Outlook, OECD, Paris, chapter 3

OECD (2004) Improving skills for more and better jobs: does training make a difference? Employment outlook, OECD, Paris, Chapter 4

OECD (2006) Live Longer. Work longer, Paris

Pischke JS (2001) Continuous training in Germany. J Pop Econ 14:523–548

Schøne P (2004) Firm-financed training: firm specific or general skills? Empir Econ 29:885–900

Warr P, Fay D (2001) Short report: age and personal initiative at work. Eur J Work Organ Psy 10(3):343–353

Wooldridge JM (2002) Econometrics Analysis of Cross Section and Panel Data. The MIT Press, Cambridge, Massachusetts
Acknowledgments
This research has been supported by the European Commission, Seventh Framework Programme, 'Employment 2025: How will multiple transitions affect the European labour market' (NEUJOBS, grant agreement no: 266833). The authors would like to thank the Guest Editor M. Myck, the Editor H. Litwin, two anonymous Reviewers, R. Alessie, A. Brugiavini, M. Flores, E. Fontaínha, E. Havari, K. Henkens, R. Mendes, E. Meschi, G. Pasini, A. Ruzik, I. Styczyńska, A. Tisch, and participants of the Third International Workshop on the Socio-Economics of Ageing (IWSEA), the Health, Education and Retirement over the Life Cycle (HERO13) conference and the Amsterdam Institute for Advanced Labour Studies seminar (AIAS-UvA) for their helpful comments. Michele Belloni is also affiliated with CERP-Collegio Carlo Alberto. The usual disclaimers apply.
This paper uses data from SHARE Wave 1 and 2 release 2.5.0, as of May 24th 2011 and SHARELIFE release 1, as of November 24th 2010. The SHARE data collection has been primarily funded by the European Commission through the 5th Framework Programme (project QLK6-CT-2001-00360 in the thematic programme Quality of Life), through the 6th Framework Programme (projects SHARE-I3, RII-CT-2006-062193, COMPARE, CIT5- CT-2005-028857, and SHARELIFE, CIT4-CT-2006-028812) and through the 7th Framework Programme (SHARE-PREP, N° 211909, SHARE-LEAP, N° 227822 and SHARE M4, N° 261982). Additional funding from the U.S. National Institute on Aging (U01 AG09740-13S2, P01 AG005842, P01 AG08291, P30 AG12815, R21 AG025169, Y1-AG-4553-01, IAG BSR06-11 and OGHA 04-064) and the German Ministry of Education and Research as well as from various national sources is gratefully acknowledged (see www.share-project.org for a full list of funding institutions).
Additional information
Responsible Editor: Michal Myck (guest editor) and Howard Litwin.
About this article
Cite this article
Belloni, M., Villosio, C. Training and wages of older workers in Europe. Eur J Ageing 12, 7–16 (2015). https://doi.org/10.1007/s10433-014-0327-7
Keywords
Older workers

Training

Wages

Cognitive abilities

Sample selection bias

Attrition
JEL Classification