Abstract
Research investigating associations between social class over the life-course and later health relies primarily on secondary analysis of existing data, limiting the number and timing of available measurements. This paper aims to examine the impact of these constraints on the measurement of life-course occupational social class and subsequent explanatory analyses predicting health in later life. Participants of the UK Boyd Orr Lifegrid Subsample (n = 294), aged an average of 68 years, provided retrospective information on their life-course occupational social class, coded at 6-month intervals. This was used to simulate two types of life-course data: (1) Theoretical: Life stage (four data-points at key life stages); (2) A-theoretical: Panel data (data-points at regular intervals of varying length). The percentage of life time in disadvantage and the predictive value for limiting longstanding illness (LLI) in later life using the full life-course and simulated data was compared. The presence of 'critical periods' of exposure and the role of trajectories of social class were also investigated. Compared with the full data, the life stage approach estimated a higher percentage of life time in disadvantage and emphasised 'transient' periods in disadvantage (e.g. labour market entry). With varying intervals using the a-theoretical approach, there was no clear pattern. Percentage of life time in manual class was a significant predictor of LLI only when using the four-point life stage approach. Occupational social class at labour market entry was a predictor of LLI in later life, suggesting a 'critical period'. Comparison of trajectories of social class further emphasised the importance of the sequence and timing of exposures to disadvantage in determining later health. We conclude that producing a valid summary of life-course occupational social class does not necessarily require a large number of data-points, particularly if guided by relevant theory, and that such measures can reveal important associations with later health.
This is a preview of subscription content, log in to check access.
Access options
Buy single article
Instant access to the full article PDF.
US$ 39.95
Price includes VAT for USA
Subscribe to journal
Immediate online access to all issues from 2019. Subscription will auto renew annually.
US$ 99
This is the net price. Taxes to be calculated in checkout.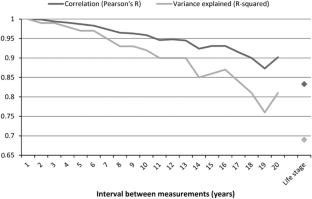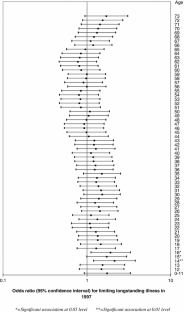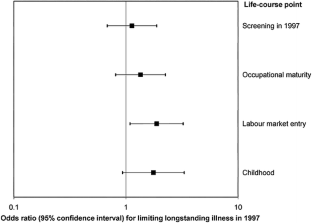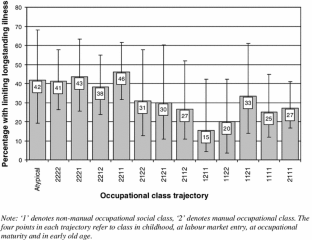 References
Adams J, White M, Pearce MS, Parker L (2004) Life course measures of socioeconomic position and self reported health at age 50: prospective cohort study. J Epidemiol Community Health 58(12):1028–1029

Arber S, Ginn J (1993) Gender and inequalities in health in later life. Soc Sci Med 36(1):33–46

Banks J, Nazroo J, Steptoe A (2012) The dynamics of ageing: evidence from the English Longitudinal Study of Ageing 2002–2010 (wave5). Institute for Fiscal Studies, London

Barker DJP, Winter PD, Osmond C, Margetts B, Simmonds SJ (1989) Weight in infancy and death from ischemic heart-disease. Lancet 2(8663):577–580

Bartley M, Plewis I (2002) Accumulated labour market disadvantage and limiting long-term illness: data from the 1971–1991 Office for National Statistics' Longitudinal Study. Int J Epidemiol 31(2):336–341

Bartley M, Plewis I (2007) Increasing social mobility: an effective policy to reduce health inequalities. J R Stat Soc Ser A 170(2):469–481

Batty GD, Lawlor DA, Macintyre S, Clark H, Leon DA (2005) Accuracy of adults' recall of childhood social class: findings from the Aberdeen children of the 1950s study. J Epidemiol Community Health 59(10):898–903

Ben-Shlomo Y, Kuh D (2002) A life course approach to chronic disease epidemiology: conceptual models, empirical challenges and interdisciplinary perspective. Int J Epidemiol 31(2):285–293

Berney LR, Blane DB (1997) Collecting retrospective data: accuracy of recall after 50 years judged against historical records. Soc Sci Med 45(10):1519–1525

Berney L, Blane D, Smith GD, Gunnell DJ, Holland P, Montgomery SM (2000) Socioeconomic measures in early old age as indicators of previous lifetime exposure to environmental health hazards. Sociol Health Illn 22(4):415–430

Berrington A (2001) Transition to adulthood in Britain. In: Corijn M, Klijzing E (eds) Transitions to adulthood in Europe. Kluwer, Dordrecht

Blane D (1999) The life course, the social gradient, and health. In: Wilkinson RG, Marmot M (eds) Social determinants of health. OUP, Oxford

Blane D (2005) Cohort profile: the Boyd Orr lifegrid sub-sample—medical sociology study of life course influences on early old age. Int J Epidemiol 34(4):750–754

Blane D, Power C, Bartley M (1996) Illness behaviour and the measurement of class differentials in morbidity. J R Stat Soc Ser A 159:77–92

Blane D, Berney L, Smith GD, Gunnell DJ, Holland P (1999) Reconstructing the life course: health during early old age in a follow-up study based on the Boyd Orr cohort. Public Health 113(3):117–124

Borsch-Supan A, Hank K, Jorges H (2005) A new comprehensive and international view on ageing: introducing the Survey of Health, Ageing and Retirement in Europe. Eur J Ageing 2(4):245–253

Bowling A (2004) Socioeconomic differentials in mortality among older people. J Epidemiol Community Health 58(6):438–440

Brewer RI (1986) A note on the changing status of the Registrar General's classification of occupations. Br J Sociol 37(1):131–141

Casey VA, Dwyer JT, Coleman KA, Krall EA, Gardner J, Valadian I (1991) Accuracy of recall by middle-aged participants in a longitudinal study of their body size and indices of maturation earlier in life. Ann Hum Biol 18(2):155–166

Chittleborough CR, Baum FE, Taylor A, Hiller JE (2008) Missing data on retrospective recall of early-life socio-economic position in surveillance systems: an additional disadvantage? Public Health 122(11):1152–1166

Corijn M, Klijzing E (2001) Transitions to adulthood in Europe. Kluwer Academic Publishers, Dordrecht

Davey Smith G, Hart C, Blane D, Gillis C, Hawthorne V (1997) Lifetime socioeconomic position and mortality: prospective observational study. BMJ 314(7080):547–552

Dex S (1987) Women's occupational mobility. Macmillan Press, London

Elliott J, Shepherd P (2006) Cohort profile: 1970 British Birth Cohort (BCS70). Int J Epidemiol 35(4):836–843

Elstad JI (2005) Childhood adversities and health variations among middle-aged men: a retrospective lifecourse study. Eur J Public Health 15(1):51–58

Goldthorpe JH (1983) Women and class analysis: in defense of the conventional view. Sociology 17(4):465–488

Goldthorpe JH, Lockwood D, Bechhofer F (1968) The affluent worker: political attitudes and behaviour, 2nd edn. CUP Archive, Cambridge

Goldthorpe JH, Llewellyn C, Payne C (1987) Social mobility and class structure in modern Britain, 2nd edn. Clarendon, Oxford

Grundy E, Holt G (2001) The socioeconomic status of older adults: how should we measure it in studies of health inequalities? J Epidemiol Community Health 55(12):895–904

Hallqvist J, Lynch J, Bartley M, Lang T, Blane D (2004) Can we disentangle life course processes of accumulation, critical period and social mobility? An analysis of disadvantaged socio-economic positions and myocardial infarction in the Stockholm Heart Epidemiology Program. Soc Sci Med 58(8):1555–1562

Hart CL, Davey Smith G, Blane D (1998) Social mobility and 21 year mortality in a cohort of Scottish men. Soc Sci Med 47(8):1121–1130

Heath A, Britten N (1984) Womens jobs do make a difference—a reply. Sociology 18(4):475–490

Hertzman C, Power C, Matthews S, Manor O (2001) Using an interactive framework of society and lifecourse to explain self-rated health in early adulthood. Soc Sci Med 53(12):1575–1585

Lambert P, Prandy K, Bottero W (2007) By slow degrees: two centuries of social reproduction and mobility in Britain. Soc Res Online 12(1)

Laslett P (1989) A fresh map of life. Weidenfeld and Nicolson, London

Macmillan R, Eliason SR (2004) Characterizing the life course as role configurations and pathways: a latent structure approach. In: Mortimer JT, Shanahan MJ (eds) Handbook of the life course. Springer, New York

Martelin T (1994) Mortality by indicators of socioeconomic status among the Finnish elderly. Soc Sci Med 38(9):1257–1278

Mishra G, Nitsch D, Black S, De Stavola B, Kuh D, Hardy R (2009) A structured approach to modelling the effects of binary exposure variables over the life course. Int J Epidemiol 38(2):528–537

Murphy M (2009) The 'golden generations' in historical context. Br Actuar J 15(63):151

Naess O, Claussen B, Thelle DS, Davey SG (2004) Cumulative deprivation and cause specific mortality. A census based study of life course influences over three decades. J Epidemiol Community Health 58(7):599–603

Noble T (2000) The mobility transition: social mobility trends in the first half of the twenty-first century. Sociology 34(1):35–51

Oleko A, Betsou F, Sarter H, Gerdil C, Desbois I, Charles MA, Leridon H, Vandentorren S (2011) A Pilot Study of the ELFE Longitudinal Cohort: feasibility and preliminary evaluation of biological collection. Biopreserv Biobank 9(3):223–227

OPCS/GROS (1991) Census Guide No. 5, Topic statistics—limiting long-term illness. OPCS, Fareham

Otero-Rodriguez A, Leon-Munoz LM, Banegas JR, Guallar-Castillon P, Rodriguez-Artalejo F, Regidor E (2011) Life-course socioeconomic position and change in quality of life among older adults: evidence for the role of a critical period, accumulation of exposure and social mobility. J Epidemiol Community Health 65(11):964–971

Patton GC, Viner R (2007) Pubertal transitions in health. Lancet 369(9567):1130–1139

Power C, Elliott J (2006) Cohort profile: 1958 British birth cohort (National Child Development Study). Int J Epidemiol 35(1):34–41

Power C, Li L, Manor O (2000) A prospective study of limiting longstanding illness in early adulthood. Int J Epidemiol 29(1):131–139

Singh-Manoux A, Clarke P, Marmot M (2002) Multiple measures of socio-economic position and psychosocial health: proximal and distal measures. Int J Epidemiol 31(6):1192–1199

Sørensen A (1986) Theory and methodology in social stratification In: Himmelstrand U (ed) Sociology: from crisis to science? vol. 1. The Sociology of Structure and Action Sage, London

Strauss J, Lei X, Park A, Shen Y, Smith JP, Yang Z, Zhao Y (2010) Health outcomes and socio-economic status among the elderly in China: evidence from the CHARLS Pilot. J Popul Ageing 3–4:111–142

Szreter SRS (1984) The genesis of the Registrar-General's classification of occupations. Br J Sociol 35(4):522–546

Taylor MF, Brice J, Buck N, Prentice-Lane E (2010) British Household Panel Survey User Manual. Introduction, technical report and appendices, vol. A. University of Essex, Colchester

Wadsworth M, Kuh D, Richards M, Hardy R (2006) Cohort profile: the 1946 National Birth Cohort (MRC National Survey of Health and Development). Int J Epidemiol 35(1):49–54

Wiggins RD, Erzberger C, Hyde M, Higgs P, Blane D (2007) Optimal matching analysis using ideal types to describe the lifecourse: an illustration of how histories of work, partnerships and housing relate to quality of life in early old age. Int J Soc Res Methodol 10(4):259–278
Additional information
Responsible editor: Dorly J. H. Deeg.
About this article
Cite this article
Stone, J., Netuveli, G. & Blane, D. Life-course occupational social class and health in later life: the importance of frequency and timing of measures. Eur J Ageing 11, 273–284 (2014). https://doi.org/10.1007/s10433-014-0307-y
Keywords
Life-course

Limiting longstanding illness

Social class

UK