Abstract
Whereas it is often stated that aging might have more negative consequences for the evaluation of women compared to men, evidence for this assumption is mixed. We took a differentiated look at age stereotypes of men and women, assuming that the life domain in which older persons are rated moderates gender differences in age stereotypes. A sample of 298 participants aged 20–92 rated 65-year-old men and women on evaluative statements in eight different life domains. Furthermore, perceptions of gender- and domain-specific age-related changes were assessed by comparing the older targets to 45-year-old men and women, respectively. The results speak in favor of the domain specificity of evaluative asymmetries in age stereotypes for men and women, and imply that an understanding of gendered perceptions of aging requires taking into account the complexities of domain-specific views on aging.
Access options
Buy single article
Instant access to the full article PDF.
USD 39.95
Price excludes VAT (USA)
Tax calculation will be finalised during checkout.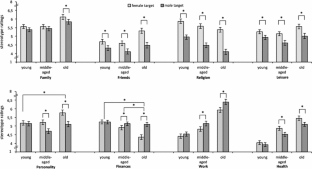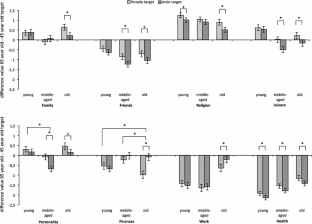 Notes
Besides the 65-year-old and the 45-year-old targets, 25-year-old men and women were also rated in the questionnaire; these data are not presented here, but can be obtained from the authors.

We additionally ran the analysis with the between person factor "order". The only effect that was marginally significant was the interaction target gender × age group × order F(2, 272) = 3.10, p = 0.047, η 2p  = 0.02, which was due to the younger participants rating women more positively if male targets had to be rated first. Due to the small effect that was not of theoretical interest, we decided to drop "order" from further analyses.

Since for the finances domain, the third-item (65-/45-year-old men/women…provide for others financially—do not provide for others financially) had low loadings on the finances factor for all target age groups, we decided to use a two-item scale for this domain. The same was done for the domain of work, where the third-item (65-/45-year-old men/women…have a negative attitude toward retirement—have a positive attitude toward retirement) had low loadings for the middle-aged targets.

All effects involving the age group factor remained significant after including different background variables (education, marital status, health status) as additional factors into the analyses, indicating that none of the age group effects can be explained in terms of differences in these variables.

Analyzing appearance as a single item yielded similar results. Women rated older women as having a more positive appearance than older men, especially among middle-aged and older participants. And even though older targets were generally rated less positively in their appearance than middle-aged targets, women gave less negative ratings of older women's appearance compared to older men's. Taken together, the more positive rating of older women compared to older men was true even if we looked only at the ratings for physical appearance.
References
Aidman EV, Carroll SM (2003) Implicit individual differences: relationships between implicit self-esteem, gender identity, and gender attitudes. Eur J Pers 17:19–36. doi:10.1002/per.465

Antonucci TC, Blieszner R, Denmark FL (2010) Psychological perspectives on older women. In: Landrine H, Russo NF (eds) Handbook of diversity in feminist psychology. Springer, New York, pp 233–257

Barrett AE (2005) Gendered experiences in midlife: implications for age identity. J Aging Stud 19:163–183. doi:10.1016/j.jaging.2004.05.002

Barrett AE, von Rohr C (2008) Gendered perceptions of aging: an examination of college students. Int J Aging Hum Dev 67:359–386. doi:10.2190/AG.67.4.d

Bergman YS, Bodner E, Cohen-Fridel S (2013) Cross-cultural ageism: ageism and attitudes toward aging among Jews and Arabs in Israel. Int Psychogeriatr 25:6–15. doi:10.1017/s1041610212001548

Bodner E, Bergman YS, Cohen-Fridel S (2012) Different dimensions of ageist attitudes among men and women: a multigenerational perspective. Int Psychogeriatr 24:895–901. doi:10.1017/S1041610211002936

Cameron JE, Lalonde RN (2001) Social identification and gender-related ideology in women and men. Br J Soc Psychol 40:59–77. doi:10.1348/014466601164696

Canetto SS, Kaminski PL, Felicio DM (1995) Typical and optimal aging in women and men: is there a double standard? Int J Aging Hum Dev 40:187–207. doi:10.2190/rx0u-t56b-1g0f-266u

Casper C, Rothermund K (2012) Gender self-stereotyping is context dependent for men but not for women. Basic Appl Soc Psych 34:434–442. doi:10.1080/01973533.2012.712014

Casper C, Rothermund K, Wentura D (2011) The activation of specific facets of age stereotypes depends on individuating information. Soc Cogn 29:393–414. doi:10.1521/soco.2011.29.4.393

Chan W, McCrae RR, De Fruyt F, Jussim L, Löckenhoff CE, De Bolle M et al (2012) Stereotypes of age differences in personality traits: universal and accurate? J Pers Soc Psychol 103:1050–1066. doi:10.1037/a0029712

Chapman BP, Duberstein PR, Sörensen S, Lyness JM (2007) Gender differences in five factor model personality traits in an elderly cohort. Pers Ind Differ 43:1594–1603. doi:10.1016/j.paid.2007.04.028

Cinamon R, Rich Y (2002) Gender differences in the importance of work and family roles: implications for work–family conflict. Sex Roles 47:531–541. doi:10.1023/a:1022021804846

DeArmond S, Tye M, Chen PY, Krauss A, Rogers DA, Sintek E (2006) Age and gender stereotypes: new challenges in a changing workplace and workforce. J Appl Soc Psychol 36:2184–2214. doi:10.1111/j.0021-9029.2006.00100.x

Deutsch FM, Zalenski CM, Clark ME (1986) Is there a double standard of aging? J Appl Soc Psychol 16:771–785. doi:10.1111/j.1559-1816.1986.tb01167.x

Diehl MK, Wahl H-W (2010) Awareness of age-related change: examination of a (mostly) unexplored concept. J Gerontol B Psychol 65:340–350. doi:10.1093/geronb/gbp110

Diekman AB, Hirnisey L (2007) The effect of context on the silver ceiling: a role congruity perspective on prejudiced responses. Pers Soc Psychol Bull 33:1353–1366. doi:10.1177/0146167207303019

Eagly AH, Steffen VJ (1984) Gender stereotypes stem from the distribution of women and men into social roles. J Pers Soc Psychol 46:735–754. doi:10.1037/0022-3514.46.4.735

Eagly AH, Wood W, Diekman AB (2000) Social role theory of sex differences and similarities: a current appraisal. In: Eckes T, Trautner HM (eds) The developmental social psychology of gender. Lawrence Erlbaum Associates Publishers, Mahwah, pp 123–174

Ferguson CJ (2010) A meta-analysis of normal and disordered personality across the life span. J Pers Soc Psychol 98:659–667. doi:10.1037/a0018770

Gluth S, Ebner NC, Schmiedek F (2010) Attitudes toward younger and older adults: the German aging semantic differential. Int J Behav Dev 34:147–158. doi:10.1177/0165025409350947

Grant MJ, Button CM, Hannah TE, Ross AS (2002) Uncovering the multidimensional nature of stereotype inferences: a within-participants study of gender, age, and physical attractiveness. Curr Res Soc Psychol 8:19–39

Grühn D, Gilet A-L, Studer J, Labouvie-Vief G (2011) Age-relevance of person characteristics: persons' beliefs about developmental change across the lifespan. Dev Psychol 47:376–387. doi:10.1037/a0021315

Haslam N, Bastian B, Fox C, Whelan J (2007) Beliefs about personality change and continuity. Pers Ind Dif 42:1621–1631. doi:10.1016/j.paid.2006.11.001

Hummert ML, Garstka TA, Shaner JL, Strahm S (1994) Stereotypes of the elderly held by young, middle-aged, and elderly adults. J Gerontol 49:P240–P249. doi:10.1093/geronj/49.5.P240

Kamilar CB, Segal DL, Qualls SH (2000) Role of gender and culture in the psychological adjustment to aging. In: Eisler RM, Hersen M (eds) Handbook of gender, culture, and health. Lawrence Erlbaum Associates Publishers, Mahwah, pp 405–428

Kite ME (1996) Age, gender, and occupational label: a test of social role theory. Psychol Women Quart 20:361–374. doi:10.1111/j.1471-6402.1996.tb00305.x

Kite ME, Wagner LS (2002) Attitudes toward older adults. In: Nelson TD (ed) Ageism: stereotyping and prejudice against older persons. The MIT Press, Cambridge, pp 129–161

Kite ME, Deaux K, Miele M (1991) Stereotypes of young and old: does age outweigh gender? Psychol Aging 6:19–27. doi:10.1037/0882-7974.6.1.19

Kite ME, Stockdale GD, Whitley EB, Johnson BT (2005) Attitudes toward younger and older adults: an updated meta-analytic review. J Soc Issues 61:241–266. doi:10.1111/j.1540-4560.2005.00404.x

Kornadt AE, Rothermund K (2011) Contexts of aging: assessing evaluative age stereotypes in different life domains. J Gerontol B Psychol 66:547–556. doi:10.1093/geronb/gbr036

Kornadt AE, Rothermund K (2012) Internalization of age stereotypes into the self-concept via future self-views: a general model and domain-specific differences. Psychol Aging 27:164–172. doi:10.1037/a0025110

Laditka SB, Fischer M, Laditka JN, Segal DR (2004) Attitudes about aging and gender among young, middle age, and older college-based students. Educ Gerontol 30:403–421. doi:10.1080/03601270490433602

Latrofa M, Vaes J, Cadinu M, Carnaghi A (2010) The cognitive representation of self-stereotyping. Pers Soc Psychol B 36:911–922. doi:10.1177/0146167210373907

Latrofa M, Vaes J, Cadinu M (2012) Self-stereotyping: the central role of an ingroup threatening identity. J Soc Psychol 152:92–111. doi:10.1080/00224545.2011.565382

Lee C, Owens RG (2002) Men, work and gender. Australian Psychol 37:13–19. doi:10.1080/00050060210001706626

Levy BR (2009) Stereotype embodiment: a psychosocial approach to aging. Cur Dir Psychol Sci 18:332–336. doi:10.1111/j.1467-8721.2009.01662.x

Lippa RA (2010) Gender differences in personality and interests: when, where, and why? Soc Personal Psychol Compass 4:1098–1110. doi:10.1111/j.1751-9004.2010.00320.x

Mendoza-Denton R, Park SH, O'Connor A (2008) Gender stereotypes as situation–behavior profiles. J Exp Soc Psychol 44:971–982. doi:10.1016/j.jesp.2008.02.010

Narayan C (2008) Is there a double standard of aging? Older men and women and ageism. Educ Gerontol 34:782–787. doi:10.1080/03601270802042123

Noone J, Alpass F, Stephens C (2010) Do men and women differ in their retirement planning? Testing a theoretical model of gendered pathways to retirement preparation. Res Aging 32:715–738. doi:10.1177/0164027510383531

Rothermund K, Brandtstädter J (2003) Age stereotypes and self-views in later life: evaluating rival assumptions. Int J Behav Dev 27:549–554. doi:10.1080/01650250344000208

Rudman LA, Goodwin SA (2004) Gender differences in automatic in-group bias: why do women like women more than men like men? J Pers Soc Psychol 87:494–509. doi:10.1037/0022-3514.87.4.494

Sharabi M, Harpaz I (2011) Gender and the relative centrality of major life domains: changes over the course of time. Community Work Fam 14:57–62. doi:10.1080/13668803.2010.506033

Sontag S (1972) The double standard of aging. The Saturday Review, New York, September 23, pp 29–38

Swazina KR, Waldherr K, Maier K (2004) Gender-specific ideals over time. Z Diff Diagn Psychol 25:165–176. doi:10.1024/0170-1789.25.3.165

Teuscher U, Teuscher C (2007) Reconsidering the double standard of aging: effects of gender and sexual orientation on facial attractiveness ratings. Pers Indiv Diff 42:631–639. doi:10.1016/j.paid.2006.08.020

Thompson EH Jr (2006) Images of old men's masculinity: still a man? Sex Roles 55:633–648

Wilcox S (1997) Age and gender in relation to body attitudes: is there a double standard of aging? Psychol Women Quart 21:549–565. doi:10.1111/j.1471-6402.1997.tb00130.xFootnotes
Acknowledgments
This study was supported by two Grants of the VolkswagenStiftung (AZ II/83 142, AZ 86 758) to Klaus Rothermund.
Additional information
Responsible Editor H. Litwin.
About this article
Cite this article
Kornadt, A.E., Voss, P. & Rothermund, K. Multiple standards of aging: gender-specific age stereotypes in different life domains. Eur J Ageing 10, 335–344 (2013). https://doi.org/10.1007/s10433-013-0281-9
Published:

Issue Date:

DOI: https://doi.org/10.1007/s10433-013-0281-9
Keywords