Abstract
Human values are assessed biannually in a multinational sample as part of the European Social Survey (ESS). Based on theories of adaptive ageing, it was predicted that ten lower order values and four higher order values would show age differences that would be invariant across (a) two sample cohorts (2002 and 2008), (b) gender and (c) 12 industrialised nations. The value categories measured by the ESS are the following: conservative values (tradition, conformity and security), openness to change values (self-direction, hedonism and stimulation), self-transcendent values (universalism, benevolence) and self-enhancement values (power, achievement). Of the ten lower order values, tradition shows the strongest positive relation with adult age, while the value of stimulation shows the strongest negative relation with age. With regards to the four higher order value categories, conservative values increased across age groups, while openness to change values decreased. Neither of these value types showed cohort or gender differences. Self-transcendence values were greater in midlife and older adults compared with young adults, were higher in women than in men, and higher in the 2008 compared with the 2002 cohort. Self-enhancement values showed a negative relation with age, with men of all age groups scoring higher in this value type than women. Age effects on the four higher order value types were replicated across all 12 countries in the sample, with the single exception of self-enhancement values in Spain, which show no relation with age.
This is a preview of subscription content, log in to check access.
Access options
Buy single article
Instant access to the full article PDF.
US$ 39.95
Tax calculation will be finalised during checkout.
Subscribe to journal
Immediate online access to all issues from 2019. Subscription will auto renew annually.
US$ 99
Tax calculation will be finalised during checkout.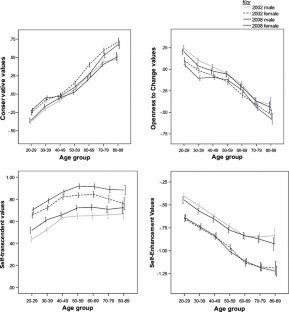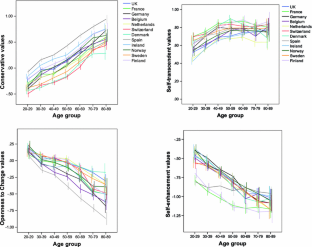 References
Arnett JJ (2000) Emerging adulthood: a theory of development from the late teens through the twenties. Am Psychol 55:469–480

Baltes PB (1987) Theoretical propositions of life-span developmental psychology: on the dynamics between growth and decline. Dev Psychol 23:611–626

Burr A, Santo JB, Pushkar D (2011) Affective wellbeing in retirement: the influence of values, money and health across three years. J Happiness Stud 12:17–40

Carstensen LL, Isaacowitz DM, Charles ST (1999) Taking time seriously: a theory of socioemotional selectivity. Am Psychol 54:165–181

Charles ST, Carstensen LL (2009) Social and emotional aging. Annu Rev Psychol 61:383–400

Cohen J (1988) Statistical power analysis for the behavior sciences, 2nd edn. Routledge, London

Cohen J (1992) A power primer. Psychol Bull 112:155–159

Cornelis I, Van Hiel A, Roets A, Kossowska M (2009) Age differences in conservatism: evidence on the mediating effects of personality and cognitive style. J Pers 77:51–87

Costa PT, McCrae RR (2003) Personality in adulthood: a five-factor theory perspective, 2nd edn. The Guilford Press, London

Cumming G, Finch S (2005) Inference by eye: confidence intervals and how to read pictures of data. Am Psychol 60:170–180

Erikson E (1980) Identity and the life cycle. Norton and co., New York

Ersner-Hershfield H, Mikels JA, Sullivan SJ, Carstensen LL (2008) Poignancy: mixed emotional experience in the face of meaningful endings. J Pers Soc Psychol 94:158–167

ESS Round 1: European Social Survey Round 1 Data (2002). Data file edition 6.2. Norwegian Social Science Data Services, Norway—Data Archive and distributor of ESS data

ESS Round 4: European Social Survey Round 4 Data (2008). Data file edition 4.0. Norwegian Social Science Data Services, Norway—Data Archive and distributor of ESS data

Groves RM (2006) Nonresponse rates and nonresponse bias in household surveys. Public Opin Q 70:646–675

Haskey J (2001) Cohabitation in Great Britain: past, present and future trends and attitudes. Popul Trends 103:4–25

Heckhausen J, Wrosch C, Schulz R (2010) A motivational theory of life-span development. Psychol Rev 117:32–60

Held M, Müller J, Deutsch F, Grzechnik E, Welzel C (2009) Value structure and dimensions. Empirical evidence from the German world values survey. World Values Res 2:55–76

Hill WF (1960) Learning theory and the acquisition of values. Psychol Rev 67:317–331

Hochschild A, Machung A (2012) The second shift: Working families and the revolution at home (revised edition). Penguin Books, London

Hunter JE (1997) Needed: a ban on the significance test. Psychol Sci 8:3–7

Jost JT, Glaser J, Kruglanski AW, Sulloway FJ (2003) Political conservatism as motivated social cognition. Psychol Bull 129:339–375

Kohlberg L (1973) Continuities and discontinuities in childhood and adult moral development revisited. In: Baltes P, Schaie KW (eds) Lifespan developmental psychology: personality and socialisation. Academic Press, New York, pp 179–204

Laslett P (1989) A fresh map of life: The emergence of the third age. George Weidenfeld & Nicolson Limited, London

Levinson DJ (1978) The seasons of a man's life. Ballantine Books, New York

Levinson DJ (1996) The seasons of a woman's life. Ballantine Books, New York

Maltby J (1997) The concurrent validity of a short measure of social conservatism among English students. Pers Individ Differ 23:901–903

Maslow AH (1987) Motivation and personality. Harper Collins, London

McAdams DP, Hart HM, Maruna S (1998) The anatomy of generativity. In: McAdams DP, de S Aubin E (eds) Generativity and adult development. American Psychological Association, Washington, DC, pp 7–44

Olver JM, Mooradian TA (2003) Personality traits and personal values: a conceptual and empirical integration. Pers Individ Differ 35:109–125

Sagiv L, Schwartz SH (2000) Value priorities and subjective well-being: direct relations and congruity effects. Eur J Psychol 30:177–198

Saris WE (ed) (1988) Variation in response functions: a source of measurement error in attitude research. Sociom Res Found, Amsterdam

Schaie KW (1965) A general model for the study of developmental problems. Psychol Bull 64:92–107

Schaie KW (1996) Intellectual development in adulthood: the Seattle longitudinal study. Cambridge University Press, Cambridge

Schwartz SH (1992) Universals in the content and structure of values: theory and empirical tests in 20 countries. In: Zanna M (ed) Advances in experimental social psychology, vol 25. Academic Press, New York, pp 1–65

Schwartz SH (1996) Value priorities and behavior: applying a theory of integrated value systems. In: Seligman C, Olson JM, Zanna MP (eds) The psychology of values: the Ontario symposium, vol 8. Erlbaum, Hillsdale, NJ, pp 1–24

Schwartz SH (2006) Basic human values: theory, measurement and applications. Rev Fr Sociol 42:249–288

Schwartz SH, Bilsky W (1987) Toward a psychological structure of human values. J Pers Soc Psychol 53:550–562

Schwartz SH, Bilsky W (1990) Toward a theory of the universal content and structure of values: extensions and cross-cultural replications. J Pers Soc Psychol 58:878–891

Schwartz SH, Rubel T (2005) Sex differences in value priorities: cross-cultural and multi-method studies. J Pers Soc Psychol 89:1010–1028

Schwartz SH, Sagiv L, Boehnke K (2000) Worries and values. J Pers 68:309–346

Schwartz SH, Melech G, Lehmann A, Burgess S, Harris M, Owens V (2001) Extending the cross-cultural validity of the theory of basic human values with a different method of measurement. J Cross Cult Psychol 32:519–542

Tornstam L (1989) Gerotranscendence: a reformulation of the disengagement theory. Aging 1:55–63

Tornstam L (1997) Gerotranscendence: the contemplative dimension of aging. J Aging Stud 11:143–154

Twenge J, Campbell WK (2009) The Narcissism epidemic: living in the age of entitlement. Free Press, London

Vaillant GE (2002) Aging well. Little, Brown and Company, London

Weiss HM (1978) Social learning of work values in organizations. J Appl Psychol 63:711–718

Widimer ED, Treas J, Newcomb R (1998) Attitudes towards nonmarital sex in 24 countries. J Sex Res 35:349–358

Wood W (2000) Attitude change: persuasion and social influence. Annu Rev Psychol 51:539–570
Additional information
Responsible Editor D.J.H. Deeg.
About this article
Cite this article
Robinson, O.C. Values and adult age: findings from two cohorts of the European Social Survey. Eur J Ageing 10, 11–23 (2013). https://doi.org/10.1007/s10433-012-0247-3
Keywords
Ageing

Values

Adulthood

Gender

Europe

European Social Survey