Abstract
This study investigates life satisfaction in relation to impending death among the oldest-old using overall disease load, self-rated health, and personality as interacting covariates of level and change. We used data from a sample of 370 healthy individuals who completed the Life Satisfaction Index-Z at four measurement occasions during a 6-year period in the Swedish OCTO-Twin study of individuals aged 80 and older. Growth curve analyses showed a linear decrease in life satisfaction as individuals approached death. The decrease was not related to level or change in self-rated health and disease load. High disease load was, however, related to lower levels of life satisfaction, but, this association was moderated by locus of control, such that those with high disease load and high locus of control did not show lower life satisfaction. Poor self-rated health was also associated with lower life satisfaction, but, this association was moderated by neuroticism, such that those with poor-rated health and low neuroticism did not show lower live satisfaction. Personality factors such as locus of control and neuroticism can influence the association between health and life satisfaction. The findings suggest further investigations of the role of personality characteristics in late life satisfaction and whether interventions aimed to increase personal control can improve life satisfaction in old age.
Access options
Buy single article
Instant access to the full article PDF.
USD 39.95
Price excludes VAT (USA)
Tax calculation will be finalised during checkout.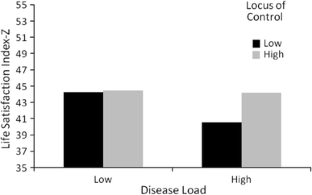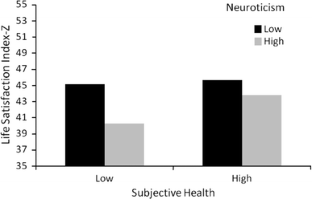 References
Bäckman L, MacDonald S (2006) Death and cognition: synthesis and outlook. Eur Psychol 11:224–235

Baird BM, Lucas RE, Donnellan M (2010) Life satisfaction across the lifespan: findings from two nationally representative panel studies. Soc Indic Res. doi:10.1007/s11205-010-9584-9

Baltes PB, Smith J (1997) A systemic-wholistic view of psychological functioning in very old age: introduction to a collection of articles from the Berlin Aging Study. Psychol Aging 12:395–409

Berg S (1996) Aging, behavior, and terminal decline. In: Birren JE, Schaie KW (eds) Handbook of the psychology of aging, 4th edn. Academic Press, San Diego, CA, pp 323–337

Berg AI, Hassing LB, Johansson B, McClearn G (2006) What matters for life satisfaction in the oldest-old? Aging Ment health 10(3):257–264

Berg AI, Hoffman L, Hassing LB, Johansson B (2009) What matters, and what matters most, for change in life satisfaction in the oldest-old? A study over 6 years among individuals 80+. Aging Ment Health 13:191–201

Bosworth HB, Siegler IC (2002) Terminal change in cognitive function: an updated review of longitudinal studies. Exp Aging Res 28:299–315

Brief AP, Butcher AH, George JM, Link KE (1993) Integrating bottom-up and top-down theories of subjective well-being: the case of health. J Pers Soc Psychol 64:646–653

Costa PT Jr, McCrae RR (1980) Influence of extraversion and neuroticism on subjective well-being: happy and unhappy people. J Pers Soc Psychol 38:668–678

DeNeve KM, Cooper H (1998) The happy personality: a meta-analysis of 137 personality traits and subjective well-being. Psychol Bull 124:197–229

Diener E (1984) Subjective well-being. Psychol Bull 95:542–575

Duberstein PR, Sorensen S, Lyness JM, King DA, Conwell Y, Seidlitz L et al (2003) Personality is associated with perceived health and functional status in older primary care patients. Psychol Aging 18:25–37

Gerstorf D, Ram N, Rocke C, Lindenberger U, Smith J (2008a) Decline in life satisfaction in old age: longitudinal evidence for links to distance-to-death. Psychol Aging 23:154–168

Gerstorf D, Ram N, Estabrook R, Schupp J, Wagner GG, Lindenberger U (2008b) Life satisfaction shows terminal decline in old age: longitudinal evidence from the german socio-economic panel study (SOEP). Dev Psych 23:154

Headey B, Wearing A (1989) Personality, life events, and subjective well-being: toward a dynamic equilibrium model. Am Psychol Assoc, US

Hickson J, Housley WF, Boyle C (1988) The relationship of locus of control, age, and sex to life satisfaction and death anxiety in older persons. Int J Aging Hum Dev 26:191–199

Hilleras PK, Jorm AF, Herlitz A, Winblad B (2001) Life satisfaction among the very old: a survey on a cognitively intact sample aged 90 years or above. Int J Aging Hum Dev 52:71–90

Idler EL, Benyamini Y (1997) Self-rated health and mortality: a review of twenty-seven community studies. J Health Soc Behav 38:21–37

Kotter-Grühn D, Kleinspehn-Ammerlahn A, Gerstorf D, Smith J (2009) Self-perceptions of aging predict mortality and change with approaching death: 16-year longitudinal results from the Berlin Aging Study. Psychol Aging 24:654–667

Landau R, Litwin H (2001) Subjective well-being among the old-old: the role of health, personality and social support. Int J Aging Hum Dev 52:265–280

Maudsley G, Williams EM (1996) 'Inaccuracy' in death certification—where are we now? J Public Health Med 18:59–66

McClearn GE, Johansson B, Berg S, Pedersen NL, Ahern F, Petrill SA et al (1997) Substantial genetic influence on cognitive abilities in twins 80 or more years old. Science 276:1560–1563

Moor C, Zimprich D, Schmitt M, Kliegel M (2006) Personality, aging self-perceptions, and subjective health: a mediation model. Int J Aging Hum Dev 63:241–257

Mroczek DK, Spiro A III (2005) Change in life satisfaction during adulthood: findings from the veterans affairs normative aging study. J Pers Soc Psychol 88:189–202

Myers KA, Farquhar DR (1998) Improving the accuracy of death certification. Can Med Assoc J 158:1317–1323

Neugarten BL, Havighurst RJ, Tobin SS (1961) The measurement of life satisfaction. J Gerontol 16:134–143

Nilsson SE, Johansson B, Berg S, Karlsson D, McClearn GE (2002) A comparison of diagnosis capture from medical records, self-reports, and drug registrations: a study in individuals 80 years and older. Aging Clin Exp Res 14:178–184

Palgi Y, Shrira A, Ben-Ezra M, Spalter T, Shmotkin D, Kavé G (2010) Delineating terminal change in subjective well-being and subjective health. J Gerontol B Psychol Sci Soc Sci 65B(1):61–64

Rotter JB (1966) Generalized expectancies for internal versus external control of reinforcement. Psychol Monogr 80:1–28

Schimmack U, Diener E, Oishi S (2002) Life-satisfaction is a momentary judgment and a stable personality characteristic: the use of chronically accessible and stable sources. J Pers 70:345–384

Simmons SF, Johansson B, Zarit SH, Ljungquist B, Plomin R, McClearn GE (1997) Selection bias in samples of older twins? A comparison between octogenarian twins and singletons in Sweden. J Aging Health 9:553–567

Sliwinski MJ, Hofer SM, Hall C, Buschke H, Lipton RB (2003) Modeling memory decline in older adults: the importance of preclinical dementia, attrition, and chronological age. Psychol Aging 18:658–671

Sturmer T, Hasselbach P, Amelang M (2006) Personality, lifestyle, and risk of cardiovascular disease and cancer: follow-up of population based cohort. BMJ 332:1359

Wilson RS, Beckett LA, Bienias JL, Evans DA, Bennett DA (2003) Terminal decline in cognitive function. Neurology 60:1782–1787

Wilson RS, Beck TL, Bienias JL, Bennett DA (2007) Terminal cognitive decline: accelerated loss of cognition in the last years of life. Psychosom Med 69:131–137

Wood V, Wylie ML, Sheafor B (1969) An analysis of a short self-report measure of life satisfaction: correlation with rater judgments. J Gerontol 24:465–469
Acknowledgments
This study was supported by National Institutes of Health; NIA (AG 08861) and Swedish Council for Working Life and Social Research; FAS 2002-0659, FAS 2007-0554, FAS 2006-1506.
Additional information
Responsible Editor: H.-W. Wahl.
About this article
Cite this article
Berg, A.I., Hassing, L.B., Thorvaldsson, V. et al. Personality and personal control make a difference for life satisfaction in the oldest-old: findings in a longitudinal population-based study of individuals 80 and older. Eur J Ageing 8, 13–20 (2011). https://doi.org/10.1007/s10433-011-0181-9
Published:

Issue Date:

DOI: https://doi.org/10.1007/s10433-011-0181-9
Keywords