Abstract
Population ageing changes profoundly the current balance between generations. Governments are responding with policies to promote later retirement and family care, but these ideals may come in conflict in mid-life when family obligations can be hard to reconcile with employment. Yet we know little about the prevalence of being "sandwiched", and even less about the consequences. This article maps out the prevalence of different forms of family and work sandwiching for the Norwegian population, and explores adaptive strategies and psycho-social outcomes. The analyses are based on data from the NorLAG and LOGG studies (n = 15 109, age 18–84). Preliminary findings indicate that 75–80% of the population are located in-between younger and older family generations in mid-life, the great majority are at the same time in paid work, but comparatively few (8–9% aged 35–45) have both children and parents in need at the same time, and fewer still (3%) are then also caregivers to older parents. Although few in proportion of their age group, they add up to a considerable number of persons. Women are more likely to reduce work in response to family needs than men. Implications of family and work sandwiching for health and well-being are analysed.
Access options
Buy single article
Instant access to the full article PDF.
USD 39.95
Price includes VAT (USA)
Tax calculation will be finalised during checkout.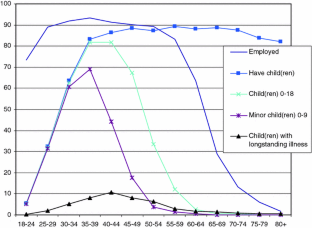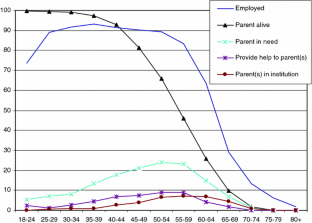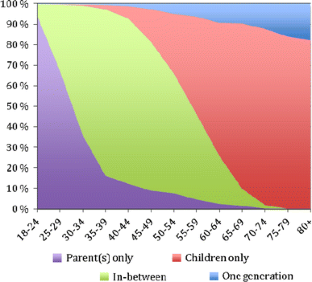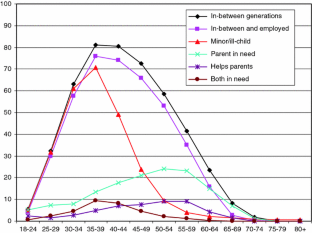 References
Bolin K, Lindgren B, Lundborg P (2007) Your next of kin or your own career? Caring and working among the 50+ of Europe. J Health Econ 27:718–738

Brody EM (1981) 'Women in the middle' and family help to older people. Gerontologist 21(5):471–480

Daatland SO (1990) What are families for? On family solidarity and preferences for help. Ageing Soc 1:1–15

Daatland SO, Slagsvold B, Lima IA (2009) Population ageing, intergenerational solidarity and the family-welfare state balance: a comparative exploration. In: How generations and gender shape demographic change. UNECE, Geneva, (pp 127–138) (http://www.unece.org/pau)

Evandrou M, Glaser K, Henz U (2002) Multiple role occupancy in midlife: balancing work and family life in Britain. Gerontologist 42(6):781–789

Gautun H (2008) Arbeidstakere og omsorg for gamle foreldre–den nye tidsklemma. Fafo, rapport, Oslo, p 40

Goode W (1960) A theory of role strain. Am Sociol Rev 25:483–496

Greenhaus JH, Powell GN (2005) When work and family are allies: a theory of work-family enrichment. Acad Manag Rev 31:72–92

Grundy E, Henretta J (2006) Between elderly parents and adult children: a new look at the intergenerational care provided by the 'sandwich generation'. Ageing Soc 26:707–722

Henz U (2004) The effects of informal care on paid-work participation in Great Britain: a lifecourse perspective. Ageing Soc 24:851–880

Kohli M, Albertini M (2008) The family as a source of support for adult children's own family projects: European varieties. In: Saraceno C (ed) Families, ageing and social policy: intergenerational solidarity in European welfare states. Edward Elgar Publishing, Cheltenham, pp 35–58

Künemund H (2006) Changing welfare states and the 'sandwich generation': increasing burden for the next generation? Int J Ageing Later Life 1(2):11–30

Lagerström B et al (2009) Livsløp, generasjon og kjønn (LOGG 2007). Dokumentasjonsrapport. Statistisk sentralbyrå, Notater, Oslo

Leira A (1993) The 'woman-friendly' welfare state? The case of Norway and Sweden. In: Lewis J (ed) Women and social policies in Europe. Work, family and the state. Edward Elgar Publishing, Aldershot

Linville PW (1987) Self-complexity as a cognitive buffer against stress-related illness and depression. J Pers Soc Psychol 52:663–676

Marks SR (1977) Multiple roles and role strain: some notes on human energy, time and commitment. Am Sociol Rev 39:567–578

Marks SR, McDermid SM (1996) Multiple roles and the self: a theory of role balance. J Marriage Fam 58(2):417–432

Neugarten B, Hagestad G (1976) Age and the life course. In: Binstock RH, Shanas E (eds) Handbook of ageing and the social sciences. Van Nostrand Reinhold Company, New York, pp 35–55

Pavot W, Diener E, Colvin CR, Sandvik E (1991) Further validation of the satisfaction with life scale: evidence for the cross-method convergence of well-being. J Pers Assess 57:149–161

Phillips J, Bernard M, Crittenden M (2002) Juggling work and care. The experience of working carers for older adults. Policy Press and Joseph Rowntree Foundation, Bristol

Pierret CR (2006) The 'sandwich generation': women caring for parents and children. Mon Labour Rev 129(9):3–9

Sieber SD (1974) Toward a theory of role accumulation. Am Sociol Rev 39(4):567–578

Siim B, Bochurst A (2005) The women-friendly welfare states revisited. In: Kildal N, Kuhnle S (eds) Normative foundations of the welfare state. The Nordic experience. Routledge, London, pp 97–111

Spitze G, Logan JR, Joseph G, Lee E (1994) Middle generations' roles and the well-being of men and women. J Gerontol Soc Sci 49(3):S107–S116

Staines GL (1980) Spillover versus compensation: a review of the literature on the relationship between work and non-work. Hum Relat 33:111–129

Thoits PA (1983) Multiple identities and psychological well-being. A reformulation of the social isolation hypothesis. Am Sociol Rev 48:174–187

Watson D, Clark LA, Tellegen A (1988) Development and validation of brief measures of positive and negative affect: the PANAS Scales. J Pers Soc Psychol 54:1063–1070
Additional information
Communicated by Hans-Werner Wahl.
About this article
Cite this article
Daatland, S.O., Veenstra, M. & Lima, I.A. Norwegian sandwiches. Eur J Ageing 7, 271–281 (2010). https://doi.org/10.1007/s10433-010-0163-3
Keywords
Multiple roles

Family and work

Generations

Life-course

Subjective well-being