Zusammenfassung
Hintergrund
Sauerstoff ist ein Arzneimittel und soll nur bei entsprechender Indikation ärztlich verordnet werden. Eine Sauerstofftherapie muss schriftlich dokumentiert, regelmäßig überwacht und reevaluiert werden.
Methode
Die neue S3-Leitlinie Sauerstofftherapie bei akuter Hypoxämie bei Erwachsenen wird vorgestellt.
Ergebnisse
Die Zielbereiche der Sauerstoffsättigung hängen vom Hyperkapnierisiko und vom Status der Beatmung ab. Etwa 1/4 der akutstationären Patient*innen mit Hypoxämie weist in der Blutgasanalyse gleichzeitig eine Hyperkapnie auf. Der Sauerstoffzielbereich muss für jeden akut Kranken individuell festgelegt werden. Für spontan atmende Patient*innen ohne Hyperkapnierisiko liegt er bei einer pulsoxymetrisch gemessenen Sättigung (SpO2) von 92–96 %, bei Hyperkapnierisiko bei einer SpO2 von 88–92 %, und für beatmete Patient*innen wird eine arterielle Sauerstoffsättigung zwischen 92 und 96 % empfohlen. Die Zielbereiche gelten bis auf wenige Ausnahmen (CO-Vergiftung, Wiederbelebungsmaßnahmen, Clusterkopfschmerz) für alle erwachsenen Patient*innen mit einer Sauerstofftherapie bei akuter Hypoxämie und unterscheiden sich nicht zwischen einzelnen Diagnosen. High-Flow-Sauerstoff wird für Patient*innen vorgeschlagen, die mehr als 6 l O2/min benötigen, um den Zielbereich zu erreichen. Derart Behandelte müssen kontinuierlich überwacht werden. Eine Reevaluation innerhalb weniger Wochen nach Entlassung wird für Patient*innen mit einer O2-Verordnung für den häuslichen Bereich empfohlen. Hierbei ist zu prüfen, ob die Indikation für eine Langzeitsauerstofftherapie fortbesteht.
Schlussfolgerung
Quintessenz dieser Leitlinie ist, dass Sauerstoff entsprechend eines Sättigungszielbereichs verschrieben wird und dass die Patient*innen von den Behandelnden entsprechend überwacht und bezüglich der Einhaltung des Zielbereichs kontrolliert werden.
Abstract
Background
Oxygen is a medication and should only be medically prescribed with the appropriate indications. Oxygen treatment must be documented in writing, regularly monitored and re-evaluated.
Method
The new German S3 guidelines on "Oxygen treatment in adult patients with acute hypoxia" are presented.
Results
The target range of oxygen saturation depends on the risk for hypercapnia and on the ventilation status. Approximately 25% of acutely ill patients with hypoxia also show hypercapnia in blood gas analysis. The target oxygen range must be individually determined for every acute illness. For spontaneously breathing patients without a risk of hypercapnia the oxygen saturation (SpO2) range measured by pulse oximetry is 92–96%, with a risk of hypercapnia it is 88–92% and for ventilated patients an arterial oxygen saturation between 92% and 96% is recommended. These target values are valid for all adult patients with an oxygen treatment for acute hypoxemia, with a few exceptions (CO poisoning, resuscitation measures and cluster headache) and show no differences between the individual diagnoses. High-flow oxygen treatment should be considered for patients who require more than 6 l O2/min to achieve the target range. Patients treated in this way must be continuously monitored. A re-evaluation within a few weeks of discharge is recommended for patients with a prescription of oxygen in the domestic setting. At this time, it must be checked if the indications for long-term oxygen treatment are still valid.
Conclusion
The essence of the guidelines is that oxygen should be prescribed according to a target saturation range and that patients should be appropriately monitored by medical personnel and controlled with respect to the target saturation range.
Access options
Buy single article
Instant access to the full article PDF.
USD 39.95
Price includes VAT (USA)
Tax calculation will be finalised during checkout.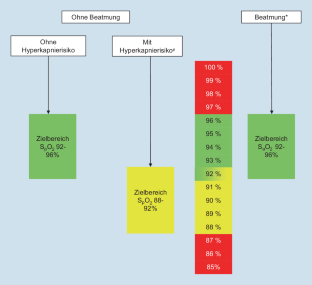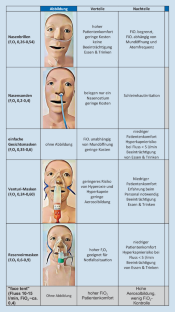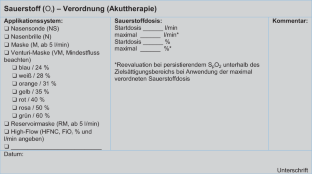 Literatur
1.

https://www.awmf.org/uploads/tx_szleitlinien/020-021l_S3_Sauerstoff-in-der-Akuttherapie-beim-Erwachsenen_2021-06.pdf. Zugegriffen: 5. Sept. 2021

2.

Cranston JM, Crockett A, Currow D (2008) Oxygen therapy for dyspnoea in adults. Cochrane Database Syst Rev. https://doi.org/10.1002/14651858.CD004769.pub2

3.

Leitlinienprogramm Onkologie (Deutsche Krebsgesellschaft DK, AWMF) (2020) Palliativmedizin für Patienten mit einer nicht-heilbaren Krebserkrankung, Langversion 2.1. Leitlinienprogramm Onkologie (Deutsche Krebsgesellschaft, Deutsche Krebshilfe, AWMF)

4.

Abernethy AP, McDonald CF, Frith PA, Clark K, Herndon JE, Marcello J et al (2010) Effect of palliative oxygen versus room air in relief of breathlessness in patients with refractory dyspnoea: a double-blind, randomised controlled trial. Lancet 376(9743):784–793

5.

Harboe M (1957) Lactic acid content in human venous blood during hypoxia at high altitude. Acta Physiol Scand 40(2-3):248–253

6.

Grubbstrom J, Berglund B, Kaijser L (1993) Myocardial oxygen supply and lactate metabolism during marked arterial hypoxaemia. Acta Physiol Scand 149(3):303–310

7.

Neill WA (1969) Effects of arterial hypoxemia and hyperoxia on oxygen availability for myocardial metabolism. Patients with and without coronary heart disease. Am J Cardiol 24(2):166–171

8.

O'Driscoll BR, Howard LS, Earis J, Mak V, British Thoracic Society Emergency Oxygen Guideline G, Group BTSEOGD (2017) BTS guideline for oxygen use in adults in healthcare and emergency settings. Thorax 72(Suppl 1):ii1–ii90

9.

Excellence NIfHaC (2007) Acutely ill patients in hospital: recognition of and response to acute illness in adults in hospital. National institute for health and clinical excellence: guidance. Excellence NIfHaC, London

10.

Smith GB, Prytherch DR, Watson D, Forde V, Windsor A, Schmidt PE et al (2012) S(p)O(2) values in acute medical admissions breathing air—implications for the British Thoracic Society guideline for emergency oxygen use in adult patients? Resuscitation 83(10):1201–1205

11.

Chu DK, Kim LHY, Young PJ, Zamiri N, Almenawer SA, Jaeschke R et al (2018) Mortality and morbidity in acutely ill adults treated with liberal versus conservative oxygen therapy (IOTA): a systematic review and meta-analysis. Lancet 391(10131):1693–1705

12.

Hafner S, Beloncle F, Koch A, Radermacher P, Asfar P (2015) Hyperoxia in intensive care, emergency, and peri-operative medicine: Dr. Jekyll or Mr. Hyde? A 2015 update. Ann Intensive Care 5(1):42

13.

Barbateskovic M, Schjorring OL, Russo Krauss S, Jakobsen JC, Meyhoff CS, Dahl RM et al (2019) Higher versus lower fraction of inspired oxygen or targets of arterial oxygenation for adults admitted to the intensive care unit. Cochrane Database Syst Rev. https://doi.org/10.1002/14651858.CD012631.pub2

14.

Wetterslev J, Meyhoff CS, Jorgensen LN, Gluud C, Lindschou J, Rasmussen LS (2015) The effects of high perioperative inspiratory oxygen fraction for adult surgical patients. Cochrane Database Syst Rev. https://doi.org/10.1002/14651858.CD012631.pub2

15.

Holmberg MJ, Nicholson T, Nolan JP, Schexnayder S, Reynolds J, Nation K et al (2020) Oxygenation and ventilation targets after cardiac arrest: A systematic review and meta-analysis. Resuscitation 152:107–115

16.

Lin CH, Su WH, Chen YC, Feng PH, Shen WC, Ong JR et al (2018) Treatment with normobaric or hyperbaric oxygen and its effect on neuropsychometric dysfunction after carbon monoxide poisoning: a systematic review and meta-analysis of randomized controlled trials. Medicine 97(39):e12456

17.

Lemyze M, Guiot A, Mallat J, Thevenin D (2018) The obesity supine death syndrome (OSDS). Obes Rev 19(4):550–556

18.

Rainard A, Chuang D, Zeng I, Larkin GL (2015) A randomized trial on subject tolerance and the adverse effects associated with higher- versus lower-flow oxygen through a standard nasal cannula. Ann Emerg Med 65(4):356–361

19.

Waldau T, Larsen VH, Bonde J (1998) Evaluation of five oxygen delivery devices in spontaneously breathing subjects by oxygraphy. Anaesthesia 53(3):256–263

20.

Wettstein RB, Shelledy DC, Peters JI (2005) Delivered oxygen concentrations using low-flow and high-flow nasal cannulas. Respir Care 50(5):604–609

21.

O'Reilly Nugent A, Kelly PT, Stanton J, Swanney MP, Graham B, Beckert L (2014) Measurement of oxygen concentration delivered via nasal cannulae by tracheal sampling. Respirology 19(4):538–543

22.

Jensen AG, Johnson A, Sandstedt S (1991) Rebreathing during oxygen treatment with face mask. The effect of oxygen flow rates on ventilation. Acta Anaesthesiol Scand 35(4):289–292

23.

(2017) Richtlinien zur Organtransplantation gem. § 16 TPG: Bundesärztekammer. https://www.bundesaerztekammer.de/fileadmin/user_upload/downloads/pdfOrdner/RL/RiliOrgaWlOvLungeTx-ab20171107.pdf. Zugegriffen: 5. Sept. 2021

24.

Bingheng LJC, Yu C, Yijuan Y (2019) Comparison of peripheral venous and arterial blood gas in patients with acute exacerbation of chronic obstructive pulmonary disease (AECOPD): a metaanalysis. Notfall Rettungsmed 22:620–627

25.

Rudolf M, Turner JA, Harrison BD, Riordan JF, Saunders KB (1979) Changes in arterial blood gases during and after a period of oxygen breathing in patients with chronic hypercapnic respiratory failure and in patients with asthma. Clin Sci 57(5):389–396

26.

Pennisi MA, Bello G, Congedo MT, Montini L, Nachira D, Ferretti GM et al (2019) Early nasal high-flow versus Venturi mask oxygen therapy after lung resection: a randomized trial. Crit Care 23(1):68

27.

Dobbe ASM, Stolmeijer R, Ter Maaten JC, Ligtenberg JJM (2018) Titration of oxygen therapy in critically ill emergency department patients: a feasibility study. BMC Emerg Med 18(1):17
Ethics declarations
Interessenkonflikt
T. Fühner und J. Gottlieb geben an, dass kein Interessenkonflikt besteht.
Für diesen Beitrag wurden von den Autoren keine Studien an Menschen oder Tieren durchgeführt. Für die aufgeführten Studien gelten die jeweils dort angegebenen ethischen Richtlinien.
Additional information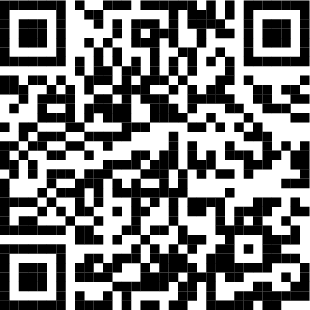 QR-Code scannen & Beitrag online lesen
Redaktion
J. Gottlieb, Hannover
H. Worth, Fürth
About this article
Cite this article
Fühner, T., Gottlieb, J. Sauerstofftherapie in der Akut- und Notfallmedizin. Pneumologe (2021). https://doi.org/10.1007/s10405-021-00417-x
Schlüsselwörter
Sauerstoff

Oxymetrie

Hyperoxämie

Hypoxämie

Hyperkapnie
Keywords
Oxygen

Oximetry

Hyperoxia

Hypoxia

Hypercapnia