Zusammenfassung
Ziele der Langzeitsauerstofftherapie (LTOT) sind die Minderung der Sterblichkeit und die Verbesserung der Leistungsfähigkeit, in erster Linie bei Patienten mit chronischen Lungenerkrankungen. Grundvoraussetzung für die Verordnung sind eine adäquate Diagnostik und Indikationsstellung. Sinnvoll ist die Zuordnung eines Sauerstoffmangels zu einer chronisch hypoxämischen oder einer chronisch hyperkapnischen respiratorischen Insuffizienz. Die Indikation zu einer nichtinvasiven Beatmung (NIV) ist bei Letzterer zu beachten. Voraussetzung zur Verordnung sind die Durchführung mindestens zweier kapillärer(arterieller) Blutgasanalysen (BGA) im stabilen Krankheitsintervall im Abstand von 3 Wochen (Intervall abhängig von der Krankheitsschwere) und dabei der 2‑malige Nachweis einer Hypoxämie mit einem paO2 (arterieller Sauerstoffpartialdruck) ≤ 55 mm Hg. Liegt der paO2 zwischen 55 und 60 mm Hg, sollte zusätzlich ein Cor pulmonale oder eine Polyglobulie nachweisbar sein, um die Verordnung zu rechtfertigen. Eine Echokardiographie wird empfohlen sowohl zur Beurteilung der Rechtsherzbelastung als auch zur Erkennung einer anderen kardialen Komorbidität. Eine Sauerstoffsättigung > 89 % und ein paO2 > 60 mm Hg in Ruhe sind keine Indikationen zur LTOT. Bei der Verordnung einer Sauerstoffversorgung am Ende eines stationären Aufenthaltes z. B. wegen einer Exazerbation einer COPD (chronisch obstruktive Lungenerkrankung) sind die Patienten darüber zu informieren, dass die Indikation innerhalb von 3 Monaten überprüft werden muss. Dabei kann die Therapie auch wieder beendet werden. Aufgrund einer geringen Datenlage wird eine LTOT bei fibrosierenden Lungenerkrankungen und der chronischen Herzinsuffizienz analog zu den Kriterien bei der COPD verordnet. Auch in der Palliativmedizin ist die Sauerstoffgabe in der Regel nur bei Nachweis einer Hypoxämie wirksam.
Abstract
The aims of long-term oxygen therapy (LTOT) are the reduction of mortality and improvement of exercise capacity, above all in patients with chronic lung diseases. Prerequisites for the prescription of LTOT are adequate diagnostics and clearly defined indications. Meaningful is the assignment of an oxygen deficiency to a chronic hypoxemic or chronic hypercapnic respiratory deficiency. For the latter, the indications for noninvasive ventilation (NIV) must be considered. A prerequisite for the prescription is that at least two capillary (arterial) blood gas analyses (BGA) are performed in the stable disease period at an interval of 3 weeks (interval dependent on the severity of the disease) and both result in the determination of hypoxemia with a partial pressure of oxygen (paO2) ≤ 55Hg. If the paO2 is between 55 and 60 mm Hg, a cor pulmonale or polycythemia must be present in order to justify the prescription. Echocardiography is recommended to assess the right ventricular load and also the detection of another cardiac comorbidity. An oxygen saturation > 89% and a paO2 > 60 mm Hg in the resting state are not indications for LTOT. Sometimes oxygen administration is prescribed at discharge from an inpatient hospitalization, e.g. due to exacerbation of a chronic obstructive pulmonary disease (COPD) and patients should be informed that reassessment of the indications is required within 3 months. In this case the treatment can be terminated. Due to the low amount of data on fibrotic interstitial lung diseases and chronic cardiac insufficiency, LTOT should be prescribed in analogy to the criteria for COPD. In palliative care oxygen administration is also generally only effective when hypoxemia is present.
Access options
Buy single article
Instant access to the full article PDF.
USD 39.95
Price includes VAT (USA)
Tax calculation will be finalised during checkout.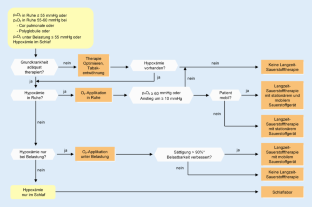 Literatur
1.

Haidl P, Jany B, Geiseler J et al (2020) Leitlinie zur Langzeit-Sauerstofftherapie. Pneumologie 74:1–29

2.

Magnussen H, Kirsten AM, Köhler D et al (2008) Leitlinien zur Langzeit-Sauerstofftherapie. Pneumologie 62:748–756

3.

Hardinge M, Annandale J, Bourne S et al (2015) British thoracic society guidelines for home oxygen use in adults. Thorax 70:i1–43

4.

Long-Term Oxygen Treatment Trial Research Group, Albert RK, Au DH et al (2016) A randomized trial of long-term oxygen for COPD with moderate desaturation. N Engl J Med 375:1617–1627

5.

Magnet FS, Majorski DS, Callegari J et al (2017) Capillary PO does not adequately reflect arterial PO in hypoxemic COPD patients. Int J Chron Obstruct Pulmon Dis 12:2647–2653

6.

Lacasse Y, Series F, Corbeil F et al (2020) Randomized trial of nocturnal oxygen in chronic obstructive pulmonary disease. N Engl J Med 383:1129–1138

7.

Windisch W, Dreher M, Geiseler J et al (2017) S2k-Leitlinie: Nichtinvasive und invasive Beatmung als Therapie der chronischen respiratorischen Insuffizienz – Revision 2017. Pneumologie 71:722–795

8.

No authors listed (1980) Continuous or nocturnal oxygen therapy in hypoxemic chronic obstructive lung disease: a clinical trial. Nocturnal oxygen therapy trial group. Ann Intern Med 93:391–398

9.

No authors listed (1981) Long term domiciliary oxygen therapy in chronic hypoxic cor pulmonale complicating chronic bronchitis and emphysema report of the medical research council working party. Lancet 1:681–686

10.

Haarmeyer GS, Valtin C, Gottlieb J (2021) Sauerstofftherapie bei Kandidaten zur Lungentransplantation-monozentrische Analyse retrospektive Analyse von 807 Patienten. Pneumologie 75:360–368

11.

Gottlieb J, Schrepper H, Valtin C et al (2021) Qualität der häuslichen Sauerstofftherapie bei Erwachsenen mit chronischer Lungenerkrankung. Dtsch Arztebl Int. https://doi.org/10.3238/arztebl.m2021.0294

12.

Andreas S, Batra A, Behr J et al (2014) Tabakentwöhnung bei COPD. Pneumologie 68:237–258

13.

Douglas WW, Ryu JH, Schroeder DR (2000) Idiopathic pulmonary fibrosis: Impact of oxygen and colchicine, prednisone, or no therapy on survival. Am J Respir Crit Care Med 161:1172–1178

14.

Ahmadi Z, Wysham NG, Lundström S et al (2016) End-of-life care in oxygen-dependent ILD compared with lung cancer: a national population-based study. Thorax 71:510–516

15.

Khor YH, Gutman L, Abu Hussein N (2021) Incidence and prognostic significance of hypoxemia in fibrotic interstitial lung disease: an international cohort study. Chest. https://doi.org/10.1016/j.chest.2021.04.037

16.

Arzt M, Woehrle H, Oldenburg O et al (2016) Prevalence and predictors of sleep-disordered breathing in patients with stable chronic heart failure: the SchlaHF registry. JACC Heart Fail 4:116–125

17.

Abernethy AP, McDonald CF, Frith PA et al (2010) Effect of palliative oxygen versus room air in relief of breathlessness in patients with refractory dyspnoea: a double-blind, randomised controlled trial. Lancet 376:784–793

18.

Deutsche Krebsgesellschaft, Deutsche Krebshilfe, AWMF (2020) Palliativmedizin für Patienten mit einer nicht-heilbaren Krebserkrankung. Langversion 2.1 (AWMF Registriernummer: 128/001OL)

19.

Galbraith S, Fagan P, Perkins P et al (2010) Does the use of a handheld fan improve chronic dyspnea? A randomized, controlled, crossover trial. J Pain Symptom Manage 39:831–838
Ethics declarations
Interessenkonflikt
P. Haidl gibt an, dass kein Interessenkonflikt besteht.
Für diesen Beitrag wurden vom Autor keine Studien an Menschen oder Tieren durchgeführt. Für die aufgeführten Studien gelten die jeweils dort angegebenen ethischen Richtlinien.
Additional information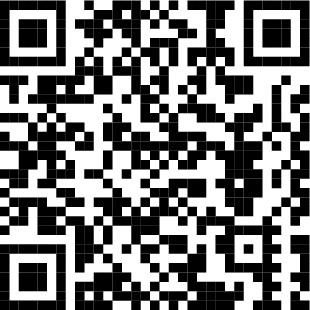 QR-Code scannen & Beitrag online lesen
Redaktion
J. Gottlieb, Hannover
H. Worth, Fürth
About this article
Cite this article
Haidl, P. Langzeitsauerstofftherapie. Pneumologe (2021). https://doi.org/10.1007/s10405-021-00412-2
Schlüsselwörter
Respiratorische Insuffizienz

Postakute Sauerstofftherapie

Chronisch obstruktive Lungenerkrankung

Palliativmedizin

Sauerstoffmangel
Keywords
Respiratory failure

Postacute oxygen therapy

Chronic obstructive pulmonary disease

Palliative medicine

Oxygen deficiency