Zusammenfassung
Für erwachsene Patienten mit Asthma bronchiale ist ab Therapiestufe 3 gemäß den aktuellen deutschsprachigen Leitlinien eine Fixkombination aus inhalativem Kortikosteroid ("inhalative corticosteroid" [ICS]) und Formoterol sowohl zur Langzeittherapie als auch zur Symptomkontrolle ("single maintenance and reliever therapy" [sMART]) Therapie der ersten Wahl. Diese Empfehlung gilt auch für Jugendliche. Für Kinder ≤11 Jahre liegen dagegen kaum Daten vor, es gibt außerdem kein Medikament, das für den sMARTen Einsatz in dieser Altersgruppe zugelassen wäre (Stand Juli 2021). Einen echten Paradigmenwechsel gibt es in der Therapie des milden Asthma: Seit der 4. Auflage der Nationalen Versorgungsleitlinie (NVL) Asthma und im Addendum 2020 der S2k-Leitlinie Asthma besteht die Empfehlung, bei Erwachsenen mit mildem Asthma zur Symptomkontrolle bereits ab Stufe 1 eine fixe Kombination aus ICS und Formoterol zu verordnen, um auf jeden Fall die antiinflammatorische Therapiekomponente dabeizuhaben und damit Risiken zu reduzieren. Auch für Jugendliche ist dementsprechend insbesondere unter dem Aspekt der häufig schlechten Adhärenz zur Langzeittherapie mit niedrig dosierten ICS eine Fixkombination ICS/Formoterol eine mögliche Alternative in Stufe 1 und 2. Für Kinder bis zum 12. Geburtstag gibt es mangels Daten keine solche Therapieempfehlung; hier gilt weiterhin, frühzeitig eine regelmäßige antiinflammatorische Therapie mit niedrig bis mitteldosierten ICS zu initiieren und zusätzlich ein kurz wirksames Betamimetikum zur Symptomkontrolle zu verordnen. Die ganz aktuellen Empfehlungen der Global Initiative for Asthma (GINA) gehen bereits einen Schritt weiter (https://ginasthma.org/gina-reports/).
Abstract
According to the current German asthma guidelines, the treatment of first choice for adult patients with bronchial asthma from therapy stage 3 onwards is a fixed combination of inhaled corticosteroid (ICS) and formoterol. The ICS/formoterol combination is recommended for long-term treatment as well as for symptom control and is called single maintenance and reliever therapy (sMART). This recommendation is also valid for adolescents. For children ≤ 11 years old very few data are available and additionally there is no medication licensed for sMART use in this age group (as of July 2021). There is a real paradigm shift in the treatment of mild asthma: since the fourth edition of the national treatment guidelines (NVL) on asthma and in the addendum 2020 of the S2k guidelines on asthma it is recommended to prescribe a fixed combination of ICS and formoterol for adults with mild asthma even at stage 1, with the aim to have the anti-inflammatory component present in any case and thereby to reduce future risks. Accordingly, a fixed combination of ICS and formoterol is a treatment option in stages 1 and 2 for adolescents, particularly taking into account that poor adherence to long-term treatment with low-dose ICS is a frequent problem in this age group. There is no such treatment recommendation for children up to the age of 12 years due to a lack of data: in this case, regular anti-inflammatory therapy with low-to medium-dose ICS should be initiated early and a short-acting 2‑agonist for symptom control should be added. The most recent recommendations of the Global Initiative for Asthma (GINA) already go one step further (https://ginasthma.org/gina-reports/).
Access options
Buy single article
Instant access to the full article PDF.
US$ 39.95
Tax calculation will be finalised during checkout.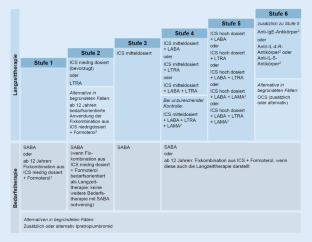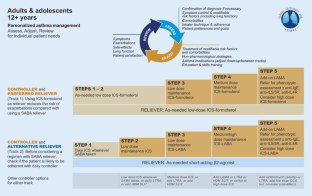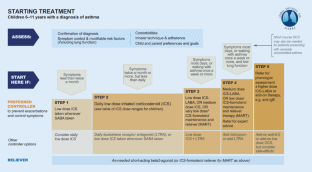 Literatur
1.

(2020) Nationale Versorgungsleitlinie. https://www.awmf.org/leitlinien/detail/ll/nvl-002.html. Zugegriffen: 30 Jul 2021

2.

(2020) S2k-Leitlinie zur Diagnostik und Therapie von Patienten mit Asthma (2017); Addendum 2020. https://www.awmf.org/fileadmin/user_upload/Leitlinien/020_D_Ges_fuer_Pneumologie/020-009add_S2k_Asthma_Diagnostik_Therapie_2020-12-abgelaufen.pdf. Zugegriffen: 30 Jul 2021

3.

Jorup C, Lythgoe D, Bisgaard H (2018) Budesonide/formoterol maintenance and reliever therapy in adolescent patients with asthma. Eur Respir J 51(1). https://doi.org/10.1183/13993003.01688-2017

4.

Bisgaard H et al (2006) Budesonide/formoterol maintenance plus reliever therapy: a new strategy in pediatric asthma. Chest 130(6):1733–1743

5.

Levy ML (2021) Risks of poor asthma outcome in 14,405 children and young people in London. npj Prim Care Respir Med 31(1):3

6.

Nwaru BI et al (2020) Overuse of short-acting beta2-agonists in asthma is associated with increased risk of exacerbation and mortality: a nationwide cohort study of the global SABINA programme. Eur Respir J 55(4). https://doi.org/10.1183/13993003.01872-2019

7.

GINA (2021) GINA report 2021. https://ginasthma.org/gina-reports/. Zugegriffen: 30 Jul 2021

8.

Santamaria F, Borrelli M, Baraldi E (2021) GINA 2021: the missing pieces in the childhood asthma puzzle. Lancet Respir Med. https://doi.org/10.1016/S2213-2600(21)00275-7

9.

Bateman ED et al (2018) As-needed budesonide-formoterol versus maintenance budesonide in mild asthma. N Engl J Med 378(20):1877–1887

10.

Beasley R et al (2019) Controlled trial of budesonide-formoterol as needed for mild asthma. N Engl J Med 380(21):2020–2030

11.

Hardy J et al (1520) Combination budesonide/formoterol inhaler as sole reliever therapy in Maori and Pacific people with mild and moderate asthma. N Z Med J 2020(133):61–72

12.

O'Byrne PM et al (2018) Inhaled combined budesonide-formoterol as needed in mild asthma. N Engl J Med 378(20):1865–1876

13.

Reddel HK et al (2021) Efficacy and safety of as-needed budesonide-formoterol in adolescents with mild asthma. J Allergy Clin Immunol Pract. https://doi.org/10.1016/j.jaip.2021.04.016

14.

Martinez FD et al (2011) Use of beclomethasone dipropionate as rescue treatment for children with mild persistent asthma (TREXA): a randomised, double-blind, placebo-controlled trial. Lancet 377(9766):650–657

15.

Hatter L et al (2021) The Children's Anti-inflammatory REliever (CARE) study: a protocol for a randomised controlled trial of budesonide-formoterol as sole reliever therapy in children with mild asthma. ERJ Open Res. https://doi.org/10.1183/23120541.00271-2021
Ethics declarations
Interessenkonflikt
M. Gappa weist auf folgende Beziehungen hin: In den letzten 5 Jahren Erhalt von Honoraren für Vortrags- und Beratertätigkeit von ALK, Boehringer Ingelheim, GSK, Novartis und Sanofi.
Für diesen Beitrag wurden vom Autor keine Studien an Menschen oder Tieren durchgeführt. Für die aufgeführten Studien gelten die jeweils dort angegebenen ethischen Richtlinien.
Additional information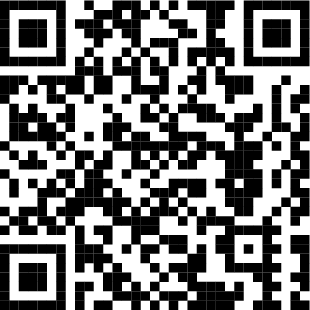 QR-Code scannen & Beitrag online lesen
About this article
Cite this article
Gappa, M. Asthmatherapie bei Kindern und Jugendlichen mit fixer ICS ("inhalative corticosteroid")/ LABA ("long acting beta-2-agonist")-Kombination. Pneumologe 18, 320–325 (2021). https://doi.org/10.1007/s10405-021-00411-3
Accepted:

Published:

Issue Date:
Schlüsselwörter
Nationale Versorgungsleitlinie

Stufenplan

Formoterol

Langzeittherapie

Symptomkontrolle
Keywords
National treatment guidelines

Stepwise treatment

Formoterol

Long-term therapy

Symptom control