Zusammenfassung
Als neuromuskuläre Erkrankungen werden Erkrankungen der Ausführungsorgane der Bewegung, also der Motoneurone, der neuromuskulären Übertragung und des Muskels selbst bezeichnet. Im Kindesalter auftretende neuromuskuläre Erkrankungen (NME) sind entweder genetisch bedingt oder ausgelöst durch Störungen des Immunsystems. In der Summe sind etwa 0,2–0,5 % aller Kinder von neuromuskulären Erkrankungen betroffen, wobei die Häufigkeit einzelner der immer seltenen Erkrankungen stark schwankt. Je komplexer das Erkrankungsbild, je seltener die Erkrankung und je schwerer die Behinderung bei einem Adoleszenten ist, umso hilfreicher ist eine sorgfältige Transition von der Pädiatrie in die medizinische Welt der Erwachsenen. Muskelzentren und MZEB (medizinische Zentren für Erwachsene mit geistiger und mehrfacher Behinderung) sind geeignet, um bei Bedarf auch im Erwachsenenalter ein multiprofessionelles Versorgungskonzept aufrechtzuhalten.
Abstract
Diseases of the organs responsible for movement, i.e. the motor neurons, the neuromuscular transfer and the muscles themselves, are designated as neuromuscular diseases. Neuromuscular diseases occurring in childhood are either genetically linked or triggered by disorders of the immune system. In total, approximately 0.2–0.5% of all children are affected by neuromuscular diseases, whereby the frequency of individual entities of these always rare diseases greatly varies. The more complex the disease symptoms, the rarer the disease and the more severe the disability is in an adolescent, the more helpful is a meticulous transition from pediatrics to the medical world of adults. Muscle centers and medical centers for adults with intellectual and multiple disabilities are capable of maintaining a multiprofessional treatment concept, when necessary also into adulthood.
We're sorry, something doesn't seem to be working properly.
Please try refreshing the page. If that doesn't work, please contact support so we can address the problem.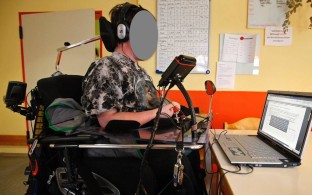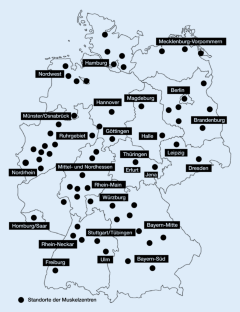 Literatur
1.

Sieb JP, Schrank B (2009) Neuromuskuläre Erkrankungen. Kohlhammer, Stuttgart

2.

Chatwin M, Tan H‑L, Bush A, Rosenthal M, Simonds AK (2015) Long term non-invasive ventilation in children: impact on survival and transition to adult care. PLoS ONE 10(5):e125839. https://doi.org/10.1371/journal.pone.0125839

3.

Winterholler M, Holländer C, Kerling F, Weber I, Dittrich S, Türk M, Schröder R (2016) Stroke in Duchenne muscular dystrophy: a retrospective longitudinal study in 54 patients. Stroke 47(8):2123–2126. https://doi.org/10.1161/STROKEAHA.116.013678

4.

Cheng PC, Panitch HB, Hansen-Flaschen J (2020) Transition of patients with neuromuscular disease and chronic ventilator-dependent respiratory failure from pediatric to adult pulmonary care. Paediatr Respir Rev 330:3–8. https://doi.org/10.1016/j.prrv.2019.03.005

5.

Onofri A, Tan HL, Cherchi C et al (2019) Transition to adult care in young people with neuromuscular disease on non-invasive ventilation. Ital J Pediatr 45:90. https://doi.org/10.1186/s13052-019-0677-z

6.

Dowling JJ, Gonorazky HD, Cohn RD, Campbell C (2018) Treating pediatric neuromuscular disorders: the future is now. Am J Med Genet A 176(4):804–841. https://doi.org/10.1002/ajmg.a.38418

7.

Schara U, Fink GR, von Moers A (2018) Transition von der Neuropädiatrie zur Neurologie bei neuromuskulären Erkrankungen. Nervenarzt 89(10):1123–1130. https://doi.org/10.1007/s00115-018-0585-2

8.

Birnkrant DJ, Bushby K, Bann CM, Apkon SD, Blackwell A, Brumbaugh D, Case LE, Clemens PR, Hadjiyannakis S, Pandya S, Street N, Tomezsko J, Wagner KR, Ward LW, Weber DR, DMD Care Considerations Working Group (2018) Diagnosis and management of Duchenne muscular dystrophy, part 1: diagnosis, and neuromuscular, rehabilitation, endocrine, and gastrointestinal and nutritional management. Lancet Neurol 17(3):251–267

9.

Birnkrant DJ, Bushby K, Bann CM, Alman BA, Apkon SD, Blackwell A, Case LE, Cripe L, Hadjiyannakis S, Olson AK, Sheehan DW, Bolen J, Weber DR, Ward LM, DMD Care Considerations Working Group (2018) Diagnosis and management of Duchenne muscular dystrophy, part 2: respiratory, cardiac, bone health, and orthopaedic management. Lancet Neurol 17(4):347–361

10.

Windisch W, Brambring J, Budweiser S, Dellweg D, Geiseler J, Gerhard F, Köhnlein T, Mellies U, Schönhofer B, Schucher B, Siemon K, Walterspacher S, Winterholler M, Sitter H, Projektgruppe Nichtinvasive und invasive Beatmung als Therapie der chronischen respiratorischen Insuffizienz (2010) Nichtinvasive und invasive Beatmung als Therapie der chronischen respiratorischen Insuffizienz. S2-Leitlinie herausgegeben von der Deutschen Gesellschaft für Pneumologie und Beatmungsmedizin e. V [non-invasive and invasive mechanical ventilation for treatment of chronic respiratory failure. S2-guidelines published by the German medical association of pneumology and ventilatory support]. Pneumologie 64(4):207–240. https://doi.org/10.1055/s-0029-1243978

11.

Callahan ST, Winitzer RF, Keenan P (2001) Transition from pediatric to adult-oriented health care: a challenge for patients with chronic disease. Curr Opin Pediatr 13(4):310–316

12.

Carrizosa J, An I, Appleton R, Camfield P, von Moers A (2014) Models for transition clinics. Epilepsia 55(3):46–51

13.

DGM (2020) Neuromuskuläre Zentren der DGM. https://www.dgm.org/medizin-forschung/neuromuskulaere-zentren-dgm. Zugegriffen: 23. Dez. 2020

14.

Sappok T, Diefenbacher A, Winterholler M (2019) The medical care of people with intellectual disability. Dtsch Arztebl Int 116(48):809–816. https://doi.org/10.3238/arztebl.2019.0809

15.

Winterholler M (2018) MZEB haben Ihren Dienst aufgenommen. Neurotransmitter 30:28–33

16.

Haubitz M, Pape L (2011) Mögliche Ansätze für eine gute Transition. Nephrologe 6(1):44–50

17.

Lausch M, Reincke M (2004) Übergangssprechstunden für chronisch Kranke in Endokrinologie und Diabetologie in Deutschland. Dtsch Med Wochenschr 129:1125–1129

18.

Minden K, Niewerth M, Müther S (2014) Berliner TransitionsProgramm – Vom Jugendlichen zum Erwachsenen in der rheumatologischen Behandlung. Z Rheumatol 73(6):526–531
Danksagung
Von M. Winterholler und R. Trollmann: Wir bedanken uns bei Herrn Dr. Christian Holländer, der uns freundlicherweise die Abb. 1 für diesen Beitrag zur Verfügung gestellt hat.
Ethics declarations
Interessenkonflikt
M. Winterholler ist seit 2015 Mitglied des Bundesvorstandes und seit 11/2018 Vorstand der Bundesarbeitsgemeinschaft MZEB e. V. R. Trollmann gibt an, dass kein Interessenkonflikt besteht.
Für diesen Beitrag wurden von den Autoren keine Studien an Menschen oder Tieren durchgeführt. Für die aufgeführten Studien gelten die jeweils dort angegebenen ethischen Richtlinien. Für Bildmaterial oder anderweitige Angaben innerhalb des Manuskripts, über die Patienten zu identifizieren sind, liegt von ihnen und/oder ihren gesetzlichen Vertretern eine schriftliche Einwilligung vor.
Additional information
Redaktion
M. Rose, Stuttgart
About this article
Cite this article
Winterholler, M., Trollmann, R. Transition bei neuromuskulären Erkrankungen mit chronisch respiratorischer Insuffizienz. Pneumologe 18, 116–122 (2021). https://doi.org/10.1007/s10405-021-00378-1
Accepted:

Published:

Issue Date:
Schlüsselwörter
Autoimmunerkrankung

Muskuläre Dystrophie

Atemmuskelschwäche

Versorgungskonzept

Spinale muskuläre Atrophie
Keywords
Autoimmune disease

Muscular dystrophy

Respiratory muscle weakness

Treatment concept

Spinal muscular atrophy