Zusammenfassung
Mediastinaltumoren umfassen ein breites Spektrum unterschiedlicher Erkrankungen. Ihr klinisches Bild variiert in Abhängigkeit von ihrer Lokalisation, Größe und Morphologie. Das Spektrum reicht von asymptomatischen, zufällig entdeckten Raumforderungen über Tumoren, die durch Kompression oder Tumorinvasion Husten, Thoraxschmerzen, Dyspnoe und Lähmungserscheinungen verursachen bis hin zu Läsionen mit endokriner Aktivität, die Hypertonie, Flush oder andere klinische Syndrome auslösen.
Im vorderen Mediastinum treten am häufigsten Thymome, Teratome, endothorakale Strumen und Lymphome auf. Tumoren des mittleren Mediastinums werden dominiert von kongenitalen Zysten, einschließlich Vorderdarm- und Perikardzysten. Im hinteren Mediastinum finden sich bevorzugt neurogene Tumoren.
Dieser Artikel gibt einen Überblick zu den häufigsten Tumoren des Mediastinums, ihrer klinischen Präsentation, Diagnostik, therapeutischen Optionen sowie ihrer Prognose.
Abstract
Mediastinal tumors comprise a wide spectrum of different diseases. The clinical presentation varies from asymptomatic incidentally detected masses, to tumors causing (due to compression or invasion) coughing, thoracic pain, dyspnea, and the appearance of palsy, to lesions with hormone-producing activity that leads to hypertension, flushing, or other clinical syndromes.
Common tumors of the anterior mediastinum include thymoma, teratoma, goiter, and lymphoma. Tumors of the middle mediastinum are dominated by congenital cysts, including foregut and pericardial cysts. Tumors of the posterior mediastinum particularly include neurogenic tumors.
This article provides an overview of the most common mediastinal tumors, including their clinical presentation, diagnosis, and prognostic prospects.
Access options
Buy single article
Instant access to the full article PDF.
USD 39.95
Price excludes VAT (USA)
Tax calculation will be finalised during checkout.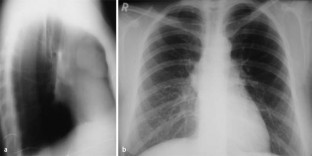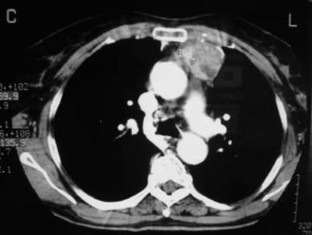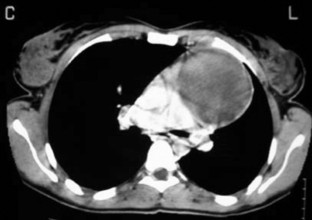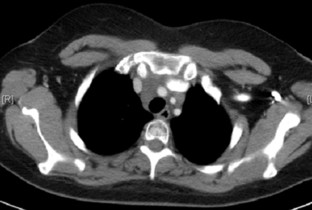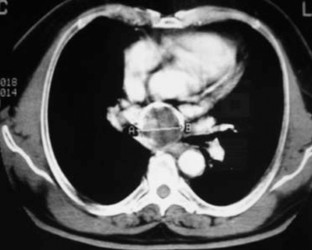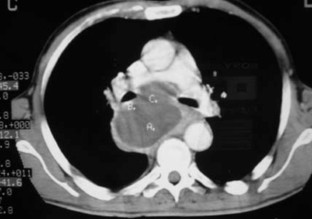 Literatur
Bousamra II M, Haasler GB, Patterson GA et al (1996) A comparative study of thoracoscopic vs open removal of benign neurogenic mediastinal tumors. Chest 109:1461–1465

Cirino LMI, de Campos JRM, Fernandez A et al (2000) Diagnosis and treatment of mediastinal tumors by thoracoscopy. Chest 117:1787–1792

Crapo JD, Glassroth J, Karlinsky J et al (2004) Baum's textbook of pulmonary diseases. Lippincott Williams & Wilkins, Philadelphia, pp 883–912

Davis RD Jr, Newland Oldham H Jr, Sabiston DC Jr (1987) Primary cysts and neoplasms of the mediastinum: recent changes in clinical presentation, methods of diagnosis, management and results. Ann Thorac Surg 44:229–237

Dreyling M, Hiddemann W, Trümper L (2007) DGHO (Hrsg) Leitlinien Maligne Lymphome. GMIHO mbH, Berlin S 1–28

Duwe BV, Sterman DH, Musani AI (2005) Tumors of the mediastinum. Chest 128:2893–2909

Gibril F, Chen YJ, Schrump DS et al (2003) Prospective study of thymic carcinoids in patients with multiple endocrine neoplasia type I. J Clin Endocrinol Metab 88:1066–1081

Kim ES, Putnam JB, Komaki R et al (2004) Phase II study of a multidisciplinary approach with induction chemotherapy, followed by surgical resection, radiation therapy and consolidation chemotherapy for unresectable malignant thymomas: final report. Lung Cancer 44:339–379

Krause SW, Schmitz S, Engert A (2006) Morbus Hodgkin. http://www.dgho.de

Krug B, Schulte O (2003) Mediastinum. In: Freyschmidt J, Stäbler, Galanski M et al (Hrsg) Handbuch diagnostische Radiologie: Thorax. Springer, Berlin Heidelberg New York, S 665–724

Lemarie E, Assouline PS, Diot P et al (1992) Primary mediastinal germ cell tumors. Results of a French retrospective study. Chest 102:1477–1483

Masaoka A, Monden Y, Nakahara K et al (1981) Follow-up study of thymomas with special reference to their clinical stages. Cancer 48:2485–2492

Moore S, Dave-Verma H, Singh A (2008) Imaging of mediastinal tumors. Cancer Treat Res 143:145–175

Rosai J, Sobin LH (1999) Histological typing of tumours of the thymus. In: WHO International histological classification of tumours. Springer, Berlin Heidelberg New York, pp 1–16

Rovario G, Varoli F, Nucca O et al (2000) Videothoracoscopic approach to primary mediastinal pathology. Chest 117:1179–1183

Ruf J, Lopez Hönninen Th, Steinmüller T et al (2004) Präoperative Lokalisationsdiagnostik von Nebenschilddrüsen: Nutzen der MRT, Szintigraphie und Bildfusion. Nuklearmedizin 43:85–90

Silverman NA, Sabiston DC Jr (1990) Mediastinal masses. Surg Clin North Am 60:757–777

Stremmel C, Passlick B (2008) Surgery of mediastinal tumors. Chirurg 79:9–10 (12–17)

Strollo DC, Rosado-de-Christenson ML, Jett R (1997) Primary mediastinal tumors: part I. Tumors of anterior mediastinum. Chest 112:511–522

Strollo DC, Rosado-de-Christenson ML, Jett R (1997) Primary mediastinal tumors: part II. Tumors of the middle and posterior mediastinum. Chest 112:1344–1357

Thomas CR, Wright CD, Loehrer PJ (1999) Thymoma. J Clin Oncol 17:2280–2289

Wakely PE Jr (2002) Cytopathology-histopathology of the mediastinum: epithelial, lymphoproliferative and germ cell neoplasms. Ann Diagn Pathol 6:30–43

Wight CD, Mathisen DJ (2001) Mediastinal tumors: diagnosis and treatment. World J Surg 25:204–209

Yoh K, Goto K, Ishii G et al (2003) Weekly chemotherapy with cisplatin, vincristine, doxorubicin and etoposide is an effective treatment for advanced thymic carcinoma. Cancer 98:926–931
Interessenkonflikt
Die korrespondierende Autorin gibt an, dass kein Interessenkonflikt besteht.
About this article
Cite this article
Gütz, S. Mediastinaltumoren. Pneumologe 6, 151–160 (2009). https://doi.org/10.1007/s10405-008-0282-0
Published:

Issue Date:

DOI: https://doi.org/10.1007/s10405-008-0282-0
Schlüsselwörter
Keywords