Abstract
Microfluidics found its place in point of care diagnostics. Microfluidic devices on paper substrate are proposed on both channel-based and digital microfluidics (DMF). But fluid flow controlling on microfluidics paper-based analytical devices (µPADs) and post-processing on DMF devices have limitations. In this work a new hybrid paper-based device is proposed with the aim of resolving these limitations and expanding the microfluidics capabilities in point of care diagnostics. The hybrid paper-based microfluidics (HPMF) device is composed of a DMF device following a µPAD in a single substrate, in which the DMF part performs the preprocessing steps of the test on droplets and transfers the resulting droplet to the µPAD part of the device for post-processing steps. The fabrication process of the device is rapid and very low cost due to use of paper substrate and out of clean-room processes. The results show that the proposed HPMF device can perform droplet operations: moving, mixing, and splitting.
Access options
Buy single article
Instant access to the full article PDF.
US$ 39.95
Tax calculation will be finalised during checkout.
Subscribe to journal
Immediate online access to all issues from 2019. Subscription will auto renew annually.
US$ 79
Tax calculation will be finalised during checkout.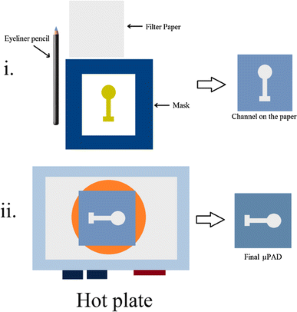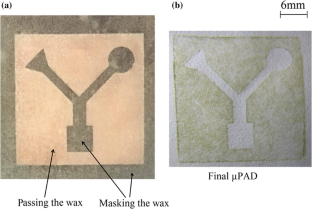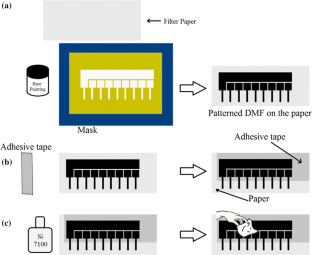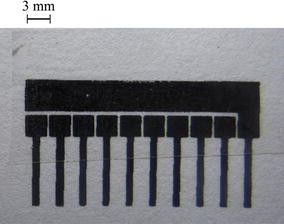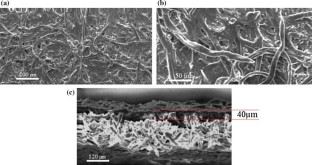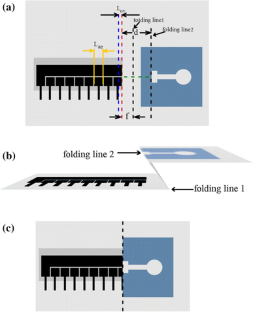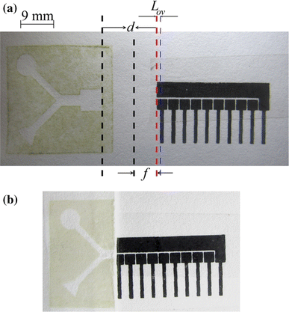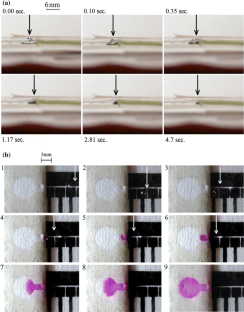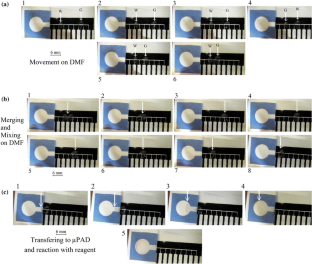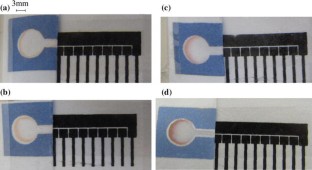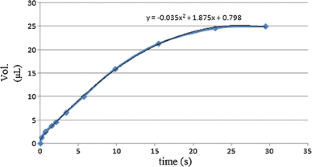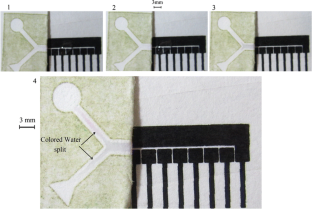 References
Abadian A, Jafarabadi-Ashtiani S (2014) Paper-based digital microfluidics. Microfluid Nanofluid 16:989–995

Abdelgawad M, Wheeler AR (2007) Rapid prototyping in copper substrates for digital microfluidics. Adv Mater 19:133–137

Adkins J, Boehle K, Henry C (2015) Electrochemical paper-based microfluidic devices. Electrophoresis 36:1811–1824

Alahmad W, Uraisin K, Nacapricha D, Kaneta T (2016) Miniaturized chemiluminescence detection system for a microfluidic paper-based analytical device and its application to the determination of chromium (III). Anal Methods 8:5414–5420

Carrilho E, Martinez AW, Whitesides GM (2009) Understanding wax printing: a simple micropatterning process for paper-based microfluidics. Anal Chem 81:7091–7095

Chitnis G, Ding Z, Chang C-L, Savran CA, Ziaie B (2011) Laser-treated hydrophobic paper: an inexpensive microfluidic platform. Lab Chip 11:1161–1165

Choi K, Ng AH, Fobel R, Wheeler AR (2012) Digital microfluidics. Annu Rev Anal Chem 5:413–440

Delaney JL, Hogan CF, Tian J, Shen W (2011) Electrogenerated chemiluminescence detection in paper-based microfluidic sensors. Anal Chem 83:1300–1306

Dharmaraja S et al (2013) Programming paper networks for point of care diagnostics. In: SPIE MOEMS-MEMS, 2013. International Society for Optics and Photonics, pp 86150X-86150X-86111

Dungchai W, Chailapakul O, Henry CS (2011) A low-cost, simple, and rapid fabrication method for paper-based microfluidics using wax screen-printing. Analyst 136:77–82

Fenton EM, Mascarenas MR, López GP, Sibbett SS (2008) Multiplex lateral-flow test strips fabricated by two-dimensional shaping. ACS Appl Mater Interfaces 1:124–129

Fobel R, Kirby AE, Ng AH, Farnood RR, Wheeler AR (2014) Paper microfluidics goes digital. Adv Mater 26:2838–2843

Fu E, Kauffman P, Lutz B, Yager P (2010) Chemical signal amplification in two-dimensional paper networks. Sens Actuators B Chem 149:325–328

Fu E, Liang T, Houghtaling J, Ramachandran S, Ramsey SA, Lutz B, Yager P (2011a) Enhanced sensitivity of lateral flow tests using a two-dimensional paper network format. Anal Chem 83:7941–7946

Fu E, Ramsey SA, Kauffman P, Lutz B, Yager P (2011b) Transport in two-dimensional paper networks. Microfluid Nanofluid 10:29–35

Ge L, Yan J, Song X, Yan M, Ge S, Yu J (2012) Three-dimensional paper-based electrochemiluminescence immunodevice for multiplexed measurement of biomarkers and point-of-care testing. Biomaterials 33:1024–1031

Gong J, Kim C-J (2008) Direct-referencing two-dimensional-array digital microfluidics using multilayer printed circuit board. J Microelectromech Syst 17:257–264

Hu J, Wang S, Wang L, Li F, Pingguan-Murphy B, Lu TJ, Xu F (2014) Advances in paper-based point-of-care diagnostics. Biosens Bioelectron 54:585–597

Klasner SA, Price AK, Hoeman KW, Wilson RS, Bell KJ, Culbertson CT (2010) Paper-based microfluidic devices for analysis of clinically relevant analytes present in urine and saliva. Anal Bioanal Chem 397:1821–1829

Ko H et al (2014) Active digital microfluidic paper chips with inkjet-printed patterned electrodes. Adv Mater 26:2335–2340

Li X, Tian J, Shen W (2010) Progress in patterned paper sizing for fabrication of paper-based microfluidic sensors. Cellulose 17:649–659

Li X, Ballerini DR, Shen W (2012) A perspective on paper-based microfluidics: current status and future trends. Biomicrofluidics 6:011301

Li X, Zwanenburg P, Liu X (2013) Magnetic timing valves for fluid control in paper-based microfluidics. Lab Chip 13:2609–2614

Li S, Wang Y, Ge S, Yu J, Yan M (2015a) Self-powered competitive immunosensor driven by biofuel cell based on hollow-channel paper analytical devices. Biosens Bioelectron 71:18–24

Li X, Zhao C, Liu X (2015b) A paper-based microfluidic biosensor integrating zinc oxide nanowires for electrochemical glucose detection. Microsyst Nanoeng 1:1–7

Liang L, Ge S, Li L, Liu F, Yu J (2015) Microfluidic paper-based multiplex colorimetric immunodevice based on the catalytic effect of Pd/Fe 3 O 4@ C peroxidase mimetics on multiple chromogenic reactions. Anal Chim Acta 862:70–76

Liu F, Zhang C (2015) A novel paper-based microfluidic enhanced chemiluminescence biosensor for facile, reliable and highly-sensitive gene detection of Listeria monocytogenes. Sens Actuators B Chem 209:399–406

Martinez AW, Phillips ST, Butte MJ, Whitesides GM (2007) Patterned paper as a platform for inexpensive, low-volume, portable bioassays. Angew Chem Int Ed 46:1318–1320

Medina A, Pérez-Rosales C, Pineda A, Higuera F (2001) Imbibition in pieces of paper with different shapes. Revista mexicana de física 47:537–541

Ramdzan AN, Almeida MIG, McCullough MJ, Kolev SD (2016) Development of a microfluidic paper-based analytical device for the determination of salivary aldehydes. Anal Chim Acta 919:47–54

Samiei E, Tabrizian M, Hoorfar M (2016) A review of digital microfluidics as portable platforms for lab-on a-chip applications. Lab Chip 16(13). doi:10.1039/c6lc00387g

Santhiago M, Henry CS, Kubota LT (2014) Low cost, simple three dimensional electrochemical paper-based analytical device for determination of p-nitrophenol. Electrochim Acta 130:771–777

Schiff H (1866) Eine neue reihe organischer diamine. Justus Liebigs Annalen der Chemie 140:92–137

Sher M, Zhuang R, Demirci U, Asghar W (2017) Paper-based analytical devices for clinical diagnosis: recent advances in the fabrication techniques and sensing mechanisms. Expert Rev Mol Diagn (just accepted)

Songjaroen T, Dungchai W, Chailapakul O, Laiwattanapaisal W (2011) Novel, simple and low-cost alternative method for fabrication of paper-based microfluidics by wax dipping. Talanta 85:2587–2593

Tenda K, Ota R, Yamada K, Henares TG, Suzuki K, Citterio D (2016) High-resolution microfluidic paper-based analytical devices for sub-microliter sample analysis. Micromachines 7:80

Trinder P (1969) Glucose GOD-PAP method enzymatic colorimetric method. Ann Clin Biochem 6(24):12481676

Wang Y, Wang S, Ge S, Wang S, Yan M, Zang D, Yu J (2014) Ultrasensitive chemiluminescence detection of DNA on a microfluidic paper-based analytical device. Monatshefte für Chemie-Chem Mon 145:129–135

Watson MW, Jebrail MJ, Wheeler AR (2010) Multilayer hybrid microfluidics: a digital-to-channel interface for sample processing and separations. Anal Chem 82:6680–6686

Yafia M, Shukla S, Najjaran H (2015) Fabrication of digital microfluidic devices on flexible paper-based and rigid substrates via screen printing. J Micromech Microeng 25:057001

Yu L, Shi ZZ (2015) Microfluidic paper-based analytical devices fabricated by low-cost photolithography and embossing of Parafilm®. Lab Chip 15:1642–1645

Zhang Y, Zhao H, Hassinger I, Brinson LC, Schadler LS, Chen W (2015) Microstructure reconstruction and structural equation modeling for computational design of nanodielectrics. Integrating Mater Manuf Innov 4:1–26

Zhao C, Thuo MM, Liu X (2013) A microfluidic paper-based electrochemical biosensor array for multiplexed detectionof metabolic biomarkers. Sci Technol Adv Mate 14(5):054402. doi:10.1088/1468-6996/14/5/054402
Acknowledgements
The authors wish to thank Nourbakhsh J. Trading Company for supplying NEVOSIL® SI 7200.
Electronic supplementary material
About this article
Cite this article
Abadian, A., Sepehri Manesh, S. & Jafarabadi Ashtiani, S. Hybrid paper-based microfluidics: combination of paper-based analytical device (µPAD) and digital microfluidics (DMF) on a single substrate. Microfluid Nanofluid 21, 65 (2017). https://doi.org/10.1007/s10404-017-1899-2
Received:

Accepted:

Published:
Keywords
Digital microfluidics

Microfluidics paper-based analytical devices

Hybrid paper-based microfluidics

Screen printing