Abstract
An electrokinetically driven deterministic lateral displacement device is proposed for the continuous, two-dimensional fractionation of suspensions in microfluidic platforms. The suspended species are driven through an array of regularly spaced cylindrical posts by applying an electric field across the device. We explore the entire range of orientations of the driving field with respect to the array of obstacles and show that, at specific forcing angles, particles of different size migrate in different directions, thus enabling continuous, two-dimensional separation. We discuss a number of features observed in the motion of the particles, including directional locking and sharp transitions between migration angles upon variations in the direction of the force, that are advantageous for high-resolution two-dimensional separation. A simple model based on individual particle–obstacle interactions accurately describes the migration angle of the particles depending on the orientation of the driving field and can be used to reconfigure the electric field depending on the composition of the samples.
Access options
Buy single article
Instant access to the full article PDF.
USD 39.95
Price includes VAT (USA)
Tax calculation will be finalised during checkout.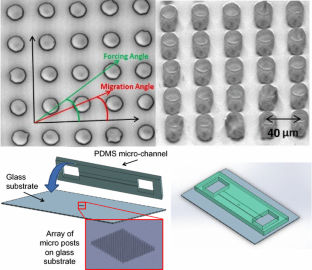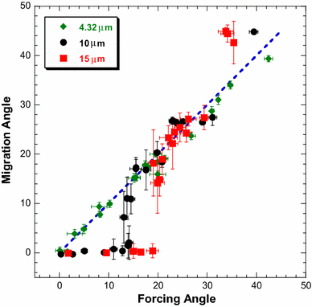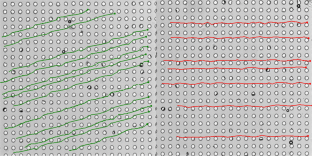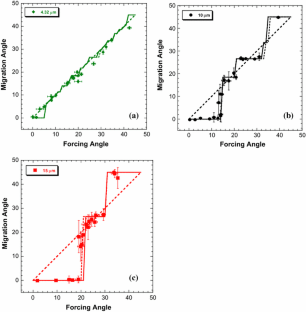 References
Al-Fandi M, Al-Rousan M, Jaradat MAK, Al-Ebbini L (2011) New design for the separation of microorganisms using microfluidic deterministic lateral displacement. Robot Comput Integr Manuf 27:237–244

Balvin M, Sohn E, Iracki T, Drazer G, Frechette J (2009) Directional locking and the role of irreversible interactions in deterministic hydrodynamics separations in microfluidic devices. Phys Rev Lett 103:078301

Beech JP, Tegenfeldt JO (2008) Tuneable separation in elastomeric microfluidics devices. Lab Chip 8:657–659

Beech JP, Jonsson P, Tegenfeldt JO (2009) Tipping the balance of deterministic lateral displacement devices using dielectrophoresis. Lab Chip 9:2698–2706

Bowman T, Frechette J, Drazer G (2012) Force driven separation of drops by deterministic lateral displacement. Lab Chip 12:2903

Bowman TJ, Drazer G, Frechette J (2013) Inertia and scaling in deterministic lateral displacement. Biomicrofluidics 7:064111

Chang S, Cho Y-H (2008) A continuous size-dependent particle separator using a negative dielectrophoretic virtual pillar array. Lab Chip 8:1930–1936

Cummings EB (2003) Streaming dielectrophoresis for continuous-flow microfluidic devices. IEEE Eng Med Biol Mag 22:75–84

Cummings EB, Singh AK (2003) Dielectrophoresis in microchips containing arrays of insulating posts: theoretical and experimental results. Anal Chem 75:4724–4731

Davis JA et al (2006) Deterministic hydrodynamics: taking blood apart. Proc Natl Acad Sci 103:14779–14784

Devendra R, Drazer G (2012) Gravity driven deterministic lateral displacement for particle separation in microfluidic devices. Anal Chem 84:10621–10627

Devendra R, Drazer G (2014) Deterministic fractionation of binary suspensions moving past a line of microposts. Microfluid Nanofluidics 17:519–526

Frechette J, Drazer G (2009) Directional locking and deterministic separation in periodic arrays. J Fluid Mech 627:379–401

Green JV, Radisic M, Murthy SK (2009) Deterministic lateral displacement as a means to enrich large cells for tissue engineering. Anal Chem 81:9178–9182

Herrmann J, Karweit M, Drazer G (2009) Separation of suspended particles in microfluidic systems by directional locking in periodic fields. Phys Rev E 79:061404

Holm SH, Beech JP, Barrett MP, Tegenfeldt JO (2011) Separation of parasites from human blood using deterministic lateral displacement. Lab Chip 11:1326–1332

Huang LR, Cox EC, Austin RH, Sturm JC (2004) Continuous particle separation through deterministic lateral displacement. Science 304:987–990

Huang R et al (2008) A microfluidics approach for the isolation of nucleated red blood cells (NRBCs) from the peripheral blood of pregnant women. Prenat Diagn 28:892–899

Hunter RJ (1981) Zeta potential in colloid science: principles and applications. Academic Press, New York

Inglis DW, Davis JA, Austin RH, Sturm JC (2006) Critical particle size for fractionation by deterministic lateral displacement. Lab Chip 6:655–658

Inglis DW, Lord M, Nordon RE (2011) Scaling deterministic lateral displacement arrays for high throughput and dilution-free enrichment of leukocytes. J Micromech Microeng 21:054024

Joensson HN, Uhlén M, Svahn HA (2011) Droplet size based separation by deterministic lateral displacement—separating droplets by cell-induced shrinking. Lab Chip 11:1305–1310

Li N, Kamei DT, Ho C-M (2007) On-chip continuous blood cell subtype separation by deterministic lateral displacement. In: 2nd IEEE International Conference on Nano/Micro Engineered and Molecular Systems, 2007. NEMS'07 (IEEE), pp 932–936. doi:10.1109/NEMS.2007.352171

Loutherback K et al (2010) Improved performance of deterministic lateral displacement arrays with triangular posts. Microfluid Nanofluidics 9:1143–1149

Masliyah JH, Bhattacharjee S (2006) Electrokinetic and colloid transport phenomena. Wiley, Hoboken

Morton KJ et al (2008a) Crossing microfluidic streamlines to lyse, label and wash cells. Lab Chip 8:1448–1453

Morton K et al (2008b) Hydrodynamic metamaterials: microfabricated arrays to steer, refract, and focus streams of biomaterials. Proc Natl Acad Sci USA 105:7434–7438

Pamme N (2007) Continuous flow separations in microfluidic devices. Lab Chip 7:1644–1659

Paul PH, Garguilo MG, Rakestraw DJ (1998) Imaging of pressure- and electrokinetically driven flows through open capillaries. Anal Chem 70:2459–2467

Risbud SR, Drazer G (2013) Trajectory and distribution of suspended non-Brownian particles moving past a fixed spherical or cylindrical obstacle. J Fluid Mech 714:213–237

Sureda M, Miller A, Diez FJ (2012) In situ particle zeta potential evaluation in electroosmotic flows from time-resolved microPIV measurements. Electrophoresis 33:2759–2768

Xuan J, Lee ML (2013) Size separation of biomolecules and bioparticles using micro/nanofabricated structures. Anal Methods 6:27–37

Yan D, Yang C, Nguyen N-T, Huang X (2006) Electrokinetic flow in microchannels with finite reservoir size effects. J Phys Conf Ser 34:385–392

Zeming KK, Ranjan S, Zhang Y (2013) Rotational separation of non-spherical bioparticles using I-shaped pillar arrays in a microfluidic device. Nat Commun 4:1625

Zhang B, Green JV, Murthy SK, Radisic M (2012) Label-free enrichment of functional cardiomyocytes using microfluidic deterministic lateral flow displacement. PLoS One 7:e37619
Acknowledgments
This work is partially supported by the National Science Foundation Grant No. CBET-1343924. We acknowledge partial support from Office of Naval Research Award No.: N000141110019.
About this article
Cite this article
Hanasoge, S., Devendra, R., Diez, F.J. et al. Electrokinetically driven deterministic lateral displacement for particle separation in microfluidic devices. Microfluid Nanofluid 18, 1195–1200 (2015). https://doi.org/10.1007/s10404-014-1514-8
Received:

Accepted:

Published:

Issue Date:
Keywords
PDMS

Microfluidic Device

Critical Angle

Driving Field

PDMS Microchannel