Abstract
Efficient nebulization of liquid sessile droplets (water and water/glycerol mixtures) was investigated using standing waves generated using ZnO/Si surface acoustic wave (SAW) devices under different RF powers, frequencies and liquid viscosity (varied glycol concentrations in water). At such high RF powers, there are strong competitions between vertical jetting and nebulization. At lower SAW frequencies of 12.3 and 23.37 MHz, significant capillary waves and large satellite droplets were generated before nebulization could be observed. At frequencies between 23.37 and 37.2 MHz, spreading, displacement or occasionally jetting of the parent sessile droplet was frequently observed before a significant nebulization occurred. When the SAW frequencies were increased from 44.44 to 63.3 MHz, the minimum RF power to initiate droplet nebulization was found to increase significantly, and jetting of the parent droplet before nebulization became significant, although the average size of the nebulized particles and ejected satellite droplets appeared to decrease with an increase in frequency. With the increase of glycerol concentration in the test sessile droplets (or increase in liquid viscosity), nebulization became difficult due to the increased SAW damping rate inside the liquid. Acoustic heating effects were characterized to be insignificant and did not show apparent contributions to the nebulization process due to silicon substrate's natural effect as an effective heat sink and the employment of a metallic holder beneath the ZnO/Si SAW device substrates.
This is a preview of subscription content, log in to check access.
Access options
Buy single article
Instant access to the full article PDF.
US$ 39.95
Tax calculation will be finalised during checkout.
Subscribe to journal
Immediate online access to all issues from 2019. Subscription will auto renew annually.
US$ 99
Tax calculation will be finalised during checkout.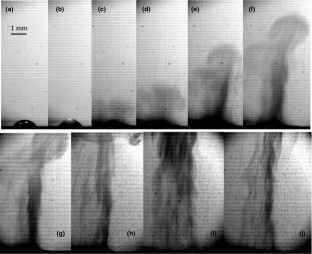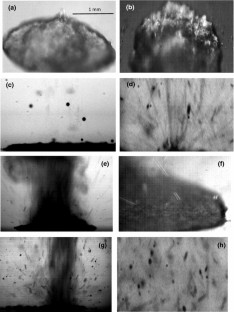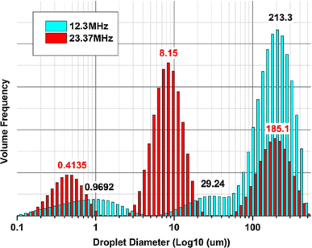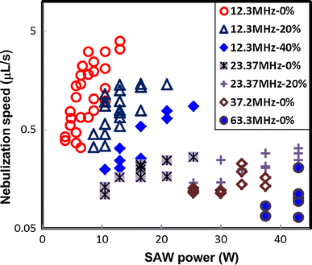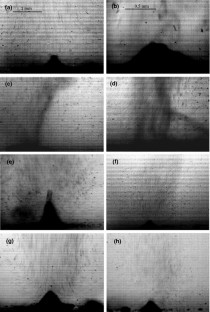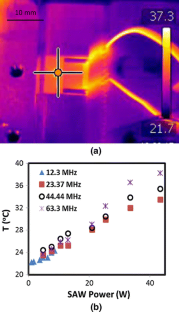 References
Alghane M, Fu YQ, Chen BX, Li Y, Desmulliez MPY, Walton AJ (2011) Streaming phenomena in microdroplets induced by Rayleigh surface acoustic wave. J Appl Phys 109:114901

Alghane M, Chen BX, Fu YQ, Li Y, Desmulliez MPY, Mohammed MI, Walton AJ (2012) Nonlinear hydrodynamic effects induced by Rayleigh surface acoustic wave in sessile droplets. Phys Rev E 86:056304

Alvarez M, Yeo LY, Friend JR (2009) Rapid production of protein loaded biodegradable microparticles using surface acoustic waves. Biomicrofluidics 3:014102

Barreras F, Amaveda H, Lozano A (2002) Transient high-frequency ultrasonic water atomization. Exp Fluids 33:405–413

Bénédic F, Assouar MB, Kirsch P, Moneger D, Brinza O, Elmazria O, Alnot P, Gicquel A (2008) Very high frequency SAW devices based on nanocrystalline diamond and aluminum nitride layered structure achieved using e-beam lithography. Diamond Relat Mater 17(4–5):804–808

Collins DJ, Manor O, Winkler A, Schmidt H, Friend JR, Yeo LY (2012) Atomization off thin water films generated by high frequency substrate wave vibrations. Phys Rev E 86:056312

Dentry MB, Yeo LY, Friend JR (2014) Frequency effects on the scale and behavior of acoustic streaming. Phys Rev E 89:013203

Ding X, Shi J, Lin SS, Yazdi S, Kiraly B, Huang TJ (2012) Tunable patterning of microparticles and cells using standing surface acoustic waves. Lab Chip 12:2491–2497

Du XY, Fu YQ, Tan SC, Luo JK, Flewitt AJ, Milne WI, Lee DS, Park NM, Park J, Choi YJ, Kim SH, Maeng S (2008) ZnO film thickness effect on surface acoustic wave modes and acoustic streaming. Appl Phys Lett 93:094105

Du XY, Fu YQ, Luo JK, Flewitt AJ, Milne WI (2009) Microfluidic pumps employing surface acoustic waves generated in ZnO thin films. J Appl Phys 105:024508

Friend JR, Yeo LY (2011) Microscale acoustofluidics: microfluidics driven via acoustics and ultrasonics. Rev Mod Phys 83(2):647–704

Fu YQ, Luo JK, Du XY, Flewitt AJ, Li Y, Markx GH, Walton AJ, Milne WI (2010) Recent developments on ZnO films for acoustic wave based bio-sensing and microfluidic applications: a review. Sens Actuat B 143:606–619

Fu YQ, Gancedo LG, Pang HF, Brodie S, Porro S, Gu YW, Placido F, Wilson JIB, Flewitt AJ, Milne WI (2012a) Microfluidic of ZnO/nanocrystalline diamond surface acoustic wave devices. Biomicrofluidics 6:013864

Fu YQ, Li Y, Zhao C, Placido F, Walton AJ (2012b) Surface acoustic wave nebulization on nanocrystalline ZnO film. Appl Phys Lett 101:194101

Jorabchi K, Kahen K, Lecchi P, Montaser A (2005) Chemical reaction interface mass spectrometry with high efficiency nebulization. Anal Chem 77:5402–5406

Ju J, Yamagata Y, Ohmori H, Higuchi T (2008a) High-frequency surface acoustic wave atomizer. Sens Actuat A 145–146:437–441

Ju J, Yamagata Y, Ohmori H, Higuchi T (2008b) Standing wave type surface acoustic wave atomizer. Sens Actuat A 147:570–575

Katardjiev I, Yantchev V (2012) Recent developments in thin film electro-acoustic technology for biosensor applications. Vacuum 86:520–531

Kondoh J, Shimizu N, Matsui Y, Shiokawa S (2005) Liquid heating effects by SAW streaming on the piezoelectric substrate. IEEE Trans Ultrason Ferroelectr Freq Control 52:1881–1883

Kurosawa M, Watanabe MT, Futami A, Higuchi T (1995) Surface acoustic wave atomizer. Sens Actuat A 50(1–2):69–74

Lang RJ (1962) Ultrasonic Atomization of Liquids. J Acoust Soc Am 34:6–8

Li Y, Fu YQ, Brodie SD, Mansuor A, Walton AJ (2012) Integrated microfluidics system using surface acoustic wave and electrowetting on dielectrics technology. Biomicrofluidics 6:012812

Lin SS, Mao X, Huang TJ (2012) Surface acoustic wave (SAW) acoustophoresis: now and beyond. Lab Chip 12:2766–2770

Luo JK, Fu YQ, Li Y, Du XY, Flewitt AJ, Walton AJ, Milne WI (2009) Moving-part-free microfluidic systems for lab-on-a-chip. J Micromech Microeng 19:054001

Özgür Ü, Alivov YI, Liu C, Teke A, Reshchikov MA, Doğan S, Avrutin V, Cho SJ, Morkoç H (2005) A comprehensive review of ZnO materials and devices. Appl Phys 98:041301

Qi A, Yeo LY, Friend JR (2008) Interfacial destabilization and atomization driven by surface acoustic waves. Phys Fluids 20:074103

Qi A, Friend JR, Yeo LY, Morton DAV, McIntosh MP, Spiccia L (2009) Miniature inhalation therapy platform using surface acoustic wave microfluidic atomization. Lab Chip 9:2184–2193

Reboud J, Wilson R, Zhang Y, Ismail MH, Bourquin Y, Cooper JM (2012) Nebulization on a disposable array structured with phononic lattices. Lab Chip 12:1268–1273

Sankaranarayanan SKRS, Cular S, Bhethanabotla VR, Joseph B (2008) Flow induced by acoustic streaming on surface-acoustic-wave devices and its application in biofouling removal: a computational study and comparisons to experiment. Phys Rev E 77:066308

Wixforth A (2006) Acoustically driven programmable microfluidics for biological and chemical applications. J Assoc Lab Autom 11(6):399–405

Yeo LY, Friend JR (2009) Ultrafast microfluidics using surface acoustic waves. Biomicrofluidics 3:012002

Yeo LY, Friend JR, McIntosh MP, Meeusen ENT, Morton DAV (2010) Ultrasonic nebulization platforms for pulmonary drug delivery. Expert Opin Drug Deliv 7:663–679

Yoshino Y, Takeuchi M, Inoue K, Makino T, Arai S, Hata T (2002) Control of temperature coefficient of frequency in zinc oxide thin film bulk acoustic wave resonators at various frequency ranges. Vacuum 66(3–4):467–472
Acknowledgments
The authors acknowledge financial support from the Innovative electronic Manufacturing Research Centre (IeMRC) through the EPSRC funded flagship project SMART MICROSYSTEMS (FS/01/02/10), the Royal Society-Research Grant (RG090609), the Scottish Sensing Systems Centre (S3C), Carnegie Trust Funding, Royal Society of Edinburgh, Royal Academy of Engineering Research Exchange with China and India, the National Natural Science Foundation of China (No. 11304032),as well as the EPSRC (Engineering and Physical Sciences Research Council) Engineering Instrument Pool for providing the high-speed video system (Photron XLR Express, VISION Research Phantom MIRO 4031), infrared video system (FLUKE TI25, ThermaCAM™ SC640), 3-D high resolution Microscope (Hirox 4029), Perkin Elmer Pyris Diamond DSC, as well as particle size analyser (Spraytec, Malvern Instruments).
About this article
Cite this article
Guo, Y.J., Dennison, A.P., Li, Y. et al. Nebulization of water/glycerol droplets generated by ZnO/Si surface acoustic wave devices. Microfluid Nanofluid 19, 273–282 (2015). https://doi.org/10.1007/s10404-014-1501-0
Received:

Accepted:

Published:

Issue Date:
Keywords
Nebulization

ZnO

Microfluidics

Surface acoustic wave