Abstract
We propose a modeling strategy to simulate drop movement in a two-phase flow inside a 2-D diverging–converging microchannel. These are planar channels that allow 2-D movement of drops. The increasing cross-sectional area of the diverging section decelerates the drop, and the decreasing cross-sectional area of the converging section accelerates it. These drops as they slow down approach each other and start to interact hydrodynamically and form 2-D arrangements inside the microchannel. We propose interacting drop-traffic models, that are phenomenological in nature, to characterize the different interactions of a drop with the neighboring drops, continuous phase and the channel walls. By incorporating these models into a multi-agent simulation, that employs Newton's second law of motion along with the creeping flow approximation, we are able to predict the positions and velocities of all the drops inside the microchannel. The time evolution of the dynamic 2-D patterns formed by the drops inside the microchannel is investigated. We are able to qualitatively understand the features in a microchannel that aid the formation of the 2-D patterns. The simulation strategy helps us to understand the layering phenomena that results in the formation of the 2-D structures near the diverging section and the breaking patterns of drops near the converging section of the microchannel.
Access options
Buy single article
Instant access to the full article PDF.
US$ 39.95
Tax calculation will be finalised during checkout.
Subscribe to journal
Immediate online access to all issues from 2019. Subscription will auto renew annually.
US$ 79
Tax calculation will be finalised during checkout.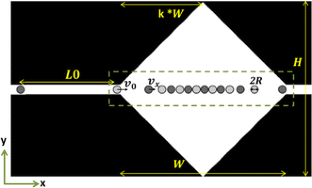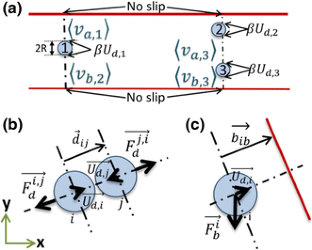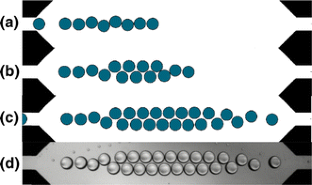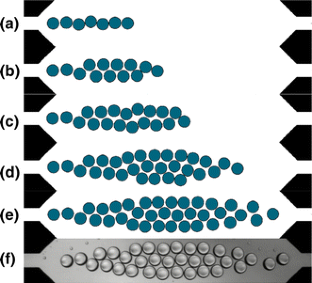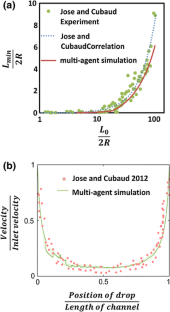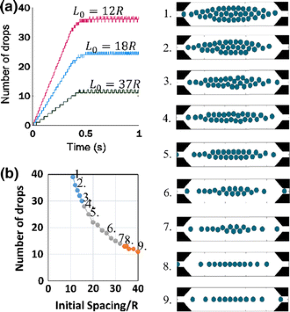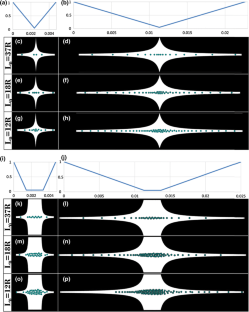 References
Aref H (1983) Stirring by chaotic advection. J Fluid Mech 143:1–21. doi:10.1017/S0022112084001233

Beatus T, Tlusty T, Bar-Ziv R (2006) Phonons in a one-dimensional microfluidic crystal. Nat Phys 2:743–748. doi:10.1038/nphys432

Beatus T, Tlusty T, Bar-Ziv R (2009) Burgers shock waves and sound in a 2D microfluidic droplets ensemble. Phys Rev Lett 103:114502. doi:10.1103/PhysRevLett.103.114502

Beatus T, Bar-Ziv RH, Tlusty T (2012) The physics of 2D microfluidic droplet ensembles. Phys Rep 516:103–145. doi:10.1016/j.physrep.2012.02.003

Bonabeau E (2002) Agent-based modeling: methods and techniques for simulating human systems. Proc Natl Acad Sci USA 99(Suppl 3):7280–7287. doi:10.1073/pnas.082080899

Bremond N, Thiam A, Bibette J (2008) Decompressing emulsion droplets favors coalescence. Phys Rev Lett 100:1–4. doi:10.1103/PhysRevLett.100.024501

Bringer MR, Gerdts CJ, Song H et al (2004) Microfluidic systems for chemical kinetics that rely on chaotic mixing in droplets. Philos Trans A Math Phys Eng Sci 362:1087–1104. doi:10.1098/rsta 2003.1364

Chu L-Y, Utada AS, Shah RK et al (2007) Controllable monodisperse multiple emulsions. Angew Chem Int Ed Engl 46:8970–8974. doi:10.1002/anie.200701358

Davis RH, Schonberg JA, Rallison JM (1989) The lubrication force between two viscous drops. Phys Fluids A Fluid Dyn 1:77. doi:10.1063/1.857525

Desreumaux N, Caussin J-B, Jeanneret R et al (2013) Hydrodynamic fluctuations in confined particle-laden fluids. Phys Rev Lett 111:118301. doi:10.1103/PhysRevLett.111.118301

Fuerstman MJ, Garstecki P, Whitesides GM (2007) Coding/decoding and reversibility of droplet trains in microfluidic networks. Science 315:828–832. doi:10.1126/science.1134514

Gupta R, Fletcher DF, Haynes BS (2009) On the CFD modelling of Taylor flow in microchannels. Chem Eng Sci 64:2941–2950. doi:10.1016/j.ces.2009.03.018

Hashimoto M, Garstecki P, Whitesides GM (2007) Synthesis of composite emulsions and complex foams with the use of microfluidic flow-focusing devices. Small 3:1792–1802. doi:10.1002/smll.200700238

Huebner A, Sharma S, Srisa-Art M et al (2008) Microdroplets: a sea of applications? Lab Chip 8:1244–1254. doi:10.1039/b806405a

Janssen PJA, Baron MD, Anderson PD et al. (2012) Collective dynamics of confined rigid spheres and deformable drops †. 7495–7506. doi:10.1039/c2sm25812a

Jones SW, Aref H, Thomas OM (1989) Chaotic advection by laminar flow in a twisted pipe. J Fluid Mech 209:335–357

Jose BM, Cubaud T (2012) Droplet arrangement and coalescence in diverging/converging microchannels. Microfluid Nanofluidics 12:687–696. doi:10.1007/s10404-011-0909-z

Jousse F, Lian G, Janes R, Melrose J (2005) Compact model for multi-phase liquid–liquid flows in micro-fluidic devices. Lab Chip 5:646–656. doi:10.1039/b416666c

Jovanović J, Zhou W, Rebrov EV et al (2011) Liquid–liquid slug flow: hydrodynamics and pressure drop. Chem Eng Sci 66:42–54. doi:10.1016/j.ces.2010.09.040

Kelley KW (2008) Reactions in droplets in microfluidic channels. Brain Behav Immun 22:629. doi:10.1016/j.bbi.2008.05.010

Kelly BT, Baret J-C, Taly V, Griffiths AD (2007) Miniaturizing chemistry and biology in microdroplets. Chem Commun (Camb) 1773–88. doi:10.1039/b616252e

Leal LG (2007) Advanced transport phenomena. doi:10.1017/CBO9780511800245

Maddala J, Srinivasan B, Bithi SS et al (2012) Design of a model-based feedback controller for active sorting and synchronization of droplets in a microfluidic loop. AIChE J 58:2120–2130. doi:10.1002/aic.12740

Naiem A, Reda M, El-Beltagy M, El-Khodary I (2010) An agent based approach for modeling traffic flow. Informatics Syst (INFOS), 7th Int Conf 1:28–30

Niu X, Zhang M, Peng S et al (2007) Real-time detection, control, and sorting of microfluidic droplets. Biomicrofluidics 1:044101

Niu X, Zhang M, Wu J et al (2009) Generation and manipulation of "smart" droplets. Soft Matter 5:576. doi:10.1039/b816553j

Reynolds CW (1987) Flocks, herds and schools: a distributed behavioral model. ACM SIGGRAPH Comput Graph 21:25–34. doi:10.1145/37402.37406

Schindler M, Ajdari A (2008) Droplet traffic in microfluidic networks: a simple model for understanding and designing. Phys Rev Lett. doi:10.1103/PhysRevLett.100.044501

Sessoms D, Belloul M, Engl W et al (2009) Droplet motion in microfluidic networks: hydrodynamic interactions and pressure-drop measurements. Phys Rev E 80:1–10. doi:10.1103/PhysRevE.80.016317

Shui L, van den Berg A, Eijkel JCT (2009) Interfacial tension controlled W/O and O/W 2-phase flows in microchannel. Lab Chip 9:795–801. doi:10.1039/b813724b

Smith BJ, Gaver DP (2010) Agent-based simulations of complex droplet pattern formation in a two-branch microfluidic network. Lab Chip 10:303–312. doi:10.1039/b916380h

Song H, Chen DL, Ismagilov RF (2006) Reactions in droplets in microfluidic channels. Angew Chem Int Ed Engl 45:7336–7356. doi:10.1002/anie.200601554

Sung KE, Vanapalli SA, Mukhija D et al. (2008) Programmable fluidic production of microparticles with configurable anisotropy. 1335–1340

Taha T, Cui ZF (2006) CFD modelling of slug flow inside square capillaries. Chem Eng Sci 61:665–675. doi:10.1016/j.ces.2005.07.023

Thorsen T, Roberts RW, Arnold FH, Quake SR (2001) Dynamic pattern formation in a vesicle-generating microfluidic device. Phys Rev Lett 86:4163–4166. doi:10.1103/PhysRevLett.86.4163

Uspal WE, Doyle PS (2012) Collective dynamics of small clusters of particles flowing in a quasi-two-dimensional microchannel. Soft Matter 8:10676. doi:10.1039/c2sm25931a
Acknowledgments
We would like to thank the reviewers for their comments and pointing to relevant literature that improved the quality of the paper. We would like to thank Jason R Picardo and other members of the Pushpavanam research league in IIT Madras, India, for the dynamic and helpful discussions. We would also like to thank Bibin M. Jose and Thomas Cubaud (Stony Brook University, USA) for sharing their experimental video of drops moving inside the microchannel which was not available in the literature.
Electronic supplementary material
Below is the link to the electronic supplementary material.
Supplementary material 1 (WMV 6040 kb)
Supplementary material 2 (WMV 16105 kb)
About this article
Cite this article
Danny Raj, M., Rengaswamy, R. Understanding drop-pattern formation in 2-D microchannels: a multi-agent approach. Microfluid Nanofluid 17, 527–537 (2014). https://doi.org/10.1007/s10404-014-1336-8
Received:

Accepted:

Published:

Issue Date:
Keywords
Phenomenological models

Drop movement

Multi-agent approach

Diverging–converging microchannels