Abstract
We report an interesting phenomenon of "trajectory shift" of magnetic chains in an oscillating field, when the phase angle lags of chains to the external field exceeding 90°. The phenomenon shifts the oscillating trajectory of chain along a new axis, which is perpendicular to its original axis. Applicability of the phenomenon to a stable chain in various conditions is experimented systematically. The trajectory shift provides an effective manipulating mechanism in micro-electro-mechanical-systems, such as steering of micro-swimmers. We successfully demonstrate that the driven direction of a micro-swimmer can be controlled by shifting its oscillating trajectory without a physical re-configuration of the external field.
Access options
Buy single article
Instant access to the full article PDF.
USD 39.95
Price includes VAT (USA)
Tax calculation will be finalised during checkout.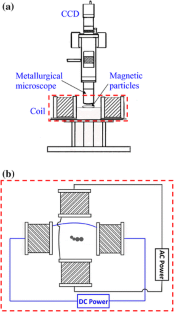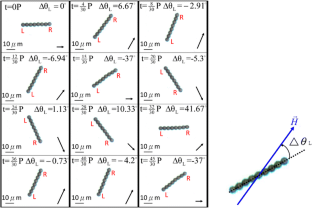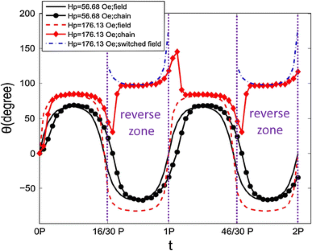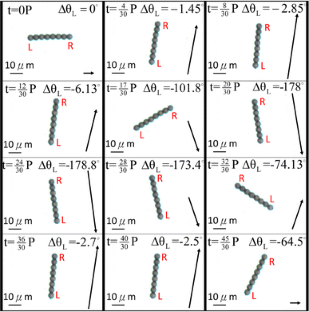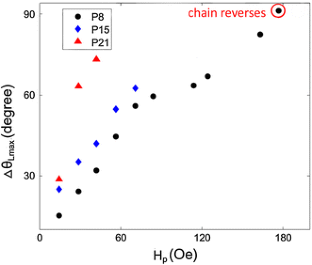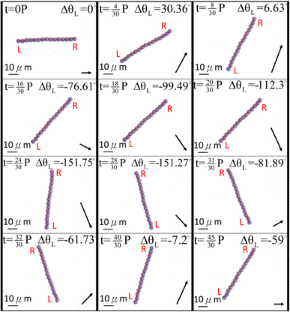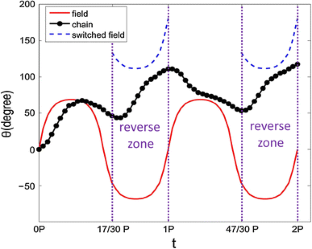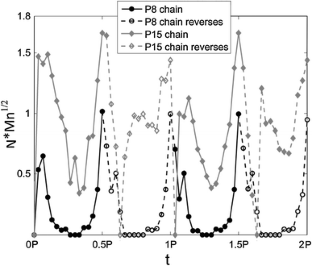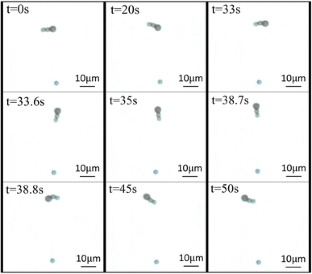 References
Biswal S, Gast A (2004a) Micromixing with linked chains of paramagnetic particles. Anal Chem 76:6448–6455

Biswal S, Gast A (2004b) Rotational dynamics of semiflexible paramagnetic particle chains. Phys Rev E 69:041406

Cebers A, Ozols M (2006) Dynamics of an active magnetic particle in a rotating magnetic field. Phys Rev E 73:021505

Chen CY, Li CS (2010) Ordered microdroplet formations of thin ferrofluid layer breakups. Phys Fluids 22:014105

Chen CY, Tsai WK, Miranda JA (2008) Hybrid ferrohydrodynamic instability: coexisting peak and labyrinthine patterns. Phys Rev E 77:056306

Chen CY, Yang YS, Miranda JA (2009) Miscible ferrofluid patterns in a radial magnetic field. Phys Rev E 80:016314

Chen CY, Wu WL, Miranda JA (2010) Magnetically induced spreading and pattern selection in thin ferrofluid drops. Phys Rev E 82:056321

Dreyfus R, Baudry J, Roper ML, Fermigier M, Stone HA, Bibette J (2005) Microscopic artificial swimmers. Nature 437:862

Ghosh A, Fischer P (2009) Controlled propulsion of artificial magnetic nanostructured propellers. Nano Lett 9(6):2243–2245

Gijs M (2004) Magnetic bead handling on-chip: new opportunities for analytical application. Microfluid Nanofluid 1:22–40

Kang TG, Hulsen M, Anderson P, den Toonder J, Meijer H (2007) Chaotic mixing induced by a magnetic chain in a rotating magnetic field. Phys Rev E 76:066303

Karle M, Wohrle J, Miwa J, Paust N, Roth G, Zengerle R, von Stetten F (2011) Controlled counter-flow motion of magnetic bead chains rolling along microchannels. Microfluid Nanofluid 10:935–939

Kodama S (2008) Dynamic ferrofluid sculpture: organic shape-changing art forms. Commun ACM 51:79

Lacharme F, Vandevyver C, Gijs MAM (2009) Magnetic beads retention device for sandwich immunoassay comparison of off-chip and on-chip antibody incubation. Microfluid Nanofluid 7:479–487

Li YH, Sheu ST, Pai JM, Chen CY (2012a) Manipulations of oscillating micro magnetic particle chains. J Appl Phys 111:07A924

Li YH, Chen CY, Sheu ST, Pai JM (2012b) Dynamics of a microchain of superparamagnetic beads in an oscillating field. Microfluid Nanofluid 13:579–588

Martin J, Shea-Roher L, Solis K (2009) Strong intrinsic mixing in vortex magnetic fields. Phys Rev E 80:016312

Melle S, Martin J (2003) Chain model of a magnetorheological suspension in a rotating field. J Chem Phys 118(21):9875

Melle S, Fuller G, Rubio M (2000) Structure and dynamics of magnetorheological fluids in rotating magnetic fields. Phys Rev E 61(4):4111–4117

Melle S, Calderon O, Fuller G, Rubio M (2002a) Polarizable particle aggregation under rotating magnetic fields using scattering dichroism. J Colloid Interface Sci 247:200

Melle S, Calderon O, Rubio M, Fuller G (2002b) Rotational dynamics in dipolar colloidal suspensions: video microscopy experiments and simulations results. J Non-Newton Fluid Mech 102(2):135–148

Melle S, Calderon O, Rubio M, Fuller G (2003) Microstructure evolution in magnetorheological suspensions governed by Mason number. Phys Rev E 68:041503

Nguyen NT (2012) Micro-magnetofluidics: interactions between magnetism and fluid flow on the microscale. Microfluid Nanofluid 12:1–16

Petousis I, Homburg E, Derks R, Dietzel A (2007) Transient behaviour of magnetic micro-bead chains rotating in a fluid by external fields. Lab Chip 7:1746

Rosensweig RE (1985) Ferrohydrodynamics. Cambridge University Press, Cambridge

Roy T, Sinha A, Chakraborty S, Ganguly R, Puri I (2009) Magnetic microsphere-based mixers for microsroplets. Phys Fluids 21:027101

Terray A, Oakey J, Marr D (2002) Microfluidic control using colloidal devices. Science 296:1841–1844

Vuppu A, Garcia A, Hayes M (2003) Video microscopy of dynamically aggregated paramagnetic particle chains in an applied rotating magnetic field. Langmuir 19:8646

Weddemann A, Wittbracht F, Auge A, Hutten A (2011) Particle flow control by induced dipolar interaction of superparamagnetic microbeads. Microfluid Nanofluid 10:459–463

Wittbracht F, Weddemann A, Eickenberg B, Hutten A (2012) On the direct employment of dipolar particle interaction in microfluidic system. Microfluid Nanofluid 13:543–554
Acknowledgments
The financial support from the National Science Council of Republic of China (Taiwan) through Grant NSC 99-2221-E-009-057-MY3 is acknowledged.
About this article
Cite this article
Li, YH., Lin, HC. & Chen, CY. Trajectory shift of magnetic microchains in an oscillating field. Microfluid Nanofluid 14, 831–838 (2013). https://doi.org/10.1007/s10404-012-1094-4
Received:

Accepted:

Published:

Issue Date:
Keywords
Magnetic particle

Micro-chain

Trajectory shift

Micro-swimmer

Steering mechanism