Abstract
We developed a method to measure the adhesion force between the motor protein, kinesin, and a microtubule. Compared with conventional methods that use optical tweezers, our method employs the fluid force that acts on the interaction between a kinesin-coated microbead and a microtubule in a microfluidic channel. When the fluid force just exceeds the kinesin-microtubule adhesion force, the beads are released from the microtubules. Having modeled the kinesins that are bound to the microtubules and the beads as mechanical springs, adhesion forces were measured as 31.3 or 362.9 pN for fluid containing 1 mM ATP or 0 M ATP, respectively. These forces are much larger than those measured when optical tweezers were used to measure the adhesion force between a single kinesin and a microtubule. For our multi-kinesin system we elucidated the relationship between the binding force of a single kinesin molecule and that of all kinesin molecules in a contact area by varying one of two parameters: either the contact area length or the kinesin density on a bead. This study provides insight into the behavior of a bead that is supported by several kinesins in a microfluidic system, which is essential knowledge if a motor protein is to be used as a nanoactuator for in vitro molecular transport.
Access options
Buy single article
Instant access to the full article PDF.
US$ 39.95
Tax calculation will be finalised during checkout.
Subscribe to journal
Immediate online access to all issues from 2019. Subscription will auto renew annually.
US$ 79
Tax calculation will be finalised during checkout.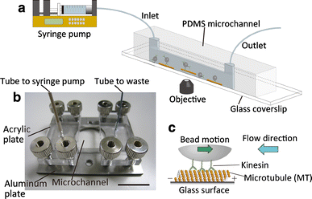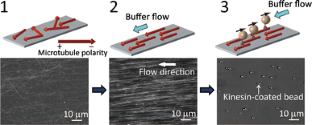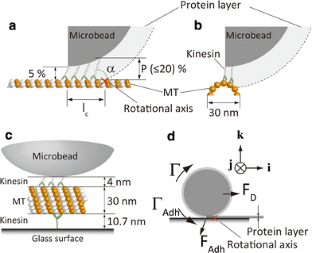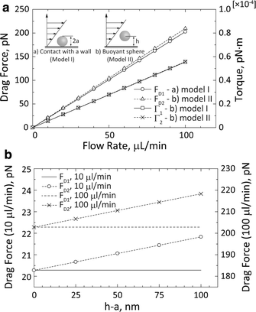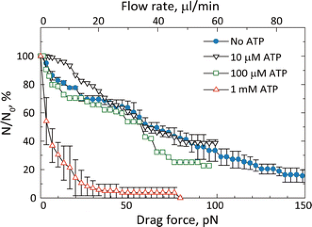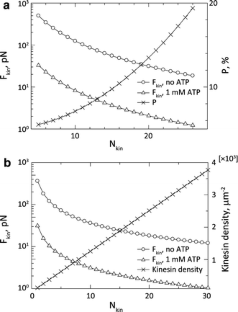 References
Asbury CL, Fehr AN, Block SM (2003) Kinesin moves by an asymmetric hand-over-hand mechanism. Science 302(5653):2130–2134

Ashkin A, Schutze K, Dziedzic JM, Euteneuer U, Schliwa M (1990) Force generation of organelle transport measured in vivo by an infrared laser trap. Nature 348(6299):346–348

Beeg J, Klumpp S, Dimova R, Gracia RS, Unger E, Lipowsky R (2008) Transport of beads by several kinesin motors. Biophys J 94(2):532–541

Block SM, Goldstein LS, Schnapp BJ (1990) Bead movement by single kinesin molecules studied with optical tweezers. Nature 348(6299):348–352

Bottier C, Fattaccioli J, Tarhan MC, Yokokawa R, Morin FO, Kim B, Collard D, Fujita H (2009) Active transport of oil droplets along oriented microtubules by kinesin molecular motors. Lab Chip 9(12):1694–1700

Bruus H (2007) Theoretical Microfluidics. Oxford University Press, Oxford

Coy DL, Wagenbach M, Howard J (1999) Kinesin takes one 8-nm step for each ATP that it hydrolyzes. J Biol Chem 274(6):3667–3671

Goldman AJ, Cox RG, Brenner H (1967) Slow viscous motion of a sphere parallel to a plane wall–II Couette flow. Chem Eng Sci 22(4):653–660

Hiratsuka Y, Tada T, Oiwa K, Kanayama T, Uyeda TQ (2001) Controlling the direction of kinesin-driven microtubule movements along microlithographic tracks. Biophys J 81(3):1555–1561

Howard J (2001) Mechanics of motor proteins and the cytoskeleton. Sinauer Associates Inc., Sunderland

Howard J (2009) Mechanical signaling in networks of motor and cytoskeletal proteins. Annu Rev Biophys 38:217–234

Hubbe MA (1984) Theory of detachment of colloidal particles from flat surfaces exposed to flow. Colloid Surf 12:151–178

Hunt AJ, Howard J (1993) Kinesin swivels to permit microtubule movement in any direction. Proc Natl Acad Sci USA 90(24):11653–11657

Hutchins BM, Platt M, Hancock WO, Williams ME (2007) Directing transport of CoFe2O4-functionalized microtubules with magnetic fields. Small 3(1):126–131

Hyman A, Drechsel D, Kellogg D, Salser S, Sawin K, Steffen P, Wordeman L, Mitchison T (1991) Preparation of modified tubulins. Method Enzymol 196:478–485

Kim T, Meyhofer E, Hasselbrink EF (2007) Biomolecular motor-driven microtubule translocation in the presence of shear flow: modeling microtubule deflection due to shear. Biomed Microdevices 9(4):501–511

Kim T, Kao MT, Hasselbrink EF, Meyhofer E (2008) Nanomechanical model of microtubule translocation in the presence of electric fields. Biophys J 94(10):3880–3892

Klumpp S, Lipowsky R (2005) Cooperative cargo transport by several molecular motors. Proc Natl Acad Sci USA 102(48):17284–17289

Krishnan GP, David T, Leighton J (1995) Inertial lift on a moving sphere in contact with a plane wall in a shear flow. Phys Fluid 7(11):2538–2545

Kural C, Kim H, Syed S, Goshima G, Gelfand VI, Selvin PR (2005) Kinesin and dynein move a peroxisome in vivo: a tug-of-war or coordinated movement? Science 308(5727):1469–1472

Kwiatkowska M, Poplonska K, Stepinski D, Hejnowicz Z (2006) Microtubules with different diameter, protofilament number and protofilament spacing in Ornithogalum umbellatum ovary epidermis cells. Folia Histochem Cytobiol 44(2):133–138

Lorthois S, Schmitz P, Angles-Cano E (2001) Experimental study of fibrin/fibrin-specific molecular interactions using a sphere/plane adhesion model. J Colloid Interface Sci 241(1):52–62

Miller RH, Lasek RJ (1985) Cross-bridges mediate anterograde and retrograde vesicle transport along microtubules in squid axoplasm. J Cell Biol 101(6):2181–2193

Muller MJ, Klumpp S, Lipowsky R (2008) Tug-of-war as a cooperative mechanism for bidirectional cargo transport by molecular motors. Proc Natl Acad Sci USA 105(12):4609–4614

O'Neill ME (1968) A sphere in contact with a plane wall in a slow linear shear flow. Chem Eng Sci 23(11):1293–1298

Shtridelman Y, Cahyuti T, Townsend B, DeWitt D, Macosko JC (2008) Force-velocity curves of motor proteins cooperating in vivo. Cell Biochem Biophys 52(1):19–29

Uemura S, Ishiwata S (2003) Kinesin-microtubule binding depends on both nucleotide state and loading direction. Nat Struct Biol 10(4):308

Yokokawa R, Takeuchi S, Kon T, Nishiura M, Ohkura R, Edamatsu M, Sutoh K, Fujita H (2004a) Hybrid nanotransport system by biomolecular linear motors. IEEE/ASME J Microelectromech Syst 13:612–619

Yokokawa R, Takeuchi S, Kon T, Nishiura M, Sutoh K, Fujita H (2004b) Unidirectional transport of kinesin-coated beads on microtubules oriented in a microfluidic device. Nano Lett 4(11):2265–2270

Yokokawa R, Tarhan MC, Kon T, Fujita H (2008) Simultaneous and bidirectional transport of kinesin-coated microspheres and dynein-coated microspheres on polarity-oriented microtubules. Biotechnol Bioeng 101(1):1–8
Acknowledgments
This study was partially supported by Precursory Research for Embryonic Science and Technology (PRESTO) from the Japan Science and Technology Agency (JST).
About this article
Cite this article
Yokokawa, R., Sakai, Y., Okonogi, A. et al. Measuring the force of adhesion between multiple kinesins and a microtubule using the fluid force produced by microfluidic flow. Microfluid Nanofluid 11, 519 (2011). https://doi.org/10.1007/s10404-011-0817-2
Received:

Accepted:

Published:
Keywords
Microfluidics

Protein binding

Mechanical modeling

Micro total analysis systems (MicroTAS)

Molecular transport