Abstract
In this article, we introduce a rapid and simple fabrication method to realize a 3-dimensional (3-D) microfluidic channel with a near-perfect circular cross section. This new concept of fabrication method is defined by metal wire removal process, where the metal wire such as a thin soldering wire for the 3-D circular shape is commercially available. For the microfluidic channel mold, PDMS (polydimethylsiloxane) was poured on several shapes such as 3-D circular, helix, and double helix shapes, of soldering wire and solidified. The soldering wire was then melted out by heating. With the two-step process, rapidly and simply fabricated 3-D circular microfluidic channels can be obtained. CPAE (endothelial cell line) cells were cultured inside the channel to evaluate the biocompatibility of the fabricated microfluidic channel. Our method will be very useful in making various circular shapes of 3-D microfluidic devices that need multi-depth and round corners inside the channel.
Access options
Buy single article
Instant access to the full article PDF.
US$ 39.95
Tax calculation will be finalised during checkout.
Subscribe to journal
Immediate online access to all issues from 2019. Subscription will auto renew annually.
US$ 79
Tax calculation will be finalised during checkout.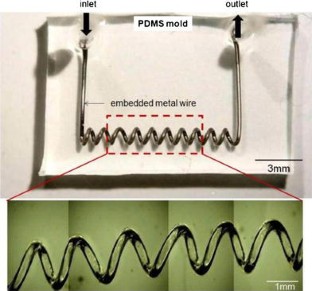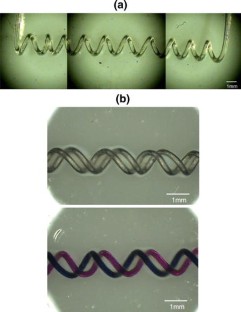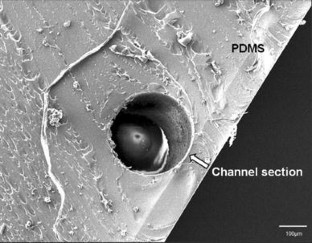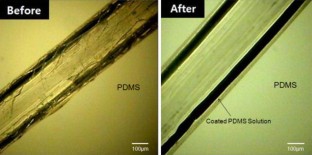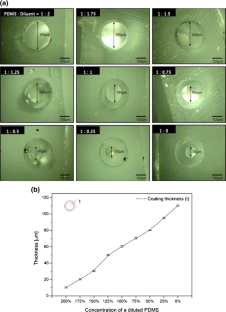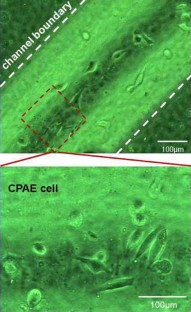 References
Abgrall P, Lattes C, Conedera V, Dollat X, Colin S, Gue AM (2006) Novel fabrication method of 3D microfluidic structures using lamination of SU-8 films. J Micromech Microeng 16:113–121

Anderson JR, Chiu DT, Jackman RJ, Cherniavskaya O, McDonald JC, Wu H, Whisides SH, Whitesides GM (2000) Fabrication of topologically complex three-dimensional microfluidic systems in PDMS by rapid prototyping. Anal Chem 72:3158–3164

Bloomstein TM, Ehrlich DJJ (1992) Laser-chemical three-dimensional writing for microelectromechanics and application to standard-cell microfluidics. Vac Sci Technol B 10:2671–2674

Burns MA, Johnson BN, Brahmasandra SN, Handique K, Webster JR, Krishnan M, Sammarco TS, Man PM, Jones D, Heldsinger D, Mastrangelo CH, Burke DT (1998) An integrated nanoliter DNA analysis device. Science 282:484–487

Chiu DT, Jeon NL, Huang S, Kane RS, Wargo CJ, Choi IS, Ingber DE, Whitesides GM (2000) Patterned deposition of cells and proteins onto surfaces by using three-dimensional microfluidic systems. PNAS 97:2408–2413

Duffy DC, McDonald JC, Schueller OJA, Whitesides GM (1998) Rapid prototyping of microfluidic systems in poly(dimethylsiloxane). Anal Chem 70:4974–4984

Futai N, Gu W, Takayama S (2004) Rapid prototyping of microstructures with Bell-Shaped cross-sections and its application to deformation-based microfluidic valves. Adv Mater 16:1320–1323

Gerhart PM (1992) Fundamentals of fluid mechanics, 2nd edn. Addison-Wesley, New York

Gonzalez C, Smith RL, Howitt DG, Collins SD (1998) MicroJoinery: concept, definition, and application to microsystem development. Sens Actuators A 66:315–332

Grosse A, Grewe M, Jouckhardt H (2001) Deep wet etching of fused silica glass for capillary optical leaky waveguides in microfluidic devices. J Micromech Microeng 11:257–262

Haraldsson KT, Hutchison JB, Sebra RP, Good BT, Anseth KS, Bowman CN (2006) 3D polymeric microfluidic device fabrication via contact liquid photolithographic polymerization (CLiPP). Sens Actuators B 113:454–460

Ikuta K, Hirowatari K, Ogata T (1994) Three dimensional micro integrated fluid systems (MIFS) fabricated by stereo lithography. In: Proceedings of the IEEE MEMS 94, Oiso, Japan, January, 25–28

Jia YF, Jiang JH, Ma XD, Li Y, Huang HM, Cai KB, Cai SX, Wu YP (2008) PDMS microchannel fabrication technique based on microwire-molding. Chin Sci Bull 53(24):3928–3936

Kim JY, Baek JY, Lee KA, Lee SH (2005) Automatic aligning and bonding system of PDMS layer for the fabrication of 3D microfluidic channels. Sens Actuators A 119:593–598

Lee K, Kim C, Shin KS, Lee JW, Ju BK, Kim TS, Lee SK, Kang JY (2007) Fabrication of round channels using the surface tension of PDMS and its application to a 3D serpentine mixer. J Micromech Microeng 17:1533–1541

Liu RH, Stremler MA, Sharp KV, Olsen MG, Santiago JG, Adrian RJ, Aref H, Beebe DJ (2000) Passive mixing in a three-dimensional serpentine microchannel. J MEMS 9(2):190–197

Maselli V, Osellame R, Cerullo G, Ramponi R, Laporta P (2006) Fabrication of long microchannels with circular cross section using astigmatically shaped femtosecond laser pulses and chemical etching. Appl Phys Lett 88:191107

Schueller OJA, Zhao XM, Whitesides GM, Smith SP, Prentiss M (1999) Fabrication of liquid-core waveguides by soft lithography. Adv Mater 11:37–41

Siegel AC, Bruzewicz DA, Weibel DB, Whitesides GM (2007) Microsolidics: fabrication of three-dimensional metallic microstructures in poly(dimethylsiloxane). Adv Mater 19:727–733

Stroock AD, Dertinger SKW, Ajdari A, Mezit I, Stong HA, Whitesides GM (2002) Chaotic mixer for microchannels. Science 295:647–651

Verma MKS, Majumder A, Ghatak A (2006) Embedded template-assisted fabrication of complex microchannels in PDMS and design of a microfluidic adhesive. Langmuir 22:10291–10295

Wang GJ, Ho KH, Hsu SH, Wang KP (2007) Microvessel scaffold with circular microchannels by photoresist melting. Biomed Microdevices 9:657–663

Wu H, Odom TW, Chiu DT, Whitesides GM (2003) Fabrication of complex three-dimensional microchannel systems in PDMS. JACS 125:554–559

Yang LJ, Chen YT, Kang SW, Wang YC (2004) Fabrication of SU-8 embedded microchannels with circular cross-section. Int J Mach Tool Man 44:1109–1114

Yi Y, Kang JH, Park JK (2005) Moldless electroplating for cylindrical microchannel fabrication. Electrochem Commun 7:913–917
Acknowledgments
This work was supported by the "System IC 2010"project (10030554-2008-02) of the Korea Ministry of Commerce, Industry and Energy. Facilities were kindly provided by the National Core Research Center (NCRC) for Nanomedical Technology (Grant no. R15-2004-024-00000-0) of the National Research Foundation, and the ICBIN of the Seoul R&BD program (Grant no. 10816).
About this article
Cite this article
Song, SH., Lee, CK., Kim, TJ. et al. A rapid and simple fabrication method for 3-dimensional circular microfluidic channel using metal wire removal process. Microfluid Nanofluid 9, 533–540 (2010). https://doi.org/10.1007/s10404-010-0570-y
Received:

Accepted:

Published:

Issue Date:
Keywords
3-D microfluidic channel

Circular shape

Soldering wire

Metal wire removal process