Submucous myomas: diagnosis and therapy
Abstract
In this review problems concerning diagnosis and therapy of submucous myomas are discussed. In abnormal blood loss, especially during menstrual periods, it is probable that the submucous locations of fibroids have the strongest relationship with the symptoms. Both in diagnostic and therapeutic possibilities, in the past decennium, a wide range of fine tuning has been developed that has changed dramatically the optimal management of submucous myomas and, therefore, of bleeding abnormalities during premenopause. Over-treatment can thus be prevented: for instance, hysterectomy in menorrhagia caused by a small pedunculated submucous fibroid. New modalities of minimally invasive treatment, however, have specific intrinsic problems that justify the development of protocols for these techniques. For the diagnosis of submucous myoma, and preceding operative treatment, intrauterine diagnosis through ultrasound or hysteroscopic imaging is mandatory. Hysteroscopic treatment of submucous myomas is the method of preference, unless the abnormality is too large or too numerous. Various practical aspects of treatment are discussed. Surgery for abnormalities that are not included in the basic training package according to Goals for the education of gynaecologists, ought to be performed by a gynaecologist with additional training and experience.
Keywords
Diagnostic imaging 
Endometrium 
Hysteroscopy 
(Leio)myoma 
Submucous myoma 
Surgical procedures 
Treatment outcome 
Ultrasonography 
Uterine haemorrhage 
Uterine neoplasms 
Introduction
This review formed the basis of the model protocol "Submucous myomas: diagnosis and therapy" of the Dutch Working Party on Gynaecological Endoscopy and Minimal Invasive Surgery (WGE, also referred to as the Dutch Society of Gynaecological Endoscopy and Minimal Invasive Surgery) of the Dutch Society of Obstetrics and Gynaecology (NVOG), that was accepted by the NVOG on the 20th September 2006.
The recommendations given in the guideline have been reviewed according to the NVOG guideline for setting up guidelines [1] and classified according to the strength of the scientific evidence in classes A1, A2, B, C or D.
This protocol aims at producing recommendations on the diagnostic and therapeutic approach based on the critical review of scientific research. In this process the principles of minimal invasiveness are given additional weight, both in diagnosis and in therapy, as well as in the prevention of complications. The advice and recommendations have been formulated for national use in the Netherlands and are intended for official use by Dutch gynaecologists only, without any pretension to be applied outside the Netherlands.
Review of the available information
In the Cochrane Library and the Cochrane Register of controlled studies no publications were found on this specific subject; one review was found about the role of gonadotropin-releasing hormone (GnRH) analogues in the treatment of myomas in general. Moreover, a PubMed search (1966–2002) in Medline was performed. Likewise, non-systematic cross-references were searched for in Medline journals as well as in journals not participating in the Medline database.
The subject was discussed on two separate occasions during a consensus meeting of experts in the field of gynaecological endoscopy: the "Witte Raaf" convention in Noordwijk, the Netherlands (7–8 March 2002 and 13–14 March 2003).
Clinical points for attention
preoperative assessment

treatment options

prevention of complications of treatment
Definitions
Fibroids or (leio)myomata are benign tumours of the uterine muscle that can be divided according to their localisation in the uterine wall: submucous myomas (located under the mucosal layer and protruding into the uterine cavity), subserosal (under the serosal layer and protruding into the abdominal cavity) and intramural (in the uterine wall).
A further subclassification of submucous myomas depends on the degree of intramural involvement of the tumour: types 0, I and II (Fig. 
1
) [
2
]. Although alternative classifications have been used by others [
3
], the former is most frequently referred to in the international literature.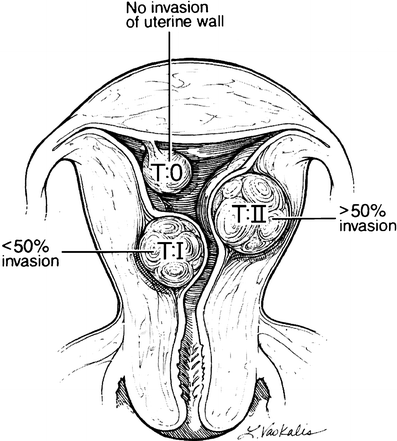 Aetiology and pathology
The precise aetiology of myomas is unknown. Some data, however, indicate that leiomyomas originate from a single neoplastic stem cell of the smooth muscle tissue of the myometrium [4]. Although the exact factors triggering myomatous neoplasia are unknown, oestrogens, progestins and growth factors [epidermal growth factor (EGF) and insulin-like growth factor (IGF)] all appear to play a role in the growth of fibroids.
In the literature increasing evidence can be found that suggests a genetic component in the aetiology of uterine leiomyomata, both in the primary origin and the growth potential. The first chromosome aberration that was shown to be a specific abnormality was the 1(12;14)(q14-q15;q23-q24) translocation, in 1988 [5]. In the following years numerous publications have reported cytogenetic, molecular and genetic linkage data supporting and accounting for the evidence for genetic predisposition that had been found before, in epidemiological studies, including familial clustering and racial prevalence [6, 7, 8]. Probably, the most clinically important syndrome known presently for myomas is the autosomal dominant hereditary disease hereditary leiomyomatosis and renal cell carcinoma (HLRCC) [8].
Epidemiology
In up to 25% of cases, fibroids can produce clinical symptoms [9]; asymptomatic myomas have been stated to exist in 20%, up to as many as 70%, of cases, in one study [10]. Myomas are found almost exclusively during the reproductive period, with a progressive increase after the fourth decade.
Worldwide, myomas are still by far the most frequent indication for a hysterectomy: in Australia 21.7% [11], in the USA 27% [12], and in Finland 50% [13]. Unfortunately, the studies are insufficiently stratified according to the location of the pathology. A number or risk factors are mentioned in the literature for both the existence (positive family history, black race, radiation) and the growth (nulliparity, obesity) of fibroids. These are, however, not specific for the submucous localisation and, partly, are inadequately studied.
Symptoms
Only 20–50% of all myomas produce symptoms, and it is the authors' impression that in these data the submucous varieties are over-represented, despite the fact that these have the least frequent incidence (5–10%). For that matter, as a result of diagnostic shortcomings, insufficient data are available on the real prevalence of submucous myomas and their contribution to the total symptomatology. For this prevalence, values between 7.8% and 29.9% can be found in the literature [14, 15, 16]. Most authors, however, do not differentiate between patients visiting their centre directly, or being referred to their centre by the general practitioner in the case of abnormal uterine blood loss, and the secondary referrals by colleagues. Since, in the latter group, the population is highly selected, it is important to make this distinction. In the primary referral group a total prevalence of submucous myomas of 14.7% (n = 675) was found [3].
Abnormal uterine blood loss
Approximately 30% of women are said to complain about heavy menstrual periods without further specification of the localisation in cases of fibroids [17]. One the other hand 40% of women with more than 200 ml menstrual blood loss are found to have myomas [18]. Only in a secondary referral group were more submucous myomas found in a group of patients with menorrhagia than in those with metrorrhagia [3].
Although it has been suggested that bleeding problems in myomas are specifically associated with a submucous localisation, this is doubted by others [19]. For instance, in recent studies, in only 40% of patients undergoing hysterectomy for fibroids and menorrhagia were submucous myomas actually found [20].
Little is known concerning a possible causal relationship between fibroids and blood loss. Earlier studies assumed the hypothesis that ulceration of either the mucosa overlying a submucous myoma or the opposing endometrium could be responsible for the bleeding. With hysteroscopic examination, however, this phenomenon is rarely seen.
The association between myomas and hyperplastic changes in the endometrium that has been suggested in the past has never been confirmed by other studies either [19, 20, 21]. Other possible explanations include enlargement of the endometrial surface and venous congestion due to compression, which could elucidate how entities other than submucous myomas can cause bleeding.
Dysmenorrhoea
Dysmenorrhoea appears to be a complaint that is more specifically associated with submucous myomas. It is assumed that contractions as a result of the tendency of the uterus to expel an intracavitary structure form the main explanation for the existing pain symptoms [19].
In cases of dysmenorrhoea a significant over-representation of submucous myomas is found [3].
Subfertility
The discovery of a submucous myoma in a woman with an unfulfilled wish for childbearing is an attractive reason to treat the abnormality as a possible cause of her problem. Pregnancy rates between 31% and 65% have been mentioned after (hysteroscopic and laparoscopic) myomectomy, but there have been no randomised studies [19, 22].
The same lack of evidence is found for the relationship between the rate of miscarriage and the presence of myomas. In retrospective studies a reduction of loss is found after myomectomy, from 73% to 13% [23] and 60% to 24% [24], respectively, but there are no prospective or randomised trials to support these results. Submucous myomas tend to be more likely to cause recurrent miscarriage, but evidence for this relationship is even more limited [22].
Strangely enough, the results of hysteroscopic, laparoscopic and open surgery are not significantly different from one another [25]. A causal relationship has never been proven. Although 27–40% of women with multiple fibroids have been described as being subfertile, in the majority of cases other additional possible causes can be established [17]. A recent meta-analysis shows that only myomas with a submucous or intracavitary component are associated with impaired procreational potential, and that hysteroscopic treatment may well be beneficial in these cases [26].
Therapy
Classic approaches: myomectomy, embolisation, hysterectomy
In the literature there is consensus concerning the fact that myomectomy, embolisation and hysterectomy for smaller submucous myomas can be considered to be over-treatment [29]. These treatment options are reserved for those cases where the fibroids are too large or not responding to pre-treatment. An extensive discussion of these techniques is beyond the scope of this review, since they are not specific for the submucous localisation of myomas.
With respect to embolisation, a remark should be made concerning the fact that some investigators consider a submucous myoma to be a (relative) contraindication in view of the risk of necrosis in the uterine cavity, with expulsion and possibly the subsequent increased risk of septicaemia [53, 54].
For all forms of surgical treatment of myomas in patients who still wish to conceive, the potential consequences for a pregnancy should be taken into account, such as uterine rupture and, theoretically, placenta accreta or increta. Systematic research on this subject is not available, merely case reports [55, 56].
Hysteroscopic myomectomy
As the least invasive treatment modality a hysteroscopic transcervical resection of myomas (further referred to as TCRM) is an obvious approach in the case of submucous localisation. For the treatment of menorrhagia success rates between 71% and 96% have been claimed in the literature [3, 57, 58, 59]. Chances of one treatment being sufficiently effective appear to depend strongly on the degree of intramural extent: type 0 96%; type I 74%; type II 67% (n = 93; 2–8 year follow-up) [58]. The deeper the myoma penetrates into the myometrium, the higher the chances are to end up with an incomplete resection and hence the necessity to perform a repeat procedure: 0% in type 0 up to 36% in type II [3].
For that matter, there are indications that, even after an incomplete resection, the symptoms may disappear (through spontaneous regression or resorption of fibroid tissue): in one study this was the case in up to 66% of cases [60]. Whether there is a maximum to the amount of tissue that be left behind is not clear from the article.
Moreover, the success is also dependent on the presence of any other myomas that might increase chances of recurrence of the problem. It has been suggested that TCRM is most successful in uteri of normal size with no more than two submucous myomas and that, perhaps, this treatment should be limited to this specific group of patients [3].
In addition there is a limit to the size of each individual fibroid that is suitable for hysteroscopic resection: 4 to 5 cm is mostly considered to be the maximum feasible diameter in this respect [2, 59]. With larger diameters, medical pre-treatment can be considered in order to reduce the size to fall within the range of these maxima (see 2, 7).
Precautions necessary with therapy
The precautionary measures to be taken all are related to one on more of the following complications that could thus be prevented: intravasation, infection, perforation and bleeding.
Expertise and training
The necessary expertise for the treatment of submucous myomas is described in the Goals for the basic training package in the education of the Gynaecologist as these have been formulated by the Educational Council of the Dutch Society of Obstetrics and Gynaecology. From the recommendations in this report the TCRM of small type 0 and I myomas can be considered to belong to the basic training package of each gynaecologist, but the treatment of type II and/or large myomas is to be restricted to gynaecologists with additional training and experience.
Conclusions and practical recommendations
Diagnosis
1.

In the case of submucous myomas, transvaginal ultrasound is the initial imaging technique of choice (B).

 

2.

For a more accurate diagnostic visualisation, especially if this fails in conventional ultrasound and as an adequate preparation for operative treatment, the addition of physiological saline solution as a contrast medium (SIS: saline infusion sonohysterography) is recommended (B).

 

3.

Diagnostic hysteroscopy is almost equally effective for this purpose (B) and, moreover, has the advantage of ample evidence to be a good test for the simple detection and exclusion of intra-uterine abnormality (B).

 

4.

MRI is a less readily available alternative, with a reliability that, specifically for submucous myomas, is superior to that of SIS and hysteroscopy and can be used preoperatively on indication of certain surgical procedures (B).

 
Therapy
1.

Submucous myomas with a diameter of 4 cm and less should be removed hysteroscopically (B).

 

2.

In the case of larger fibroids, preoperative reduction is possible with GnRH analogues (A2), and, in the case of additional risk factors (subfertility, unfavourable location, anaemia, type II), pre-treatment with these drugs should be taken into consideration (B).

 

3.

For multiple myomas, patients should be counselled about an increased recurrence risk, and alternative therapy, such as hysterectomy, can be taken into consideration (C). If there are child bearing intentions, restraint is mandatory to a degree that is in proportion to the degree of intramural extent (which, by the way, in addition, decreases the strength of the indication accordingly) (B).

 

4.

When a hypotonic distension medium is used in myoma removal, an automated pump system is recommended that carefully monitors the difference between inflow and outflow, aiming at limitation of the deficit up to 1,000 ml (at any rate, no more than 1,500 ml) (D). Possible additional measures to be taken in case of an increasing deficit of distension medium include the use of mannitol, physiological saline solution and/or diuretics (C).

 

5.

Antibiotic prophylaxis is recommended (C).

 

6.

In the case of serious post-operative blood loss, intra-uterine tamponade with a balloon catheter may be considered (D).

 

7.

Hysteroscopic surgery under laparoscopic or ultrasound guidance is rarely necessary but may be taken into consideration in specific indications (D).

 

8.

Surgery for abnormalities that are not included in the basic training package according to the aforementioned Goals for the education of gynaecologists ought to be performed by a gynaecologist with additional training and experience (D).

 
Explanation of keys used for the grading of recommendations
A1:

based on meta-analyses that contain at least several randomised studies of level A2, and in which the results of the individual studies are consistent.

 

A2:

of good quality and with sufficient volume and consistency.

 

B:

based on randomised controlled trials of lesser quality or insufficient volume or other comparative studies (non-randomised; cohort studies, case–control studies)

 

C:

based on non-comparative studies

 

D:

based on expert opinion and respected authorities