Abstract
Purpose
Our aim was to determine the accuracy of ultrasound (US) examination-based testicular torsion diagnosis in adult patients with acute scrotal pain.
Methods
A comprehensive electronic search was performed using internet retrieval systems up to 5 August 2018 in accordance with the Preferred Reporting Items for Systematic Reviews and Meta-analyses (PRISMA) guidelines. The quality of eligible studies was assessed using Quality Assessment for Studies of Diagnostic Accuracy (QUADAS-2). The diagnostic value of ultrasound in patients with testicular torsion was evaluated using pooled estimates of sensitivity, specificity, likelihood ratio, and diagnostic odds ratio, as well as the summary receiver operating characteristics curve.
Results
Twenty-six studies with 2116 patients were included in the study. Overall diagnostic sensitivity was 0.86 [95% confidence interval (CI) 0.79–0.91] and specificity was 0.95 (95% CI: 0.92–0.97). Subgroup analysis of prospective studies showed pooled sensitivity of ultrasound for testicular torsion was 0.94 (95% CI 0.83–0.98), and pooled specificity was 0.98 (95% CI 0.94–1.00). Recent studies after 2010 showed diagnostic sensitivity of 0.95 (95% CI 0.84–0.99) and specificity of 0.98 (95% CI 0.93–0.99).
Conclusions
This meta-analysis demonstrated that ultrasound represents an effective imaging modality for diagnosing testicular torsion in adult patients with acute scrotal pain.
Access options
Buy single article
Instant access to the full article PDF.
USD 39.95
Price excludes VAT (USA)
Tax calculation will be finalised during checkout.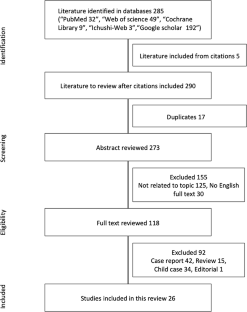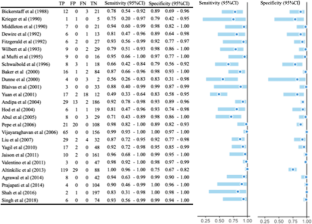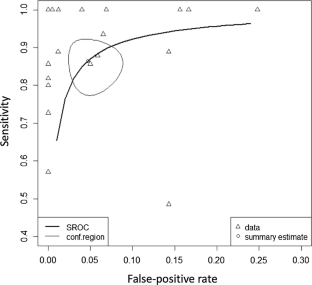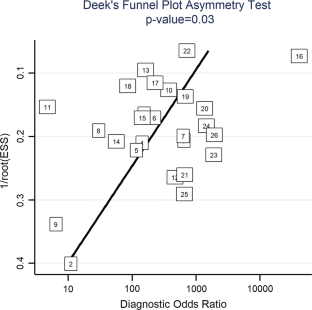 References
McAndrew HF, Pemberton R, Kikiros CS, et al. The incidence and investigation of acute scrotal problems in children. Pediatr Surg Int. 2002;18:435–7.

Sharp VJ, Kieran K, Arlen AM. Testicular torsion: diagnosis, evaluation, and management. Am Fam Phys. 2013;88:835–40.

Lorenzo L, Rogel R, Sanchez-Gonzalez JV, et al. Evaluation of adult acute scrotum in the emergency room: clinical characteristics, diagnosis, management, and costs. Urology. 2016;94:36–41.

Frohlich LC, Paydar-Darian N, Cilento BG, et al. Prospective validation of a clinical score for males presenting with an acute scrotum. ARPN J Eng Appl Sci. 2017;12:3218–21.

Sierzenski PR, Baty G. Testicular ultrasound. Clin Emerg Radiol. 2008;22:330–6.

Yin S, Trainor JL. Diagnosis and management of testicular torsion, torsion of the appendix testis, and epididymitis. Clin Pediatr Emerg Med. 2009;10:38–44.

Baker LA, Sigman D, Mathews RI, et al. An analysis of clinical outcomes using color doppler testicular ultrasound for testicular torsion. Pediatrics. 2000;105:604–7.

Samson P, Hartman C, Palmerola R, et al. Ultrasonographic assessment of testicular viability using heterogeneity levels in torsed testicles. J Urol. 2017;197:925–30.

Nason GJ, Tareen F, McLoughlin D, et al. Scrotal exploration for acute scrotal pain: a 10-year experience in two tertiary referral paediatric units. Scand J Urol. 2013;47:418–22.

Waldert M, Klatte T, Schmidbauer J, et al. Color Doppler Sonography Reliably Identifies Testicular Torsion in Boys. Urology. 2010;75:1170–4.

McDowall J, Adam A, Gerber L, et al. The ultrasonographic "whirlpool sign" in testicular torsion: valuable tool or waste of valuable time? A systematic review and meta-analysis. Emerg Radiol. 2018;25:281–92.

Moher D, Liberati A, Tetzlaff J, et al. Preferred reporting items for systematic reviews and meta-analyses: the PRISMA statement. PLoS Med. 2009;6(7):e1000097. https://doi.org/10.1371/journal.pmed.1000097.

Whiting PF, Rutjes AWS, Westwood ME, et al. QUADAS-2: a revised tool for the quality assessment of diagnostic accuracy studies. Ann Intern Med. 2011;155:529–36.

Krieger JN, Wang K, Mack L. Preliminary evaluation of color Doppler imaging for investigation of intrascrotal pathology. J Urol. 1990;144:904–7.

Middleton WD, Siegel BA, Melson GL, et al. Acute scrotal disorders: prospective comparison of color Doppler US and testicular scintigraphy. Radiology. 1990;177:177–81.

Dewire DM, Begun FP, Lawson RK, et al. Color Doppler ultrasonography in the evaluation of the acute scrotum. J Urol. 1992;147:89–91.

Fitzgerald SW, Erickson S, De Wire DM, et al. Color Doppler sonography in the evaluation of the adult acute scrotum. J Ultrasound Med. 1992;11:543–8.

Blaivas M, Sierzenski P, Lambert M. Emergency evaluation of patients presenting with acute scrotum using bedside ultrasonography. Acad Emerg Med. 2001;8:90–3.

Vijayaraghavan SB. Sonographic differential diagnosis of acute scrotum: real-time whirlpool sign, a key sign of torsion. J Ultrasound Med. 2006;25:563–74.

Naveen C, Agrawal A, Tripathi P, Shankhwar A. Role of ultrasound with color Doppler in acute scrotum management. J Fam Med Prim Care. 2014;3:410.

Prajapati N, Madhok R, Tapasvi C, Prasad U. High frequency & color doppler ultrasound evaluation of scrotal and testicular pathologies. Int J Res Heal Sci. 2014;2:153–61.

Shah B, Naik S, Singh A, et al. Feasibility of scrotal colour Doppler and ultrasonography training during surgical residency. Int J Appl Res. 2016;2:577–80.

Singh JP, Josh PS, Neki NS. Color Doppler Evaluation of Scrotal Swellings. Int J Curr Res Med Sci. 2018;4:81–90.

Wilbert DM, Schaerfe CW, Stern WD, et al. Evaluation of the acute scrotum by color-coded Doppler ultrasonography. J Urol. 1993;149:1475–7.

Schwaibold H, Fobbe F, Klän R, et al. Evaluation of acute scrotal pain by color-coded duplex sonography. Urol Int. 1996;56:96–9.

Altinkilic B, Pilatz A, Weidner W. Detection of normal intratesticular perfusion using color coded duplex sonography obviates need for scrotal exploration in patients with suspected testicular torsion. J Urol. 2013;189:1853–8.

Dunne PJ, O'Loughlin BS. Testicular torsion: time is the enemy. Aust N Z J Surg. 2000;70:441–2.

Jaison A, Mitra B, Cameron P, et al. Use of ultrasound and surgery in adults with acute scrotal pain. ANZ J Surg. 2011;81:366–70.

Pepe P, Pennisi P, Pennisi M, Aragona F. Does color Doppler sonography improve the clinical assessment of patients with acute scrotum?. Eur J Radiol. 2006;60:120–4.

Valentino M, Bertolotto M, Derchi L, et al. Role of contrast enhanced ultrasound in acute scrotal diseases. Eur Radiol. 2011;21:1831–40.

Hod N, Maizlin Z, Strauss S, et al. The relative merits of Doppler sonography in the evaluation of patients with clinically and scintigraphically suspected testicular torsion. Isr Med Assoc J. 2004;6:13–5.

Yagil Y, Naroditsky I, Milhem J, et al. Role of Doppler ultrasonography in the triage of acute scrotum in the emergency department. J Ultrasound Med. 2010;29:11–21.

Bickerstaff KI, Sethia K, Murie JA. Doppler ultrasonography in the diagnosis of acute scrotal pain. Br J Surg. 1988;75:238–9.

Almufti RA, Ogedegbe AK, Lafferty K. The use of Doppler ultrasound in the clinical management of acute testicular pain. Br J Urol. 1995;76:625–7.

Yuan Z, Luo Q, Chen L, et al. Clinical study of scrotum scintigraphy in 49 patients with acute scrotal pain: a comparison with ultrasonography. Ann Nucl Med. 2001;15:225–9.

Andipa E, Liberopoulos K, Asvestis C. Magnetic resonance imaging and ultrasound evaluation of penile and testicular masses. World J Urol. 2004;22:382–91.

Abul F, Al-Sayer H, Arun N. The acute scrotum: a review of 40 cases. Med Princ Pract. 2005;14:177–81.

Liu C, Huang S-P, Chou Y, et al. Clinical presentation of acute scrotum in young males. Kaohsiung J Med Sci. 2007;23:281–6.

Terai A, Yoshimura K, Ichioka K, et al. Dynamic contrast-enhanced subtraction magnetic resonance imaging in diagnostics of testicular torsion. Urology. 2006;67:1278–82.

Yusuf GT, Sidhu PS. A review of ultrasound imaging in scrotal emergencies. J Ultrasound. 2013;16:171–8.

Blaivas M, Brannam L. Testicular ultrasound. Emerg Med Clin North Am. 2004;22:723–48.

Kühn AL, Scortegagna E, Nowitzki KM, et al. Ultrasonography of the scrotum in adults. Ultrason (Seoul, Korea). 2016;35:180–97.

Dudea SM, Ciurea A, Chiorean A, et al. Doppler applications in testicular and scrotal disease. Med Ultrason. 2010;12:43–51.
Ethics declarations
Conflict of interest
The authors have no conflicts of interest relevant to the content of this article.
Informed consent
Given the anonymous nature of the data, informed consent was not required for this study.
Additional information
Publisher's Note
Springer Nature remains neutral with regard to jurisdictional claims in published maps and institutional affiliations.
About this article
Cite this article
Ota, K., Fukui, K., Oba, K. et al. The role of ultrasound imaging in adult patients with testicular torsion: a systematic review and meta-analysis. J Med Ultrasonics 46, 325–334 (2019). https://doi.org/10.1007/s10396-019-00937-3
Received:

Accepted:

Published:

Issue Date:

DOI: https://doi.org/10.1007/s10396-019-00937-3
Keywords
Testicular torsion

Color Doppler ultrasound

Meta-analysis

Systematic review

Adult patient