Abstract
Real-time ultrasound guidance for central venous catheterization has become a standard technique. This technique has been reported to yield high success rates and fewer complications compared with landmark techniques. However, it can be risky when the practitioner does not possess proper knowledge and skills. Lose sight of the needle tip can lead to severe complications such as arterial puncture or pneumothorax. Also, posterior wall penetration of the target vessels must be avoided. Misplacement of the catheter to other vessels can sometimes occur, and may only be discovered after the catheterization procedure. To avoid these complications, we perform a three-step procedure to place an internal jugular vein catheter under ultrasound guidance. The three steps are: (a) advance the needle tip to the internal jugular vein with a short-axis image with an out-of-plane technique, (b) rupture the anterior wall by using a long-axis image with an in-plane technique, and (c) confirm the guidewire position from the internal jugular vein to the brachiocephalic vein using a short-axis image, and a coronal image from the supraclavicular fossa. For safe needle advancement and penetration of the anterior wall of the vein, combined use of short-axis and long-axis images is helpful, and guidewire placement should be confirmed by scanning with the short-axis image and the coronal image.
Access options
Buy single article
Instant access to the full article PDF.
USD 39.95
Price includes VAT (USA)
Tax calculation will be finalised during checkout.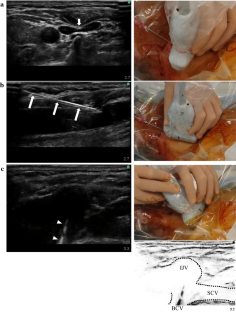 References
1.

Karakitsos D, Labropoulos N, De Groot E, et al. Real-time ultrasound-guided catheterisation of the internal jugular vein: a prospective comparison with the landmark technique in critical care patients. Crit Care. 2006;10:R162.

2.

Ray BR, Mohan VK, Kashyap L, et al. Internal jugular vein cannulation: a comparison of three techniques. J Anaesthesiol Clin Pharmacol. 2013;29:367–71.

3.

Brass P, Hellmich M, Kolodziej L, et al. Ultrasound guidance versus anatomical landmarks for internal jugular vein catheterization. Cochrane Database Syst Rev. 2015;1:CD006962.

4.

Chittoodan S, Breen D, O'Donnell BD, et al. Long versus short axis ultrasound guided approach for internal jugular vein cannulation: a prospective randomised controlled trial. Med Ultrason. 2011;13:21–5.

5.

Vogel JA, Haukoos JS, Erickson CL, et al. Is long-axis view superior to short-axis view in ultrasound-guided central venous catheterization? Crit Care Med. 2015;43:832–9.

6.

Galvez JA, Lin EE, Schwartz AJ, et al. Ultrasound-guided vascular access: visualizing the tip of the needle. Anesthesiology. 2016;125:396.

7.

Oguzkurt L, Tercan F, Kara G, et al. US-guided placement of temporary internal jugular vein catheters: immediate technical success and complications in normal and high-risk patients. Eur J Radiol. 2005;55:125–9.

8.

Blaivas M, Adhikari S. An unseen danger: frequency of posterior vessel wall penetration by needles during attempts to place internal jugular vein central catheters using ultrasound guidance. Crit Care Med. 2009;37:2345–9.

9.

Morimoto Y, Tanaka E, Shimamoto Y, et al. Dissection of the posterior wall by guide-wire during internal jugular vein catheterization. J Anesth. 2015;29:289–91.

10.

Yoshida H, Yaguchi S, Itaya H, et al. Cannulation needle-induced anterior wall tenting of internal jugular vein causing posterior wall penetration. J Anesth. 2015;29:467–70.

11.

Suzuki A, Kunisawa T, Sasakawa T, et al. Unexpected internal jugular vein obstruction revealed by ultrasound surface scan before central venous catheter insertion. Anesth Analg. 2008;107:347–8.

12.

Rupp SM, Apfelbaum JL, Blitt C, et al. Practice guidelines for central venous access: a report by the American Society of Anesthesiologists Task Force on Central Venous Access. Anesthesiology. 2012;116:539–73.

13.

Dilisio R, Mittnacht AJ. The "medial-oblique" approach to ultrasound-guided central venous cannulation—maximize the view, minimize the risk. J Cardiothorac Vasc Anesth. 2012;26:982–4.

14.

Rossi UG, Rigamonti P, Ticha V, et al. Percutaneous ultrasound-guided central venous catheters: the lateral in-plane technique for internal jugular vein access. J Vasc Access. 2014;15:56–60.

15.

Kaplowitz J, Bigeleisen P. A new biplane ultrasound probe for real-time visualization and cannulation of the internal jugular vein. Case Rep Anesthesiol. 2014;2014:349797.

16.

Kunisawa T, Kurosawa A, Osawa Y, et al. Confirmation of guidewire placement by ultrasound before tissue dilatation prevented damage to the internal jugular vein. J Cardiothorac Vasc Anesth. 2011;25:584–5.
Ethics declarations
Informed consent
Informed consent was obtained from the patient for the pictures in this manuscript.
Conflict of interest
The author has no conflicts of interest.
About this article
Cite this article
Tampo, A. Three-step procedure for safe internal jugular vein catheterization under ultrasound guidance. J Med Ultrasonics 45, 671–673 (2018). https://doi.org/10.1007/s10396-018-0885-y
Received:

Accepted:

Published:

Issue Date:
Keywords
Central venous catheterization

Ultrasound guidance

Internal jugular vein