Abstract
Years when the deer population is robust during the autumn hunting season may point toward an elevated risk of Lyme disease (LD) in the human population two summers later. We applied overdispersed Poisson regression models to county-specific data from New Jersey for each year from 2000 to 2014. The average relative risk of LD for each additional hunter-killed deer per square mile was 1.12 (1.10, 1.14) for 2000–2007 and 1.11 (1.09, 1.13) for 2008–2014. The hunting data already collected for conservation and wildlife management purposes may be a relevant component of LD surveillance activities.
Access options
Buy single article
Instant access to the full article PDF.
USD 39.95
Price excludes VAT (USA)
Tax calculation will be finalised during checkout.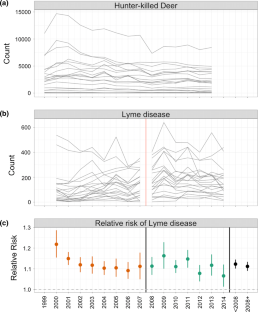 References
Adams D, Thomas K, Jajosky R, Foster L, Baroi G, Sharp P, Onweh D, Schley A, Anderson W (2017) Summary of notifiable infectious diseases and conditions – United States, 2015. MMWR Morbidity & Mortality Weekly Report 65:1–143.

Bouchard C, Leighton PA, Beauchamp G, Nguon S, Trudel L, Milord F, Lindsay LR, Bélanger D, Ogden NH (2013) Harvested white-tailed deer as sentinel hosts for early establishing Ixodes scapularis populations and risk from vector-borne zoonoses in southeastern Canada. Journal of Medical Entomology 50:384–393.

Bouchard C, Leonard E, Koffi JK, Pelcat Y, Peregrine A, Chilton N, Rochon K, Lysyk T, Lindsay LR, Ogden NH (2015) The increasing risk of Lyme disease in Canada. Canadian Veterinary Journal 56:693–399.

Bowser NH, Anderson NE (2018) Dogs (Canis familiaris) as sentinels for human infectious disease and application to Canadian populations: a systematic review. Veterinary Sciences 5:E83.

Burtis JC, Sullivan P, Levi T, Oggenfuss K, Fahey TJ, Ostfeld RS (2016) The impact of temperature and precipitation on blacklegged tick activity and Lyme disease incidence in endemic and emerging regions. Parasites & Vectors 9:606.

Guerra M, Walker E, Jones C, Paskewitz S, Cortinas MR, Stancil A, Beck L, Bobo M, Kitron U (2002) Predicting the risk of Lyme disease: habitat suitability for Ixodes scapularis in the north central United States. Emerging Infectious Diseases 8:289–297.

Hancock PA, Brackley R, Palmer SC (2011) Modelling the effect of temperature variation on the seasonal dynamics of Ixodes ricinus tick populations. International Journal of Parasitology 41:513–522.

Holsworth WN (1973) Hunting efficiency and white-tailed deer density. Journal of Wildlife Management 37:336–342.

Hothorn T, Muller J, Held L, Most L, Mysterud A (2015) Temporal patterns of deer-vehicle collisions consistent with deer activity pattern and density increase but not general accident risk. Accident Analysis and Prevention 81:143–152.

Levi T, Kilpatrick A, Mangel M, Wilmers CC (2012) Deer, predators, and the emergence of Lyme disease. Proceedings of the National Academy of Sciences 109:10942–10947.

Kilpatrick HJ, Labonte AM, Stafford KC (2014) The relationship between deer density, tick abundance, and human cases of Lyme disease in a residential community. Journal of Medical Entomology 51:777–784.

Kuehn BM (2013) CDC estimates 300,000 U.S. cases of Lyme disease annually. JAMA 310:1110–1110.

Linard C, Lamarque P, Heyman P, Ducoffre G, Luyasu V, Tersago K, Vanwambeke SO, Lambin EF (2007) Determinants of the geographic distribution of Puumala virus and Lyme borreliosis infections in Belgium. International Journal of Health Geographics 6:15.

Ogden NH, Bouchard C, Kurtenbach K, Margos G, Lindsay LR, Trudel L, Nguon S, Milord F (2010) Active and passive surveillance and phylogenetic analysis of Borrelia burgdorferi elucidate the process of Lyme disease risk emergence in Canada. Environmental Health Perspectives 118:909–914.

Pettorelli N, Côté SD, Gingras A, Potvin F, Huot J (2007) Aerial surveys vs hunting statistics to monitor deer density: The example of Anticosti Island, Québec, Canada. Wildlife Biology 13:321–327.

Raizman EA, Holland JD, Shukle JT (2013) White-tailed deer (Odocoileus virginianus) as a potential sentinel for human Lyme disease in Indiana. Zoonoses and Public Health 60:227–233.

Schauber EM, Ostfeld RS, Evans JAS (2005) What is the best predictor of annual Lyme disease incidence: Weather, mice, or acorns? Ecological Applications 15:575–586.

Shih CM, Telford SR, Spielman A (1995) Effect of ambient temperature on competence of deer ticks as hosts for Lyme disease spirochetes. Journal of Clinical Microbiology 33:958–961.

Wiznia DH, Christos PJ, LaBonte AM (2013) The use of deer vehicle accidents as a proxy for measuring the degree of interaction between human and deer populations and its correlation with the incidence rate of Lyme disease. Journal of Environmental Health 75:32–39.
Ethics declarations
Conflict of interest
The authors have no conflicts of interest to declare for this unfunded project.
Additional information
Daniel L. Robertson and Leah M. Babin are co-first authors.
Appendix
Appendix
About this article
Cite this article
Robertson, D.L., Babin, L.M., Krall, J.R. et al. The Association Between Hunter-Killed Deer and Lyme Disease in New Jersey, 2000–2014. EcoHealth 16, 330–337 (2019). https://doi.org/10.1007/s10393-019-01401-x
Received:

Revised:

Accepted:

Published:

Issue Date:

DOI: https://doi.org/10.1007/s10393-019-01401-x
Keywords