Abstract
Disease surveillance in wildlife is rapidly expanding in scope and methodology, emphasizing the need for formal evaluations of system performance. We examined a syndromic surveillance system for respiratory disease detection in Gombe National Park, Tanzania, from 2004 to 2012, with respect to data quality, disease trends, and respiratory disease detection. Data quality was assessed by examining community coverage, completeness, and consistency. The data were examined for baseline trends; signs of respiratory disease occurred at a mean frequency of less than 1 case per week, with most weeks containing zero observations of abnormalities. Seasonal and secular (i.e., over a period of years) trends in respiratory disease frequency were not identified. These baselines were used to develop algorithms for outbreak detection using both weekly counts and weekly prevalence thresholds and then compared retrospectively on the detection of 13 respiratory disease clusters from 2005 to 2012. Prospective application of outbreak detection algorithms to real-time syndromic data would be useful in triggering a rapid outbreak response, such as targeted diagnostic sampling, enhanced surveillance, or mitigation.
This is a preview of subscription content,
to check access.
Access this article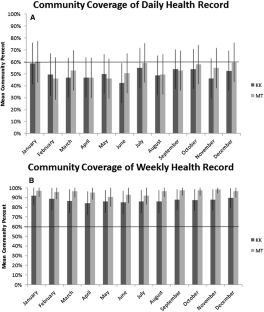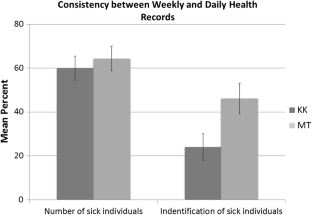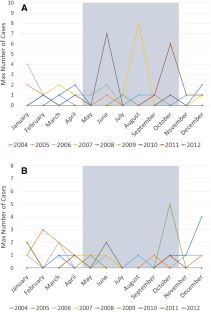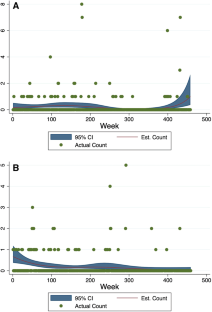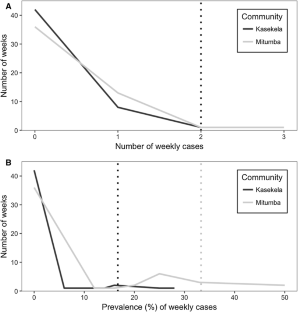 References
Arenas AJ, Gómez F, Salas R, Carrasco P, Borge C, Maldonado A, O'Brien DJ, Martinez-Moreno FJ (2002) An evaluation of the application of infrared thermal imaging to the tele-diagnosis of sarcoptic mange in the Spanish ibex (Capra pyrenaica). Vet Parasitol 109:111–117.

Babin SM (2010) Using syndromic surveillance systems to detect pneumonic plague. Epidemiol Infect 138:1–8. https://doi.org/10.1017/s0950268809990689

Basta NE, Stuart JM, Nascimento MC, Manigart O, Trotter C, Chandramohan D, Sow SO, Berthe A, Bedru A, Yenenesh K, Daugla DM, Gamougam K, Hodgson A, Forgor AA, Omotara A, Gadzama GB, Watkins ER, Rebbetts LS, Diallo K, Noel S, Halloran ME, Maiden MCJ, Greenwood B (2013) Methods for identifying Neisseria meningitidis carriers: A multi-center study in the African meningitis belt. PLoS One 8:6–11. https://doi.org/10.1371/journal.pone.0078336

Bourgeois FT, Olson KL, Brownstein JS, McAdam AJ, Mandl KD (2006) Validation of Syndromic Surveillance for Respiratory Infections. Ann Emerg Med 47:265.e1-265.e1. https://doi.org/10.1016/j.annemergmed.2005.11.022

Calvignac-Spencer S, Leendertz S, Gillespie TR, Leendertz FH (2012) Wild great apes as sentinels and sources of infectious disease. Clin Microbiol Infect 18:521–7. https://doi.org/10.1111/j.1469-0691.2012.03816.x

Dórea FC, Lindberg A, McEwen BJ, Revie CW, Sanchez J (2014) Syndromic surveillance using laboratory test requests: a practical guide informed by experience with two systems. Prev Vet Med 116:313–24. https://doi.org/10.1016/j.prevetmed.2014.04.001

Dórea FC, Sanchez J, Revie CW (2011) Veterinary syndromic surveillance: Current initiatives and potential for development. Prev. Vet. Med. 101:1–17.

Fruth B, Benishay J, Bila-Isia I, Coxe S, Dupain J, Furuichi T, Hart J, Hart T, Hashimoto C, Hohmann G, Hurley M, Ilambu O, Mulavwa M, Ndunda M, Omasombo V, Reinartz G, Scherlis J, Steel L, Thompson J (2008) Pan paniscus. In: IUCN Red List Threat. Species. Version 2012.2. www.iucnredlist.org. Accessed 1 May 2013

Gillespie TR, Lonsdorf E V, Canfield EP, Meyer DJ, Nadler Y, Raphael J, Pusey AE, Pond J, Pauley J, Mlengeya T, Travis DA (2010) Demographic and ecological effects on patterns of parasitism in eastern chimpanzees (Pan troglodytes schweinfurthii) in Gombe National Park, Tanzania. Am J Phys Anthropol 143:534–44. https://doi.org/10.1002/ajpa.21348

Gillespie TR, Nunn CL, Leendertz FH (2008) Integrative approaches to the study of primate infectious disease: Implications for biodiversity conservation and global health. Am J Phys Anthropol Suppl 47:53–69. https://doi.org/10.1002/ajpa.20949

Goodall J (1986) The Chimpanzees of Gombe: Patterns of Behavior. Cambridge, Massachusetts: Belknap Press of Harvard University Press

Hall G, Krahn T, Van Dijk A, Evans G, Moore K, Maier A, Majury A (2013) Emergency department surveillance as a proxy for the prediction of circulating respiratory viral disease in Eastern Ontario. Can J Infect Dis Med Microbiol 24:150.

Harrell FE (2001) Regression Modelling Strategies with Applications to Linear Models, Logistic Regression, and Survival Analysis. Springer, New York, NY

Henning K (2004) Overview of syndromic surveillance: What is syndromic surveillance? MMWR 53(Suppl):5–11.

Hiller KM, Stoneking L, Min A, Rhodes SM (2013) Syndromic surveillance for influenza in the emergency department-A systematic review. PLoS One 8:e73832. https://doi.org/10.1371/journal.pone.0073832

Johnson K, Alianell A, Radcliffe R (2014) Seasonal Patterns in Syndromic Surveillance Emergency Department Data due to Respiratory Illnesses. Online J Public Health Inform 6:e66. https://doi.org/10.5210/ojphi.v6i1.5164

Jones KE, Patel NG, Levy MA, Storeygard A, Balk D, Gittleman JL, Daszak P (2008) Global trends in emerging infectious diseases. Nature 451:990–3. https://doi.org/10.1038/nature06536

Keele BF, Jones JH, Terio KA, Estes JD, Rudicell RS, Wilson ML, Li Y, Learn GH, Beasley TM, Schumacher-Stankey J, Wroblewski E, Mosser A, Raphael J, Kamenya S, Lonsdorf EV, Travis DA, Mlengeya T, Kinsel MJ, Else JG, Silvestri G, Goodall J, Sharp PM, Shaw GM, Pusey AE, Hahn BH (2009) Increased mortality and AIDS-like immunopathology in wild chimpanzees infected with SIVcpz. Nature 460:515–9. https://doi.org/10.1038/nature08200

Keesing F, Belden LK, Daszak P, Dobson A, Harvell CD, Holt RD, Hudson P, Jolles A, Jones KE, Mitchell CE, Myers SS, Bogich T, Ostfeld RS (2010) Impacts of biodiversity on the emergence and transmission of infectious diseases. Nature 468:647. https://doi.org/10.1038/nature09575

Köndgen S, Kühl H, N'Goran PK, Walsh PD, Schenk S, Ernst N, Biek R, Formenty P, Mätz-Rensing K, Schweiger B, Junglen S, Ellerbrok H, Nitsche A, Briese T, Lipkin WI, Pauli G, Boesch C, Leendertz FH (2008) Pandemic human viruses cause decline of endangered great apes. Curr Biol 18:260–264. https://doi.org/10.1016/j.cub.2008.01.012

Kondgen S, Schenk S, Pauli G, Hoesch C, Leendertz F (2010) Noninvasive monitoring of respiratory viruses in wild chimpanzees. Ecohealth 7:332–341.

Leendertz FH, Pauli G, Maetz-Rensing K, Boardman W, Nunn C, Ellerbrok H, Jensen SA, Junglen S, Christophe B (2006) Pathogens as drivers of population declines: The importance of systematic monitoring in great apes and other threatened mammals. Biol Conserv 131:325–337. https://doi.org/10.1016/j.biocon.2006.05.002

Lescano AG, Larasati R, Sedyaningsih ER, Bounlu K, Araujo-Castillo R V, Munayco-Escate C V, Soto G, Mundaca CC, Blazes DL (2008) Statistical analyses in disease surveillance systems. BMC Proc 2:S7. https://doi.org/10.1186/1753-6561-2-s3-s7

Lonsdorf E, Travis D, Pusey A, Goodall J (2006) Using retrospective health data from the Gombe chimpanzee study to inform future monitoring efforts. Am J Primatol 908:897–908. https://doi.org/10.1002/ajp

Lonsdorf EV, Gillespie TR, Wolf TM, Lipende I, Raphael J, Bakuza J, Murray CM, Wilson ML, Kamenya S, Mjungu D, Collins DA, Gilby IC, Stanton MA, Terio KA, Barbian HJ, Li Y, Ramirez M, Krupnick A, Seidl E, Goodall J, Hahn BH, Pusey AE, Travis DA (2018) Socioecological correlates of clinical signs in two communities of wild chimpanzees (Pan troglodytes) at Gombe National Park Tanzania. Am J Primatol 80(1): e22562. https://doi.org/10.1002/ajp.22562

Lonsdorf E V, Murray CM, Lonsdorf E V, Travis DA, Gilby IC, Chosy J, Goodall J, Pusey AE (2011) A retrospective analysis of factors correlated to chimpanzee (Pan troglodytes schweinfurthii) respiratory health at Gombe National Park, Tanzania. Ecohealth 8:26–35. https://doi.org/10.1007/s10393-011-0683-0

Oates J, Tutin C, Humle T, Wilson M, Baillie J, Balmforth Z, Blom A, Boesch C, Cox D, Davenport T, Dunn A, Dupain J, Duvall C, Ellis C, Farmer K, Gatti S, Greengrass E, Hart J, Herbinger I, Hicks C, Hunt K, Kamenya S, Maisels F, Mitani J, Moore J, Morgan B, Morgan D, Nakamura M, Nixon S, Plumptre A, Reynolds V, Stokes E, Walsh P (2008) Pan troglodytes. In: IUCN Red List Threat. Species. Version 2012.2. www.iucnredlist.org

Oleaga A, Casais R, Balseiro A, Espí A, Llaneza L, Hartasánchez A, Gortázar C (2011) New techniques for an old disease: Sarcoptic mange in the Iberian wolf. Vet Parasitol 181:255–66. https://doi.org/10.1016/j.vetpar.2011.04.036

Palacios G, Lowenstine L, Cranfield MR, Gilardi KVK, Spelman L, Lukasik-Braum M, Kinani J-F, Mudakikwa, Antoine Nyirakaragire, Elisabeth Bussetti AV, Savji N, Hutchison S, Egholm M, Ian L (2011) Human metapneumovirus infection in wild mountain gorillas, Rwanda. Emerg Infect Dis 17:711–713. https://doi.org/10.3201/eid1704100883

Pusey AE, Pintea L, Wilson ML, Kamenya S, Goodall J (2007) The contribution of long-term research at Gombe National Park to chimpanzee conservation. Conserv Biol 21:623–634. https://doi.org/10.1111/j.1523-1739.2007.00704.x

Robbins M, Williamson L (2008) Gorilla beringei. In: IUCN Red List Threat. Species Version 2012.2. www.iucnredlist.org. Accessed 1 May 2012

Rodríguez-Prieto V, Vicente-Rubiano M, Sánchez-Matamoros A, Rubio-Guerri C, Melero M, Martínez-López B, Martínez-Avilés M, Hoinville L, Vergne T, Comin A, Schauer B, Dórea F, Pfeiffer DU, Sánchez-Vizcaíno JM (2014) Systematic review of surveillance systems and methods for early detection of exotic, new and re-emerging diseases in animal populations. Epidemiol Infect. https://doi.org/10.1017/s095026881400212x

Schindeler SK, Muscatello DJ, Ferson MJ, Rogers KD, Grant P, Churches T (2009) Evaluation of alternative respiratory syndromes for specific syndromic surveillance of influenza and respiratory syncytial virus: a time series analysis. BMC Infect Dis 9:1–9. https://doi.org/10.1186/1471-2334-9-190

Stoto MA, Fricker RD, Jain A, Diamond A, Davies-Cole JO, Glymph C, Kidane G, Lum G, Jones L, Dehan K, Yuan C (2006) Evaluating statistical methods for syndromic surveillance. In: Wilson A, Wilson G, Olwell D (eds) Statistical Methods in Counterterrorism: Game Theory, Modeling, Syndromic Surveillance, and Biometric Authentication. Sprnger Science + Business Media, LLC, New York, NY, pp 141–172

Szklo M, Nieto F (2007) Epidemiology: Beyond the Basics, 2nd edn. Jones and Bartlett Publishers, LLC, Sudbury, MA

Terio KA, Kinsel MJ, Raphael J, Mlengeya T, Kirchhoff CA, Gilagiza B, Michael L, Kamenya S, Estes JD, Brandon F, Rudicell RS, Liu W, Patton S, Collins A, Hahn BH, Travis DA, Lonsdorf E V (2011) Pathologic lesions in chimpanzees (Pan trogylodytes schweinfurthii) from Gombe National Park, Tanzania, 2004 – 2010. J Zoo Wildl Med 42:597–607.

Travis DA, Lonsdorf E V, Mlengeya T, Raphael J (2008) A science-based approach to managing disease risks for ape conservation. Am J Primatol 70:745–50. https://doi.org/10.1002/ajp.20566

van den Wijngaard CC, van Asten L, van Pelt W, Doornbos G, Nagelkerke NJD, Donker GA, van der Hoek W, Koopmans MPG (2010) Syndromic Surveillance for Local Outbreaks of Lower-Respiratory Infections: Would It Work? (Syndromic Outbreak Detection). PLoS One 5:e10406. https://doi.org/10.1371/journal.pone.0010406

Walsh P, Tutin C, Oates J, Baillie J, Maisels F, Stokes E, Gatti S, Bergl R, Sunderland-Groves J, Dunn A (2008) Gorilla gorilla. In: IUCN Red List Threat. Species. Version 2012.2. www.iucnredlist.org. Accessed 1 May 2012

Warns-Petit E, Morignat E, Artois M, Calavas D, Warns-petit E (2010) Unsupervised clustering of wildlife necropsy data for syndromic surveillance. BMC Vet Res 6:56. https://doi.org/10.1186/1746-6148-6-56

Williams J, Lonsdorf E, Wilson M, Schumacher-Stankey J, Goodall J, Pusey A (2008) Causes of death in the Kasekela chimpanzees of Gombe National Park, Tanzania. Am J Primatol 70:766–77. https://doi.org/10.1002/ajp.20573

Wolf TM, Wang WA, Lonsdorf E V, Gillespie T, Pusey A, Gilby IC, Travis DA, Singer RS, Wolf T (2019) Optimizing syndromic health surveillance in free ranging great apes: The case of Gombe National Park. J Appl Ecol 56(3): 509–518. https://doi.org/10.1111/1365-2664.13284

Woolhouse MEJ, Gowtage-Sequeria S (2005) Host range and emerging and reemerging pathogens. Emerg Infect Dis 11:1842–1847.
Acknowledgements
We thank the staff of the Jane Goodall Institute's Gombe Stream Research Centre for collecting daily health observations, as well as to the Gombe Ecosystem Health Project staff who manage and organize the data as it originates from the field. Thanks also to Andres Perez for insight and direction on time series analysis and Richard Maclehose for the constructive feedback on other aspects of the biostatistical analyses. Alex Krupnick, Emma Finestone, Emma Lantz, Emily Seidl, Anna Sjodin, and Edward Wilkerson provided key data management support. We also thank the Tanzania Commission for Science and Technology (COSTECH), Tanzania Wildlife Research Institute (TAWIRI), and Tanzania National Parks Association (TANAPA) for their continued support and approval of this research. Funding support comes from the Zoetis/Morris Animal Foundation Veterinary Research Fellowship [D10ZO-902] and the University of Minnesota Doctoral Dissertation Fellowship, the National Institute of Health (R01 AI058715, R01 AI 120810 and R00 HD057992), National Science Foundation (LTREB-1052693), Arcus Foundation, USFWS Great Ape Conservation Fund. Monetary support and invaluable time and effort were provided by staff and volunteers at Lincoln Park Zoo's Davee Center for Epidemiology and Endocrinology and Lester E. Fisher for the Study and Conservation of Apes.
About this article
Cite this article
Wolf, T.M., Singer, R.S., Lonsdorf, E.V. et al. Syndromic Surveillance of Respiratory Disease in Free-Living Chimpanzees. EcoHealth 16, 275–286 (2019). https://doi.org/10.1007/s10393-019-01400-y
Received:

Revised:

Accepted:

Published:

Issue Date:

DOI: https://doi.org/10.1007/s10393-019-01400-y
Keywords