Abstract
Oral vaccination is an emerging management strategy to reduce the prevalence of high impact infectious diseases within wild animal populations. Plague is a flea-borne zoonosis of rodents that often decimates prairie dog (Cynomys spp.) colonies in the western USA. Recently, an oral sylvatic plague vaccine (SPV) was developed to protect prairie dogs from plague and aid recovery of the endangered black-footed ferret (Mustela nigripes). Although oral vaccination programs are targeted toward specific species, field distribution of vaccine-laden baits can result in vaccine uptake by non-target animals and unintended indirect effects. We assessed the impact of SPV on non-target rodents at paired vaccine and placebo-treated prairie dog colonies in four US states from 2013 to 2015. Bait consumption by non-target rodents was high (70.8%, n = 3113), but anti-plague antibody development on vaccine plots was low (23.7%, n = 266). In addition, no significant differences were noted in combined deer mice (Peromyscus maniculatus) and western harvest mouse (Reithrodontomys megalotis) abundance or community evenness and richness of non-target rodents between vaccine-treated and placebo plots. In our 3-year field study, we could not detect a significant positive or negative effect of SPV application on non-target rodents.
Access options
Buy single article
Instant access to the full article PDF.
USD 39.95
Price excludes VAT (USA)
Tax calculation will be finalised during checkout.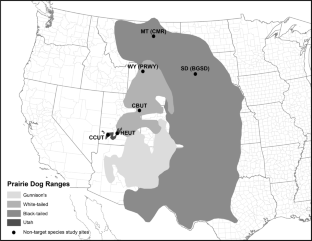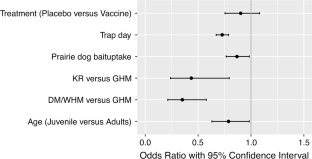 References
Abbott RC, Hudak R, Mondesire R, Baeten LA, Russell RE, Rocke TE (2014) A rapid field test for sylvatic plague exposure in wild animals. Journal of Wildlife Diseases 50:384-388. https://doi.org/10.7589/2013-07-174

Abbott RC, Russell RE, Richgels KLD, Tripp DW, Matchett MR, Biggins DE, Rocke TE (2017) Factors influencing uptake of sylvatic plague vaccine baits by prairie dogs. Ecohealth https://doi.org/10.1007/s10393-017-1294-1

Anderson SH, Williams ES (1997) Plague in a complex of white-tailed prairie dogs and associated small mammals in Wyoming. Journal of Wildlife Diseases 33:720–732. https://doi.org/10.7589/0090-3558-33.4.720

Antolin MF, Gober P, Dakota S, Biggins DE, Collins F, Lockhart M, Ball M (2002) The influence of sylvatic plague on North American wildlife at the landscape level with special emphasis on black-footed ferret and prairie dog conservation. In: Transactions of the Sixty-Seventh North American Wildlife and Natural Resources Conference, pp 104–127

Barton K (2016) MuMIn: Multi-Model Inference. R package version 1.15.6. https://CRAN.R-project.org/package=MuMIn

Bates D, Mächler M, Bolker BM, Walker SC (2015) Fitting linear mixed-effects models using lme4. Journal of Statistical Software 67:1–48. https://doi.org/10.1177/009286150103500418

Biro PA, Stamps JA (2008) Are animal personality traits linked to life-history productivity? Trends in Ecology and Evolution 23:361–368

Brickner, KM, Grenier, MB, Crosier, AE & Pauli, JN (2014) Foraging plasticity in a highly specialized carnivore, the endangered black-footed ferret. Biological Conservation 169: 1–5.

Bron GM (2017) The Role of Short-Lived Rodent in Plague Ecology on Prairie Dog Colonies, Ph.D. Thesis, University of Wisconsin-Madison

Burnham KP, Anderson RP (2004) Multimodel Inference: Understanding AIC and BIC in Model Selection. Sociological Methods & Research 33:261–304. https://doi.org/10.1177/0049124104268644

Crowcroft P, Jeffers JNR (1961) Variability in the behaviour of wild house mice (mus musculus) towards live traps. Journal of Zoology 137:573–582.

Cully Jr, JF, Barnes, AM, Quan, TJ, & Maupln, G (1997) Dynamics of plague in a Gunnison's prairie dog colony complex from New Mexico. Journal of Wildlife Diseases, 33: 706-719

Cully JF, Williams ES (2001) Interspecific comparison of sylvatic plague in prairie dogs. Journal of Mammalogy 82:894–905.

Domenico J, Lucas JJ, Fujita M, Gelfand EW (2012) Susceptibility to vaccinia virus infection and spread in mice is determined by age at infection, allergen sensitization and mast cell status. International Archives Allergy Immunology 158:196–205.

Eads DA, Biggins DE (2015) Plague bacterium as a transformer species in prairie dogs and the grasslands of western North America. Conservation Biology 29: 1086-1093. https://doi.org/10.1111/cobi.12498

Eskey CR, Haas VH (1939) Plague in the western part of the United States. Public Health Reports 54:1467–1481.

Fernandez JR-R, Rocke TE (2011) Use of rhodamine B as a biomarker for oral plague vaccination of prairie dogs. Journal of Wildlife Diseases 47:765–8.

Gage KL, Kosoy MY (2005) Natural history of plague: perspectives from more than a century of research. Annual Review of Entomology 50:505–28. https://doi.org/10.1146/annurev.ento.50.071803.130337

Holdenried R, Quan SF (1956) Susceptibility of New Mexico Rodents to Experimental Plague. Public Health Reports 71:979–984.

Jenkerson CB, Maiersperger T, Schmidt G (2010) eMODIS: A user-friendly data source: U.S. Geological Survey Open-File Report 2010–1055

Kartman, L, Prince, FM, Quan, SF, & Stark, HE (1958). New knowledge on the ecology of sylvatic plague. Annals of the New York Academy of Sciences, 70:668-711.

Kotliar N, Baker B, Whicker A, Plumb G (1999) A critical review of assumptions about the prairie dog as a keystone species. Environmental Management 24:177–192.

Krebs, CJ, Gaines, MS, Keller, BL, Myers, JH, & Tamarin, RH (1973) Population cycles in small rodents. Science, 179:35-41.

Lane J. M, Ruben FL., Neff JM., Millar J. D. (1970) Complications of smallpox vaccination, 1968: results of ten statewide surveys. Journal of Infectious Diseases 122:303–309.

McCoy GW, Smith FC (1910) The susceptibility to plague of the prairie dog, the desert wood rat, and the rock squirrel. The Journal of Infectious Diseases 7:374–376.

Nakagawa S, Schielzeth H (2013) A general and simple method for obtaining R2 from generalized linear mixed-effects models. Methods in Ecology and Evolution 4:133–142. https://doi.org/10.1111/j.2041-210x.2012.00261.x

Oksanen AJ, Blanchet FG, Kindt R, Legendre P, Minchin PR, Hara RBO, Simpson GL, Solymos P, Stevens MHH, Wagner H (2015) Package "vegan". ISBN 0-387-95457-0

Pauli JN, Buskirk SW, Williams ES, Edwards WH (2006) A plague epizootic in the black-tailed prairie dog (Cynomys ludovicianus). Journal of Wildlife Diseases 42:74–80.

R Core Team (2017) R: A Language and Environment for Statistical Computing, R Foundation for Statistical Computing, Vienna. https://www.R-project.org/

Réale D, Reader SM, Sol D, McDougall PT, Dingemanse NJ (2007) Integrating animal temperament within ecology and evolution. Biological Reviews 82:291–318

Robin X, Turck N, Hainard A, Tiberti N, Lisacek F, Sanchez J-C, Müller M (2011) pROC: an open-source package for R and S + to analyze and compare ROC curves. BMC Bioinformatics 12:77. https://doi.org/10.1186/1471-2105-12-77

Rocke TE, Kingstad-Bakke B, Berlier W, Osorio JE (2014) A recombinant raccoon poxvirus vaccine expressing both Yersinia pestis F1 and truncated V antigens protects animals against lethal plague. Vaccines 2:772–784. https://doi.org/10.3390/vaccines2040772

Rocke TE, Iams KP, Dawe S, Smith SR, Williamson JL, Heisey DM, Osorio JE (2010a) Further development of raccoon poxvirus-vectored vaccines against plague (Yersinia pestis). Vaccine 28:338–344. https://doi.org/10.1016/j.vaccine.2009.10.043

Rocke, T. E., Mencher, J., Smith, S. R., Friedlander, A. M., Andrews, G. P., Baeten, L. A. (2004). Recombinant F1-V fusion protein protects black-footed ferrets (Mustela nigripes) against virulent Yersinia pestis infection. Journal of Zoo and Wildlife Medicine 35: 142-146.

Rocke TE, Pussini N, Smith SR, Williamson J, Powell B, Osorio JE (2010b) Consumption of baits containing raccoon pox-based plague vaccines protects black-tailed prairie dogs (Cynomys ludovicianus). Vector-Borne and Zoonotic Diseases 10: 53–8. https://doi.org/10.1089/vbz.2009.0050

Rocke TE, Smith SR, Stinchcomb DT, Osorio JE (2008) Immunization of black-tailed prairie dog against plague through consumption of vaccine-laden baits. Journal of Wildlife Diseases 44:930–937.

Rocke TE, Tripp D, Lorenzsonn F, Falendysz E, Smith S, Williamson J, Abbott R (2015) Age at vaccination may influence response to sylvatic plague vaccine (SPV) in Gunnison's prairie dogs (Cynomys gunnisoni). EcoHealth 278–287. https://doi.org/10.1007/s10393-014-1002-3

Rocke, TE, Tripp, DW, Russell, RE, Abbott, RC, Richgels, KLD, Matchett, MR, Biggins, DE, Griebel, R, Schroeder, G, Grassel, SM, Pipkin, DR, Cordova, J, Kavalunas, A, Maxfield, B, Boulerice, J, Miller, MW (2017) Sylvatic plague vaccine partially protects prairie dogs (Cynomys spp.) in field trials. EcoHealth 14:438-450. https://doi.org/10.1007/s10393-017-1253-x

Rocke TE, Williamson J, Cobble KR, Busch JD, Antolin MF, Wagner DM (2011) Resistance to plague among black-tailed prairie dog populations. Vector-Borne and Zoonotic Diseases 12: 111-116. https://doi.org/10.1089/vbz.2011.0602

Salkeld DJ, Salathé M, Stapp P, Jones JH (2010) Plague outbreaks in prairie dog populations explained by percolation thresholds of alternate host abundance. Proceedings of the National Academy of Sciences 107:14247–50. https://doi.org/10.1073/pnas.1002826107

Slade, NA, Blair, SM (2000) An empirical test of using counts of individuals captured as indices of population size. Journal of Mammalogy, 81:1035-1045.

Slate D, Rupprecht CE, Rooney JA., Donovan D, Lein DH, Chipman RB (2005) Status of oral rabies vaccination in wild carnivores in the United States. Virus Research 111:68–76. https://doi.org/10.1016/j.virusres.2005.03.012

Stapp P, Salkeld DJ, Eisen RJ, Pappert R, Young J, Carter LG, Gage KL, Tripp DW, Antolin MF (2008) Exposure of small rodents to plague during epizootics in black-tailed prairie dogs. Journal of Wildlife Diseases 44:724–30.

Stapp P, Salkeld DJ, Franklin HA, Kraft JP, Tripp DW, Antolin MF, Gage KL (2009) Evidence for the involvement of an alternate rodent host in the dynamics of introduced plague in prairie dogs. Journal of Animal Ecology 78:807–17. https://doi.org/10.1111/j.1365-2656.2009.01541.x

Thomas, RE, Barnes, AM, Quan, TJ, Beard, ML, Carter, LG, & Hopla, CE (1988) Susceptibility to Yersinia pestis in the northern grasshopper mouse (Onychomys leucogaster). Journal of Wildlife Diseases, 24:327-333.

Tripp DW, Rocke TE, Streich SP, Abbott RC, Osorio JE, Miller MW (2015) Apparent field safety of raccoon poxvirus-vectored plague vaccine in free-ranging prairie dogs (Cynomys Spp.), Colorado, USA. Journal of Wildlife Diseases 51:401–410. https://doi.org/10.7589/2014-02-051

Tripp DW, Rocke TE, Streich SP, Brown NL, Fernandez JR-R, Miller MW (2014) Season and application rates affect vaccine bait consumption by prairie dogs in Colorado and Utah, USA. Journal of Wildlife Diseases. 50: 224-234: https://doi.org/10.7589/2013-04-100

Tsao JI, Wootton JT, Bunikis J, Luna MG, Fish D, Barbour AG (2004) An ecological approach to preventing human infection: vaccinating wild mouse reservoirs intervenes in the Lyme disease cycle. Proceedings of the National Academy of Sciences 101:18159–64. https://doi.org/10.1073/pnas.0405763102

Whicker, A., Detling, J.K. (1988) Ecological consequences of prairie dog disturbances. BioScience 38, 778–785
Acknowledgements
This research and GMB were supported by the Morris Animal Foundation (#D14ZO-031 and #D14ZO-412) and the U.S. Geological Survey. GMB performed this work with the USGS while she was a graduate student at the University of Wisconsin. We thank J. Cordova and G. Schroeder for trapping and sampling small rodents and sharing their samples and data. We also thank R. Russell for quantitative insight and expertise, D. Biggins and D. Tripp for methodological advice and D. Biggins, D. Eads, M.R. Matchett, M. McCollister, R. Griebel, A. Kavalunas and B. Maxfield for field support. We are very grateful to C. Crill, C. Tremper, K. Bach, Z. Vizer, N. Pawlikovsky, L. Brenner, A. Andrews, T. Brown, M. Murphy, K. Heitkamp, K. Palframan, J. Gruel, C. Poje, R. Larson, K. Murphy, C. Salas-Quinchucua, C. Malavé, E. Falendysz, J. Williamson, S. Smith, R. Abbott and others for field and laboratory assistance. This manuscript was greatly improved by comments from B. Christensen, B. Connely, R. Abbott and two anonymous reviewers. Any use of trade, firm, or product names is for descriptive purposes only and does not imply endorsement by the U.S. Government.
Electronic supplementary material
Below is the link to the electronic supplementary material.
About this article
Cite this article
Bron, G.M., Richgels, K.L.D., Samuel, M.D. et al. Impact of Sylvatic Plague Vaccine on Non-target Small Rodents in Grassland Ecosystems. EcoHealth 15, 555–565 (2018). https://doi.org/10.1007/s10393-018-1334-5
Received:

Revised:

Accepted:

Published:

Issue Date:

DOI: https://doi.org/10.1007/s10393-018-1334-5
Keywords
Plague

Yersinia pestis

Sylvatic plague vaccine

Non-target rodents

Peromyscus
Onychomys leucogaster