Abstract
Infectious diseases including those acquired through direct or indirect contact with people and livestock threaten the survival of wild great apes. Few studies have reported enterobacterial pathogens in chimpanzees. We used multiplex PCR to screen faeces of chimpanzees sharing a landscape with villagers and livestock in Bulindi, Uganda for Salmonella spp., enterohemorrhagic Escherichia coli (E. coli) and Shigella spp./enteroinvasive E. coli. All three potentially zoonotic pathogens were detected. Individual prevalence ranged between 7 and 20%, with most infections observed in mature male chimpanzees. These preliminary findings suggest detailed investigation of enterobacterial infections in people, primates and livestock in this ecosystem is warranted.
Access options
Buy single article
Instant access to the full article PDF.
USD 39.95
Price excludes VAT (USA)
Tax calculation will be finalised during checkout.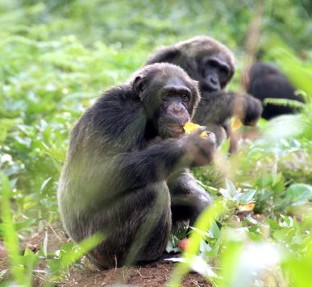 References
Beisner BA, Balasubramaniam KN, Fernandez K, Heagerty A, Seil SK, Atwill ER, et al. (2016) Prevalence of enteric bacterial parasites with respect to anthropogenic factors among commensal rhesus macaques in Dehradun, India. Primates 57:459–469

Beutin L (2006) Emerging enterohaemorrhagic Escherichia coli, causes and effects of the rise of a human pathogen. Journal of Veterinary Medicine Series B 53:299–305

Bublitz DC, Wright PC, Rasambainarivo FT, Arrigo‐Nelson SJ, Bodager JR, Gillespie TR (2015) Pathogenic enterobacteria in lemurs associated with anthropogenic disturbance. American Journal of Primatology 77:330–337

Chapman CA, Gillespie TR, Goldberg TL (2005) Primates and the ecology of their infectious diseases: how will anthropogenic change affect host‐parasite interactions? Evolutionary Anthropology 14:134–144

Cibot M, Sabiiti T, McLennan MR (2017) Two cases of chimpanzees interacting with dead animals without food consumption at Bulindi, Hoima District, Uganda. Pan Africa News 24(1):6–8

De Nys HM, Madinda NF, Merkel K, Robbins M, Boesch C, Leendertz FH, Calvignac‐Spencer S (2015) A cautionary note on fecal sampling and molecular epidemiology in predatory wild great apes. American Journal of Primatology 77:833–840

Enurah LU, Uche EMI, Nawathe DR (1988) Fatal shigellosis in a chimpanzee (Pan troglodytes) in the Jos Zoo, Nigeria. Journal of Wildlife Diseases 24:178–179

Gilardi KV, Gillespie TR, Leendertz FH, Macfie EJ, Travis DA, Whittier CA, Williamson, EA (2015) Best practice guidelines for health monitoring and disease control in great ape populations. Gland, Switzerland: IUCN SSC Primate Specialist Group

Goldberg TL, Gillespie TR, Rwego IB, Estoff EL, Chapman CA (2008) Forest fragmentation as cause of bacterial transmission among nonhuman primates, humans, and livestock, Uganda. Emerging Infectious Diseases 14:1375–1382

Goldberg TL, Gillespie TR, Rwego IB, Wheeler E, Estoff EL, Chapman CA (2007) Patterns of gastrointestinal bacterial exchange between chimpanzees and humans involved in research and tourism in western Uganda. Biological Conservation 135:511–517.

Hasegawa H, Kalousova B, McLennan MR, Modry D, Profousova-Psenkova I, Shutt-Phillips KA, et al. (2016) Strongyloides infections of humans and great apes in Dzanga-Sangha Protected Areas, Central African Republic and in degraded forest fragments in Bulindi, Uganda. Parasitology International 65:367–370

Hasegawa H, Shigyo M, Yanai Y, McLennan MR, Fujita S, Makouloutou P, et al. (2017) Molecular features of hookworm larvae (Necator spp.) raised by coproculture from Ugandan chimpanzees and Gabonese gorillas and humans. Parasitology International 66:12–15

Hockings KJ, Anderson JR, Matsuzawa T (2012) Socioecological adaptations by chimpanzees, Pan troglodytes verus, inhabiting an anthropogenically impacted habitat. Animal Behaviour 83:801–810

Kaur T, Singh J, Huffman MA, Petrželková KJ, Taylor NS, Xu S, et al. (2011) Campylobacter troglodytis sp. nov., isolated from feces of human-habituated wild chimpanzees (Pan troglodytes schweinfurthii) in Tanzania. Applied and Environmental Microbiology 77:2366–2373

Kotloff KL, Nataro JP, Blackwelder WC, Nasrin D, Farag TH, Panchalingam S, et al. (2013) Burden and aetiology of diarrhoeal disease in infants and young children in developing countries (the Global Enteric Multicenter Study, GEMS): a prospective, case-control study. The Lancet 382:209–222

Krief S, Vermeulen B, Lafosse S, Kasenene JM, Nieguitsil A, Berthelemy M, et al. (2010) Nodular worm infection in wild chimpanzees in Western Uganda: a risk for human health? PLoS Neglected Tropical Diseases 4:e630

Majowicz SE, Musto J, Scallan E, Angulo FJ, Kirk M, O'Brien SJ, et al. (2010) The global burden of nontyphoidal Salmonella gastroenteritis. Clinical Infectious Diseases 50:882–889

McLennan MR (2010) Case study of an unusual human–chimpanzee conflict at Bulindi, Uganda. Pan Africa News 17(1):1–4

McLennan MR (2013) Diet and feeding ecology of chimpanzees (Pan troglodytes) in Bulindi, Uganda: foraging strategies at the forest–farm interface. International Journal of Primatology 34:585–614

McLennan MR, Asiimwe C (2016) Cars kill chimpanzees: case report of a wild chimpanzee killed on a road at Bulindi, Uganda. Primates 57:377–388

McLennan MR, Hasegawa H, Bardi M, Huffman MA (2017) Gastrointestinal parasite infections and self-medication in wild chimpanzees surviving in degraded forest fragments within an agricultural landscape mosaic in Uganda. PLoS One 12: e0180431

McLennan MR, Huffman MA (2012) High frequency of leaf swallowing and its relationship to intestinal parasite expulsion in "village" chimpanzees at Bulindi, Uganda. American Journal of Primatology 74:642–650

Nizeyi JB, Rwego IB, Erume J, Kalema GR, Cranfield MR, Graczyk TK (2001) Campylobacteriosis, salmonellosis, and shigellosis in free-ranging human-habituated mountain gorillas of Uganda. Journal of Wildlife Diseases 37:239–244

Nunn C, Altizer SM (2006) Infectious diseases in primates: behavior, ecology and evolution. Oxford: Oxford University Press

Ocholi RA, Enurah LU, Odeyemi PS (1987) Fatal case of salmonellosis (Salmonella pullorum) in a chimpanzee (Pan troglodytes) in the Jos Zoo. Journal of Wildlife Diseases 23:669–670

Ota N, Hasegawa H, McLennan MR, Kooriyama T, Sato H, Pebsworth PA, Huffman MA (2015) Molecular identification of Oesophagostomum spp. from 'village' chimpanzees in Uganda and their phylogenetic relationship with those of other primates. Royal Society Open Science 2:150471

Rewell RE (1949) Outbreak of Shigella schmitzii infection in men and apes. The Lancet 253(6545):220–221

Rwego IB, Isabirye‐Basuta G, Gillespie TR, Goldberg TL (2008) Gastrointestinal bacterial transmission among humans, mountain gorillas, and livestock in Bwindi Impenetrable National Park, Uganda. Conservation Biology 22:1600–1607

van den Beld M, Reubsaet FAG (2012) Differentiation between Shigella, enteroinvasive Escherichia coli (EIEC) and noninvasive Escherichia coli. European Journal of Clinical Microbiology & Infectious Diseases 31:899–904
Acknowledgements
This research was approved by the Uganda National Council for Science and Technology, the President's Office, and the Uganda Wildlife Authority. All applicable institutional and/or national guidelines for the care and use of animals were followed. Sample collection was conducted with assistance from Tom Sabiiti. Matthew McLennan was supported by an Early Career Fellowship from the Leverhulme Trust, UK. Laboratory analysis was supported partly by JSPS Core-to-Core Program (B. Asia-Africa Science Platforms). The manuscript was improved by comments from two anonymous reviewers.
About this article
Cite this article
McLennan, M.R., Mori, H., Mahittikorn, A. et al. Zoonotic Enterobacterial Pathogens Detected in Wild Chimpanzees. EcoHealth 15, 143–147 (2018). https://doi.org/10.1007/s10393-017-1303-4
Received:

Revised:

Accepted:

Published:

Issue Date:

DOI: https://doi.org/10.1007/s10393-017-1303-4
Keywords
Salmonella
Shigella
Escherichia coli
Pan troglodytes

Health monitoring

Pathogen screening