Abstract
Sylvatic plague vaccine (SPV) is a virally vectored bait-delivered vaccine expressing Yersinia pestis antigens that can protect prairie dogs (Cynomys spp.) from plague and has potential utility as a management tool. In a large-scale 3-year field trial, SPV-laden baits containing the biomarker rhodamine B (used to determine bait consumption) were distributed annually at a rate of approximately 100–125 baits/hectare along transects at 58 plots encompassing the geographic ranges of four species of prairie dogs. We assessed site- and individual-level factors related to bait uptake in prairie dogs to determine which were associated with bait uptake rates. Overall bait uptake for 7820 prairie dogs sampled was 70% (95% C.I. 69.9–72.0). Factors influencing bait uptake rates by prairie dogs varied by species, however, in general, heavier animals had greater bait uptake rates. Vegetation quality and day of baiting influenced this relationship for black-tailed, Gunnison's, and Utah prairie dogs. For these species, baiting later in the season, when normalized difference vegetation indices (a measure of green vegetation density) are lower, improves bait uptake by smaller animals. Consideration of these factors can aid in the development of species-specific SPV baiting strategies that maximize bait uptake and subsequent immunization of prairie dogs against plague.
This is a preview of subscription content, log in to check access.
Access options
Buy single article
Instant access to the full article PDF.
US$ 39.95
Price includes VAT for USA
Subscribe to journal
Immediate online access to all issues from 2019. Subscription will auto renew annually.
US$ 99
This is the net price. Taxes to be calculated in checkout.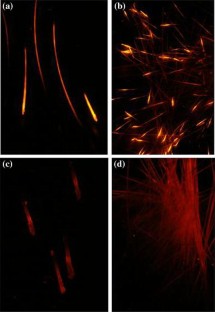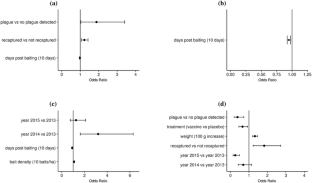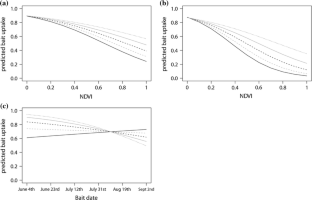 References
Abbott RC, Osorio JE, Bunck CM, Rocke TE (2012) Sylvatic plague vaccine: a new tool for conservation of threatened and endangered species? EcoHealth 9:243–520.

Bates D, Maechler M, Bolker B, Walker S (2015) Fitting linear mixed-effects models using lme4. Journal of Statistical Software 67:1–48.

Berentsen AR, Dunbar MR, Fitzpatrick CE, Walter WD (2013) Spatial ecology of urban raccoons in northeastern Ohio: implications for oral rabies vaccination. The Prairie Naturalist 45:39–45.

Boone A, Kraft JP, Stapp P (2009) Scavenging by mammalian carnivores on prairie dog colonies: implications for the spread of plague. Vector-borne and Zoonotic Diseases 9:185–189.

Bron GM (2017) Role of Short-Lived Rodents and Their Fleas in Plague Ecology on Prairie Dog Colonies. Ph.D. thesis. University of Wisconsin, Madison.

Buddle BM, Parlane NA, Wedlock, DN, Heiser A (2013) Overview of vaccination trials for control of tuberculosis in cattle, wildlife, and humans. Transboundary and Emerging Diseases 60:136–146.

Burnham KP, Anderson DR (2002) Information and likelihood theory: a basis for model selection and inference. In: Model selection and multimodel inference: a practical information-theoretic approach, New York: Spring-Verlag, pp 49–297.

Calenge L, Rossi S (2014) Bayesian modelling of hunting data may improve the understanding of host-parasite systems: wild boar diseases and vaccination as an example. Journal of Theoretical Biology 343:32–43.

Cross ML, Buddle BM, Aldwell FE (2007) The potential of oral vaccines for disease control in wildlife species. The Veterinary Journal 174:472–480.

Cully JR, Williams ES (2001) Interspecific comparisons of sylvatic plague in prairie dogs. Journal of Mammalogy 82:894–905.

Fernandez JRR, Rocke TE (2011) The use of rhodamine B as a biomarker for oral plague vaccination of prairie dogs. Journal of Wildlife Diseases 47:765–768.

Fine P, Eames K, Heymann DL (2011) Herd immunity: a rough guide. Clinical Infectious Diseases 52:911–916.

Fischer JW, Blass CR, Walter WD, Anderson CW, Lavelle MJ, Hall WH, VerCauteren KC (2016) Evaluating a strategy to deliver vaccine to white-tailed deer at a landscape level. Wildlife Society Bulletin 40:394–399.

Fisher P (1999) Review of using Rhodamine B as a marker for wildlife studies. Wildlife Society Bulletin 27(2):318–329.

Fitzgerald JP, Lechleitner RR (1974) Observations on the biology of Gunnison's prairie dog in central Colorado. The American Midland Naturalist 92(1):146–163.

Gomes-Solecki M (2014) Blocking pathogen transmission at the source: reservoir targeted OspA-based vaccines against Borrelia burgdorferi. Frontiers in Cellular and Infection Microbiology 4:1–7; DOI: https://doi.org/10.3389/fcimb.2014.00136.

Hermann JR, Fry AM, Siev D, Slate D, Lewis C, Gatewood DM (2011) Stability of vaccinia-vectored recombinant oral rabies vaccine under field conditions: a 3-year study. The Canadian Journal of Veterinary Research 75:278–284.

Hoogland JL (1995) The black-tailed prairie dog: social life of a burrowing mammal. Chicago: The University of Chicago Press, 557 pp.

Jenkerson CB, Maiersperger T, Schmidt G (2010) eMODIS: A user-friendly data source: U.S. Geological Survey Open-File Report 2010–1055, 10 pp.

Müller T, Freuling CM, Gschwendner P (2012) SURVIS: a fully-automated aerial baiting system for the distribution of vaccine baits for wildlife. Berliner und Munchener Tierarztliche Wochenscrift 125:197–202.

Müller T, Freuling CM, Wysocki P, Roumiantzeff M, Freney J, Mettenleiter TC, Vos A (2015) Terrestrial rabies control in the European Union: Historical achievements and challenges ahead. The Veterinary Journal 203:10–17.

Pauli J, Buskirk S, Williams E, Edwards W (2006) A plague epizootic in the black-tailed prairie dog (Cynomys ludovicianus). Journal of Wildlife Diseases 42:74–80.

R Core Team (2016) R: a language and environment for statistical computing, Vienna, Austria: R Foundation for Statistical Computing. URL https://www.R-project.org/.

Robin X, Turck N, Hainard A, Tiberti N, Lisacek F, Sanchez J-C, Müller M (2011) pROC: an open-source package for R and S + to analyze and compare ROC curves. BMC Bioinformatics 12, p. 77. DOI: https://doi.org/10.1186/1471-2105-12-77.

Rocke TE, Kinstad-Bakke B, Berlier W, Osorio JE (2014) A recombinant raccoon poxvirus vaccine expressing both Yersinia pestis F1 and truncated V antigens protects animals against lethal plague. Vaccines 2:772–784.

Rocke TE, Tripp DW, Lorenzsonn F, Falendysz E, Smith S, Williamson J, Abbott RC (2015) Age at vaccination may influence response to sylvatic plague vaccine (SPV) in Gunnison's prairie dogs (Cynomys gunnisoni). EcoHealth 12(2):278–287.

Rocke TE, Tripp DW, Russell RE, Abbott RC, Richgels KLD, Matchett MR, Biggins DE, Griebel R, Schroeder G, Grassel S, Gilliland R, Cordova J, Kavalunas A, Maxfield B, Boulerice J, Miller MW (2017) Bait-delivered sylvatic plague vaccine protects prairie dogs (Cynomys spp.) from plague in field efficacy trials in western U.S. EcoHealth 14(3):438–450. https://dx.doi.org/10.1007/s10393-017-1253-x.

Rushmore J, Caillaud D, Hall RJ, Stumpf RM, Meyers LA, Altizer S (2014) Network-based vaccination improves prospects for disease control in wild chimpanzees. Journal of the Royal Society Interface 11: 20140349. https://dx.doi.org/10.1098/rsif.2014.0349.

Slate D, Algeo TP, Nelson KM, Chipman RB, Donovan D, Blanton JD, Niezgoda M, Rupprecht CE (2009) Oral rabies vaccination in North America: opportunities, complexities, and challenges. PLoS Neglected Tropical Diseases 3(12):e549.

Tileston JV, Lechleitner RR (1966) Some comparisons of the black-tailed and white-tailed prairie dogs in north-central Colorado. The American Midland Naturalist 75(2):292–316.

Tripp DW, Rocke TE, Streich SP, Brown NL, Ramos J, Miller MW (2014) Season and application rates affect vaccine bait consumption by prairie dogs. Journal of Wildlife Diseases 50:224–34.

Tripp DW, Rocke TE, Streich SP, Abbott RC, Osorio JE, Miller MW (2015) Apparent field safety of a raccoon poxvirus-vectored plague vaccine in free-ranging prairie dogs, Colorado, USA. Journal of Wildlife Diseases 51(2):401–410.

Tripp DW, Rocke TE, Runge JP, Abbott RC, Miller MW (2017) Annual burrow dusting or oral vaccination prevents plague-associated black-tailed prairie dog colony collapse. EcoHealth 14:451–462. https://dx.doi.org/10.1007/s10393-017-1236-y.

Ubico SR, Maupin GO, Fagerstone KA, McLean RG (1988) A plague epizootic in the white-tailed prairie dogs (Cynomys leucurus) of Meeteese, Wyoming. Journal of Wildlife Diseases 24:399–406.
Acknowledgements
The authors are grateful to Colleen Crill, Susan Smith, and Colorado Parks and Wildlife for assistance in preparing hair and whisker samples and a very large contingent of field and laboratory personnel and volunteers for bait production, trapping, and sampling prairie dogs. Dan Grear provided critical review of the manuscript. Funding for the project was provided by US Geological Survey, US Fish and Wildlife Service, National Park Service, US Forest Service, US Department of Agriculture Wildlife Services, Bureau of Land Management, Colorado Parks and Wildlife, Colorado's Species Conservation Trust Fund, Utah Division of Wildlife, Arizona Game and Fish, Wyoming Game and Fish Department, Lower Brule Sioux Tribe, World Wildlife Fund, and the Western Association of Fish and Wildlife Agencies. The use of trade, firm, or product names is for descriptive purposes only and does not imply endorsement by the US Government.
Electronic supplementary material
Below is the link to the electronic supplementary material.
About this article
Cite this article
Abbott, R.C., Russell, R.E., Richgels, K.L.D. et al. Factors Influencing Uptake of Sylvatic Plague Vaccine Baits by Prairie Dogs. EcoHealth 15, 12–22 (2018). https://doi.org/10.1007/s10393-017-1294-1
Received:

Revised:

Accepted:

Published:

Issue Date:
Keywords
Cynomys spp.

Prairie dogs

Vaccine

Sylvatic plague

Yersinia pestis

Rhodamine B