Abstract
There is increasing concern regarding potential impacts of snake fungal disease (SFD), caused by Ophidiomyces ophiodiicola (Oo), on free-ranging snake populations in the eastern USA. The snake cutaneous microbiome likely serves as the first line of defense against Oo and other pathogens; however, little is known about microbial associations in snakes. The objective of this study was to better define the composition and immune function of the snake cutaneous microbiome. Eight timber rattlesnakes (Crotalus horridus) and four black racers (Coluber constrictor) were captured in Arkansas and Tennessee, with some snakes exhibiting signs of SFD. Oo was detected through real-time qPCR in five snakes. Additional histopathological techniques confirmed a diagnosis of SFD in one racer, the species' first confirmed case of SFD in Tennessee. Fifty-eight bacterial and five fungal strains were isolated from skin swabs and identified with Sanger sequencing. Non-metric multidimensional scaling and PERMANOVA analyses indicated that the culturable microbiome does not differ between snake species. Fifteen bacterial strains isolated from rattlesnakes and a single strain isolated from a racer inhibited growth of Oo in vitro. Results shed light on the culturable cutaneous microbiome of snakes and probiotic members that may play a role in fighting an emergent disease.
Access options
Buy single article
Instant access to the full article PDF.
USD 39.95
Price includes VAT (USA)
Tax calculation will be finalised during checkout.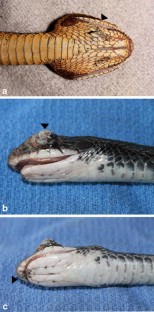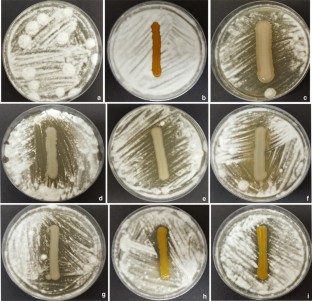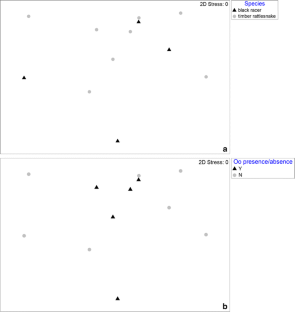 References
Alford RA, Richards SJ. (1999) Global amphibian declines: a problem in applied ecology. Annual Review of Ecology and Systematics 30: 133-165

Allender MC, Dreslik M, Wylie S, Phillips C, Wylie DB, Maddox C. (2011) Chrysosporium sp. infection in Eastern massasauga rattlesnakes. Emerging Infectious Diseases 17(12): 2383-2385

Allender MC, Baker S, Wylie D, Loper D, Dreslik M, Phillips C, Maddox C, Driskell EA. (2015a) Development of snake fungal disease after experimental challenge with Ophidiomyces ophiodiicola in cottonmouths (Agkistrodon piscivorous). PLOS ONE 10(10): e0140193

Allender MC, Bunick D, Dzhaman E, Burrus L, Maddox C. (2015b) Development and use of a real-time polymerase chain reaction assay for the detection of Ophidiomyces ophiodiicola in snakes. Journal of Veterinary Diagnostic Investigation 27(2): 217-220

Allender MC, Raudabaugh DB, Gleason FH, Miller AN. (2015c) The natural history, ecology, and epidemiology of Ophidiomyces ophiodiicola and its potential impact on free-ranging snake populations. Fungal Ecology 17: 187-196

Ayoubi N, Soleimani MJ. (2015) Strawberry fruit rot caused by Neopestalotiopsis iranensis sp. nov., and N. mesopotamica. Current Microbiology 10: 1-8

Belden LK, Harris RN. (2007) Infectious diseases in wildlife: the community ecology context. Frontiers in Ecology and the Environment 5(10): 533-539

Blehert DS, Hicks AC, Behr M, Meteyer CU, Berlowski-Zier BM, Buckles EL, Coleman JTH, Darling SR, Gargas A, Niver R, Okoniewski JC, Rudd RJ, Stone WB. (2009) Bat white-nose syndrome: an emerging fungal pathogen? Science 323(5911): 227

Bletz MC, Loudon AH, Becker MH, Bell SC, Woodhams DC, Minbole KPC, Harris RN. (2013) Mitigating amphibian chytridiomycosis with bioaugmentation: characteristics of effective probiotics and strategies for their selection and use. Ecology Letters 16: 807-820

Bohuski E, Lorch JM, Griffin KM, Blehert DS. (2015) TaqMan real-time polymerase chain reaction for detection of Ophidiomyces ophiodiicola, the fungus associated with snake fungal disease. BioMed Central Veterinary Research 11(1): 1

Bosch J, MartÍnez-Solano I, GarcÍa-Paris M. (2001) Evidence of a chytrid fungus infection involved in the decline of the common midwife toad (Alytes obstetricans) in protected areas of central Spain. Biological Conservation 97(3): 331-337

Caporaso JG, Kuczynski J, Stombaugh J, Bittinger K, Bushman FD, Costello EK, Fierer N, Peña AG, Goodrich JK, Gordon JI, Huttley GA. (2010) QIIME allows analysis of high-throughput community sequencing data. Nature methods 7(5): 335-6.

Caporaso JG, Lauber CL, Walters WA, Berg-Lyons D, Huntley J, Fierer N, Owens SM, Betley J, Fraser L, Bauer M. (2012) Ultra-high-throughput microbial community analysis on the Illumina HiSeq and MiSeq platforms. The ISME Journal 6(8): 1621-1624

Case TJ, Bolger DT. (1991) The role of introduced species in shaping the distribution and abundance of island reptiles. Evolutionary Ecology 5(3): 272-290

Cheatwood JL, Jacobson ER, May PG, Farrell TM, Homer BL, Samuelson DA, Kimbrough JW. (2003). An outbreak of fungal dermatitis and stomatitis in a free-ranging population of pigmy rattlesnakes (Sistrurus miliarius barbouri) in Florida. Journal of Wildlife Diseases 39(2): 329-337

Clark RW, Marchand MN, Clifford BJ, Stechert R, Stephens S. (2011) Decline of an isolated timber rattlesnake (Crotalus horridus) population: interactions between climate change, disease, and loss of genetic diversity. Biological Conservation 144(2): 886-891

Cornelison CT, Keel MK, Gabriel KT, Barlament CK, Tucker TA, Pierce GE, Crow SA. (2014) A preliminary report on the contact-independent antagonism of Pseudogymnoascus destructans by Rhodococcus rhodochrous strain AP96253. BioMed Central Microbiology 14(1): 246

Daszak P, Berger L, Cunningham AA, Hyatt AD, Green DE, Speare R. (1999) Emerging infectious diseases and amphibian population declines. Emerging Infectious Diseases 5(6): 735

Daszak P, Cunningham AA, Hyatt AD. (2003) Infectious disease and amphibian population declines. Diversity and Distributions 9(2): 141-150

Dipineto L, Russo TP, Calabria M, De Rosa L, Capasso M, Menna LF, Borrelli L, Fioretti A. Oral flora of Python regius kept as pets. (2014) Letters in Applied Microbiology 58(5):462-5.

Dolinski AC, Allender MC, Hsiao V, Maddox CW. (2014) Systemic Ophidiomyces ophiodiicola infection in a free-ranging plains garter snake (Thamnophis radix). Journal of Herpetological Medicine and Surgery 24(1): 7-10

Fisher MC, Henk DA, Briggs CJ, Brownstein JS, Madoff LC, McCraw SL, Gurr SJ. (2012) Emerging fungal threats to animal, plant and ecosystem health. Nature 484(7393): 186-194

Gargas A, Trest M, Christensen M, Volk T, Blehert D. (2009) Geomyces destructans sp. nov. associated with bat white-nose syndrome. Mycotaxon 108(1): 147-154

Garner TWJ, Perkins MW, Govindarajulu P, Seglie D, Walker S, Cunningham AA, Fisher MC. (2006) The emerging amphibian pathogen Batrachochytrium dendrobatidis globally infects introduced populations of the North American bullfrog, Rana catesbeiana. Biology Letters 2(3): 455-459

Gefrides LA, Powell MC, Donley MA, Kahn R. (2010) UV irradiation and autoclave treatment for elimination of contaminating DNA from laboratory consumables. Forensic Science Internationals: Genetics 4: 89-94

Gil-Turnes MS, Fenical W. (1992) Embryos of Homarus americanus are protected by epibiotic bacteria. The Biological Bulletin 182: 105–108

Glorioso BM, Waddle JH, Green DE, Lorch JM. (2016) First documented case of snake fungal disease in a free-ranging wild snake in Louisiana. Southeastern Naturalist 2016

Guthrie AL, Knowles S, Ballmann AE, Lorch JM. (2015) Detection of snake fungal disease due to Ophidiomyces ophiodiicola in Virginia, USA. Journal of Wildlife Diseases 52(1): 143-149

Harris RN, James TY, Lauer A, Simon MA, Patel A. (2006) Amphibian pathogen Batrachochytrium dendrobatidis is inhibited by the cutaneous bacteria of amphibian species. EcoHealth 3: 53–56

Harris RN, Lauer A, Simon MA, Banning JL, Alford RA. (2009) Addition of antifungal skin bacteria to salamanders ameliorates the effects of chytridiomycosis. Diseases of Aquatic Organisms 83(1): 11–6

Harris NB, Rogers DG. (2001) Septicemia associated with Stenotrophomonas maltophilia in a West African dwarf crocodile (Osteolaemus tetraspis subsp. tetraspis). Journal of Veterinary Diagnostic Investigation 13(3): 255-258

Hinton TG, Scott DE. (1990) Life history and ecology of the slider turtle. In: Radioecological Techniques for Herpetology, with an Emphasis on Freshwater Turtles. Washington, DC, USA: Smithsonian Institute Press, pp 267-287

Houlahan JE, Findlay CS, Schmidt BR, Meyer AH, Kuzmin SL. (2000) Quantitative evidence for global amphibian population declines. Nature 404(6779): 752-755

Irianto A, Austin B. (2002) Probiotics in aquaculture. Journal of Fish Diseases 25: 633–642

Jayawardena RS, Zhang W, Liu M, Maharachchikumbura SS, Zhou Y, Huang J, Nilthong S, Wang Z, Li X, Yan J, Hyde KD. (2015) Identification and characterization of Pestalotiopsis-like fungi related to grapevine diseases in China. Fungal Biology 119: 348-61

Jho YS, Park DH, Lee JH, Cha SY, Han JS. (2011) Identification of bacteria from the oral cavity and cloaca of snakes imported from Vietnam. Laboratory Animal Research 27(3): 213-217

Junior F, Rui S, Siqueira AK, Campagner MV, Salerno T, Soares T, Lucheis SB, Paes AC, Barraviera B. (2009) Comparison of wildlife and captivity rattlesnakes (Crotalus durissus terrificus) microbiota. Pesquisa Veterinária Brasileira 2009(12): 999-1003.

Kado CI. (2006) Erwinia and related genera. In The Prokaryotes. New York: Springer, pp. 443–450

Kõljalg U, Nilsson RH, Abarenkov K, Tedersoo L, Taylor AFS, Bahram M, Bates ST, Bruns TD, Bengtsson-Palme J, Callaghan TM, Douglas B, Drenkhan T, Eberhardt U, Dueñas M, Grebenc T, Griffith GW, Hartmann M, Kirk PM, Kohout P, Larsson E, Lindahl BD, Lücking R, Martín MP, Matheny PB, Nguyen NH, Niskanen T, Oja J, Peay KG, Peintner U, Peterson M, Põldmaa K, Saag L, Saar I, Schüßler A, Scott JA, Senés C, Smith ME, Suija A, Taylor DL, Telleria MT, Weiß M, Larsson, KH. (2013) Towards a unified paradigm for sequence-based identification of fungi. Molecular Ecology 22: 5271-5277

Last LA, Fenton H, Gonyor-McGuire J, Moore M, Yabsley MJ. (2016) Snake fungal disease caused by Ophidiomyces ophiodiicola in a free-ranging mud snake (Farancia abacura). Journal of Veterinary Diagnostic Investigation. 2016 Oct 3:1040638716663250.

Lauer A, Simon MA, Banning JL, Andre E, Duncan K, Harris RN. (2007) Common cutaneous bacteria from the eastern red-backed salamander can inhibit pathogenic fungi. Copeia 3: 630–640

Lips KR. (1998) Decline of a tropical montane amphibian fauna. Conservation Biology 12.1: 106–17

Looney WJ, Narita M, Mühlemann K. (2009) Stenotrophomonas maltophilia: an emerging opportunist human pathogen. The lancet: infectious diseases 9(5): 312–23

Lorch JM, Lankton J, Werner K, Falendysz EA, McCurley K, Blehert DS. (2015) Experimental infection of snakes with Ophidiomyces ophiodiicola causes pathological changes that typify snake fungal disease. MBio 6(6): e01534-15

Maraki S, Sarchianaki E, Barbagadakis S. (2012) Myroides odoratimimus soft tissue infection in an immunocompetent child following a pig bite: case report and literature review. The Brazilian Journal of Infectious Diseases 16(4): 390-2.

Martel A, Blooi M, Adriaensen C, Van Rooij P, Beukema W, Fisher MC, Farrer RA, Schmidt BR, Tobler U, Goka K, Lips KR. (2014) Recent introduction of a chytrid fungus endangers Western Palearctic salamanders. Science 346(6209): 630-631

McBride MP, Wojick KB, Georoff TA, Kimbro J, Garner MM, Wang X, Childress AL, Wellehan Jr., JF. (2015) Ophidiomyces ophiodiicola dermatitis in eight free-ranging timber rattlesnakes (Crotalus horridus) from Massachusetts. Journal of Zoo and Wildlife Medicine 46(1): 86-94

Miller D, Radi Z, Stiver S, Thornhill T. (2004) Cutaneous and pulmonary mycosis in green anacondas (Euncectes murinus). Journal of Zoo and Wildlife Medicine 35(4): 557-561

Nichols D, Weyant R, Lamirande E, Sigler L, Mason R. (1999) Fatal mycotic dermatitis in captive brown tree snakes (Boiga irregularis). Journal of Zoo and Wildlife Medicine 30(1): 111-118

Paré JA, Sigler L. (2016) An overview of reptile fungal pathogens in the genera Nannizziopsis, Paranannizziopsis, and Ophidiomyces. Journal of Herpetological Medicine and Surgery 26(1-2): 46-53

Park ST, Collingwood AM, St-Hilaire S, Sheridan PP. (2014) Inhibition of Batrachochytrium dendrobatidis caused by bacteria isolated from the skin of boreal toads, Anaxyrus (Bufo) boreas, from Grand Teton National Park, Wyoming, USA. Microbiology Insights 7: 1

Pechmann JHK, Wilbur HM. (1994) Putting declining amphibian populations in perspective: natural fluctuations and human impacts. Herpetologica 1994: 65-84

Perdomo H, Cano J, Gené J, García D, Hernández M, Guarro J. (2013) Polyphasic analysis of Purpureocillium lilacinum isolates from different origins and proposal of the new species Purpureocillium lavendulum. Mycologia 105(1): 151-161

Rajeev S, Sutton DA, Wickes BL, Miller DL, Giri D, Van Meter M, Thompson EH, Rinaldi MG, Romanelli AM, Cano JF, Guarro J. (2009) Isolation and characterization of a new fungal species, Chrysosporium ophiodiicola, from a mycotic granuloma of a black rat snake (Elaphe obsoleta obsoleta). Journal of Clinical Microbiology 47(4), 1264-1268

Reavill DR, Schmidt RE. (2012) Mycobacterial lesions in fish, amphibians, reptiles, rodents, lagomorphs, and ferrets with reference to animal models. Veterinary Clinics of North America - Exotic Animal Practice 15(1): 25

Rödder D, Kielgast J, Bielby J, Schmidtlein S, Bosch J, Garner TW, Veith M, Walker S, Fisher MC, Lötters S. (2009) Global amphibian extinction risk assessment for the panzootic chytrid fungus. Diversity 1(1): 52-66

Schroff S, Schmidt V, Kiefer I, Krautwald-Junghanns ME, Pees M. (2010) Ultrasonographic diagnosis of an endocarditis valvularis in a Burmese python (Python molurus bivittatus) with pneumonia. Journal of Zoo and Wildlife Medicine 41(4): 721-4

Sheridan BS, Wilson GR, Weldon PJ. (1989) Aerobic bacteria from the skin of the rattlesnake, Crotalus atrox. Journal of Herpetology 23(2): 200-202

Short DP, O'Donnell K, Thrane U, Nielsen KF, Zhang N, Juba JH, Geiser DM. (2013) Phylogenetic relationships among members of the Fusarium solani species complex in human infections and the descriptions of F. keratoplasticum sp. nov. and F. petroliphilum stat. nov. Fungal Genetics and Biology 53: 59-70

Smeekens SP, Huttenhower C, Riza A, Van de Veerdonk FL, Zeeuwen PL, Schalkwijk J, Van der Meer JW, Xavier RJ, Netea MG, Gevers D. (2014) Skin microbiome imbalance in patients with STAT1/STAT3 defects impairs innate host defense responses. Journal of Innate Immunity 6(3): 253-262

Smith KF, Sax DF, Lafferty KD. (2006) Evidence for the role of infectious disease in species extinction and endangerment. Conservation Biology 20(5): 1349-1357

Tetzlaff SJ, Allender M, Ravesi M, Smith J, Kingsbury B. (2015) First report of snake fungal disease from Michigan, USA, involving Massasaugas, Sistrurus catenatus (Rafinesque 1818). Herpetology Notes 8: 31-33

Verschuere L, Rombaut G, Sorgeloos P, Verstraete W. (2000) Probiotic bacteria as biological control agents in aquaculture. Microbiology and Molecular Biology Reviews 64: 655–671

Walker DM, Castlebury LA, Rossman AY, Sogonov MV, White Jr. JF. (2010) Systematics of the genus Gnomoniopsis (Gnomoniaceae, Diaporthales) based on a three gene phylogeny, host associations, and morphology. Mycologia 102: 1479–1496

Walker DM, Castlebury LA, Rossman AY, Mejía LC, White Jr. JF. (2012) Phylogeny and taxonomy of Ophiognomonia (Gnomoniaceae, Diaporthales), including twenty-five new species in this highly diverse genus. Fungal Diversity 57(1): 85-147

Walker DM, Lawrence BR, Esterline D, McAndrew M, Edelbrock J, Graham SP, Kelehear C. (2015) A novel protocol for removing environmental microbes from amphibian skin. Herpetological Reviews 46: 349–353

White TJ, Bruns T, Lee S, Taylor J. (1990) Amplification and direct sequencing of fungal ribosomal DNA for phylogenetics. In: PCR Protocols: A Guide to Methods and Applications. Innis MA, Gelfand DH, Sninsky JJ, White TJ (editors), San Diego, CA, USA: Academic Press, pp 315–322

Woodhams DC, Alford R, Briggs C, Johnson M, Rollins-Smith L. (2008) Life-history trade-offs influence disease in changing climates: strategies of an amphibian pathogen. Ecology 89 (6): 1627-1639

Woodhams DC, Brandt H, Baumgartner S, Kielgast J, Küpfer E, Tobler U, Davis LR, Schmidt BR, Bel C, Hodel S, Knight R, McKenzie V. (2014) Interacting symbionts and immunity in the amphibian skin mucosome predict disease risk and probiotic effectiveness. PLOS ONE 9(4): e96375

Woodhams DC, Bletz M, Kueneman J, McKenzie V. (2016) Managing amphibian disease with skin microbiota. Trends in Microbiology 24(3): 161 – 164
Acknowledgements
The authors would like to thank Hannah Carroll, John Arnold, Calvin Hall, Dan Combs, and Vince Cobb for their contributions to field and laboratory work, and the two anonymous reviewers for their helpful comments.
Funding
Funding was provided by the Tennessee Wildlife Resources Agency, Grant 32801-00745, awarded to JEL and DMW, and by the US Fish and Wildlife Service, Multistate Wildlife Grant TN-U2-F14AP00077, Conserving Snake Species of Greatest Conservation Need Threatened by an Emerging Fungal Skin Disease, awarded to RDA.
Ethics declarations
Conflict of interest
The authors declare that they have no conflict of interest.
Ethical Approval
All applicable institutional and/or national guidelines for the care and use of animals were followed (Tennessee Technological University IACUC permit #15-16-001). Sample collection was permitted under TWRA #3886, TDEC #2016-026, and AK #020520155.
Electronic supplementary material
Below is the link to the electronic supplementary material.
About this article
Cite this article
Hill, A.J., Leys, J.E., Bryan, D. et al. Common Cutaneous Bacteria Isolated from Snakes Inhibit Growth of Ophidiomyces ophiodiicola . EcoHealth 15, 109–120 (2018). https://doi.org/10.1007/s10393-017-1289-y
Received:

Revised:

Accepted:

Published:

Issue Date:
Keywords
Dermatophytic fungi

Wildlife disease

Emerging fungal pathogens

Cutaneous microbiome