Abstract
Staphylococcus aureus can colonize a range of species. Although numerous studies have isolated pathogenic bacteria from wild birds, very little is known regarding S. aureus and their potential to spread methicillin-resistant (MRSA) strains. The objective of this study was to determine the presence and molecular characteristics of S. aureus in geese fecal samples collected from ten state parks across Northeast Ohio (NEO). A total of 182 fecal samples from Canada geese (Branta canadensis) were collected in April 2015. Isolates were characterized using multi-locus sequence (MLST) and spa typing, as well as PCR to detect the presence of Panton–Valentine leukocidin (PVL), mecA, and scn genes. Antibiotic susceptibility testing was done via Vitek-2 system. The overall contamination by S. aureus in fecal samples was 7.1% (13/182); 7/182 (3.8%) were MRSA and 6/182 (3.3%) were methicillin-susceptible S. aureus (MSSA). One isolate was positive for PVL. A total of eight different spa types were observed. MLST included ST5, ST8, ST291, ST298, and ST2111. One (7.7%) MSSA isolate was multi-drug resistant. The S. aureus contamination in NEO state parks ranged from 0% (park 1, 4, 8, 9) to 35% (7/20) (park 5). Parks 2, 3, 6, and 7 had 5% (1/20) positive. The results of this study indicate that the feces of geese collected at various state parks in NEO may harbor S. aureus.
This is a preview of subscription content, log in to check access.
Access options
Buy single article
Instant access to the full article PDF.
US$ 39.95
Price includes VAT for USA
Subscribe to journal
Immediate online access to all issues from 2019. Subscription will auto renew annually.
US$ 99
This is the net price. Taxes to be calculated in checkout.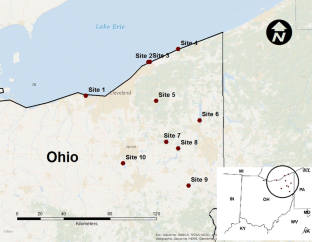 References
Allen, H. K., J. Donato, H. H. Wang, K. A. Cloud-Hansen, J. Davies and J. Handelsman (2010). "Call of the wild: antibiotic resistance genes in natural environments." Nature Reviews Microbiology 8(4): 251-259.

Borjesson, S., A. Matussek, S. Melin, S. Lofgren and P. E. Lindgren (2009). "Methicillin-resistant Staphylococcus aureus (MRSA) in municipal wastewater: an uncharted threat?" J Appl Microbiol.

Bosgelmez-Tinaz, G., S. Ulusoy, B. Aridogan and F. Coskun-Ari (2006). "Evaluation of different methods to detect oxacillin resistance in Staphylococcus aureus and their clinical laboratory utility." Eur J Clin Microbiol Infect Dis 25(6): 410-412.

Brooks, J. P., A. Adeli and M. R. McLaughlin (2014). "Microbial ecology, bacterial pathogens, and antibiotic resistant genes in swine manure wastewater as influenced by three swine management systems." Water Res 57: 96-103.

Cordell, H. K., C. J. Betz and G. T. Green (2008). "Nature-based outdoor recreation trends and wilderness."

Dantes, R., Y. Mu, R. Belflower, D. Aragon, G. Dumyati, L. H. Harrison, F. C. Lessa, R. Lynfield, J. Nadle and S. Petit (2013). "National burden of invasive methicillin-resistant Staphylococcus aureus infections, United States, 2011." JAMA internal medicine 173(21): 1970–1978.

Dimitracopoulos, G., C. Sakellariou and J. Papavassiliou (1976). "Staphylococci from the feces of different animal species: biotypes of Staphylococcus aureus strains of sheep and goat origin." Applied and environmental microbiology 32(1): 53-55.

Dolbeer, R. A., J. L. Seubert and M. J. Begier (2014). "Population trends of resident and migratory Canada geese in relation to strikes with civil aircraft." Human-Wildlife Interactions 8(1): 88.

Enright, M. C., N. P. Day, C. E. Davies, S. J. Peacock and B. G. Spratt (2000). "Multilocus sequence typing for characterization of methicillin-resistant and methicillin-susceptible clones of Staphylococcus aureus." J Clin Microbiol 38(3): 1008-1015.

French, L. and J. A. Parkhurst (2009). "Managing wildlife damage: Canada goose (Branta canadensis)."

Gerba, C. P. and J. E. Smith (2005). "Sources of pathogenic microorganisms and their fate during land application of wastes." Journal of Environmental Quality 34(1): 42-48.

Gómez, P., C. Lozano, M. C. Camacho, J.-F. Lima-Barbero, J.-M. Hernández, M. Zarazaga, Ú. Höfle and C. Torres (2015). "Detection of MRSA ST3061-t843-mecC and ST398-t011-mecA in white stork nestlings exposed to human residues." Journal of Antimicrobial Chemotherapy: dkv314.

Gorwitz, R. J., D. Kruszon-Moran, S. K. McAllister, G. McQuillan, L. K. McDougal, G. E. Fosheim, B. J. Jensen, G. Killgore, F. C. Tenover and M. J. Kuehnert (2008). "Changes in the prevalence of nasal colonization with Staphylococcus aureus in the United States, 2001–2004." Journal of Infectious Diseases 197(9): 1226–1234.

Graczyk, T. K., R. Fayer, J. M. Trout, E. J. Lewis, C. A. Farley, I. Sulaiman and A. A. Lal (1998). "Giardia sp. Cysts and infectious Cryptosporidium parvum oocysta in the feces of migratory Canada Geese (Branta Canadensis)." Appl Environ Microbiol 64(7): 2736–2738.

Graham, J. P., J. H. Leibler, L. B. Price, J. M. Otte, D. U. Pfeiffer, T. Tiensin and E. K. Silbergeld (2008). "The animal-human interface and infectious disease in industrial food animal production: rethinking biosecurity and biocontainment." Public health reports: 282–299.

Graham, P. L., 3rd, S. X. Lin and E. L. Larson (2006). "A U.S. population-based survey of Staphylococcus aureus colonization." Ann Intern Med 144(5): 318–325.

Huijsdens, X. W., B. J. Van Dijke, E. Spalburg, M. G. van Santen-Verheuvel, M. E. Heck, G. N. Pluister, A. Voss, W. J. Wannet and A. J. De Neeling (2006). "Community-acquired MRSA and pig-farming." Annals of Clinical Microbiology and Antimicrobials 5(1): 1.

Institute, C. a. L. S. (2012). Performance Standards for Antimicrobial Susceptibility Testing; Twenty-Second Informational Supplement. Wayne, PA, Clinical and Laboratory Standards Institute.

Kadariya, J., T. C. Smith and D. Thapaliya (2014). "Staphylococcus aureus and staphylococcal food-borne disease: an ongoing challenge in public health." BioMed research international 2014.

Koreen, L., S. V. Ramaswamy, E. A. Graviss, S. Naidich, J. M. Musser and B. N. Kreiswirth (2004). "spa typing method for discriminating among Staphylococcus aureus isolates: implications for use of a single marker to detect genetic micro- and macrovariation." J Clin Microbiol 42(2): 792–799.

Leonard, F. and B. Markey (2008). "Meticillin-resistant Staphylococcus aureus in animals: a review." The Veterinary Journal 175(1): 27–36.

Lina, G., Y. Piemont, F. Godail-Gamot, M. Bes, M. O. Peter, V. Gauduchon, F. Vandenesch and J. Etienne (1999). "Involvement of Panton-Valentine leukocidin-producing Staphylococcus aureus in primary skin infections and pneumonia." Clin Infect Dis 29(5): 1128–1132.

Llarena, A. K., C. Skarp‐de Haan, M. Rossi and M. L. Hänninen (2015). "Characterization of the Campylobacter jejuni population in the barnacle geese reservoir." Zoonoses and public health 62(3): 209-221.

Loncaric, I., A. Kübber-Heiss, A. Posautz, G. L. Stalder, D. Hoffmann, R. Rosengarten and C. Walzer (2013). "Characterization of methicillin-resistant Staphylococcus spp. carrying the mecC gene, isolated from wildlife." Journal of Antimicrobial Chemotherapy 68(10): 2222–2225.

Magiorakos, A. P., A. Srinivasan, R. Carey, Y. Carmeli, M. Falagas, C. Giske, S. Harbarth, J. Hindler, G. Kahlmeter and B. Olsson‐Liljequist (2012). "Multidrug‐resistant, extensively drug‐resistant and pandrug‐resistant bacteria: an international expert proposal for interim standard definitions for acquired resistance." Clinical Microbiology and Infection 18(3): 268–281.

Mediavilla, J. R., L. Chen, A. C. Uhlemann, B. M. Hanson, M. Rosenthal, K. Stanak, B. Koll, B. C. Fries, D. Armellino, M. E. Schilling, D. Weiss, T. C. Smith, F. D. Lowy and B. N. Kreiswirth (2012). "Methicillin-Susceptible Staphylococcus aureus ST398, New York and New Jersey, USA." Emerging Infectious Diseases 18(4): 700–702.

Middleton, J. and A. Ambrose (2005). "Enumeration and antibiotic resistance patterns of fecal indicator organisms isolated from migratory Canada geese (Branta canadensis)." Journal of wildlife diseases 41(2): 334–341.

Morgan, M. (2008). "Methicillin-resistant Staphylococcus aureus and animals: zoonosis or humanosis?" Journal of Antimicrobial Chemotherapy 62(6): 1181–1187.

Moriarty, E. M., L. Weaver, L. W. Sinton and B. Gilpin (2012). "Survival of Escherichia coli, enterococci and Campylobacter jejuni in Canada goose faeces on pasture." Zoonoses Public Health 59(7): 490–497.

Nemati, M., K. Hermans, U. Lipinska, O. Denis, A. Deplano, M. Struelens, L. A. Devriese, F. Pasmans and F. Haesebrouck (2008). "Antimicrobial resistance of old and recent Staphylococcus aureus isolates from poultry: first detection of livestock-associated methicillin-resistant strain ST398." Antimicrobial agents and chemotherapy 52(10): 3817–3819.

Pergams, O. R. and P. A. Zaradic (2008). "Evidence for a fundamental and pervasive shift away from nature-based recreation." Proceedings of the National Academy of Sciences 105(7): 2295-2300.

Porrero, M. C., A. Valverde, P. Fernandez-Llario, A. Diez-Guerrier, A. Mateos, S. Lavin, R. Canton, J. F. Fernandez-Garayzabal and L. Dominguez (2014). "Staphylococcus aureus carrying mecC gene in animals and urban wastewater, Spain." Emerg Infect Dis 20(5): 899-901.

Price, L. B., M. Stegger, H. Hasman, M. Aziz, J. Larsen, P. S. Andersen, T. Pearson, A. E. Waters, J. T. Foster and J. Schupp (2012). "Staphylococcus aureus CC398: host adaptation and emergence of methicillin resistance in livestock." MBio 3(1): e00305-00311.

Rankin, S., S. Roberts, K. O'Shea, D. Maloney, M. Lorenzo and C. E. Benson (2005). "Panton valentine leukocidin (PVL) toxin positive MRSA strains isolated from companion animals." Veterinary microbiology 108(1): 145–148.

Rosenberg Goldstein, R. E., S. A. Micallef, S. G. Gibbs, J. A. Davis, X. He, A. George, L. M. Kleinfelter, N. A. Schreiber, S. Mukherjee, A. Sapkota, S. W. Joseph and A. R. Sapkota (2012). "Methicillin-resistant Staphylococcus aureus (MRSA) detected at four U.S. wastewater treatment plants." Environ Health Perspect 120(11): 1551–1558.

Shopsin, B., M. Gomez, S. O. Montgomery, D. H. Smith, M. Waddington, D. E. Dodge, D. A. Bost, M. Riehman, S. Naidich and B. N. Kreiswirth (1999). "Evaluation of protein A gene polymorphic region DNA sequencing for typing of Staphylococcus aureus strains." J Clin Microbiol 37(11): 3556–3563.

Soge, O. O., J. S. Meschke, D. B. No and M. C. Roberts (2009). "Characterization of methicillin-resistant Staphylococcus aureus and methicillin-resistant coagulase-negative Staphylococcus spp. isolated from US West Coast public marine beaches." J Antimicrob Chemother 64(6): 1148–1155.

Stegger, M., C. M. Liu, J. Larsen, K. Soldanova, M. Aziz, T. Contente-Cuomo, A. Petersen, S. Vandendriessche, J. N. Jimenez and C. Mammina (2013). "Rapid differentiation between livestock-associated and livestock-independent Staphylococcus aureus CC398 clades." PloS one 8(11): e79645.

Thompson, J. M., A. Gundogdu, H. M. Stratton and M. Katouli (2013). "Antibiotic resistant Staphylococcus aureus in hospital wastewaters and sewage treatment plants with special reference to methicillin-resistant Staphylococcus aureus (MRSA)." J Appl Microbiol 114(1): 44–54.

Tizard, I (2004). "Salmonellosis in wild birds." Semin Avian Exot Pet 13(2): 50–66.

Wan, M. T. and C. C. Chou (2014). "Spreading of beta-lactam resistance gene (mecA) and methicillin-resistant Staphylococcus aureus through municipal and swine slaughterhouse wastewaters." Water Res 64: 288-295.

Wardyn, S. E., L. K. Kauffman and T. C. Smith (2012). "Methicillin-resistant Staphylococcus aureus in central Iowa wildlife." Journal of wildlife diseases 48(4): 1069–1073.

Yamahara, K. M., L. M. Sassoubre, K. D. Goodwin and A. B. Boehm (2012). "Occurrence and persistence of bacterial pathogens and indicator organisms in beach sand along the California coast." Appl Environ Microbiol 78(6): 1733–1745.

Zhou, L., H. Kassa, M. L. Tischler and L. Xiao (2004). "Host-adapted Cryptosporidium spp. in Canada Geese (Branta Canadensis)." Appl Environ Microbiol 70(7): 4211–4215.
Acknowledgements
This study was supported by Kent State University start-up funds to Tara C Smith, Ph.D.
Ethics declarations
Conflict of interest
The authors declare that they have no conflict of interest.
About this article
Cite this article
Thapaliya, D., Dalman, M., Kadariya, J. et al. Characterization of Staphylococcus aureus in Goose Feces from State Parks in Northeast Ohio. EcoHealth 14, 303–309 (2017). https://doi.org/10.1007/s10393-017-1227-z
Received:

Revised:

Accepted:

Published:

Issue Date:
Keywords
Staphylococcus aureus

MRSA

State parks

Northeast Ohio

Geese

Feces