Abstract
In Aotearoa New Zealand, Māori aspirations around land and water conflict with settler interests. As indigenous people, Māori struggle to enact agency over resources, despite Treaty (Treaty of Waitangi/Te Tiriti o Waitangi is an 1840 agreement between Maori and the crown) settlement processes returning some lands. Returns are complex since changes wrought by dispossession may be extreme, requiring multiple stakeholder engagements. Tāngonge, a heavily modified wetland, in northern Aotearoa New Zealand has been the subject of iwi (tribe or tribes) claims since the 1890s. Reparation processes have returned significant areas surrounding Tāngonge to key iwi, Te Rarawa and Ngāi Takoto, who formed the Tāngonge Restoration Group to plan management and restoration. The vision of the iwi is to restore Tangonge as a wetland to rekindle usage by manawhenua (people with demonstrated authority and tribal links to the area in question) and local communities. However, perceived Māori privilege, distrust in Māori praxis and fear of alienation of stakeholders mean the situation presents challenges as well as opportunities. Understanding that various parties view knowledge in particular ways, the Restoration Group sought to juxtapose technical data and manawhenua knowledge about Tāngonge. Hydrology findings and local aspirations were aligned to produce ideas for actions that encompassed the broad concerns. This integration of knowledge provides strategic steps for working with administrative authorities who have historical and ongoing interests.
This is a preview of subscription content, log in to check access.
Access options
Buy single article
Instant access to the full article PDF.
US$ 39.95
Price includes VAT for USA
Subscribe to journal
Immediate online access to all issues from 2019. Subscription will auto renew annually.
US$ 99
This is the net price. Taxes to be calculated in checkout.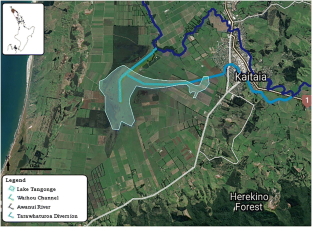 Notes
1.

Act passed aiming, among other things, to curb traditional Maori healing practitioners.

2.

A quasi-legal judicial body set up in 1975 to hear grievances and make recommendations.

3.

4.

5.

Tribes of the Far North region.
References
Belich J. (1986) The New Zealand Wars and the Victorian Interpretation of Racial Conflict. Auckland: Auckland University Press.

Belich J. (1996) Making Peoples: A History of the New Zealanders from Polynesian Settlement to the End of the Nineteenth Century. Auckland: Penguin.

Byrnes G. (editor) (2009) The New Oxford History of New Zealand. South Melbourne, Victoria: Oxford.

Cathcart B (2005) Awanui River Flood Management Plan. Northland Regional Council, Whangarei.

Collins R, Elliott S, Adams R. (2005) Overland flow delivery of faecal bacteria to a headwater pastoral stream. Journal of Applied Microbiology 99:126-132.

Elliott A, Alexander R, Schwarz G, Shankar U, J Sukias, McBride G. (2006) Estimation of nutrient sources and transport for New Zealand using the hybrid mechanistic-statistical model SPARROW. Journal of Hydrology 44:1-27.

Far North District Council (2013) Resource Consent Application and Assessment of Effects on the Environment: Change to resource consent CON201230620—Kaitaia WWTP Sludge Dewatering Facility, New Zealand. Whangarei.

Finlayson C, Horwitz P, Weinstein P. (editors) (2015) Wetlands and Human Health. Dordrecht: Springer.

Forster M. (2010) Recovering our ancestral landscapes: A wetland's story. In:Maori and the Environment: Kaitiaki, Selby R, Moore P, Mulholland M (editors). Wellington: Huia Publishing, pp. 199-218.

Graham M (1991) Whakapapa and historical notes and accounts. Alexander Turnbull Library, Wellington, Photocopy of MS-Papers-4450.

Harmsworth G (2002) Māori environmental performance indicators for wetland condition and trend. Coordinated Monitoring of New Zealand Wetlands, Phase 2, Goal 2. A Ministry for the environment SMF Project 5105. Landcare Research Contract Report LC 0102/099.

Harmsworth G. (2014). Māori and public health: working in partnership to manage freshwater resources. Connecting Communities, Policy and Science. In: Proceedings of the New Zealand Population Health Congress 2014, Auckland Public Health Association, pp. 145–159.

Harmsworth G, Awatere S. (2013) Indigenous Māori knowledge and perspectives of ecosystems: Ecosystem services in New Zealand—Conditions and Trends. Lincoln: Manaaki Whenua Press.

Henwood W, Harris A, Pirini J, White P (2009) Ngā Tāhuhu O Te Taiao Project. Report for Te Runanga O Te Rarawa. Te Runanga O Te Rarawa, Kaitaia.

Henwood W, Henwood R. (2011) Manawhenua Kaitiakitanga in Action: Restoring the Mauri of Lake Omapere. AlterNative 7:220-232.

Hill R. (2004) State Authority, Indigenous Autonomy: Crown-Maori Relations in New Zealand/Aotearoa 1900-1950. Wellington: Victoria University Press.

Hongi H (1930) Ancient Maori history: recollections of a rambler. Wairoa Star Print, Wairoa.

King M. (2003) The Penguin History of New Zealand. Auckland: Penguin.

Larned S, Scarsbrook M, Snelder T, Norton N, Biggs B. (2004) Water quality in low-elevation streams and rivers of New Zealand: recent state and trends in contrasting land-cover classes. New Zealand Journal of Marine and Freshwater Research 38:347-366.

Maori Land Court (1934) Northern Minute Book No 65. Wellington.

McDowall R (2011) Ikawai: freshwater fishes in Māori culture and economy. University of Canterbury, Christchurch.

Meihana P (2016, April 6) There is nothing new about Maori 'privilege'. The Dominion Post. http://www.stuff.co.nz/dominion-post/comment/78559148/There-is-nothing-new-about-Maori-privilege. Accessed 2 May 2016.

Moewaka Barnes H. (2006) Transforming Science: How Our Structures Limit Innovation. Social Policy Journal of New Zealand 29:1-16.

Morgan K. (2004). A Tangata Whenua Perspective on Sustainability using the Mauri Model. Paper presented at the International Conference on Sustainability Engineering and Science, 7–9 July, Auckland, New Zealand http://www.thesustainabilitysociety.org.nz/conference/2004/Session5/36%20Morgan.pdf.

Northland Regional Council (2002) State of the Environment Report 2002, Whangarei.

Opus (2011) Kaitaia WWTP Sludge Bed: Preliminary Geotechnical Report. Opus International Consultants Ltd, Auckland.

Panelli R, Tipa G. (2007) Placing Well-Being: A Maori Case Study of Cultural and Environmental Specificity. EcoHealth 4:445-460.

Poata-Smith E. (2004) Ka Tika a Muri. Ka Tika a Mua? Moari protest protest politics and the Treaty of Waitangi settlement process. In: Tangata Tangata: The Changing Ethnic Contours of New Zealand, Spoonley P, Macpherson C, Pearson D (editors). Southbank, Victoria: Dunmore Press, pp. 59–88.

Selby R, Moore P, Mulholland M. (editors) (2010) Maori and the Environment: Kaitiaki. Wellington: Huia Publishers.

Smith L. (1999) Decolonizing Methodologies: Research and Indigenous Peoples. London: Zed.

Tahana Y (2011, January 8) How free are our beaches? New Zealand Herald. http://www.nzherald.co.nz/nz/news/article.cfm?c_id=1&objectid=10698434. Accessed 2 May 2016.

Tipa G (2010) Consideration of a significance assessment method for tangata whenua river values: A Murihiku case study. Lincoln University, Lincoln, New Zealand.

Tipa G, Nelson K. (2008) Introducing Cultural Opportunities: A Framework for Incorporating Cultural Perspectives in Contemporary Resource Managemente. Journal of Environmental Policy & Planning 10:313-337.

Voyce M. (1989) Maori healers in New Zealand: The Tohunga Suppression Act 1907. Oceania 69:99-123.

Waitangi Tribunal (1999) The Whanganui River Report. Wellington, WT 167.

Waitangi Tribunal (2004) Mohaka ki Ahuriri Claim. Wellington, WT 201.

Tribunal W (2007a) He Maunga Rongo: the Report on the Central North Island Claims. Stage One, Part V. Wellington, Prepublication Copy.

Waitangi Tribunal (2007b) Muriwhenua Land Report. Wellington, WT 45.

Waitangi Tribunal (2010a) Te Urewera Report. Wellington, WT 894.

Waitangi Tribunal (2010b) Wairarapa ki Tararua Report. Wellington, WT 863.

Waitangi Tribunal (2011a) Ko Aotearoa Tenei Report. Wellington, WT 262.

Tribunal W (2011b, 2 July) Ko Aotearoa Tēnei: A Report into Claims Concerning New Zealand Law and Policy Affecting Māori Culture and Identity. Te Taumata Tuarua volume 2: Report Summary. https://forms.justice.govt.nz/search/WT/reports/reportSummary.html?reportId=wt_DOC_68356606. Accessed 14 Aug 2015.

Walker R. (1990) Ka Whawhai Tonu Matou. Auckland: Penguin.

Wilcock R (2006) Assessing the Relative Importance of Faecal Pollution Sources in Rural Catchments. National Institute of Water & Atmospheric Research (NIWA), Hamilton, New Zealand, NIWA Client Report: HAM2006-104.

Wilcock R, Monaghan R, Thorrold B, Meredith A, Betteridge K, Duncan M. (2007) Land-water interactions in five contrasting dairying catchments: issues and solutions. Land Use and Water Resources Research 7:1-10.

Wilcock R, Nagels J, Rodda H, O'Connor M, Thorrold B, Barnett J. (1999) Water quality of a lowland stream in a New Zealand dairy farming catchment. Journal of Marine and Freshwater Research 33:683–696.

Yearbury P. (1976) The Children of Rangi and Papa: The Maori Story of Creation. Auckland: Whitcoulls.
Acknowledgments
The Tāngonge restoration working group acknowledge and thank all those who have contributed in some way to this long-term project and look forward to your ongoing support throughout the coming decades; whānau, hapū, iwi, marae, local agencies and schools, the James Henare Māori Research Centre, the Health Research Council of New Zealand, Ngā Pae o te Māramatanga Māori Centre of Research Excellence, and Te Wai Māori Trustee. Ngā mihi nui ki a koutou katoa.
Ethics declarations
Informed consent
Informed consent was obtained from all individual participants included in the study.
About this article
Cite this article
Henwood, W., Moewaka Barnes, H., Brockbank, T. et al. Ko Tāngonge Te Wai: Indigenous and Technical Data Come Together in Restoration Efforts. EcoHealth 13, 623–632 (2016). https://doi.org/10.1007/s10393-016-1170-4
Received:

Revised:

Accepted:

Published:

Issue Date:
Keywords
Maori

Indigenous knowledge

Water

Colonisation

Treaty settlement

Restoration