Access options
Buy single article
Instant access to the full article PDF.
US$ 39.95
Tax calculation will be finalised during checkout.
Subscribe to journal
Immediate online access to all issues from 2019. Subscription will auto renew annually.
US$ 79
Tax calculation will be finalised during checkout.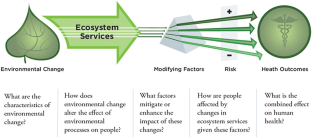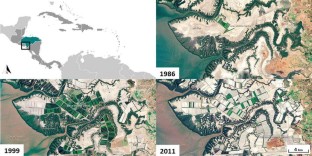 References
Adger WN, Hughes TP, Folke C, Carpenter SR, Rockström J (2005) Social-ecological resilience to coastal disasters. Science 309:1036-1039

Arkema KK, Guannel G, Verutes G, Wood SA, Guerry A, et al. (2013) Coastal habitats shield people and property from sea-level rise and storms. Nature Climate Change 3:913-918

Barbier EB, Hacker SD, Kennedy C, Koch EW, Stier AC, et al. (2011). The value of estuarine and coastal ecosystem services. Ecological Monographs 81:169-193

Bonet-García FJ, Pérez-Luque AJ, Moreno-Llorca, RA, Pérez-Pérez R, Puerta-Piñero C, and Rodríguez RJZ (2015). Protected areas as elicitors of human well-being in a developed region: A new synthetic (socioeconomic) approach. Biological Conservation 187:221-229

Brauman KA (2015a) Hydrologic ecosystem services: Linking ecohydrologic processes to Human Wellbeing in Water Research and Watershed Management. WIREs Water. doi:10.1002/wat2.1081

Brauman, KA (2015b) Get on the ecosystem services bandwagon. Integrated Environmental Assessment and Management 11: 343-344

Caulfield LE, de Onis M, Blössner M, Black RE. (2004). Undernutrition as an underlying cause of child deaths associated with diarrhea, pneumonia, malaria, and measles. The American journal of clinical nutrition 80: 193-198

CBD and WHO (2015) Connecting Global Priorities: Biodiversity and Human Health, Summary of the State of Knowledge Review, Convention on Biological Diversity and World Health Organization, Geneva

Costanza R, de Groot R, Sutton P, van der Ploeg S, Anderson SJ, et al. (2014) Changes in the global value of ecosystem services. Global Environmental Change 26: 152-158

Daily GC, Matson PA (2008) Ecosystems services: from theory to implementation. Proceedings of the National Academy of Sciences USA 105:9455-9456

Das S, Vincent JR (2009) Mangrove protected villages and reduced death toll during Indian super cyclone. Proceedings of the National Academy of Sciences USA 106:7357-7360

de Castro MC, Monte-Mór RL, Sawyer DO, Singer BH (2006) Malaria risk on the Amazon frontier. Proceedings of the National Academy of Sciences USA 103:2452-2457

Eisenberg JN, Desai MA, Levy K, Bates SJ, Liang S, et al. (2007) Environmental determinants of infectious disease: a framework for tracking causal links and guiding public health research. Environmental Health Perspectives 115:1216-1223

Farley J. 2012. Ecosystem services: The economics debate. Ecosystem Services 1:40-49

Horwitz P, Finlayson CM (2011) Wetlands as settings for human health: incorporating ecosystem services and health impact assessment into water resource management. BioScience 61:678-688

Jacups S, Warchot A, Whelan P (2012) Anthropogenic ecological change and impacts on mosquito breeding and control strategies in salt-marshes, Northern Territory, Australia. EcoHealth 9:183-194

Keeler BL, Polasky S, Brauman KA, Johnson KA, Finlay JC, O'Neill A, Kovacs K, Dalzell B (2012) Linking water quality and well-being for improved assessment and valuation of ecosystem services. Proceedings of the National Academy of Sciences 109: 18619-18624

Kennedy CJ, Cheong S (2013) Lost ecosystem services as a measure of oil spill damages: A conceptual analysis of the importance of baselines. Journal of Environmental Management 128: 43-51

Mace GM (2014) Whose conservation? Science, 345: 1558-1560.

Millennium Ecosystem Assessment (2005), Ecosystems and Human Well-Being: General Synthesis, Island Press, Washington, D.C

Mumby PJ, Edwards AJ, Arias-Gonzalez E, Linderman KC, Blackwell PG, et al. (2004) Mangroves enhance the biomass of coral reef fish communities in the Caribbean. Nature 427: 533-536

Murray CJL, Vos T, Lozano R, Naghavi M, Flaxman AD, et al. (2012) Disability-adjusted life years (DALYs) for 291 diseases and injuries in 21 regions, 1990-2010: a systematic analysis for the Global Burden of Disease Study 2010. Lancet 380:2197-2223

Myers SS, Patz JA (2009) Emerging threats to human health from global environmental change. Annual Review of Environment and Resources 34:223-252

Myers SS, Gaffikin L, Golden CD, Ostfeld RS, Redford KH, et al. (2013) Human health impacts of ecosystem alteration. Proceedings of the National Academy of Sciences USA 110:18753-18760

Naylor RL, Goldberg RJ, Primavera JH, Kautsky N, Beveridge MCC, et al. (2000) Effect of aquaculture on world fish supplies. Nature 405:1017-1024

Norgaard RB. (2010) Ecosystem services: From eye-opening metaphor to complexity blinder. Ecological Economics 69:1219-1227

Pagiola S, Ritter L, Bishop JN (2004) Assessing the Economic Value of Ecosystem Conservation, The World Bank Environment Department, vol. 101. The World Bank, Washington, DC

Polasky S, Tallis H, Reyers B. (2015) Setting the bar: Standards for ecosystem services. Proceedings of the National Academy of Sciences 112:7356-7361

Ruckelshaus M, McKenzie E, Tallis H, Guerry A, Daily G, et al. (2015) Notes from the field: Lessons learned from using ecosystem service approaches to inform real-world decisions. Ecological Economics. 115:11-21

Sandifer PA, Sutton-Grier AE, Ward BE (2015) Exploring connections among nature, biodiversity, ecosystem services, and human health and well-being: Opportunities to enhance health and biodiversity conservation. Ecosystem Services 12:1-15

Singer M, Scott C (2003) Syndemics and public health: Reconceptualizing disease in bio‐social context. Medical anthropology quarterly 17: 423-441

Snowdon W, Lawrence M, Schultz J, Vivili P, Swinburn B (2010) Evidence-informed process to identify policies that will promote a healthy food environment in the Pacific Islands. Public Health Nutrition 13:886-892

Steffan W, Richardson K, Rockström J, Cornell SE, Fetzer I, et al. (2015) Planetary boundaries: Guiding human development on a changing planet. Science 347:1259855. doi:10.1126/science.1259855

UNEP and CIFOR 2014. Guiding principles for delivering coastal wetland carbon projects. United Nations Environment Programme, Nairobi, Kenya and Center for International Forestry Research, Bogor, Indonesia, 57pp

Vo QT, Kuenzer C, Vo QM, Moder F, Oppelt N (2012) Review of valuation methods for mangrove ecosystem services. Ecological Indicators 23: 431-446

Whitehead SJ, Ali S (2010) Health outcomes in economic evaluation: the QALY and utilities. British medical bulletin, 96: 5-21
Acknowledgments
This research, including salary for BRB, was supported by the National Academies Keck Futures Initiative (NAKFI ES2). KAB was supported by the UMN Institute on the Environment. A number of coauthors (AME, CDG, SSM, SAO, THR) are members of the Health & Ecosystems: Analysis of Linkages (HEAL) consortium. We are grateful to the staff of the Cape Eleuthera Institute for providing gracious meeting support. Laura Nieland assisted with graphic design.
About this article
Cite this article
Bayles, B.R., Brauman, K.A., Adkins, J.N. et al. Ecosystem Services Connect Environmental Change to Human Health Outcomes. EcoHealth 13, 443–449 (2016). https://doi.org/10.1007/s10393-016-1137-5
Received:

Revised:

Accepted:

Published:

Issue Date:
Keywords
Ecosystem Service

Mangrove Ecosystem

Ecosystem Change

Millennium Ecosystem Assessment

Economic Valuation