Abstract
The relationship between bats and primates, which may contribute to zoonotic disease transmission, is poorly documented. We provide the first behavioral accounts of predation on bats by Cercopithecus monkeys, both of which are known to harbor zoonotic disease. We witnessed 13 bat predation events over 6.5 years in two forests in Kenya and Tanzania. Monkeys sometimes had prolonged contact with the bat carcass, consuming it entirely. All predation events occurred in forest-edge or plantation habitat. Predator–prey relations between bats and primates are little considered by disease ecologists, but may contribute to transmission of zoonotic disease, including Ebolavirus.
This is a preview of subscription content,
to check access.
Access this article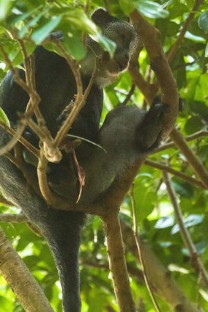 References
Alexander KA, Sanderson CE, Marathe M, Lewis BL, Rivers CM, Shaman J, Drake JM, Lofgren E, Dato VM, Eisenberg MC, Eubank S (2015) What factors might have led to the emergence of Ebola in West Africa? PLoS Neglected Tropical Diseases 9:e0003652

Bermejo M, Illera G, Sabater Pi J (1994) Animals and mushrooms consumed by bonobos (Pan paniscus): new records from Lilungu (Ikele), Zaire. International Journal of Primatology 15:879-898

Boinski S, Timm RM (1985) Predation by squirrel monkeys and double-toothed kites on tent-making bats. American Journal of Primatology 9:121-127

Boumandouki P, Formenty P, Epelboin A, Campbell P, Atsangandoko C, Allarangar Y, Leroy ÉM, Kone ML, Molamou A, Dinga-Longa O, Salemo A, Kounkou RY, Mombouli V, Ibara JR, Gaturuku P, Nkunku S, Lucht A, Feldmann H (2005) Prise en charge des maladies et des défunts lors de l'épidémie de fièvre hémorragique due au virus Ebola d'octobre-décembre 2003 au Congo. Bulletin de la Société de Pathologie Exotique 98:218-23

Chapman CA, Chapman LJ, Cords M, Gathua JM, Gautier-Hion A, Lambert JE, Rode K, Tutin CEG, White LJT (2002) Variation in the diets of Cercopithecus species: differences within forests, among forests, and across species. In: The Guenons: Diversity and Adaptation in African Monkeys, Glenn ME, Cords M (editors), New York: Kluwer Academic/Plenum, pp 325-350

Cords M, Fuller JM (2010) Infanticide in Cercopithecus mitis stuhlmanni in the Kakamega Forest, Kenya: variation in the occurrence of an adaptive behavior. International Journal of Primatology 31:409-431

Cords M (2012) The thirty year blues: what we know and don't know about the life history, group size, and group fission of blue monkeys in the Kakamega Forest, Kenya. In: Long-term Studies of Primates, Kappeler P, Watts D (editors), Berlin: Springer, pp 289-312

Detwiler KM (2002) Hybridization between red-tailed monkeys (Cercopithecus ascanius) and blue monkeys (C. mitis) in East African forests. In: The Guenons: Diversity and Adaptation in African Monkeys, Glenn ME, Cords M (editors), New York: Kluwer Academic/Plenum, pp 79–97

Dobson A (2005) What links bats to emerging infectious diseases? Science 310:628-629

Estók P, Zsebók S, Siemers BM (2010) Great tits search for, capture, kill and eat hibernating bats. Biology Letters 6:59-62

Fedigan L (1990) Vertebrate predation in Cebus capucinus: meat eating in a neotropical monkey. Folia primatologica 54:196-205

Fuller JL (2014) The vocal repertoire of adult male blue monkeys (Cercopithecus mitis stuhlmanni): a quantitative analysis of acoustic structure. American Journal of Primatology 76:203-216

Gautier-Hion A (1998) The diet and dietary habits of forest guenons. In: A Primate Radiation: Evolutionary Biology of the African Guenons, Gautier-Hion A, Bourlière F, Gautier JP, Kingdon J (editors), Cambridge: Cambridge University Press, pp 257-283

Happold M, Happold D (2013) Mammals of Africa Vol. 4: Hedgehogs, Shrews and Bats, London: Bloomsbury Publishing

Hicks TC, Darby L, Hart J, Swinkels J, January N, Menken S (2010) Trade in orphans and bushmeat threatens one of the Democratic Republic of Congo's most important populations of Eastern chimpanzees (Pan troglodytes schweinfurthii). African Primates 7:1-18

Lawes MJ, Cords M, Lehn C (2013) Cercopithecus mitis profile. In: Mammals of Africa Vol. 2: Primates, Butynski TM, Kingdon J, Kalina J (editors), London: Bloomsbury Publishing, pp 354–362

Leroy EM, Telfer P, Kumulingui B, Yaba P, Rouquet P, Roques P, Gonzalez JP, Ksiazek TG, Rollin PE, Nerrienet E (2004) A serological survey of Ebola virus infection in Central African nonhuman primates. Journal of Infectious Diseases 190:1895-1899

Lima SL, O'Keefe JM (2013) Do predators influence the behaviors of bats? Biological Reviews 88:626-644

Linder JM, Oates JF (2011) Differential impact of bushmeat hunting on monkey species and implications for primate conservation in Korup National Park, Careroon. Biological Conservation 144:738-745.

Mitchell N, Lung T, Schaab G (2006) Tracing significant losses and limited gains in forest cover for the Kakamega-Nandi complex in western Kenya across 90 years by use of satellite imagery, aerial photography and maps. In: Proceedings of ISPRS (TC7) Mid-term Symposium on Remote sensing: From pixels to processes. Enschede: ISPRS Commission, pp 778–784

Mortlock M, Kuzmin IV, Weyer J, Gilbert AT, Agwanda B, Rupprecht CE, Nel LJ, Kearney T, Malekani JM, Markotter W (2015) Novel paramyxoviruses in bats from sub-Saharan Africa, 2007–2012. Emerging Infectious Diseases 21:1840-1843

Moussoun A, Pauly M, Akoua-Koffi C, Couacy-Hymann E, Leendertz SAJ, Anoh AE, Gnoukpoho AH, Lendertz FH, Schubert G (2015) Contact to non-human primates and risk factors for zoonotic disease emergence in the Taï region, Côte d'Ivoire. EcoHealth 12:580–591.

Olival KJ, Hayman DT (2014) Filoviruses in bats: current knowledge and future directions. Viruses 6:1759 – 1788

Palombit RA (2013) Papio anubis profile. In: Mammals of Africa Vol. 2: Primates, Butynski TM, Kingdon J, Kalina J (editors), London: Bloomsbury Publishing, pp 233-239

Pernet O, Schneider BS, Beaty SM, LeBreton M, Yun TE, Park A, Zachariah TT, Bowden TA, Hitchens P, Ramirez CM, Daszak P, Mazet J, Freiberg AN, Wolfe ND, Lee B (2014) Evidence for henipavirus spillover into human populations in Africa. Nature Communications 5:5342

Pimley ER, Bearder SK (2013) Perodicticus potto profile. In: Mammals of Africa Vol. 2: Primates, Butynski TM, Kingdon J, Kalina J (editors), London: Bloomsbury Publishing, pp 248-254

Pintea L, Pusey AE, Wilson ML, Gilby IC, Collins A, Kamenya S, Goodall JM (2011) Long-term ecological changes affecting the chimpanzees of Gombe National Park, Tanzania. In: The Ecological Impact of Long-term Changes in Africa's Rift Valley, Plumptre AJ (editor), New York: Nova Science Publishers, pp 194-210

Pourrut X, Souris M, Towner JS, Rollin PE, Nichol ST, Gonzalez JP, Leroy E (2009) Large serological survey showing cocirculation of Ebola and Marburg viruses in Gabonese bat populations, and a high seroprevalence of both viruses in Rousettus aegyptiacus. BMC Infectious Diseases 9:159

Rodhain F (2015) Chauves-souris et virus: des relations complexes. Bulletin de la Société de pathologie exotique 108:272-289

Saéz AM, Weiss S, Nowak K, Lapeyre V, Zimmermann F, Düx A, Kühl HS, Kaba M, Regnaut S, Merkel K, Sachse A, Thiesen U, Villányi L, Boesch C, Dabrowski PW, Radoni A, Nitsche A, Leendertz SAJ, Petterson S, Becker S, Krähling V, Couacy-Hymann E, Akoua-Koffi C, Weber N, Schaade L, Fahr J, Borchert M, Gogarten JF, Calvignac-Spencer S, Leendertz FH (2014) Investigating the zoonotic origin of the West African Ebola epidemic. EMBO Molecular Medicine 7:689-858

Tong S, Conrardy C, Ruone S, Kuzmin IV, Guo X, Tao Y, Niezgoda M, Haynes L, Agwanda B, Breiman RF, Anderson LJ, Rupprecht CE (2009) Detection of novel SARS-like and other coronaviruses in bats from Kenya. Emerging Infectious Diseases 15:482-485

Watts DP, Mitani JC (2002) Hunting behavior of chimpanzees at Ngogo, Kibale National Park, Uganda. International Journal of Primatology 23:1-28

Weist C, Mitchell N, Busch K, Heim D, Ojha N, Schnabel O, Schaab G (2013) Investigating East African forest use histories: a visualisation tool for a combined text and geodata study. Available: http://www.iaf.hs-karlsruhe.de/gvisr/projects/tools/vis_tool/index_cs8.html?kid=11&ref=chap3_8a. Accessed February 27, 2016

Yob JM, Field H, Rashdi AM, Morrissy C, van der Heide B, Rota P, bin Adzhar A, White J, Daniels P, Jamaluddin A, Ksiazek T (2001) Nipah virus infection in bats (Order Chiroptera) in peninsular Malaysia. Emerging Infectious Diseases 7:439-441
Acknowledgements
This research was funded by Grants from the US-NSF (BCS05–54747, BCS10-2847), FAU (DOR-FY14, B09-377, Anthropology Department), and Sigma Xi. We thank Dr. Anthony Collins for alerting us to one of the events of bat predation at Gombe, and early discussion of the significance of bat eating to zoonotic research. We gratefully acknowledge our field assistants, the Gombe Stream Research Center, COSTECH, TANAPA, TAWIRI, Government of Kenya, Masinde Muliro University of Science and Technology/CEKATFOS, and Kenya Forest and Wildlife Services.
Electronic supplementary material
Below is the link to the electronic supplementary material.
Supplementary material 1 (MP4 181799 kb) S1. Video clip showing C. mitis emitting ant vocalizations while eating a pteropodid bat, likely Eidolon helvum. Video by first author
About this article
Cite this article
Tapanes, E., Detwiler, K.M. & Cords, M. Bat Predation by Cercopithecus Monkeys: Implications for Zoonotic Disease Transmission. EcoHealth 13, 405–409 (2016). https://doi.org/10.1007/s10393-016-1121-0
Received:

Revised:

Accepted:

Published:

Issue Date:

DOI: https://doi.org/10.1007/s10393-016-1121-0
Keywords