Abstract
Reintroductions can play a key role in the conservation of endangered species. Parasites may impact reintroductions, both positively and negatively, but few case studies of how to manage parasites during reintroductions exist. Bumblebees are in decline at regional and global scales, and reintroductions can be used to re-establish extinct local populations. Here we report on how the risks associated with parasites are being managed in an ongoing reintroduction of the short-haired bumblebee, Bombus subterraneus, to the UK. Disease risk analysis was conducted and disease risk management plans constructed to design a capture-quarantine-release system that minimised the impacts on both the bumblebees and on their natural parasites. Given that bumblebee parasites are (i) generalists, (ii) geographically ubiquitous, and (iii) show evidence of local adaptation, the disease risk management plan was designed to limit the co-introduction of parasites from the source population in Sweden to the destination site in the UK. Results suggest that this process at best eliminated, or at least severely curtailed the co-introduction of parasites, and ongoing updates of the plan enabled minimization of impacts on natural host-parasite dynamics in the Swedish source population. This study suggests that methods designed for reintroductions of vertebrate species can be successfully applied to invertebrates. Future reintroductions of invertebrates where the parasite fauna is less well known should take advantage of next-generation barcoding and multiple survey years prior to the start of reintroductions, to develop comprehensive disease risk management plans.
Access options
Buy single article
Instant access to the full article PDF.
US$ 39.95
Tax calculation will be finalised during checkout.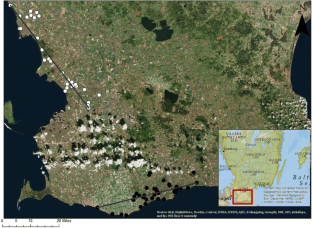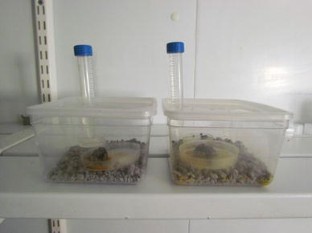 References
Benton T (2006) Bumblebees. Harper Collins Publishers, London

Brown MJF, Schmid-Hempel R, Schmid-Hempel P (2003) Strong context-dependent virulence in a host-parasite system: reconciling genetic evidence with theory. Journal of Animal Ecology 72:994-1002

Brown MJF (2011) The trouble with bumblebees. Nature 469:169-170

Cameron SA, Lozier JD, Strange JP, Koch JB, Cordes N, Solter LF, Griswold TL (2011) Patterns of widespread decline in North American bumble bees. Proceedings of the National Academy of Sciences. 108(2):662-667

Carvell C, Roy DB, Smart SM, Pywell RF, Preston CD, Goulson D (2006) Declines in forage availability for bumblebees at a national scale. Biological Conservation 132:481-489

Chantawannakul P, Ward L, Boonham N, Brown M (2006) A Scientific note on the detection of honeybee viruses using real-time PCR (TaqMan(r)) in Varroa mites collected from a Thai honeybee (Apis mellifera) apiary. Journal of Invertebrate Pathology: 91:69-73

Colla SR, Otterstatter MC, Gegear RJ, Thomson JD (2006) Plight of the bumble bee:pathogen spillover from commercial to wild populations. Biological Conservation 129:461–467

Cox-Foster DL, Conlan S, Holmes EC, Palacios G, Evans JD, Moran NA, et al. (2008) A metagenomic survey of microbes in honey bee colony collapse disorder. Science 318:283-287

Dargent F, Scott ME, Hendry AP, Fussmann GF (2013) Experimental elimination of parasites in nature leads to the evolution of increased resistance in hosts. Proceedings of the Royal Society B 280:20132371

Daszak P (2000) Emerging infectious diseases of wildlife – threats to biodiversity and human health. Science 287:443-449

Dobson AP, Hudson PJ (1986) Parasites, diseases and the structure of ecological communities. Trends in Ecology & Evolution 1:11-15

Fitzpatrick U, Murray TE, Paxton RJ, Breen J, Cotton D, Santorum V, Brown MJF (2007) Rarity and decline in bumblebees- A test of causes and correlates in the Irish fauna. Biological Conservation 136:185-194

Fürst MA, McMahon DP, Osborne JL, Paxton RJ, Brown MJF (2014) Disease associations between honeybees and bumblebees as a threat to wild pollinators. Nature 506:364-366

Gammans N, Allen G (2014) The Bumblebees of Kent. Kent Field Club

Gompper ME, Williams ES (1998) Parasite conservation and the black-footed ferret recovery program. Conservation Biology 12:730-732

Goulson D, Lye GC, Darvill B (2008) Decline and conservation of bumble bees. Annual Review of Entomology 53:191-208

Hudson PJ, (1998) Prevention of population cycles by parasite removal. Science 282:2256-2258

Imhoof B, Schmid-Hempel P (1998) Patterns of local adaptation of a protozoan parasite to its bumblebee host. Oikos 82:59-65

IUCN/SSC (2013) Guidelines for reintroductions and other conservation translocations. Version 1.0. Gland, Switzerland: IUCN Species Survival Commission, pp viiii + 57

Johnson PTJ, Dobson A, Lafferty KD, Marcogliese DJ, Memmott J, Orlofske SA, et al. (2010) When parasites become prey: ecological and epidemiological significance of eating parasites. Trends in Ecology & Evolution 25:362-371

Jones CM, Brown MJF (2014) Parasites and genetic diversity in an invasive bumblebee. Journal of Animal Ecology 83:1428-1440

Jørgensen D (2015) Conservation implications of parasite co-reintroduction. Conservation Biology 29:602-604

Koh LP, Dunn RR, Sodhi NS, Colwell RK, Proctor HC, Smith VS (2004) Species coextinctions and the biodiversity crisis. Science 305:1632-1634

Lye GC, Lepais O, Goulson D (2011) Reconstructing demographic events from population genetic data: the introduction of bumblebees to New Zealand. Molecular Ecology 20:2888–2900

Martin SJ, Highfield AC, Brettell L, Villalobos EM, Budge GE, Powell M, Nikaido S, Schroeder DC (2012) Global honey bee viral landscape altered by a parasitic mite. Science 336:1304-1306

McMahon DP, Fürst MA, Caspar J, Theodorou P, Brown MJF, Paxton RJ (2015) A sting in the spit: widespread cross-infection of multiple RNA viruses across wild and managed bees. Journal of Animal Ecology 84:615-624

Meeus I, Brown MJF, De Graaf DC, Smagghe G (2011) Effects of invasive parasites on bumblebee declines. Conservation Biology 25:662-671

Murray N, Macdiarmid SC, Wooldridge M, Gummow B, Morley RS, Weber SE, et al. (2004) Handbook on Import Risk Analysis for Animals and Animal Products, OIE. (World Organisation for Animal Health), Paris

Natural England (2014) Wildlife licensing: changes to class licence WML-CL22—non-native bumblebee release in commercial glass houses and poly-tunnels. Online: https://www.gov.uk/government/consultations/wildlife-licensing-changes-to-class-licence-wml-cl22-non-native-bumblebee-release-in-commercial-glass-houses

Nieto A, Roberts SPM, Kemp J, Rasmont P, Kuhlmann M, García Criado M, et al. (2014) European Red List of bees. Luxembourg: Publication Office of the European Union

Pizzi R (2009) Veterinarians and taxonomic chauvinism: the dilemma of parasite conservation. Journal of Exotic Pet Medicine 18:279-282

Ruiz-González MX, Bryden J, Moret Y, Reber-Funk C, Schmid-Hempel P, Brown MJF (2012) Dynamic transmission, host quality, and population structure in a multihost parasite of bumblebees. Evolution 66:3053-3066

Rutrecht ST, Brown MJF (2008) The life-history impact and implications of multiple parasites for bumble bee queens. International Journal of Parasitology 38:799-808

Rutrecht ST, Brown MJF (2009) Differential virulence in a multiple-host parasite of bumble bees: resolving the paradox of parasite survival? Oikos 118:941-949

Sainsbury AW, Vaughan-Higgins RJ (2012) Analyzing disease risks associated with translocations. Conservation Biology 26:442-452

Schmid-Hempel P (1998) Parasites in social insects. Princeton University Press, Princeton

Schmid-Hempel P (2011) Evolutionary parasitology. Oxford University Press, Oxford

Schmid-Hempel R, Eckhardt M, Goulson D, Heinzmann D, Lange C, Plischuk S, et al. (2014) The invasion of southern South America by imported bumblebees and associated parasites. Journal of Animal Ecology 83:823-837

Simon-Delso N, San Martin G, Bruneau E, Minsart L-A, Mouret C, Hautier L (2014) Honeybee colony disorder in crop areas: the role of pesticides and viruses. PLoS ONE 9(7): e103073. doi:10.1371/journal.pone.0103073

Thomas JA, Telfer MG, Roy DB, Preston CD, Greenwood JJD, Asher J, et al. (2004) Comparative losses of British butterflies, birds, and plants and the global extinction crisis. Science 303:1879-1881

Thorp RW, Shepherd MD (2005) Profile: Subgenus Bombus Latreille, 1802 (Apidae: Apinae: Bombini). In M. D. Shepherd, D. M. Vaughan & S. H. Black (eds): Red list of pollinator insects of North America. The Xerces Society for Invertebrate Conservation, Portland (Oregon), pp. 5

Vanbergen AJ, Baude M, Biesmeijer JC, Britton NF, Brown MJF, Brown M, et al. (2013) Threats to an ecosystem service: pressures on pollinators. Frontiers in Ecology and the Environment 11:251-259

Vaughan-Higgins RJ, Sainsbury AW, Colvile K, Brown MJF (2012a) Disease risk analysis for the reintroduction of the short-haired bumblebee (Bombus subterraneus). Report to Natural England, p 77

Vaughan-Higgins RJ, Sainsbury AW, Colvile K, Brown MJF (2012b) Short-haired bumblebee (Bombus subterraneus) reintroduction programme: disease risk management and post-release health surveillance protocol. Report to Natural England, p 40

Williams PH (1986) Environmental change and the distributions of British bumble bees (Bombus Latr.). Bee World 67:50-61

Williams PH, Colla S, Xie Z (2009) Bumblebee vulnerability: common correlates of winners and losers across three continents. Conservation Biology 23:931-940

Williams PH, Osborne JL (2009) Bumblebee vulnerability and conservation world-wide. Apidologie 40:367-387

Windsor DA (1998) Most of the species on Earth are parasites. International Journal of Parasitology 28:1939-1941

Woolhouse MEJ, Haydon DT, Antia R (2005) Emerging pathogens: the epidemiology and evolution of species jumps. Trends in Ecology & Evolution 20:238-244

Xie Z, Williams PH, Tany Y (2008) The effect of grazing on bumblebees in the high rangelands of the easter Tibetan Plateau of Sichuan. Journal of Insect Conservation 12:695-703
Acknowledgements
The manuscript was conceived by MJFB, AWS and NG. NG collected the queens. MJFB and CMJ conducted the parasite screening. MJFB wrote the first draft of the manuscript. NG, AWS, RV-H, CMJ, GM edited and contributed to the writing of the manuscript. We thank 2 anonymous reviewers for their comments that greatly improved the clarity of the manuscript. Further thanks to Dr David Sheppard, and Barry Donovan for information on the plans for the short-haired bumblebee re-introduction; Denis Anderson Principal Research Scientist CSIRO Entomology, Canberra Australia and Mike Brown, Head at the National Bee Unit, FERA, England for information regarding quarantine screening of bees and Dr Giles Budge from FERA, England regarding specific information on viral diseases of Bombus sp. Dr. Bill Hughes very generously shared unpublished data on viruses in UK bumblebees. Prof Ingemar Fries and Joachim Rodrigues deMiranda are also to be thanked for their invaluable contributions in regard to parasites and viruses studied in Swedish bumblebees. Alun Chave also contributed invaluably to this report through a literature review and a first draft of the disease risk analysis. We would also like to thank all the short-haired bumblebee project volunteers who have helped collect queens from Sweden, and Jordan Connor for preparing Figure 1.
About this article
Cite this article
Brown, M.J.F., Sainsbury, A.W., Vaughan-Higgins, R.J. et al. Bringing Back a Healthy Buzz? Invertebrate Parasites and Reintroductions: A Case Study in Bumblebees. EcoHealth 14, 74–83 (2017). https://doi.org/10.1007/s10393-015-1093-5
Received:

Revised:

Accepted:

Published:

Issue Date:
Keywords
reintroductions

parasites

conservation

disease risk management

disease risk analysis