Abstract
Environmental volunteering (EV) can provide a unique way to optimise the wellbeing of participants while fostering environmental stewardship. However, the potential of EV to create human health benefits remains an under-researched area. This study provides evidence for improved wellbeing and mood state for 32 participants from diverse backgrounds undertaking EV activities. Most participants also reported improved environmental stewardship with a greatly improved understanding of the environment and the need to conserve it. Other benefits included: 31% of those seeking work obtained it; and 50% joined a volunteer group at program completion. EV provides a unique mechanism to enhance the wellbeing of the participants, while conserving the environment.
This is a preview of subscription content, log in to check access.
Access options
Buy single article
Instant access to the full article PDF.
US$ 39.95
Tax calculation will be finalised during checkout.
Subscribe to journal
Immediate online access to all issues from 2019. Subscription will auto renew annually.
US$ 99
Tax calculation will be finalised during checkout.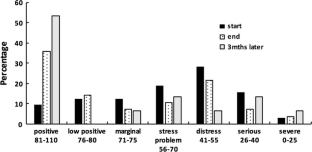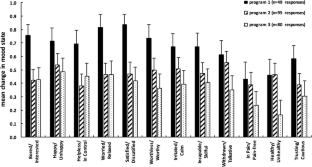 References
Asah, S. T. and Blahna, D. J. (2012). Motivational functionalism and urban conservation stewardship: implications for volunteer involvement. Conservation Letters 5, 470-477.

Department of Environment and Natural Resources (2014) Corporate Plan 2014–2015

Dresner, M. and Fischer, K. A. (2013). Environmental stewardship outcomes from year-long invasive species restoration projects in middle school. Invasive Plant Science and Management 6 (3), 444-448.

Fahey TD, Insel PM, Roth WT (2005) Fit and Well. 6th ed., The McGraw-Hill Companies. Cited in National Center for Health Statistics. General Well-being Scale (GWBS)

Furnass B (1996) Introduction. In: Survival, health and wellbeing into the twenty first century—proceedings of a conference held at The Australian National University, November 30–December 1, 1995. Furnass, B, Whyte J, Harris J, Baker A (editors), Canberra: Nature and Society Forum, pp 5–6

Keniger, L E, Gaston, K J, Irvine, K N and Fuller, R A (2013) What are the benefits of interacting with nature? International journal of environmental research and public health 10, 913-935.

MacKerron, G and Mourato, S (2013) Happiness is greater in natural environments. Global Environmental Change 23, 992-1000.

Maller, C, Townsend, M, St Leger, L, Henderson-Wilson, C, Pryor, A, Prosser, L and Moore, M (2008) Healthy Parks, healthy people: the health benefits of contact with nature in a park context. A review of relevant literature. Deakin University and Parks Victoria.

Molsher RL, Townsend M (2014) Ecosystem and human health benefits of environmental volunteering on Kangaroo Island, SA. Final Report. Natural Resources Kangaroo Island, SA

Moore, M, Townsend, M and Oldroyd, J (2007) Linking human and ecosystem health: the benefits of community involvement in conservation groups. Ecohealth 3, 255-261.

O'Brien L, Townsend M and Ebden M (2010)'Doing something positive': volunteers' experiences of the well-being benefits derived from practical conservation activities in nature. Voluntas21, 525-545.

O'Brien, L, Burls, A, Townsend, M and Ebden, M (2011) 'Volunteering in nature as a way of enabling people to reintegrate into society. Perspectives in public health 131 (2), 71- 80.

Townsend M, Ebden M (2006) Feel blue, touch green. Final report of a project undertaken by Deakin University, Barwon health, Parks Victoria, Alcoa Anglesea, ANGAIR and Surf Coast Shire. Melbourne: Deakin University

Townsend, M., Marsh, R. (2004). Exploration of the health and wellbeing benefits of membership of Truganina Explosives Reserve Preservation Society, Burwood, Australia: School of Health and Social Development, Deakin University.

Tyerman, A and Humphrey, M (1984) Changes in self-concept following severe head injury. International journal of rehabilitation research 7, 11-23.
Acknowledgments
This Project was funded by a State Natural Resource Management community Grant and Building Skills in the Region Grant with in-kind support from Natural Resources KI, KI Health Service, Regional Development Australia, Junction Australia, Eco-action KI and Finding Workable Solutions. We thank the participants and the Project working group that facilitated the Project.
About this article
Cite this article
Molsher, R., Townsend, M. Improving Wellbeing and Environmental Stewardship Through Volunteering in Nature. EcoHealth 13, 151–155 (2016). https://doi.org/10.1007/s10393-015-1089-1
Received:

Revised:

Accepted:

Published:

Issue Date:
Keywords
environmental

volunteering

nature

wellbeing