Abstract
We studied the relationship between psychological distress and relative resource and risk predictors, including loss of solace from the landscape (solastalgia), one year after the Wallow Fire, in Arizona, United States. Solastalgia refers to the distress caused by damage to the surrounding natural environment and it has not been examined for its relationship to psychological health. Doing so opens avenues of research that inquire into how land management might be able to support improved community resilience and psychological health outcomes after a wildfire. In 2012, we conducted a household survey mailed to all 1387 households in the five communities surrounding the fire. The Kessler Psychological Distress Scale assessed psychological distress. In the multivariate analysis, higher solastalgia score and an adverse financial impact of the fire were associated with clinically significant psychological distress. Annual household income ≥ $80,000 and a higher family functioning score were associated with less psychological distress. Part-time residents were no more likely to have psychological distress than full-time residents. We conclude that dramatic transformation of a landscape by an environmental event such as a wildfire can reduce its value as a source of solace. These results call for novel post-wildfire community recovery interventions that wed forest management and community psychology.
Access options
Buy single article
Instant access to the full article PDF.
US$ 39.95
Tax calculation will be finalised during checkout.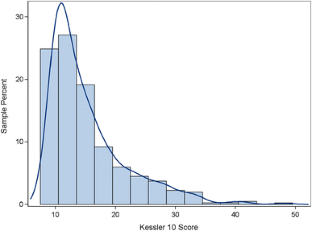 References
Abramson, D. M., Park, Y. S., Stehling-Ariza, T., & Redlener, I. (2010). Children as bellwethers of recovery: dysfunctional systems and the effects of parents, households, and neighborhoods on serious emotional disturbance in children after Hurricane Katrina. Disaster Med Public Health Prep, 4 Suppl 1, S17-27. doi:10.1001/dmp.2010.7

Albrecht, G., Sartore, G. M., Connor, L., Higginbotham, N., Freeman, S., Kelly, B., Stain H., Torma, A., Pollard, G. (2007). Solastalgia: the distress caused by environmental change. Australasian Psychiatry, 15, S95-S98. doi:10.1080/10398560701701288

Anderson, T. M., Sunderland, M., Andrews, G., Titov, N., Dear, B. F., & Sachdev, P. S. (2013). The 10-item Kessler psychological distress scale (K10) as a screening instrument in older individuals. American Journal of Geriatric Psychiatry, 21(7), 596-606. doi:10.1016/j.jagp.2013.01.009

Andrews, G., & Slade, T. (2001). Interpreting scores on the Kessler Psychological Distress Scale (K10). Aust N Z J Public Health, 25(6), 494-497.

Bonanno, G. A., Brewin, C. R., Kaniasty, K., & La Greca, A. M. (2010). Weighing the Costs of Disaster: Consequences, Risks, and Resilience in Individuals, Families, and Communities. Psychological Science in the Public Interest, 11(1), 1-49.

Bryant, R. A., & Harvey, A. G. (1996). Posttraumatic stress reactions in volunteer firefighters. Journal of Traumatic Stress, 9(1), 51-62.

Burns, M. R., Taylor, J. G., & Hogan, J. T. (2008). Integrative Healing: The importance of community collaboration in postfire recovery and prefire planning. In W. E. Martin, C. Raish & B. Kent (Eds.), Wildfire Risk: Human perceptions and management implications (pp. 81-98). Washington D.C.: Resources for the Future.

de Freitas, C. M., de Oliveira, S. G., Schutz, G. E., Freitas, M. B., & Camponovo, M. P. (2007). Ecosystem approaches and health in Latin America. Cad Saude Publica, 23(2), 283-296.

Doherty, T. J., & Clayton, S. (2011). The Psychological Impacts of Global Climate Change. American Psychologist, 66(4), 265-276. doi:10.1037/A0023141

Drapeau, A., Beaulieu-Prevost, D., Marchand, A., Boyer, R., Preville, M., & Kairouz, S. (2010). A life-course and time perspective on the construct validity of psychological distress in women and men. Measurement invariance of the K6 across gender. BMC Med Res Methodol, 10, 68. doi:10.1186/1471-2288-10-68

Elliott, S. J., Taylor, S. M., Walter, S., Stieb, D., Frank, J., & Eyles, J. (1993). Modeling Psychosocial Effects of Exposure to Solid-Waste Facilities. Social Science & Medicine, 37(6), 791-804. doi:10.1016/0277-9536(93)90373-C

Flaskerud, J. H., & Winslow, B. J. (1998). Conceptualizing vulnerable populations health-related research. Nurs Res, 47(2), 69-78.

Forget, G., & Sanchez-Bain, W. A. (1999). Managing the ecosystem to improve human health: integrated approaches to safe drinking water. Int J Occup Environ Health, 5(1), 38-50.

Furukawa, T. A., Kessler, R. C., Slade, T., & Andrews, G. (2003). The performance of the K6 and K10 screening scales for psychological distress in the Australian National Survey of Mental Health and Well-Being. Psychol Med, 33(2), 357-362.

Grievink, L., van der Velden, P. G., Stellato, R. K., Dusseldorp, A., Gersons, B. P., Kleber, R. J., & Lebret, E. (2007). A longitudinal comparative study of the physical and mental health problems of affected residents of the firework disaster Enschede, The Netherlands. Public Health, 121(5), 367-374. doi:10.1016/j.puhe.2006.09.025

Hendryx, M., & Innes-Wimsatt, K. A. (2013). Increased Risk for Depression for People Living in Coal Mining Areas of Central Appalachia. Ecopsychology, 5(4), 179-187.

Higginbotham, N., Connor, L., Albrecht, G., Freeman, S., & Agho, K. (2006). Validation of an environmental distress scale. Ecohealth, 3(4), 245-254. doi:10.1007/s10393-006-0069-x

Jenkins, J. L., Hsu, E. B., Sauer, L. M., Hsieh, Y. H., & Kirsch, T. D. (2009). Prevalence of Unmet Health Care needs and description of health care-seeking behavior among displaced people after the 2007 California wildfires. Disaster Med Public Health Prep, 3(2 Suppl), S24-28. doi:10.1097/DMP.0b013e31819f1afc

Kessler, R. C., Andrews, G., Colpe, L. J., Hiripi, E., Mroczek, D. K., Normand, S. L., Walters, E.E., Zaslavsky, A. M. (2002). Short screening scales to monitor population prevalences and trends in non-specific psychological distress. Psychol Med, 32(6), 959-976.

Kessler, R. C., Barker, P. R., Colpe, L. J., Epstein, J. F., Gfroerer, J. C., Hiripi, E., Howes, M.J., Normand, S.L., Manderscheid, R.W., Walters, E.E., Zaslavsky, A. M. (2003). Screening for Serious Mental Illness in the General Population. Arch Gen Psychiatry, 60(2), 184-189. doi:10.1001/archpsyc.60.2.184

Kessler, R. C., Green, J. G., Gruber, M. J., Sampson, N. A., Bromet, E., Cuitan, M., Furukawa, T.A., Gureje, O. Hinkov, Hu, C.Y., Lara, C., Lee, S., Mneimneh, Z., Myer, L. Sagar, R., Viana, M.C., Zaslavsky, A. M. (2010). Screening for serious mental illness in the general population with the K6 screening scale: results from the WHO World Mental Health (WMH) survey initiative. Int J Methods Psychiatr Res, 19 Suppl 1, 4-22. doi:10.1002/mpr.310

Knowlton, K., Rotkin-Ellman, M., Geballe, L., Max, W., & Solomon, G. M. (2011). Six climate change-related events in the United States accounted for about $14 billion in lost lives and health costs. Health Aff (Millwood), 30(11), 2167-2176. doi:10.1377/hlthaff.2011.0229

Marshall, G. N., Schell, T. L., Elliott, M. N., Rayburn, N. R., & Jaycox, L. H. (2007). Psychiatric disorders among adults seeking emergency disaster assistance after a wildland-urban interface fire. Psychiatr Serv, 58(4), 509-514

McDermott, B. M., Lee, E. M., Judd, M., & Gibbon, P. (2005). Posttraumatic stress disorder and general psychopathology in children and adolescents following a wildfire disaster. Can J Psychiatry, 50(3), 137-143.

McFarlane, A. C. (1987). Posttraumatic phenomena in a longitudinal study of children following a natural disaster. J Am Acad Child Adolesc Psychiatry, 26(5), 764-769. doi:10.1097/00004583-198709000-00025

Nielsen, N. O. (2001). Ecosystem approaches to human health. Cad Saude Publica, 17 Suppl, 69-75.

Norris, F. H., Friedman, M. J., Watson, P. J., Byrne, C. M., Diaz, E., & Kaniasty, K. (2002). 60,000 disaster victims speak: Part I. An empirical review of the empirical literature, 1981-2001. Psychiatry, 65(3), 207-239.

Palinkas, L. A. (2012). A conceptual framework for understanding the mental health impacts of oil spills: lessons from the Exxon Valdez oil spill. Psychiatry, 75(3), 203-222. doi:10.1521/psyc.2012.75.3.203

Rapport, D. J. (1999). Epidemiology and ecosystem health: Natural bridges. Ecosystem Health, 5(3), 174-180. doi:10.1046/j.1526-0992.1999.09927.x

Ryan, R. L., & Hamin, E. (2008). Wildfires, Communities, and Agencies: Stakeholders' Perceptions of Postfire Forest Restoration and Rehabilitation. Journal of Forestry, 106(7), 370-379.

Sartore, G. M., Kelly, B., Stain, H., Albrecht, G., & Higginbotham, N. (2008). Control, uncertainty, and expectations for the future: a qualitative study of the impact of drought on a rural Australian community. Rural and Remote Health, 8(3), 950

Scher, C. D., & Ellwanger, J. (2009). Fire-related cognitions moderate the impact of risk factors on adjustment following wildfire disaster. J Anxiety Disord, 23(7), 891-896. doi:10.1016/j.janxdis.2009.05.007

Speldewinde, P. C., Cook, A., Davies, P., & Weinstein, P. (2009). A relationship between environmental degradation and mental health in rural Western Australia. Health Place, 15(3), 880-887. doi:10.1016/j.healthplace.2009.02.011

Svendsen, E. S., Baine, G., Northridge, M. E., Campbell, L. K., & Metcalf, S. S. (2014). Recognizing resilience. Am J Public Health, 104(4), 581-583. doi:10.2105/AJPH.2013.301848

Tally, S., Levack, A., Sarkin, A., Gilmer, T., & Groessl, E. J. (2013). The Impact of the San Diego Wildfires on a General Mental Health Population Residing in Evacuation Areas. Admin Policy Ment Health, 40(5), 348-354.

Theobald, D. M. and W. H. Romme (2007). "Expansion of the US wildland–urban interface." Landscape and Urban Planning, 83(4), 340-354.

Wang, P. S., Lane, M., Olfson, M., Pincus, H. A., Wells, K. B., & Kessler, R. C. (2005). Twelve-month use of mental health services in the United States: results from the National Comorbidity Survey Replication.Arch Gen Psychiatry, 62(6), 629-640. doi:10.1001/archpsyc.62.6.629

Webb JC, Mergler D, Parkes MW, Saint-Charles J, Spiegel J, Waltner-Toews D, … Woollard RF (2010) Tools for thoughtful action: the role of ecosystem approaches to health in enhancing public health. Canadian Journal of Public Health 101(6):439–441

Westerling, A. L., Hidalgo, H. G., Cayan, D. R., & Swetnam, T. W. (2006). Warming and earlier spring increase western US forest wildfire activity. Science, 313(5789), 940-943. doi:10.1126/science.1128834

Winkler, R., Field, D. R., Luloff, A. E., Arannich, R. S., & Williams, T. (2007). Social landscapes of the inter-mountain west: A comparison of 'old west' and 'new west' communities. Rural Sociology, 72(3), 478-501. doi:10.1526/003601107781799281
Acknowledgments
Funding provided by the U.S. Department of Agriculture/Forest Service, Award #09-JV-11242309-042. We also thank Greg Winter, Cornerstone Strategies Inc. and Kellie Monterrosa, M.B.A., Apache County Department of Public Health.
About this article
Cite this article
Eisenman, D., McCaffrey, S., Donatello, I. et al. An Ecosystems and Vulnerable Populations Perspective on Solastalgia and Psychological Distress After a Wildfire. EcoHealth 12, 602–610 (2015). https://doi.org/10.1007/s10393-015-1052-1
Received:

Revised:

Accepted:

Published:

Issue Date:
Keywords
wildfire

mental health

solastalgia

disaster

resilience

climate change