Abstract
This forum paper proposes a reflection on the "field of ecohealth" and on how best to sustain a supportive environment that enables the evolution of diverse partnerships and forms of collaboration in the field. It is based on the results of a preconference workshop held in October 2012, in Kunming, China at the fourth biennial conference of the International Association for Ecology and Health. Attended by 105 persons from 38 countries, this workshop aimed to have a large-group and encompassing discussion about ecohealth as an emerging field, touching on subjects such as actors, processes, structures, standards, and resources. Notes taken were used to conduct a qualitative thematic analysis combined with a semantic network analysis. Commonalities highlighted by these discussions draw a portrait of a field in which human health, complex systems thinking, action, and ecosystem health are considered central issues. The need to reach outside of academia to government and the general public was identified as a shared goal. A disconnect between participants' main concerns and what they perceived as the main concerns of funding agencies emerged as a primary roadblock for the future.
Access options
Buy single article
Instant access to the full article PDF.
USD 39.95
Price includes VAT (USA)
Tax calculation will be finalised during checkout.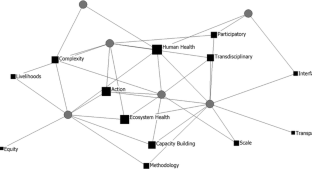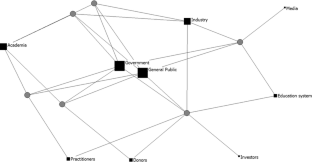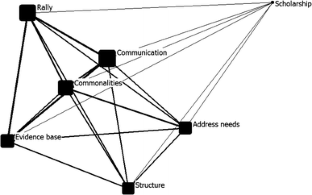 Notes
1.

 Detailed account of the regional discussions is available in the workshop report (Mallee et al. 2012).
References
Berbés-Blázquez M, Oestreicher S, Mertens F, Saint-Charles J (in press) Ecohealth and resilience thinking: a dialogue from experiences in research and practice. Ecology & Society.

Boischio, A., Sánchez, A., Orosz, Z., & Charron, D. (2009). Health and sustainable development: challenges and opportunities of ecosystem approaches in the prevention and control of dengue and Chagas disease. Cadernos de saúde pública, 25 Suppl 1, S149–154.

Borgatti, S. P., Everett, M. G., & Freeman, L. C. (2002). Ucinet for Windows: Software for Social Network Analysis. Harvard, MA: Analytic Technologies.

Bunch M, McCarthy D, & Waltner-Toews D (2008). A family of origin for an ecosystem approach to managing for sustainability. In: Waltner-Toews D, Kay J, Lister N-M (eds). The Ecosystem Approach: Complexity, Uncertainty, and Managing for Sustainability. New York: Columbia Univ

Capra, F. (1983). The turning point: science, society, and the rising culture. Toronto; New York: Bantam Books.

Charron DF (2012) Ecohealth research in practice innovative applications of an ecosystem approach to health. Ottawa/New York: International Development Research Centre/Springer. http://dx.doi.org/10.1007/978-1-4614-0517-7.

De Freitas, C. M., de Oliveira, S. G., Schütz, G. E., Freitas, M. B., & Camponovo, M. P. G. (2007). Ecosystem approaches and health in Latin America. Cadernos de saúde pública, 23(2), 283–296.

Diesner, J., & Carley, Kathleen. (2011). Semantic Networks. In G. A. Barnett (Ed.), Encyclopedia of social networks. Los Angeles: Sage Publications.

Hart MA (2010) Indigenous worldviews, knowledge, and research: the development of an Indigenous research paradigm. http://scholarspace.manoa.hawaii.edu/handle/10125/15117.

Hueston W, Appert J, Denny T, King L, Umber J, Valeri L (2013) Assessing global adoption of one health approaches. EcoHealth 10(3):228–233. doi:10.1007/s10393-013-0851-5.

Lang T, Rayner G (2012) Ecological public health: the 21st century's big idea? An essay by Tim Lang and Geof Rayner. BMJ 345:e5466–e5466. doi:10.1136/bmj.e5466

Leung, Z., Middleton, D., & Morrison, K. (2012). One Health and EcoHealth in Ontario: a qualitative study exploring how holistic and integrative approaches are shaping public health practice in Ontario. BMC Public Health, 12(1), 358. doi:10.1186/1471-2458-12-358

Min, B., Allen-Scott, L. K., & Buntain, B. (2013). Transdisciplinary research for complex One Health issues: A scoping review of key concepts. Preventive Veterinary Medicine, 112(3-4), 222–229. doi:10.1016/j.prevetmed.2013.09.010

Mergler, D. 2003. Integrating human health into an ecosystem approach to mining. In Rapport, D.J.; Lasley, W.L.; Rolston, D.E.; Nielsen, N.O., Qualset, C.O. and Damania, A. B. (eds), Managing for Healthy Ecosystems, Lewis Publisher.

Nielsen, N. O. (2001). Ecosystem approaches to human health. Cadernos de saúde pública, 17 Suppl, 69–75.

Odora Hoppers, C. A. (Ed.). (2002). Indigenous knowledge and the integration of knowledge systems: towards a philosophy of articulation. Claremont, South Africa: New Africa Books.

Paillé P (1994).L'analyse par théorisation ancrée. Cahiers de recherche sociologique 23:147–181.

Parkes, M. W. (2012). Diversity, Emergence, Resilience: Guides for A New Generation of Ecohealth Research and Practice. EcoHealth, 8(2), 137–139. doi:10.1007/s10393-011-0732-8

Raymond, C. M., Fazey, I., Reed, M. S., Stringer, L. C., Robinson, G. M., & Evely, A. C. (2010). Integrating local and scientific knowledge for environmental management. Journal of Environmental Management, 91(8), 1766–1777. doi:10.1016/j.jenvman.2010.03.023

Rayner, G., & Lang, T. (2012). Ecological public health: reshaping the conditions for good health. Abingdon; New York: Routledge.

Rittel, H. W. J., & Webber, M. M. (1973). Dilemmas in a General Theory of Planning. Policy Sciences, 4(2), 155–169. doi:10.1007/BF01405730

Brown VA, Harris JA, Russell JY (2010) Tackling wicked problems through the transdisciplinary imagination. Washington, DC: Earthscan

Turnpenny, J., Lorenzoni, I., & Jones, M. (2009). Noisy and definitely not normal: responding to wicked issues in the environment, energy and health. Environmental Science & Policy, 12(3), 347–358. doi:10.1016/j.envsci.2009.01.004

Waltner-Toews, D., Kay, J. J., & Lister, N.-M. E. (2008). The ecosystem approach: Complexity, uncertainty, and managing for sustainability. Columbia University Press, New York.

Webb, J. C., Mergler, D., Parkes, M. W., Saint-Charles, J., Spiegel, J., Waltner-Toews, D., … Woollard, R. F. (2010). Tools for Thoughtful Action: The Role of Ecosystem Approaches to Health in Enhancing Public Health. Revue canadienne de santé publique, 101(6), 439–441.

Webb J, Saint-Charles J, Sanchez A (2013) Field-Building Pre-Conference Workshop Report. Cinbiose, CoPEH, Canada. http://www.copeh-canada.org/index.php?lang=en.

Mallee H, Nguyen-Viet H, Saint-Charles J, Sanchez A, van Wendel de Joode B, Webb J (2012) Discussion Paper: Ecohealth Field-building. Cinbiose, CoPEH, IDRC Canada. http://www.copeh-canada.org/index.php?lang=en.

Weihs, M., & Mertens, F. (2013). [Challenges for knowledge generation in environmental health: an ecosystemic approach]. Ciência & saúde coletiva, 18(5), 1501–1510.

Wesselink, A., & Hoppe, R. (2010). If Post-Normal Science is the Solution, What is the Problem?: The Politics of Activist Environmental Science. Science, Technology & Human Values, 36(3), 389–412. doi:10.1177/0162243910385786

Wilcox, B. A., Aguirre, A. A., Daszak, P., Horwitz, P., Howard, J., Lannigan, R., … Waltner Toews, D. (2004). Introduction. EcoHealth, 1(1), 1–2. doi:10.1007/s10393-004-0011-z

Wilcox, B. A., Aguirre, A. A., Daszak, P., Horwitz, P., Martens, P., Parkes, M., … Waltner-Toews, D. (2004b). EcoHealth: A Transdisciplinary Imperative for a Sustainable Future. EcoHealth, 1(1), 3–5. doi:10.1007/s10393-004-0014-9

Wilcox, B., & Kueffer, C. (2008). Transdisciplinarity in EcoHealth: Status and Future Prospects. EcoHealth, 5(1), 1–3. doi:10.1007/s10393-008-0161-5

Zinsstag, J. (2013). Convergence of Ecohealth and One Health. EcoHealth, 9(4), 371–373. doi:10.1007/s10393-013-0812-z

Zinsstag, J., Mackenzie, J. S., Jeggo, M., Heymann, D. L., Patz, J. A., & Daszak, P. (2012). Mainstreaming One Health. EcoHealth, 9(2), 107–110. doi:10.1007/s10393-012-0772-8
Acknowledgments
The authors wish to thank the International Development Research Center of Canada for financial support for the organization of the workshop.
About this article
Cite this article
Saint-Charles, J., Webb, J., Sanchez, A. et al. Ecohealth as a Field: Looking Forward. EcoHealth 11, 300–307 (2014). https://doi.org/10.1007/s10393-014-0930-2
Received:

Revised:

Accepted:

Published:

Issue Date:
Keywords
ecohealth

field building

future