Abstract
Environmental transmission of Toxoplasma gondii, a global zoonotic parasite, adversely impacts human and animal health. Toxoplasma is a significant cause of mortality in threatened Southern sea otters, which serve as sentinels for disease threats to people and animals in coastal environments. As wild and domestic felids are the only recognized hosts capable of shedding Toxoplasma oocysts into the environment, otter infection suggests land-to-sea pathogen transmission. To assess relative contributions to terrestrial parasite loading, we evaluated infection and shedding among managed and unmanaged feral domestic cats, mountain lions, and bobcats in coastal California, USA. Infection prevalence differed among sympatric felids, with a significantly lower prevalence for managed feral cats (17%) than mountain lions, bobcats, or unmanaged feral cats subsisting on wild prey (73–81%). A geographic hotspot of infection in felids was identified near Monterey Bay, bordering a high-risk site for otter infection. Increased odds of oocyst shedding were detected in bobcats and unmanaged feral cats. Due to their large populations, pet and feral domestic cats likely contribute more oocysts to lands bordering the sea otter range than native wild felids. Continued coastal development may influence felid numbers and distribution, increase terrestrial pathogens in freshwater runoff, and alter disease dynamics at the human–animal–environment interface.
Access options
Buy single article
Instant access to the full article PDF.
USD 39.95
Price excludes VAT (USA)
Tax calculation will be finalised during checkout.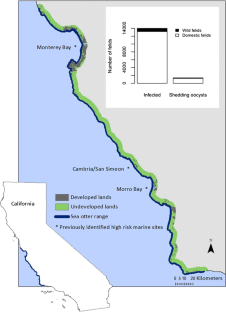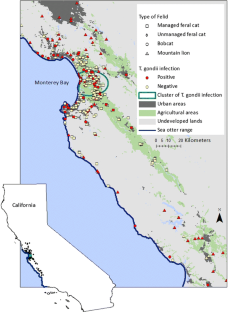 References
Afonso E, Thulliez P, Gilot-Fromont E (2006) Transmission of Toxoplasma gondii in an urban population of domestic cats (Felis catus). International Journal for Parasitology 36:1373–1382

Afonso E, Thulliez P, Pontier D, Gilot-Fromont E (2007) Toxoplasmosis in prey species and consequences for prevalence in feral cats: not all prey species are equal. Parasitology 134:1963–1971

Aramini JJ, Stephen C, Dubey JP (1998) Toxoplasma gondii in Vancouver Island cougars (Felis concolor vancouverensis): serology and oocyst shedding. Journal of Parasitology 84:438–440

Arkush KD, Miller MA, Leutenegger CM, Gardner IA, Packham AE, Heckeroth AR, et al. (2003) Molecular and bioassay-based detection of Toxoplasma gondii oocyst uptake by mussels (Mytilus galloprovincialis). International Journal for Parasitology 22:1087–1097

Berdoy M, Webster JP, Macdonald DW (2000) Fatal attraction in rats infected with Toxoplasma gondii. Proceedings of the Royal Society of London B 267:1591–1594

Bevins SN, Carver S, Boydston EE, Lyren LM, Alldredge M, Logan KA, et al. (2012) Three pathogens in sympatric populations of pumas, bobcats, and domestic cats: implications for infectious disease transmission. PLoS One 7:e31403

Broström G, Holmberg H (2011) Package 'glmmML': generalized linear models with clustering. Version 0.82-1

Burkholder WJ (2000) Use of body condition scores in clinical assessment of the provision of optimal nutrition. Journal of the American Veterinary Medical Association 217:650–654

Chessum BS (1972) Reactivation of Toxoplasma oocyst production in the cat by infection with Isospora felis. British Veterinary Journal 128:33–36

CIMIS (2011) California Department of Water Resources, Division of Statewide Integrated Water Management, Water Use and Efficiency Branch, California Irrigation Management Information System daily rainfall data. Available http://www.cimis.water.ca.gov. Accessed June 6, 2011

Conrad PA, Miller MA, Kreuder C, James ER, Mazet J, Dabritz H, et al. (2005) Transmission of Toxoplasma: clues from the study of sea otters as sentinels of Toxoplasma gondii flow into the marine environment. International Journal for Parasitology 35:1155–1168

Crooks KR (2002) Relative sensitivities of mammalian carnivores to habitat fragmentation. Conservation Biology 16:488–502

Dabritz H, Atwill E, Gardner I, Miller M, Conrad P (2006) Outdoor fecal deposition by free-roaming cats and attitudes of cat owners and nonowners toward stray pets, wildlife, and water pollution. Journal of the American Veterinary Medical Association 229:74–81

Dabritz H, Miller M, Atwill E, Gardner I, Leutenegger C, Melli A, et al. (2007a) Detection of Toxoplasma gondii-like oocysts in cat feces and estimates of the environmental oocyst burden. Journal of the American Veterinary Medical Association 231:1676–1684

Dabritz HA, Gardner IA, Miller MA, Lappin MR, Atwill ER, Packham AE, et al. (2007b) Evaluation of two Toxoplasma gondii serologic tests used in a serosurvey of domestic cats in California. Journal of Parasitology 93:806–816

Daszak P, Cunningham AA, Hyatt AD (2000) Emerging infectious diseases of wildlife: threats to biodiversity and human health. Science 287:443–449

Dubey J (1976) Reshedding of Toxoplasma oocysts by chronically infected cats. Nature 262: 213–214

Dubey J (1995) Duration of immunity to shedding of Toxoplasma gondii oocysts by cats. Journal of Parasitology 81:410–415

Dubey JP (1998) Toxoplasma gondii oocyst survival under defined temperatures. Journal of Parasitology 84:862–865

Dubey JP, Beattie CP (1988) Toxoplasmosis of Animals and Man. Boca Raton: CRC Press

Dubey J, Frenkel J (1974) Immunity to feline toxoplasmosis: modification by administration of corticosteroids. Veterinary Pathology 11:350–379

Dubey JP, Miller NL, Frenkel JK (1970) The Toxoplasma gondii oocyst from cat feces. Journal of Experimental Medicine 132:636–662

Dubey JP, Quirk T, Pittt JA, Sundar N, Velmurugan GV, Kwok OC, et al. (2008) Isolation and genetic characterization of Toxoplasma gondii from raccoons (Procyon lotor), cats (Felis domesticus), striped skunk (Mephitis mephitis), black bear (Ursus americanus), and cougar (Puma concolor) from Canada. Journal of Parasitology 94:42–45

Dumetre A, Darde M-L (2003) How to detect Toxoplasma gondii oocysts in environmental samples? FEMS Microbiology Reviews 27:651–661

Estes JA, Riedman ML, Staedler MM, Tinker MT, Lyon BE (2003) Individual variation in prey selection by sea otters: patterns, causes and implications. Journal of Animal Ecology 72:144–155

Fitzgerald BM, Turner DC (2000) Hunting behavior of domestic cats and their impact on prey populations. In: The Domestic Cat: The Biology of Its Behavior, Turner DC, Bateson P (editors), Cambridge: Cambridge University Press, pp 152–175

FMMP (2006) © 2006 California County GIS Data. California Department of Conservation, Farmland Mapping & Monitoring Program. Available http://www.conservation.ca.gov/DLRP/fmmp/Pages/Index.aspx. Accessed June 20, 2011

FRAP (2011) Census 2010 TIGER Block Data (Migrated). California Department of Forestry and Fire Protection, Fire and Resource Assessment Program. Available http://frap.cdf.ca.gov/data/frapgisdata/download.asp?spatialdist=1&rec=cen10blm. Accessed June 1, 2011

Frenkel JK, Ruiz A, Chinchilla M (1975) Soil survival of Toxoplasma oocysts in Kansas and Costa Rica. American Journal of Tropical Medicine and Hygiene 24:439–443

Fritz H, Barr B, Packham A, Melli A, Conrad PA (2012) Methods to produce and safely work with large numbers of Toxoplasma gondii oocysts and bradyzoite cysts. Journal Microbiological Methods 88:47–52

Grigg ME, Boothroyd JC (2001) Rapid identification of virulent Type I strains of the protozoan pathogen Toxoplasma gondii by PCR-restriction fragment length polymorphism analysis at the B1 gene. Journal of Clinical Microbiology 39:398–400

Grigione MM, Beier P, Hopkins A, Neal D, Padley WD, Schonewald CM, et al. (2002) Ecological and allometric determinants of home-range size for mountain lions (Puma concolor). Animal Conservation 5:317–324

Hartmann K (2011) Clinical aspects of feline immunodeficiency and feline leukemia virus infection. Veterinary Immunology and Immunopathology 143:190–201

Hass CC (2009) Competition and coexistence in sympatric bobcats and pumas. Journal of Zoology 278:174–180

Horn JA, Mateus-Pinilla N, Warner RE, Heske EJ (2011) Home range, habitat use, and activity patterns of free-roaming domestic cats. Journal of Wildlife Management 75:1177–1185

Hutchison WM, Dunachie JF, Siim JC, Work K (1969) Life cycle of Toxoplasma gondii. British Medical Journal 4:806

Jessup D, Miller M, Ames J, Harris M, Kreuder C, Conrad P, et al. (2004) Southern sea otter as a sentinel of marine ecosystem health. EcoHealth 1:239–245

Jessup DA, Miller MA, Kreuder-Johnson C, Conrad PA, Tinker MT, Estes J, et al. (2007) Sea otters in a dirty ocean. Journal of the American Veterinary Medical Association 231:1648–1652

Johnson CK, Tinker MT, Estes JA, Conrad PA, Staedler M, Miller MA, et al. (2009) Prey choice and habitat use drive sea otter pathogen exposure in a resource-limited coastal system. Proceedings of the National Academy of Sciences 106:2242–2247

Jones J, Dubey J (2010) Waterborne toxoplasmosis: recent developments. Experimental Parasitology 124:10–25

Jones JL, Dargelas V, Roberts J, Press C, Remington JS, Montoya JG (2009) Risk factors for Toxoplasma gondii infection in the United States. Clinical Infectious Diseases 49:878–884

Kreuder C, Miller MA, Jessup DA, Lowenstine LJ, Harris MD, Ames JA, et al. (2003) Patterns of mortality in southern sea otters (Enhydra lutris nereis) from 1998–2001. Journal of Wildlife Diseases 39:495–509

Kulldorff M, and Nagarwalla N (1995) Spatial disease clusters: detection and inference. Statistics in Medicine 14:799–810

Kulldorff M, Huang L, Pickle L, Duczmal L (2006) An elliptic spatial scan statistic. Statistics in Medicine 25:3929–3943

Kulldorff M, Mostashari F, Duczmal L, Yih K, Kleinman K, Platt R (2007) Multivariate scan statistic for disease surveillance. Statistics in Medicine 25:3929–3943

Larrucea ES, Serra G, Jaeger MM, Barrett RH (2007) Censusing bobcats using remote cameras. Western North American Naturalist 67:538–548

Laundré J, Clark TW (2003) Managing puma hunting in the western United States: through a metapopulation approach. Animal Conservation 6:159–170

Lelu M, Gilot-Fromont E, Aubert D, Richaume A, Afonso E, Dupuis E, et al. (2011) Development of a sensitive method for Toxoplasma gondii oocyst extraction in soil. Veterinary Parasitology 183:59–67

Levy JK, Crawford PC (2004) Humane strategies for controlling feral cat populations. Journal of the American Veterinary Medical Association 225:1354–1360

Liberg O, Sandell M, Pontier D, Natoli E (2000) Density, spatial organization and reproductive tactics in the domestic cat and other felids. In: The Domestic Cat: The Biology of its Behavior, Turner DC, Bateson P (editors), Cambridge: Cambridge University Press, pp 119–147

Lindsay DS, Dubey JP (2009) Long-term survival of Toxoplasma gondii sporulated oocysts in seawater. Journal of Parasitology 95:1019–1020

Lindsay DS, Collins MV, Mitchell SM, Wetch CN, Rosypal AC, Flick GJ, et al. (2004) Survival of Toxoplasma gondii oocysts in eastern oysters (Crassostrea virginica). Journal of Parasitology 90:1054–1057

Lukesova D, Literak I (1998) Shedding of Toxoplasma gondii oocysts by felidae in zoos in the Czech Republic. Veterinary Parasitology 74:1–7

Marchiondo AA, Duszynski DW, Maupin GO (1976) Prevalence of antibodies toToxoplasma gondii in wild and domestic animals of New Mexico, Arizona, and Colorado. Journal of Wildlife Diseases 12:226–231

Miller MA (2008) Tissue cyst-forming coccidia of marine mammals. In: Zoo and Wild Animal Medicine, Fowler M, Miller R (editors), St. Louis: Sounders Elsevier, pp 319–340

Miller NL, Frenkel JK, Dubey JP (1972) Oral infections with Toxoplasma cycsts and oocysts in felines, other mammals, and in birds. Journal of Parasitology 58:928–937

Miller MA, Gardner IA, Kreuder C, Paradies DM, Worcester KR, Jessup DA, et al. (2002) Coastal freshwater runoff is a risk factor for Toxoplasma gondii infection of southern sea otters (Enhydra lutris nereis). International Journal for Parasitology 32:997–1006

Miller MA, Miller WA, Conrad PA, James ER, Melli AC, Leutenegger CM, et al. (2008) Type X Toxoplasma gondii in a wild mussel and terrestrial carnviores from coastal California: new linkages between terrestrial mammals, runoff and toxoplasmosis of sea otters. International Journal for Parasitology 38:1319–1328

Patz JA, Graczyk TK, Geller N, Vittore AY (2000) Effects of environmental change on emerging parasitic diseases. International Journal for Parasitology 30:1395–1405

Pierce BM, Bleich VC, Wehausen JD, Bowyer RT (1999) Migratory patterns of mountain lions: implications for social regulation and conservation. Journal of Mammalogy 80:986–992

Pierce BM, Bleich VC, Bowyer T (2000) Selection of mule deer by mountain lions and coyotes: effects of hunting style, body size, and reproductive status. Journal of Mammalogy 81:462–472

Plowright RK, Sokolow SH, Gorman ME, Daszak P, Foley JE (2008) Causal inference in disease ecology: investigating ecological drivers of disease emergence. Frontiers in Ecology and the Environment 6:420–429

Quigley H, Hornocker M (2009) Cougar population dynamics. In: Cougar: Ecology and Conservation, Hornocker M, Negri S (editors), Chicago: University of Chicago Press, pp 59–75

Reed SE, Merenlender AM (2011) Effects of management of domestic dogs and recreation on carnivores in protected areas in northern California. Conservation Biology 25:504–513

Rejmanek D, VanWormer E, Miller MA, Mazet JAK, Nichelason AE, Melli AC, et al. (2009) Prevalence and risk factors associated with Sarcocystis neurona infections in opposums (Didelphis virginiana) from central California. Veterinary Parasitology 166:8–14

Riedman ML, Estes JA (1988) Predation on seabirds by sea otters. Canadian Journal of Zoology 66:1396–1402

Riley SPD, Sauvajot RM, Fuller TK, York EC, Kamradt DA, Bromley C, et al. (2003) Effects of urbanization and habitat fragmentation on bobcats and coyotes in southern California. Conservation Biology 17:566–576

Roelke ME, Pecon-Slattery J, Tayler S, Citino S, Brown E, Packer C, et al. (2006) T-lymphocyte profiles in FIV-infected wild lions and pumas reveal CD4 depletion. Journal of Wildlife Diseases 42:234–248

Ruell EW, Riley SPD, Douglas MR, Pollinger JP, Crooks KR (2009) Estimating bobcat population sizes and densities in a fragmented urban landscape using non-invasive capture-recapture sampling. Journal of Mammalogy 90:129–135

Salant H, Markovics A, Spira DT, Hamburger J (2007) The development of a molecular approach for coprodiagnosis of Toxoplasma gondii. Veterinary Parasitology 146:214–220

Santos PS, Albuquerque GR, da Silva VM, Martin AR, Marvulo MF, Souza SL, et al. (2011) Seroprevalence of Toxoplasma gondii in free-living Amazon River dolphins (Inia geoffrensis) from central Amazon, Brazil. Veterinary Parasitology 183:171–173

Schares G, Vrhovec MG, Pantchev N, Hermann DC, Conraths FJ (2008) Occurrence of Toxoplasma gondii and Hammondia hammondii oocysts in the faeces of cats from Germany and other European countries. Veterinary Parasitology 152:34–45

Shapiro K (2012) Climate and coastal habitat change: a recipe for a dirtier ocean. Marine Pollution Bulletin 64:1079–1080

Shapiro K, Conrad PA, Mazet JA, Wallender WW, Miller WA, Largier JL (2010) Effect of estuarine wetland degradation on transport of Toxoplasma gondii surrogates from land to sea. Applied Environental Microbiology 76:6821–6828

R Development Core Team (2011) R: a language and environment for statistical computing. R Foundation for Statistical Computing, Vienna, Austria. ISBN 3-900051-07-0. Available http://www.R-project.org/. Accessed on March 5, 2011

Tenter AM, Heckeroth AR, Weiss LM (2000) Toxoplasma gondii: from animals to humans. International Journal for Parasitology 30:1217–1258

Tewes ME, Mock JM, Young JH (2002) Bobcat predation on quail, birds, and mesomammals. National Quail Symposium 5:65–69

Tinker MT (2010) Range_extent_10, United States Geological Survey. Available http://www.werc.usgs.gov/ProjectSubWebPage.aspx?SubWebPageID=4&ProjectID=91&List=SubWebPages&Web=Project_91&Title=Sea%20Otter%20Studies%20at%20WERC. Accessed on June 15, 2011

VanWormer E, Fritz H, Shapiro K, Mazet JAK, Conrad PA (2013) Molecules to modeling: Toxoplasma gondii oocysts at the human–animal–environment interface. Comparative Immunology, Microbiology, and Infectious Diseases 36:217–231

Winter L (2004) Trap-neuter-release programs: the reality and the impact. Journal of the American Veterinary Medical Association 225:1369–1376
Acknowledgments
The authors acknowledge the outstanding collaboration and mutual support among regional animal shelters, wildlife rehabilitation personnel, academia, and state and federal wildlife protection agencies that made this work possible. In particular, we thank Carol Iida, Ila Davis, Kathy Prew, Cindy Burnham and California Department of Fish and Wildlife wardens for their generous support in sampling domestic and wild felids. We also thank staff from the Conrad Research Group at University of California, Davis, and the California Department of Fish and Wildlife Marine Veterinary Care and Research Center, especially Dave Jessup, Lexi Fisher, Adam Schneider, Tim Bernot, Diana Simoes, and Andrea Packham for invaluable assistance with sample collection and diagnostics. We are grateful to Idexx Laboratories, Inc. for providing FeLV/FIV diagnostic test kits at reduced cost. We also thank Andrew Breed and two anonymous reviewers for comments on an earlier draft of the manuscript. Grants from the National Science Foundation Ecology of Infectious Disease Program (0525765, 1065990) and a fellowship from the National Center for Foreign Animal and Zoonotic Disease Defense (to E. VanWormer) supported this research.
About this article
Cite this article
VanWormer, E., Conrad, P.A., Miller, M.A. et al. Toxoplasma gondii, Source to Sea: Higher Contribution of Domestic Felids to Terrestrial Parasite Loading Despite Lower Infection Prevalence. EcoHealth 10, 277–289 (2013). https://doi.org/10.1007/s10393-013-0859-x
Received:

Revised:

Accepted:

Published:

Issue Date:

DOI: https://doi.org/10.1007/s10393-013-0859-x
Keywords
Toxoplasma gondii

feral cats

mountain lions

bobcats

pathogen pollution

zoonotic disease