Abstract
Populations of native Panamanian golden frogs (Atelopus zeteki) have collapsed due to a recent chytridiomycosis epidemic. Reintroduction efforts from captive assurance colonies are unlikely to be successful without the development of methods to control chytridiomycosis in the wild. In an effort to develop a protective treatment regimen, we treated golden frogs with Janthinobacterium lividum, a skin bacterium that has been used to experimentally prevent chytridiomycosis in North American amphibians. Although J. lividum appeared to colonize A. zeteki skin temporarily, it did not prevent or delay mortality in A. zeteki exposed to Batrachochytrium dendrobatidis, the causative agent of chytridiomycosis. After introduction of J. lividum, average bacterial cell counts reached a peak of 1.7 × 106 cells per frog ~2 weeks after treatment but declined steadily after that. When J. lividum numbers declined to ~2.8 × 105 cells per frog, B. dendrobatidis infection intensity increased to greater than 13,000 zoospore equivalents per frog. At this point, frogs began to die of chytridiomycosis. Future research will concentrate on isolating and testing antifungal bacterial species from Panama that may be more compatible with Atelopus skin.
Access options
Buy single article
Instant access to the full article PDF.
USD 39.95
Price excludes VAT (USA)
Tax calculation will be finalised during checkout.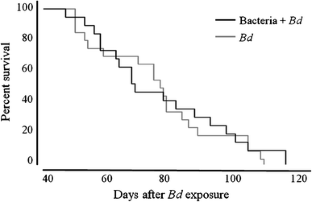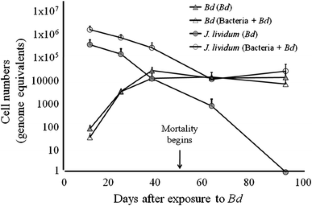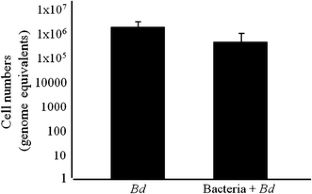 References
Banning JL, Weddle AL, Wahl GW, Simon MA, Lauer A, Walters RL, Harris RN (2008) Antifungal skin bacteria, embryonic survival, and communal nesting in four-toed salamanders, Hemidactylium scutatum. Oecologia 156:423-429.

Becker MH, Brucker RM, Schwantes CR, Harris RN, Minbiole KPC (2009) The bacterially produced metabolite violacein is associated with survival of amphibians infected with a lethal fungus. Applied and Environmental Microbiology 75:6635-6638.

Becker MH, Harris RN (2010) Cutaneous bacteria of the redback salamander prevent morbidity associated with a lethal disease. PLoS One 5:e10957.

Bosch J, Martínez-Solano I (2006) Chytrid fungus infection related to unusual mortalities of Salamandra salamandra and Bufo bufo in the Peñalara Natural Park, Spain. Oryx 40:84-89.

Boyle DG, Boyle DB, Olsen V, Morgan J, Hyatt AD (2004) Rapid quantitative detection of chytridiomycosis (Batrachochytrium dendrobatidis) in amphibian samples using real-time Taqman PCR assay. Diseases of Aquatic Organisms 60:141-148.

Brucker RM, Harris RN, Schwantes CR, Gallaher TN, Flaherty DC, Lam BA, Minbiole KPC (2008) Amphibian chemical defense: antifungal metabolites of the microsymbiont Janthinobacterium lividum on the salamander Plethodon cinereus. Journal of Chemical Ecology 34:1422-1429.

Brunner E, Munzel U, Puri ML (1999) Rank-Score Tests in Factorial Designs with Repeated Measures. Journal of Multivariate Analysis 70:286-317.

Brunner E, Puri ML (2001) Nonparametric methods in factorial designs. Statistics Papers 42:1-52.

Conlon JM (2011) The contribution of skin antimicrobial peptides to the system of innate immunity in anurans. Cell and Tissue Research 343:201-212.

Grice EA, Kong HH, Renaud G, Young AC, Bouffard GG, Blakesley RW, Wolfsberg TG, Turner ML, Segre JA (2008) A diversity profile of the human skin microbiota. Genome Research 18:1043-1050.

Harris RN, James TY, Lauer A, Simon MA, Patel A (2006) Amphibian pathogen Batrachochytrium dendrobatidis is inhibited by the cutaneous bacteria of amphibian species. Ecohealth 3:53-56.

Harris RN, Brucker RM, Walke JB, Becker MH, Schwantes CR, Flaherty DC, Lam BA, Woodhams DC, Briggs CJ, Vredenburg VT, Minbiole KPC (2009) Skin microbes on frogs prevent morbidity and mortality caused by a lethal skin fungus. The ISME Journal 3:818-824.

Hoshino T (2011) Violacein and related tryptophan metabolites produced by Chromobacterium violaceum: biosynthetic mechanism and pathway for construction of violacein core. Applied Microbiology and Technology DOI: 10.1007/s00253-011-3468-z.

Lam BA, Walke JB, Vredenburg VT, Harris R.N (2010) Proportion of individuals with anti-Batrachochytrium dendrobatidis skin bacteria is associated with population persistence in the frog Rana muscosa. Biological Conservation 143:529-531.

La Marca E, Lips KR, Lötters S, Puschendorf R, Ibáñez R, Rueda-Almonacid JV, Schulte R, Marty C, Castro F, Manzanilla-Puppo J, García-Pérez JE, Bolaños F, Chaves G, Pounds JA Toral E, Young BE (2005) Catastrophic population declines and extinctions in neotropical Harlequin frogs (Bufonidae: Atelopus). Biotropica 37:190-201.

Lauer A, Simon MA, Banning JL, Lam BA, Harris RN (2008) Diversity of cutaneous bacteria with antifungal activity isolated from female four-toed salamanders. The ISME Journal 2:145-157.

Lips KR, Diffendorfer J, Mendelson JR, Sears MW (2008a) Riding the wave: reconciling the roles of disease and climate change in amphibian declines. PLoS Biology 6:e72.

Lips KR, Ibáñez R, Bolaños F, Chaves G, Solίs F, Savage J, Jaramillo C, Fuenmayor Q, Castillo A (2008b) Atelopus chiriquiensis. IUCN Red List of Threatened Species. Version 2010.2. http://www.iucnredlist.org/apps/redlist/details/54498/0. Downloaded on 01 August 2010.

McKenzie VJ, Bowers RM, Fierer N, Knight R, Lauber CL (2011) Co-habiting amphibian species harbor unique skin bacterial communities in wild populations. The ISME Journal. doi:10.1038/ismej.2011.129.

Pantanella F, Berlutti F, Passariello C, Sarli S, Morea C, Schippa S (2007) Violacein and biofilm production in Janthinobacterium lividum. Journal of Applied Microbiology 102:992-999.

Poole V (2008) Project golden frog. Endangered Species Bulletin 33:7-10.

Robinson CJ, Bohannan BJM, Young VB (2010) From structure to function: the ecology of host-associated microbial communities. Microbiology and Molecular Biology Reviews 74:453-476.

Saeger JL, Hale AB (1993) Genetic variation within a lotic population of Janthinobacterium lividum. Applied and Environmental Microbiology 59:2214-2219.

Shah DA, Madden LV (2004) Nonparametric analysis of ordinal data in designed factorial experiments. Phytopathology 94:33-43.

Voyles J, Young S, Berger L, Campbell C, Voyles WF, Dinudom A, Cook D, Webb R, Alford RA, Skerratt LF, Speare R (2009) Pathogenesis of Chytridiomycosis, a Cause of Catastrophic Amphibian Declines. Science 326:582-585.

Vredenburg VT, Knapp RA, Tunstall TS, Briggs CJ (2010) Dynamics of an emerging disease drive large-scale amphibian population extinctions. Proceedings of the National Academy of Sciences of the United States of America 107:9689-9694.

Vredenburg VT, Briggs CJ, Harris RN (2011) Host-pathogen dynamics of amphibian chytridiomycosis: the role of the skin microbiome in health and disease. In: Fungal Diseases: An Emerging Challenge to Human, Animal, and Plant Health, Olsen L, Choffnes E, Relman DA, Pray L (editors), Washington, DC: The National Academies Press, pp 342 -355.

Woodhams DC, Bosch J, Briggs CJ, Cashins S, Davis LR, Lauer A, Muths E, Puschendorf R, Schmidt BR, Sheafor B, Voyles J (2011) Mitigating amphibian disease: strategies to maintain wild populations and control chytridiomycosis. Frontiers in Zoology 8:8.

Woodhams DC, Voyles J, Lips KR, Carey C, Rollins-Smith LA (2006) Predicted disease susceptibility in a Panamanian amphibian assemblage based on skin peptide defenses. Journal of Wildlife Diseases 42:207-218.

Woodhams DC, Vredenburg VT, Stice MJ, Simon MA, Billheimer D, Shakhtour B, Shyr Y, Briggs CJ, Rollins-Smith LA, Harris RN (2007) Symbiotic bacteria contribute to innate immune defenses of the threatened mountain yellow-legged frog, Rana muscosa. Biological Conservation 138:390-398.

Yotsu-Yamashita M, Kim Y, Dudley S, Choudhary G, Pfahnl A, Oshima Y, Daly J (2004) The structure of zetekitoxin AB, a saxitoxin analog from the Panamanian golden frog Atelopus zeteki: a potent sodium-channel blocker. Proceedings of the National Academy of Sciences of the United States of America 101:4346-4351.
Acknowledgments
We would like to thank the Houston Zoo and the Maryland Zoo in Baltimore that own all individuals in the Golden Frog Species Survival Plan for providing the animals. The Fish and Wildlife Service provided permits to conduct the experiment and IACUC approval was obtained from the Smithsonian National Zoological Park and the Maryland Zoo in Baltimore. We are thankful for the technical assistance provided by J. Becker, C. Crowe, M. Evans, D. Flaherty, W. Lynch, G. Reynolds, E. Smith, L. Ware, P. Wiggins, and V. Wine. We are grateful for advice from K. Murphy, V. Poole, K. Zippel, L. Padilla, and T. Walsh in setting up the experiment. This research was supported by the Anela Kolohe Foundation (B.G.), the Shared Earth Foundation (B.G.), the U.S. Fish and Wildlife Service as part of the Panama Amphibian Rescue and Conservation Project (B.G.), the National Science Foundation grants numbers 0640373 (R.N.H.), IOS-0619536 (L.R-S.), and IOS-0843207 (L.R-S.), and the Thomas F. Jeffress and Kate M. Jeffress Memorial Trust (K.P.C.M.).
About this article
Cite this article
Becker, M.H., Harris, R.N., Minbiole, K.P.C. et al. Towards a Better Understanding of the Use of Probiotics for Preventing Chytridiomycosis in Panamanian Golden Frogs. EcoHealth 8, 501–506 (2011). https://doi.org/10.1007/s10393-012-0743-0
Received:

Revised:

Accepted:

Published:

Issue Date:

DOI: https://doi.org/10.1007/s10393-012-0743-0
Keywords
Batrachochytrium dendrobatidis

Chytridiomycosis

Atelopus zeteki
Janthinobacterium lividum

probiotic