Abstract
We constructed a model to predict the potential distribution of Oligoryzomys longicaudatus, the reservoir of Andes virus (Genus: Hantavirus), in Argentina. We developed an extensive database of occurrence records from published studies and our own surveys and compared two methods to model the probability of O. longicaudatus presence; logistic regression and MaxEnt algorithm. The environmental variables used were tree, grass and bare soil cover from MODIS imagery and, altitude and 19 bioclimatic variables from WorldClim database. The models performances were evaluated and compared both by threshold dependent and independent measures. The best models included tree and grass cover, mean diurnal temperature range, and precipitation of the warmest and coldest seasons. The potential distribution maps for O. longicaudatus predicted the highest occurrence probabilities along the Andes range, from 32°S and narrowing southwards. They also predicted high probabilities for the south-central area of Argentina, reaching the Atlantic coast. The Hantavirus Pulmonary Syndrome cases coincided with mean occurrence probabilities of 95 and 77% for logistic and MaxEnt models, respectively. HPS transmission zones in Argentine Patagonia matched the areas with the highest probability of presence. Therefore, colilargos presence probability may provide an approximate risk of transmission and act as an early tool to guide control and prevention plans.
Access options
Buy single article
Instant access to the full article PDF.
US$ 39.95
Tax calculation will be finalised during checkout.
Subscribe to journal
Immediate online access to all issues from 2019. Subscription will auto renew annually.
US$ 79
Tax calculation will be finalised during checkout.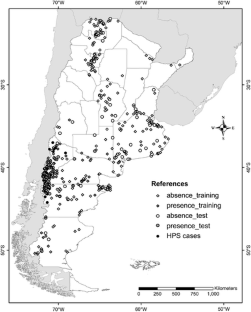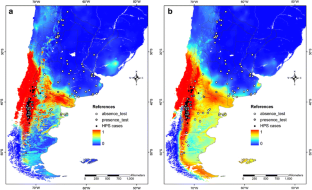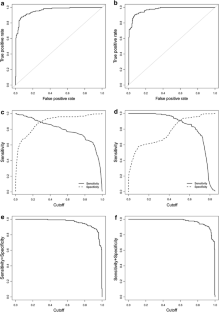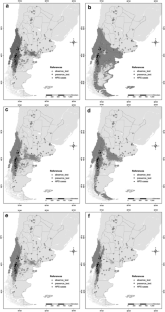 References
Anderson RP, Lew D, Peterson AT (2003) Evaluating predictive models of species' distributions: criteria for selecting optimal models. Ecological Modelling 162: 211–232

Araújo MB, Guisan A (2006) Five (or so) challenges for species distribution modelling. Journal of Biogeography 33: 1677-1688

Belmar-Lucero S, Godoy P, Ferres M, Vial P, Palma RE (2009) Range expansion of Oligoryzomys longicaudatus (Rodentia: Sigmodontinae) in Patagonian Chile and first record of Hantavirus in the region. Revista Chilena de Historia Natural 82: 265-275

Botten J, Mirowsky K, Ye CY, Gottlieb K, Saavedra M, Ponce L, Hjelle B (2002) Shedding and intra-cage transmission of Sin Nombre hantavirus in the deer mouse (Peromyscus maniculatus) model. Journal of Virology 76: 7587–7594

Cantoni G, Padula P, Calderón G, Mills J, Herrero E, Sandoval P, et al. (2001) Seasonal variation in prevalence of antibody to hantaviruses in rodents from southern Argentina. Tropical Medicine and International Health 6: 811-816

Carbajo AE, Pardiñas UFJ (2007) Spatial distribution model of a hantavirus reservoir, the long-tailed colilargo (Oligoryzomys longicaudatus), in Argentina. Journal of Mammalogy 88: 1555-1568

Cueto GR, Teta P, De Carli P (2008) Rodents from southern Patagonian semi-arid steppes (Santa Cruz Province, Argentina). Journal of Arid Environments 72: 56–61

Elith J, Graham CH, Anderson RP, Dudik M, Ferrier S, Guisan A, et al. (2006) Novel methods improve prediction of species' distributions from occurrence data. Ecography 29: 129-151

Elith J, Phillips SJ, Hastie T, Dudík M, En Chee Y, Yates CJ (2011) A statistical explanation of MaxEnt for ecologists. Diversity and Distributions 17: 43-57

Ferro LI, Bárquez RM (2008) Comentarios sobre la distribución de Abrothrix andinus y Calomys lepidus (Rodentia: Cricetidae) en la provincia de Tucumán, Argentina. Mastozoología Neotropical 15: 197-201

Glass GE, Childs JE, Korch GW, Leduc JW (1988) Association of intraspecific wounding with hantaviral infection in wild rats (Rattus norvegicus). Epidemiology and Infection 101:459-472

González LA, Murúa R, Jofre C (2000) Habitat utilization of two muroid species in relation to population outbreaks in southern temperate forests of Chile. Revista Chilena de Historia Natural 73: 489–495

Gonzalez-Ittig RE, Theiler GR, Gardenal CN (2002) A contribution to the subgeneric systematics of Oligoryzomys (Rodentia, Muridae) from Argentina by means of PCR-RFLP patterns of mitochondrial DNA. Biochemical Systematics and Ecology 30: 23–33

Guisan A, Zimmermann NE (2000) Predictive habitat distribution models in ecology. Ecological Modelling 135: 147-186

Hansen M, De Fries RS, Townshend JRG, Carroll M, Dimiceli C, Sohlberg RA (2003) Global Percent Tree Cover at a Spatial Resolution of 500 Meters: First Results of the MODIS Vegetation Continuous Fields Algorithm. Earth Interactions 7: 1-15

Hijmans RJ, Cameron SE, Parra JL, Jones PG, Jarvis A (2005) Very high resolution interpolated climate surfaces for global land areas. International Journal of Climatology 25: 1965-1978

Jayat JP, Pacheco S (2006) Distribución de Necromys lactens y Phyllotis osilae (Rodentia: Cricetidae: Sigmodontinae) en el noroeste argentino: Modelos predictivos basados en el concepto de nicho ecológico. Mastozoología Neotropical 13: 69-88

Jayat JP, Ortiz PE, Teta P, Pardiñas UFJ, D'Elía G (2006) Nuevas localidades argentinas para algunos roedores sigmodontinos (Rodentia: Cricetidae). Mastozoología Neotropical 13: 51-67

Jayat JP, Pacheco SE, Ortiz PE (2009) A predictive distribution model for Andinomys edax (Rodentia: Cricetidae) in Argentina. Mastozoología Neotropical 16: 321-332

Kosoy MY, Slonova RA, Mills JN, Mandel E, Childs JE (1997) Community structure and prevalence of hantavirus infection in rodents: a geographic division of the enzootic area in far eastern Russia. Journal of Vector Ecology 22: 52-63

Larrieu E, Herrero E, García Cachau M, Labanchi JL, Mancini S, Padula P, et al. (2003) Seroprevalencia de hantavirus en roedores y casos humanos en el sur de Argentina. Revista Brasilera de Epidemiología 6: 68-75

Levis S, Morzunov S, Rowe J, Enria D, Pini N, Calderón G, et al. (1998) Genetic diversity and epidemiology of hantaviruses in Argentina. Journal of Infectious Diseases 177:529-38

Liu C, Berry PM, Dawson TP, Pearson RG (2005) Selecting thresholds of occurrence in the prediction of species distributions. Ecography 28: 385-393

Lopez N, Padula P, Rossi C, Lazaro ME, Franze-Fernandez MT (1996) Genetic identification of a new hantavirus causing severe pulmonary syndrome in Argentina. Virology 219: 1-4

Lozada M, Guthmann N, Baccala N (2000) Microhabitat selection of five sigmodontine rodents in a forest-steppe transition zone in Northwestern Patagonia. Studies on Neotropical Fauna and Environment 35: 85-90

Mann G (1978) Los pequeños mamíferos de Chile. Gayana, Zoología 40: 1-342

Martin GM (2010) Geographic distribution and historical occurrence of Dromiciops gliroides Thomas (Metatheria: Microbiotheria). Journal of Mammalogy 91: 1025-1035

Martinez VP, Bellomo C, San Juan J, Pinna D, Forlenza R, Elder M, et al. (2005) Person-to-person transmission of Andes virus. Emerging Infectious Diseases 11: 1848–1853

Mills J, Childs JE (1998) Ecologic studies of rodent reservoirs: their relevance for human health. Emerging Infectious Diseases 4: 529-537

Mills J, Ksiazek TG, Ellis BA, Rollin PE, Nichols ST, Yates TL, et al. (1997) Patterns of association with host and habitat: Antibody reactive with Sin Nombre virus in small mammals in the major biotic communities of the southwestern United States. American Journal of Tropical Medicine and Hygiene 56:273-284

Monjeau JA, Sikes RS, Birney EC, Guthmann N, Phillips C J (1997) Small mammal community composition within the major landscape divisions of Patagonia, southern Argentina. Mastozoología Neotropical 4: 113-127

Monjeau JA, Rotela CH, Lamfri M, Márquez J, Scavuzzo CM, Stanulescu M, et al. (2011) Estimating habitat suitability for potential hantavirus reservoirs in north-western Patagonia using satellite imagery: Searching for the best predictive tools. Mammalian Biology 76:409-416

Murúa R, Gonzalez LA (1982) Microhabitat selection in two Chilean cricetid rodents. Oecologia 52: 12-15

Murúa R, González LA, Meserve PL (1986) Population ecology of Oryzomys longicaudatus philippii (Rodentia: Cricetidae) in southern Chile. Journal of Animal Ecology 55: 281-293

Murúa R, Meserve PL, González L, Jofré C (1987) The small mammal community of a Chilean temperate rainforest: Lack of evidence of competition between dominant species. Journal of Mammalogy 68:729-738

Murúa R, González LA, Lima M (2003) Population dynamics of rice rats (a hantavirus reservoir) in southern Chile: Feedback structure and non-linear effects of climatic oscillations. Oikos 102:137-145

Nabte MJ, Saba SL, Monjeau A (2009) Mamíferos terrestres de la Península Valdés: lista sistemática comentada. Mastozoología Neotropical 16: 109-120

Padula PJ, Colavecchia SB, Martinez VP, Gonzalez Della Valle MO, Edelstein A, Miguel SDL, et al. (2000) Genetic diversity, distribution, and serological features of hantavirus infection in five countries in South America. Journal of Clinical Microbiology 38: 3029-3035

Padula P, Figueroa R, Navarrete M, Pizarro E, Cadiz R, Bellomo C, et al. (2004) Transmission study of Andes hantavirus infection in wild Sigmodontine rodents. Journal of Virology 78: 11972-11979

Palma RE, Rivera-Milla E, Salazar-Bravo J, Torres-Pérez F, Pardiñas UFJ, Marquet P, et al. (2005) Phylogeography of Oligoryzomys longicaudatus (Rodentia: Sigmodontinae) in temperate South America. Journal of Mammalogy 86: 191–2005

Pardiñas UFJ, Teta P (2007) Micromamíferos del sector oriental de la Altiplanicie del Somuncurá (Río Negro, Argentina). Mastozoología Neotropical 14: 271-278

Pardiñas UFJ, Teta P, Cirignoli S, Podestá DH (2003) Micromamíferos (Didelphimorphia y Rodentia) de norpatagonia extra andina, Argentina: Taxonomía alfa y biogeografía. Mastozoología Neotropical 10: 69-113

Pardiñas UFJ, Abba AM, Merino ML (2004) Micromamíferos (Didelphimorphia y Rodentia) del sudoeste de la provincia de Buenos Aires (Argentina): Taxonomía y distribución. Mastozoología Neotropical 11: 211-232

Pearson OP (1983) Characteristics of a mammalian fauna from forests in Patagonia, Southern Argentina. Journal of Mammalogy 64: 476-492

Pearson OP (2002) A perplexing outbreak of mice in Patagonia, Argentina. Studies on Neotropical Fauna and Environment 37: 187-200

Pearson RG, Dawson TP (2003) Predicting the impacts of climate change on the distribution of species: are bioclimate envelope models useful? Global Ecology and Biogeography 12: 361-371

Pearson OP, Pearson AK (1982) Ecology and biogeography of the southern rainforests of Argentina. Special Publication Pymatuning Laboratory of Ecology 6: 129-142

Phillips SJ, Dudík M (2008) Modeling of species distributions with Maxent: new extensions and a comprehensive evaluation. Ecography 31: 161-175

Phillips SJ, Anderson RP, Schapire RE (2006) Maximum entropy modeling of species geographic distributions. Ecological Modelling 190: 231-259

Piudo L, Monteverde M, Gonzalez Capria S, Padula P, Carmanchahi P (2005) Distribution and abundance of sigmodontine rodents in relation to hantavirus in Neuquén, Argentina. Journal of Vector Ecology 30: 119-125

Piudo L, Monteverde MJ, Walker RS, Douglass RJ (2011) Rodent community structure and Andes virus infection in sylvan and peridomestic habitats in Northwestern Patagonia, Argentina. Vector-borne and Zoonotic Diseases 11:315-324

Polop FJ, Provensal MC, Pini N, Levis SC, Priotto JW, Enría D, et al. (2010) Temporal and spatial host abundance and prevalence of Andes Hantavirus in Southern Argentina. EcoHealth 7: 176-184

Porcasi X, Calderon GE, Lamfri M, Scavuzzo M, Sabattini MS, Polop JJ (2005) Predictive distribution maps of rodent reservoir species of zoonoses in Southern America. Mastozoologia Neotropical 12: 199-216

Richards CL, Carstens BC, Knowles LL (2007) Distribution modeling and statistical phylogeography: an integrative framework for generating and testing alternative biogeographical hypotheses. Journal of Biogeography 34: 1833-1845

Rivera PC, González-Ittig RE, Rossi Fraire HJ, Levis S, Gardenal CN (2007) Molecular identification and phylogenetic relationships among the species of the genus Oligoryzomys (Rodentia, Cricetidae) present in Argentina, putative reservoirs of hantaviruses. Zoologica Scripta 36: 231-239

Rosenberg MS, Anderson CD (2011) PASSaGE: pattern analysis, spatial statistics and geographic exegesis. Version 2. Methods in Ecology and Evolution, 2:229–232. doi:10.1111/j.2041-210X.2010.00081.x

Sing T, Sander O, Beerenwinkel N, Lengauer T (2005) ROCR: visualizing classifier performance in R. Bioinformatics 21: 3940-3941

R Development Core Team (2010) R: a language and environment for statistical computing. R Foundation for Statistical Computing, Vienna, Austria. ISBN 3-900051-07-0, url:http://www.R-project.org/. Accessed March, 2011.

Tognelli MF, Roig-Junent SA, Marvaldi AE, Flores GE, Lobo JM (2009) An evaluation of methods for modelling distribution of Patagonian insects. Revista Chilena de Historia Natural 82: 347-360

Torres R, Jayat JP (2010) Modelos predictivos de distribución para cuatro especies de mamíferos (cingulata, artiodactyla y rodentia) típicas del Chaco en Argentina. Mastozoología Neotropical 17: 335-352

Yahnke CJ, Meserve PL, Ksiazek TG, Mills JN (2001) Patterns of infection with Laguna Negra virus in wild populations of Calomys laucha in the central Paraguayan chaco. American Journal of Tropical Medicine and Hygiene 65: 768-776
Acknowledgments
This research was made possible by grants from the Fondo para la Investigación Científica y Tecnológica (FONCYT) and Consejo Nacional de Investigaciones Científicas y Técnicas (CONICET). This article was written as a result of an internship of V.A. funded by Fulbright and Bunge and Born Foundation at the Johns Hopkins Bloomberg School of Public Health, Baltimore, USA. V.A. thanks Fulbright and Bunge and Born Foundation for the financial assistance and the host institution for great working facilities. We are also grateful to two anonymous reviewers who provided valuable comments and suggestions on an early version of the manuscript.
About this article
Cite this article
Andreo, V., Glass, G., Shields, T. et al. Modeling Potential Distribution of Oligoryzomys longicaudatus, the Andes Virus (Genus: Hantavirus) Reservoir, in Argentina. EcoHealth 8, 332–348 (2011). https://doi.org/10.1007/s10393-011-0719-5
Received:

Revised:

Accepted:

Published:

Issue Date:
Keywords
Argentina

hantavirus reservoir

logistic regression

MaxEnt algorithm

Oligoryzomys longicaudatus

potential distribution