Abstract
The fungal pathogen Batrachochytrium dendrobatidis (Bd) infects amphibians on every continent where they occur and is linked to the decline of over 200 amphibian species worldwide. At present, only three published Bd surveys exist for mainland Asia, and Bd has been detected in South Korea alone. In this article, we report the first survey for Bd in Peninsular Malaysia. We swabbed 127 individuals from the six amphibian families that occur on Peninsular Malaysia, including two orders, 27 genera, and 47 species. We detected Bd on 10 out of 127 individuals from four of five states and five of 11 localities, placing the 95% confidence interval for overall prevalence at 4–14%. We detected no variation in Bd prevalence among regions, elevations, or taxonomic groups. The infection intensity ranged from 1 to 157,000 genome equivalents. The presence of Bd infections in native species without clinical signs of disease suggests that Bd may be endemic to the region. Alternately, Bd may have been introduced from non-native amphibians because of the substantial amphibian food trade in Peninsular Malaysia. Under both scenarios, management efforts should be implemented to limit the spread of non-native Bd and protect the tremendous amphibian diversity in Peninsular Malaysia.
This is a preview of subscription content, log in to check access.
Access options
Buy single article
Instant access to the full article PDF.
US$ 39.95
Price includes VAT for USA
Subscribe to journal
Immediate online access to all issues from 2019. Subscription will auto renew annually.
US$ 99
This is the net price. Taxes to be calculated in checkout.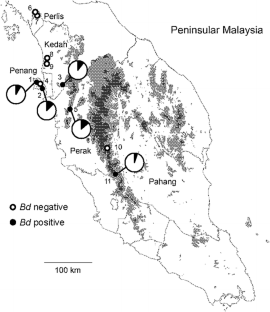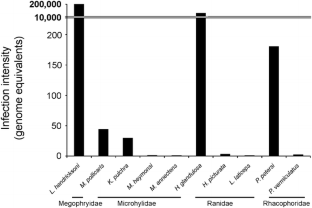 References
Berger L, Speare R, Daszak P, Green DE, Cunningham AA, Goggin CL, Slocombe R, Ragan MA, Hyatt AD, McDonald KR, Hines HB, Lips KR, Marantelli G, Parkes H (1998) Chytridiomycosis causes amphibian mortality associated with population declines in the rain forests of Australia and Central America. Proceedings of the National Academy of Sciences USA 95:9031–9036.

Boyle DG, Boyle DB, Olsen V, Morgan JAT, Hyatt AD (2004) Rapid quantitative detection of chytridiomycosis (Batrachochytrium dendrobatidis) in amphibian samples using real- time Taqman PCR assay. Diseases of Aquatic Organisms 60:141–148.

Carnaval ACOQ, Puschendorf R, Peixoto OL, Verdade VK, Rodrigues MT (2006) Amphibian chytrid fungus broadly distributed in the Brazilian Atlantic rain forest. EcoHealth 3:41–48.

Chan KO,Wood PL, Grismer JL (2008) Lithobates catesbeianus, geographical distribution. Herpetological Review 39:479–485.

Fisher MP, Garner TWJ, Walker SF (2009) Global emergence of Batrachochytrium dendrobatidis and amphibian chytridiomycosis in space, time, and host. Annual Review of Microbiology 63:291–310.

Frias-Alvarez P, Vredenburg VT, Familiar-Lopez M, Longcore JE, Gonzalez-Bernal E, Santos-Barrera G, Zambrano L, Parra-Olea G (2008) Chytridiomycosis Survey in Wild and Captive Mexican Amphibians. EcoHealth 5:18–26.

Garner TW, Perkins M, Govindarajulu P, Seglie D, Walker S, Cunningham AA, Fisher MC (2006) The emerging amphibian pathogen Batrachochytrium dendrobatidis globally infects introduced populations of the North American bullfrog, Rana catesbeiana. Biology Letters 2: 455–459.

Goka K, Yokoyama J, Une Y, Kuroki T, Suzuki K, Nakahara M, Kobayashi A, Inaba S, Mizutani T, Hyatt AD (2009) Amphibian chytridiomycosis in Japan: distribution, haplotypes, and possible route of entry into Japan. Molecular Ecology 18:4757–4774.

Goldberg TL, Readel AM, Lee MH (2007) Chytrid Fungus in Frogs from an Equatorial African Montane Forest in Western Uganda. Journal of Wildlife Diseases 43:521–524.

Green DE, Dodd K (2007) Presence of amphibian chytrid fungus Batrachochytrium dendrobatidis and other amphibian pathogens at warm-water fish hatcheries in southeastern North America. Herpetological Conservation and Biology 2:43–47.

Hyatt AD, Boyle DG, Olsen V, Boyle DB, Berger L, Obendorf D, Dalton A, Kriger K, Hero M, Hines H, Phillott R, Campbell R, Marantelli G, Gleason F, Colling A (2007) Diagnostic assays and sampling protocols for the detection of Batrachochytrium dendrobatidis. Diseases of Aquatic Organisms 73:175–192.

John E (2005) Stop Releasing Exotic Animals, Urges FRIM. News Strait Times 25 May 2005

Johnson ML, Speare R (2003) Survival of Batrachochytrium dendrobatidis in water: quarantine and disease control implications. Emerging Infectious Diseases 9:922–925.

Kriger KM, Pereoglou F, Hero J-M (2007) Latitudinal variation in the prevalence and intensity of chytrid (Batrachochytrium dendrobatidis) infection in eastern Australia. Conservation Biology 21:1280-1290.

Kusrini MD, Skerratt LF, Garland S, Berger L, Endarwin W (2008) Chytridiomycosis in frogs of Mount Gede Pangrango, Indonesia. Diseases of Aquatic Organisms 82:187–194.

Laurance WF, McDonald KR, Speare R (1996) Epidemic disease and the catastrophic decline of Australian rainforest frogs. Conservation Biology 10:406–413.

Lips KR, Brem F, Brenes B, Reeve JD, Alford RA, Voyles J, Carey C, Livo L, Pessier AP, Collins JP (2006) Emerging infectious disease and the loss of biodiversity in a Neotropical amphibian community. Proceedings of the National Academy of Sciences USA 103:3165–3170.

Longcore JR, Longcore JE, Pessier AP, Halteman WA (2007) Chytridiomycosis Widespread in Anurans of Northeastern United States. Journal of Wildlife Management 71:435–444.

Malaysian Meterological Department. Monthly Weather Bulletin, March 2010. Malaysia Ministry of Science, Technology and Innovation. 2 March, 2011. www.met.gov.my/index.php?option=com_content&task=view&id=847&Itemid=1586&lang=english

McLeod DS, Sheridan JA, Jiraungkoorskul W, Khonsue W (2008) A survey for the chytrid fungus in Thai amphibians. Raffles Bulletin of Zoology 56:199–204.

Pearl CA, Bull EL, Green DE, Bowerman J, Adams MJ, Hyatt A (2007) Occurrence of the Amphibian Pathogen Batrachochytrium dendrobatidis in the Pacific Northwest. Journal of Herpetology 41:145–149.

Piotrowski, J.S., Annis, S.L., Longcore, J.E., 2004. Physiology of Batrachochytrium dendrobatidis, a chytrid pathogen of amphibians. Mycologia 96: 9–15.

Pounds AJ, Bustamante MR, Coloma LA, Consuegra JA, Fogden MPL, Foster PN, La Marca E, Masters KL, Merino-Viteri A, Puschendorf R, Ron SR, Sanchez-Azofeifa GA, Still CJ, Young BE (2006) Widespread amphibian extinctions from epidemic disease driven by global warming. Nature 439:161–167.

Rachowicz L, Hero JM, Alford RA, Taylor JW, Morgan JAT, et al. (2005) The novel and endemic pathogen hypotheses: competing explanations for the origin of emerging infectious diseases of wildlife. Conserv Biol 19: 1441–1448.

Rovito SM, Parra-Olea G, Vásquez-Almazán CR, Papenfuss TJ,Wake DB (2009) Dramatic declines in neotropical salamander populations are an important part of the global amphibian crisis. Proceedings of the National Academy of Sciences USA 106:3231-3236.

Rowley JJL, Chan SKF, Tang WS, Speare R, Skerratt LF, Alford RA, Cheung KS, Ho CY, Campbell R (2007) Survey for the amphibian chytrid Batrachochytrium dendrobatidis in Hong Kong in native amphibians and in the international amphibian trade. Diseases of Aquatic Organisms 78:87–95.

Skerratt LF, Berger L, Speare R, Cashins S, McDonald KR, et al. (2007) Spread of chytridiomycosis has caused the rapid global decline and extinction of frogs. EcoHealth 4:125–34.

Une Y, Kadekaru S, Tamukai K, Goka K, Kuroki T (2008) First report of spontaneous chytridiomycosis in frogs in Asia. Diseases of Aquatic Organisms 82:157–160.

Van Sluys M, Hero J-M (2010) How does chytrid infection vary among habitats? The case of Litoria wilcoxii (Anura, Hylidae) in SE Queensland, Australia. EcoHealth 6:576-83.

Yang H, Baek H, Speare R, Webb R, Park S, Kim T, Lasater KC, Shin S, Son S, Park J, Min M, Kim Y, Na K, Lee H, Park S (2009) First detection of the amphibian chytrid fungus Batrachochytrium dendrobatidis in free-ranging populations of amphibians on mainland Asia: survey in South Korea. Diseases of Aquatic Organisms 86:9–13.
Acknowledgments
A research pass (40/200/19 SJ.1105) was issued to LLG by the Economic Planning Unit, Prime Minister's Department. This research was supported partially by a grant from the College of Arts and Sciences, La Sierra University to L.L.G., a USM Grant to S.A., and a travel grant to A.E.S. from the National Science Foundation Graduate Research Fellowship Program.
About this article
Cite this article
Savage, A.E., Grismer, L.L., Anuar, S. et al. First Record of Batrachochytrium dendrobatidis Infecting Four Frog Families from Peninsular Malaysia. EcoHealth 8, 121–128 (2011). https://doi.org/10.1007/s10393-011-0685-y
Received:

Revised:

Accepted:

Published:

Issue Date:
Keywords
chytridiomycosis

Batrachochytrium dendrobatidis

amphibian pathogen

Peninsular Malaysia