Abstract
Assessments of ecological integrity have become commonplace for biological conservation, but their role for public health analysis remains largely unexplored. We tested the prediction that the ecological integrity of streams would provide an indicator of human cancer mortality rates in West Virginia, USA. We characterized ecological integrity using an index of benthic macroinvertebrate community structure (West Virginia Stream Condition Index, SCI) and quantified human cancer mortality rates using county-level data from the Centers for Disease Control and Prevention. Regression and spatial analyses revealed significant associations between ecological integrity and public health. SCI was negatively related to age-adjusted total cancer mortality per 100,000 people. Respiratory, digestive, urinary, and breast cancer rates increased with ecological disintegrity, but genital and oral cancer rates did not. Smoking, poverty, and urbanization were significantly related to total cancer mortality, but did not explain the observed relationships between ecological integrity and cancer. Coal mining was significantly associated with ecological disintegrity and higher cancer mortality. Spatial analyses also revealed cancer clusters that corresponded to areas of high coal mining intensity. Our results demonstrated significant relationships between ecological integrity and human cancer mortality in West Virginia, and suggested important effects of coal mining on ecological communities and public health. Assessments of ecological integrity therefore may contribute not only to monitoring goals for aquatic life, but also may provide valuable insights for human health and safety.
This is a preview of subscription content, log in to check access.
Access options
Buy single article
Instant access to the full article PDF.
US$ 39.95
Price includes VAT for USA
Subscribe to journal
Immediate online access to all issues from 2019. Subscription will auto renew annually.
US$ 99
This is the net price. Taxes to be calculated in checkout.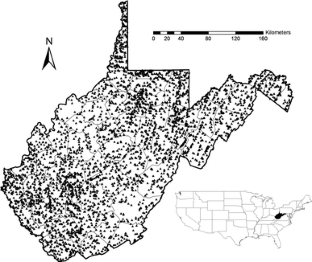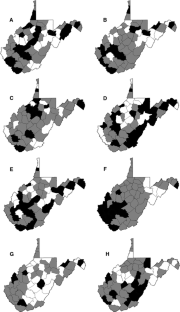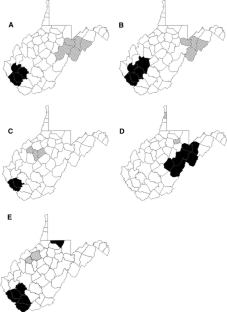 References
ACS (2010) Cancer Statistics 2009. American Cancer Society. Available: http://www.cancer.org [accessed February 2, 2010]

Anderson RT, Sorlie P, Backlund E, Johnson N, Kaplan GA (1997) Mortality effects of community socioeconomic status. Epidemiology 8:42–47.

Anselin L (1995) Local indicators of spatial association—LISA. Geographical Analysis 27:93–115.

Barnett E, Halverson JA, Elmes GA, Braham VE (2000) Metropolitan and non-metropolitan trends in coronary heart disease mortality within Appalachia, 1980–1997. Annals of Epidemiology 10:370–379.

Bray JR, Curtis JT (1957) An ordination of the upland forest communities of Wisconsin. Ecological Monographs 27:325–349.

Bunn SE, Arthington AH (2003) Basic principles and ecological consequences of altered flow regimes for aquatic biodiversity. Environmental Management 30:492–507.

Cakmak S, Dales RE, Judek S (2006) Respiratory health effects of air pollution gases: modification by education and income. Archives of Environmental and Occupational Health 61:5–10.

CDC (2007) Behavioral Risk Factor Surveillance System. Centers for Disease Control and Prevention. Available: http://www.cdc.gov/brfss/index.htm [accessed July 11, 2007]

CDC (2008) Compressed Mortality File. Centers for Disease Control and Prevention. Available: http://wonder.cdc.gov/mortSQL.html [accessed April 30, 2008]

Di Giulio RT, Benson WH (2002) Rationale and overview. In: Di Giulio RT, Benson WH (eds) Interconnections between Human Health and Ecological Integrity. Society for Environmental Toxicology and Chemistry Press (SETAC), Pensacola FL, pp. 1–12.

Fearon ER (1997) Human cancer syndromes: clues to the origin and nature of cancer. Science 278:1043–1050.

Ferrechio C, Gonzale C, Milosavjlevic V, Marshall G, Sancha AM, Smith AH (2000) Lung cancer and arsenic concentrations in drinking water in Chile. Epidemiology 11:673-679.

Gerritsen J, Burton J, Barbour MT (2000) A Stream Condition Index for West Virginia Wadeable Streams, Owings Mills, MD: Tetra Tech, pp 80.

Ghose MK (2007) Generation and quantification of hazardous dusts from coal mining in the Indian context. Environmental Monitoring and Assessment 130:35–45.

Ghose MK, Majee SR (2007) Characteristics of hazardous airborne dust around an Indian surface coal mining area. Environmental Monitoring and Assessment 130:17–25.

Goslee S, Urban D (2007) The ecodist package for dissimilarity-based analysis of ecological data. Journal of Statistical Software 22:1–19.

Griffith MB, Lazorchak JM, Herlihy AT (2004) Relationships among exceedences of metals criteria, the results of ambient bioassays, and community metrics in mining-impacted streams. Environmental Toxicology and Chemistry 23:1786–1795.

Halverson JA, Ma L, Harner EJ (2004) An Analysis of Disparities in Health Status and Access to Health Care in the Appalachian Region, Washington, DC: Appalachian Regional Commission.

Hartman KJ, Kaller MD, Howell JW, Sweka JA (2005) How much do valley fills influence headwater streams? Hydrobiologia 532:91–102.

Hendryx MS (2009) Mortality from heart, respiratory, and kidney disease in coal mining areas of Appalachia. International Archives of Occupational and Environmental Health 82:243–249.

Hendryx MS, Ahern MM (2008) Relations between health indicators and residential proximity to coal mining in West Virginia. American Journal of Public Health 98:669–671.

Hendryx MS, Ahern MM, Nurkiewicz TR (2007) Hospitalization patterns associated with Appalachian coal mining. Journal of Toxicology and Environmental Health, Part A 70:2064–2070.

Hendryx MS, O'Donnell K, Horn K (2008) Lung cancer mortality is elevated in coal mining areas of Appalachia. Lung Cancer 62:1–7.

Hilsenhoff WL (1988) Rapid field assessment of organic pollution with a family-level biotic index. Journal of the North American Benthological Society 7:65–88.

Hitt NP, Frissell CA, Muhlfeld CC, Allendorf FW (2003) Spread of hybridization between native westslope cutthroat trout, Oncorhynchus clarki lewisi, and nonnative rainbow trout, Oncorhynchus mykiss. Canadian Journal of Fisheries and Aquatic Sciences 60:1440–1451.

Huang B, Wyatt SW, Tucker TC, Bottorff D, Lengerich E, Hall HI (2002) Cancer death rates—Appalachia, 1994–1998. Morbidity and Mortality Weekly Report 51:527–529.

Huff J, Lunn RM, Waalkes MP, Tomatis L, Infante PF (2007) Cadmium-induced cancers in animals and in humans. International Journal of Occupational and Environmental Health 13:202–212.

Huffman R (2009) Testimony before the U.S. Senate Committee on Environment and Public Works, Subcommittee on Water and Wildlife, June 25, 2009

Huynen MMTE, Martens P, De Groot RS (2004) Linkages between biodiversity loss and human health: a global indicator analysis. International Journal of Environmental Health Research 14:13–30.

Jarup L (2003) Hazards of heavy metal contamination. British Medical Bulletin 68:167–182.

Karr JR, Chu EW (2000) Sustaining living rivers. Hydrobiologia 422/423:1–14.

Karr JR, Dudley DR (1981) Ecological perspective on water quality goals. Environmental Management 5:55–68.

Landrigan PJ (1982) Occupational and community exposures to toxic metals: lead, cadmium, mercury and arsenic. Western Journal of Medicine 137:531–539.

Legendre P (2000) Comparison of permutation methods for partial correlation and partial Mantel tests. Journal of Statistical Computing and Simulation 67:37–73.

Lengerich E, Tucker T, Powell R, Colsher P, Lehman E, Ward A (2005) Cancer incidence in Kentucky, Pennsylvania and West Virginia: disparities in Appalachia. Journal of Rural Health 21:39–47.

Lichtenstein P, Holm NV, Verkasalo PK, Iliadou A, Kaprio J, Koskenvuo M, et al. (2000) Environmental and heritable factors in the causation of cancer. The New England Journal of Medicine 343:78–85.

McAuley SD, Kozar MD (2006) Ground Water Quality in Unmined Areas and Near Reclaimed Surface Coal Mines in the Northern and Central Appalachian Coal Regions, Pennsylvania and West Virginia. Scientific Investigations Report 2006-5059, Washington DC: United States Geological Survey, pp 67.

Mantel N (1967) The detection of disease clustering and a generalized regression approach. Cancer Research 27:209–220.

Merritt RW, Cummins KW (1996) An Introduction to the Aquatic Insects of North America, 3rd ed., Dubuque, IA: Kendall Hunt.

Moran P (1950) Notes on continuous stochastic phenomena. Biometrika 37:17–23.

Morgenstern H (2008) Ecologic studies. In: Modern Epidemiology, 3rd ed., Rothman KJ, Greenland S, Lash TL (editors), Philadelphia: Lippincott Williams & Wilkins, pp 511–531.

Negley TL, Eshleman KN (2006) Comparison of stormflow responses of surface-mined and forested watersheds in the Appalachian Mountains, USA. Hydrological Processes 20:3467–3483.

Oden N (2005) Spatial autocorrelation invalidates the Dow-Cheverud test. Journal of Physical Anthropology 89:257–264.

Palmer MA, Bernhardt ES, Schlesinger WH, Eshleman KN, Foufoula-Georgiou E, Hendryx MS, et al. (2010) Mountaintop mining consequences. Science 327:148–149.

Paulsen SG, Mayio A, Peck DV, Stoddard JL, Tarquinio E, Holdsworth SM, et al. (2008) Condition of stream ecosystems in the US: an overview of the first national assessment. Journal of the North American Benthological Society 27:812–821.

Perera FP (1997) Environment and cancer: who are susceptible? Science 278:1068–1073.

Phillips JD (2004) Impacts of surface mine valley fills on headwater floods in eastern Kentucky. Environmental Geology 35:367–380.

Pond GJ (in press) Patterns of Ephemeroptera taxa loss in Appalachian headwater streams (Kentucky, USA). Hydrobiologia

Pond GJ, Passmore ME, Borsuk FA, Reynolds L, Rose CJ (2008) Downstream effects of mountaintop coal mining: comparing biological conditions using family- and genus-level macroinvertebrate bioassessment tools. Journal of the North American Benthological Society 27:717–737.

Rapport DJ (1999) Epidemiology and ecosystem health: natural bridges. Ecosystem Health 5:174–180.

Sala OE, Meyerson LA, Parmesan C (editors) (2009) Biodiversity Change and Human Health: From Ecosystem Services to Spread of Disease. Scientific Committee on Problems of the Environment, Vol 69. Washington, DC: Island Press

Seber GAF, Lee AJ (2003) Linear Regression Analysis, 2nd ed., Hoboken, NJ: Wiley.

Sieswerda LE, Soskolne CL, Newman SC, Schopflocher D, Smoyer KE (2001) Towards measuring the impact of ecological disintegrity on human health. Epidemiology 12:28–32.

Tabor GM (2002) Defining conservation medicine. In: Conservation Medicine: Ecological Health in Practice, Aguirre AA, Ostfeld RS, Tabor GM, House C, Pearl MC (editors), New York: Oxford University Press, pp 8–16

Torres AM, Monteiro CA (2002) Towards an ecology minded public health? Journal of Epidemiology and Community Health 56:82.

US Census (2000) Census Block Group Cartographic Boundary Files. Available: http://www.census.gov/geo/www/cob [accessed: November 3, 2008]

USDHHS (2006) Area Resource File, Washington, DC: U.S. Department of Health and Human Services, Health Resources and Services Administration, Bureau of Health Professions

USEPA (2002) Summary of Biological Assessment Programs and Biocriteria Development for States, Tribes, Territories, and Interstate Commissions: Streams and Wadeable Rivers, Washington, DC: U.S. Environmental Protection Agency, Office of Environmental Information and Office of Water, EPA-822-R-02-048

Vahter M, Berglund M, Akesso A, Liden C (2002) Metals and women's health. Environmental Research Section A 88:145–155.

Waite IR, Herlihy AT, Larsen DP, Urquhart NS, Klemm DJ (2004) The effects of macroinvertebrate taxonomic resolution in large landscape bioassessments: an example from the Mid-Atlantic Highlands, U.S.A. Freshwater Biology 49:474–489.

Waitzman NJ, Smith KR (1998) Phantom of the area: poverty-area residence and mortality in the United States. American Journal of Public Health 88:973–976.

WHO (2009) World Health Statistics, Geneva: World Health Organization, pp 149

Wilcox BA, Aguirre AA, Dasak P, Horowitz P, Martens P, Parkes M, et al. (2004) Ecoheath: a transdisciplinary imperative for a sustainable future. EcoHealth 1:3–5.

WVGES (2007) Trace Elements in West Virginia Coals. West Virginia Geologic and Economic Survey. Available: http://www.wvgs.wvnet.edu/www/datastat/te/index.htm [accessed October 6, 2007]

WVGES (2009) Summary Data and Statistics. West Virginia Geologic and Economic Survey. Available: http://www.wvgs.wvnet.edu/www/datastat/dataclco.htm [accessed January 5, 2009]

Yoder CO, Rankin ET (1998) The role of biological indicators in a state water quality management process. Environmental Monitoring and Assessment 51:61–88.

Yuan LL, Norton SB (2003) Comparing responses of macroinvertebrate metrics to increasing stress. Journal of the North American Benthological Society 22:308–322.
Acknowledgments
We thank B. Stout, P.L. Angermeier, R.B. Hull, F. Brady, J. Young, E. Fedorko, S.W. Bebe, and three anonymous reviewers for their assistance with this research. We thank the Department of Fisheries and Wildlife Sciences at Virginia Tech for providing N.P. Hitt post-doctoral support, and the West Virginia Department of Environmental Protection for providing raw data for this analysis.
About this article
Cite this article
Hitt, N.P., Hendryx, M. Ecological Integrity of Streams Related to Human Cancer Mortality Rates. EcoHealth 7, 91–104 (2010). https://doi.org/10.1007/s10393-010-0297-y
Received:

Revised:

Accepted:

Published:

Issue Date:
Keywords
Ecological integrity

cancer

coal mining

streams

benthic macroinvertebrates