Abstract
Increasing evidence indicates that dams impact riverine ecosystems and human diseases. Poyang Lake, one of the largest schistosomiasis endemic environments in China, will change due to the construction of the Yangtze River Three Gorges Dam. We assess changes in Oncomelania hupensis hupensis, the snail host for Schistosoma japonicum, in response to changing water levels and weather from 1998 to 2002. In the 5 years following the major flooding of Poyang Lake in 1998, seasonal water levels have gradually decreased, concomitant with decreases in mean and variance of fall snail densities. Nonlinear relationships suggest that the highest spring density is associated with current, 2-, and 3-month prior temperatures of 18°, 9.1°, and 5.8°C, while the highest fall density is associated with 2- and 3-month prior water levels of 17 and 18 m, respectively. This suggests that lower, more stable water levels downstream of the dam may result in a reduction in mean fall densities and their variance. However, additional data are needed to determine whether snail populations that are typically destroyed by seasonal floods may live longer in more stable environments created by the dam.
Access options
Buy single article
Instant access to the full article PDF.
USD 39.95
Price excludes VAT (USA)
Tax calculation will be finalised during checkout.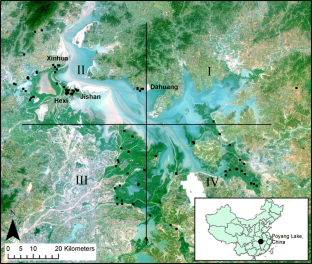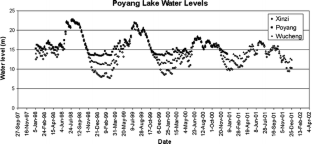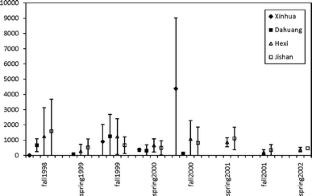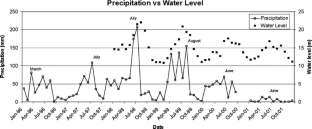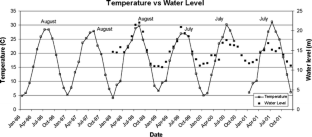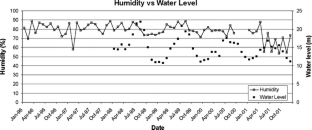 References
Chen H, Lin D (2004) The prevalence and control of schistosomiasis in Poyang Lake region, China. Parasitology International 53:115–125

Davis GM, Wilke T, Zhang Y, Xu XJ, Qiu CP, Spolsky C, et al. (1999a) Snail-Schistosoma, Paragonimus interactions in China: population ecology, genetic diversity, coevolution and emerging diseases. Malacologia 41:355–377

Davis GM, Wu WP, Chen HG, Liu HY, Guo JG, Lin DD, et al. (2002a) A baseline study of importance of bovines for human Schistosoma japonicum infections around Poyang Lake, China: villages studied and snail sampling strategy. American Journal of Tropical Medicine and Hygiene 66:359–371

Davis GM, Wu WP, Liu HY, Williams GA, Lu SB, Chen HG, et al. (2002b) Applying GIS and RS to the epidemiology of schistosomiasis in Poyang Lake, China. Geographic Information Sciences 8:67–77

Davis GM, Wu WP, Williams G, Liu HY, Lu SB, Chen HG, et al. (2006) Schistosomiasis japonica intervention study on Poyang Lake, China: the snail's tale. Malacologia 49:79–106

Davis GM, Zhang Y, Xu X, Yang X (1999b) Allozyme analyses test the taxonomic relevance of ribbing in Chinese Oncomelania (Gastropoda: Rissoacea: Pomatiopsidae). Malacologia 41:297–317

Dudgeon D, Arthington AH, Gessner MO, Kawabata ZI, Knowler DJ, Leveque C, et al. (2006) Freshwater biodiversity: importance, threats, status and conservation challenges. Biological Reviews 81:163–182

Gumble A, Otori Y, Ritchie LS, Hunter GW (1957) The effect of light, temperature and pH on the emergence of Schistosoma japonicum cercariae from Oncomelania nosophora. Transactions of the American Microscopical Society 76:87–92

Guo J, Li Y, Gray D, Ning A, Hu G, Chen H, et al. (2006) A drug-based intervention study on the importance of buffaloes for human Schistosoma japonicum infection around Poyang Lake, People's Republic of China. American Journal of Tropical Medicine and Hygiene 74:335–341

Guo JG, Ross AG, Lin DD, Williams GM, Chen HG, Li Y, et al. (2001) A baseline study on the importance of bovines for human Schistosoma japonicum infection around Poyang Lake, China. American Journal of Tropical Medicine and Hygiene 65:272–278

Hunter JM (2003) Inherited burden of disease: agricultural dams and the persistence of bloody urine (Schistosomiasis hematobium) in the upper east region of Ghana, 1959–1997. Social Science & Medicine 56:219–234

Jobin WR (1999) Dams and Disease: Ecological Design and Health Impacts of Large Dams, Canals, and Irrigation Systems. London, New York: E & FN Spon, Routledge

Kawamoto S (1953) Ecological studies of Oncomelania nosophora. IV. Influence of temperature on the activity of the snail. Medicine and Biology 26:92–93

Mathsoft Inc. (2000) S-Plus 2000 Professional Release 3

Min Q, Wang Z (1992) The varying tendency of the water level of Poyang Lake in recent 40 years. Jiangxi Hydraulic Science and Technology 18:360–364

Nilsson C, Berggren K (2000) Alterations of riparian ecosystems caused by river regulation. Bioscience 50:783–792

Nilsson C, Reidy CA, Dynesius M, Revenga C (2005) Fragmentation and flow regulation of the world's large river systems. Science 308:405–408

Poff NL, Olden JD, Merritt DM, Pepin DM (2007) Homogenization of regional river dynamics by dams and global biodiversity implications. Proceedings of the National Academy of Sciences of the United States of America 104:5732–5737

Ross AG, Sleigh AC, Li Y, Davis GM, Williams GM, Jiang Z, et al. (2001) Schistosomiasis in the People's Republic of China: prospects and challenges for the 21st century. Clinical Microbiology Reviews 14:270–295

Shankman D, Liang QL (2003) Landscape changes and increasing flood frequency in China's Poyang Lake region. Professional Geographer 55:434–445

Singer JD (1998) Using SAS PROC MIXED to fit multilevel models, hierarchical models, and individual growth models. Journal of Education and Behavioral Statistics 24:323–355

Su D (1986) Ecology of schistosomiasis in China. In: Zheng G (editor), Progress of Schistosomiasis Epidemiology in China (1980–1985). Nanjing, China: Jiangsu Medical Press, pp 5–18

The Environmental Impact Assessment Department, Chinese Academy of Sciences, Research Institute for Protection of Yangtze Water Resources, Project Legal Entity China Yangtze Three Gorges Development Corporation (1995) Environmental Impact Statement for the Yangtze Three Gorges Project. Beijing, China: Science Press

World Commission on Dams (2000) Dams and Development: a New Framework for Decision-making. London: Earthscan Publications

Yang GJ, Utzinger J, Sun LP, Hong QB, Vounatsou P, Tanner M, et al. (2007) Effect of temperature on the development of Schistosoma japonicum within Oncomelania hupensis, and hibernation of O. hupensis. Parasitology Research 100:695–700

Zhou XN, Wang LY, Chen MG, Wu XH, Jiang QW, Chen XY, et al. (2005) The public health significance and control of schistosomiasis in China—then and now. Acta Tropica 96:97–105
Acknowledgments
This work was funded by NIH—Tropical Medicine Research Center in Shanghai (1 P50 AI 3946). We thank Robert Cowie and the two anonymous reviewers for their suggestions on the manuscript.
About this article
Cite this article
Seto, E.Y.W., Wu, W., Liu, HY. et al. Impact of Changing Water Levels and Weather on Oncomelania hupensis hupensis Populations, the Snail Host of Schistosoma japonicum, Downstream of the Three Gorges Dam. EcoHealth 5, 149–158 (2008). https://doi.org/10.1007/s10393-008-0169-x
Received:

Revised:

Accepted:

Published:

Issue Date:

DOI: https://doi.org/10.1007/s10393-008-0169-x
Keywords