Abstract
The giant panda is a global symbol of wildlife conservation that is threatened by historic and current habitat loss. Despite a great deal of research on the physiology, reproductive biology, and diet of pandas in the wild and in captivity, there is little information on wild panda mortality. Here we integrate previously unavailable data on the mortality of wild pandas. We report on three recent phases of panda mortality: deaths due to bamboo flowering in the 1970s and 1980s, surprisingly extensive poaching in the 1980s and 1990s, and a parasitic infection over the past few years. Our analyses suggest that the current most significant threat to wild panda survival is disease due to extraintestinal migration (visceral larval migrans) by an ascarid nematode. We demonstrate that the probability of death of wild pandas being caused by this disease increased significantly between 1971 and 2005 and discuss the possible factors leading to the emergence of this disease.
Access options
Buy single article
Instant access to the full article PDF.
USD 39.95
Price excludes VAT (USA)
Tax calculation will be finalised during checkout.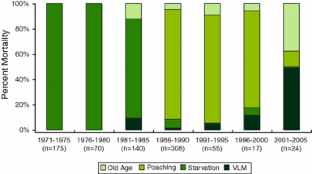 References
Beaver PC (1969) The nature of visceral larva migrans. Journal of Parasitology 55(1):3–12

Daszak P, Cunningham AA, Hyatt AS (2000) Emerging infectious diseases of wildlife: threats to conservation and public health. Science 287:443–449

Dobson AP, May RM (1986) Disease and Conservation. In: Conservation Biology: The Science of Scarcity and Diversity, Soule M (editor), Mass: Sinauer Assoc. Inc.

Elizabeth P, Keystone JS (1996) Conn's Current Therapy, Rakel RE (editor), Philadelphia: W. B. Saunders

Fox JL (1984) Bamboo loss endangers giant pandas in China. Science 223:467

Feng W, Hu T, Bi F, Cui Y, He G, Ye Z (1985) A study on the endangering causes of giant panda. La Animala Mondo 2(1):1–7 [in Chinese with English abstract]

Hu JC (1989) On the development and progress of the research on the giant panda. Journal of Sichuan Teachers College (Natural Science) 10(1):1–13 [in Chinese with English abstract]

Hu JC (1997) Existing circumstances and prospect of the giant panda. Journal of Sichuan Teachers College (Natural Science) 18(2):129–133 [in Chinese with English abstract]

Hu JC (1998) Ailuropoda melanoleuca. In: Wang S (editor) China red data book of endangered animals. Beijing: China Science Press, pp 158–165 [in Chinese with English summary]

Hu JC (2001) Research on the giant panda. Shanghai: Shanghai Science Technology and Education Press, pp 290–402 [in Chinese with English summary]

Li Y, Guo Z, yang Q, Wang Y, Niemelä J (2003) The implications of poaching for giant panda conservation. Biological Conservation 111:125–136

Lindburg D, Baragona K (2004) Giant pandas: biology and conservation. Berkeley, CA: University of California Press

Liu J, Linderman M, Ouyang Z, An L, Yang J, Zhang H (2001) Ecological degradation in protected areas: the case of Wolong nature reserve for giant pandas. Science 292:8–101

LoGiudice K (2003) Trophically transmitted parasites and the conservation of small populations: Raccoon roundworm and the imperiled Allegheny woodrat. Conservation Biology 17:258–266

LoGiudice K (2006) Toward a synthetic view of extinction: A history lesson from a North American rodent. Bioscience 56:687–693

Lü Z, Elizabeth K (2001) Giant pandas in the wild, 2001 A WWF species status report, Gland: WWF International

Lü Z, Johnson WE, Menotti-Raymond M, Yuhki N, Martenson JS, Mainka S, et al. (2001) Patterns of genetic diversity in remaining giant panda populations. Conservation Biology 15:1596–1607

May RM (1988) Conservation and disease. Conservation Biology 2:28–30

McIntosh A (1939) A new nematode, Ascaris schroederi, from a giant panda, Ailuropoda melanoleuca. Zoologica 24:355–357

Meffe GK (1999) Conservation medicine. Conservation Biology 13:953–954

Murray WJ, Kazacos KR (2004) Raccoon roundworm encephalitis. Clinical Infectious Diseases 39:1484–1492

O'Brien SJ, Pan W, Lü Z (1994) Pandas, people and policy. Nature 369:179–180

Pan W, Gao ZS, Lü Z (1988) The giant panda's natural refuge in the Qinling Mountains. Beijing: Peking University Press [in Chinese with English summary]

Pan W, Lü Z, Zhu X, Wang D, Wang H, Long Y, Fu D, Zhou X (2001) The opportunity for the Giant Panda to exist. Beijing: Peking University Press [in Chinese with English summary]

Peng J, Jiang Z, Hu J (2001a) Status and conservation of giant panda. Folia Zoologica 50:81–88

Peng J, Jiang Z, Liu W, Huang S, Zhang J, Wang W (2001b) Growth and development of giant panda (Ailuropoda melanoleuca) cubs at Beijing Zoo. Journal of Zoology, London 254:261–266

Qiu XM, Mainka SA (1993) Review of mortality of the giant panda (Ailuropoda melanoleuca). Journal of Zoo and Wildlife Medicine 24:425–429

Reid DG, Hu J, Dong S, Wang W, Huang Y (1989) Giant panda Ailuropoda melanoleuca behaviour and carrying capacity following a bamboo die-off. Biological Conservation 49:85–104

Schaller GB (1994) The last panda. Chicago: The University of Chicago Press

Schaller GB, Hu J, Pan W, Zhu J (1985) The giant pandas of Wolong. Chicago: The University of Chicago Press

Species Survival Commission, IUCN (2004) Ailuropoda melanoleuca. The World Conservation Union, Gland. Available at http://www.redlist.org/search/details.php?species=712 [accessed in 2005]

State Forestry Administration, China, and World Wide Fund for Nature (2005) New census of wild giant pandas. Available at http://www.wwfchina.org/list.shtm?id=6339 [accessed in 2005]

Wang S, Xie Y (editors) (2004) China species red list, Vol. I, Red list, Beijing: China High Education Press [in Chinese and English]

Wolfe A, Wright IP (2003) Human toxocariasis and direct contact with dogs. Veterinary Record 152:419–422

Yang R, Zhang F, Lou W (1981) A preliminary discussion on the cause of the disastrous death of the giant panda. Acta Theriologica Sinica 1(2):127–135 [in Chinese with English abstract]

Yu CQ (2005) Inside story of giant panda. China Mankind and Nature (9):18–44 [in Chinese]
Acknowledgments
We thank Hume E. Field, Queensland DPI, for advice and Aleksei A. Chmura, Consortium for Conservation Medicine, for help with manuscript preparation. This study was supported by State Key Program for Basic Research Grant 2005CB523004 of the Ministry of Science and Technology, People's Republic of China to S. Zhang and by core funding to the Consortium for Conservation Medicine from the V. Kann Rasmussen Foundation.
Electronic supplementary material
About this article
Cite this article
Zhang, JS., Daszak, P., Huang, HL. et al. Parasite Threat to Panda Conservation. EcoHealth 5, 6–9 (2008). https://doi.org/10.1007/s10393-007-0139-8
Received:

Revised:

Accepted:

Published:

Issue Date:

DOI: https://doi.org/10.1007/s10393-007-0139-8
Keywords