Abstract
Escalating global environmental change (GEC) over the past century has been driven largely by rapid industrialization, population growth, overconsumption of natural resources, and associated waste disposal challenges, as well as the inappropriate uses of technology. These changes are already having and will increasingly continue to have significant impacts on human health and well-being. How to tackle these issues is an important challenge to scientists, policy-makers, and the general public. Scientific consensus now exists that GEC and population health are linked, even though the details and mechanisms underlying this link remain to be both explicated and quantified. In this article we provide an overview of progress and challenges in the area of GEC and population health since the late 1980s, highlighting some of the main landmarks in this area and recommending directions for future research.
This is a preview of subscription content,
to check access.
Access this article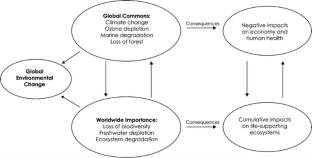 Similar content being viewed by others
References
Almendares J, Sierra M, Anderson PK, Epstein PR (1993) Critical regions, a profile of Honduras. Lancet 342(8884):1400–1402

Anielski M, Soskolne CL (2002) Genuine Progress Indicator (GPI) Accounting: Relating Ecological Integrity to Human Health and Well-Being. In: Miller P, Westra L (editors), Just Ecological Integrity: The Ethics of Maintaining Planetary Life, New York: Rowman & Littlefield Publishers, pp 83–97

Aron J, Patz JA (2001) Ecosystem change and public health, Baltimore, MD: Johns Hopkins University Press

Barnett TP, Pierce DW, Achutarao KM, Gleckler PJ, Santer BD, Gregory JM, Washington WM (2005) Penetration of human-induced warming into the world's oceans. Science 309:284–287

Beniston M (2002) Climatic change: possible impacts on human health. Swiss Medical Weekly 132(25–26):332–337

Brown V, Grootjans J, Ritchie J, Townsend M, Verrinder G (2005) Sustainability and health: supporting global ecological integrity in public health. Sydney: Earthscan

Campbell-Lendrum D (2005) How much does the health community care about global environmental change? Global Environmental Change 15:296–298

Climateark. http://www.climateark.org/. Accessed 5 May 2006

Costanza R, d'Arge R, de Groot R, Farber S, Grasso M, Hannon B, Limburg K, Naeem S, O'Neill RO, Paruelo J, Raskin RG, Sutton P, van den Belt M (1997) The value of the world's ecosystem services and natural capital. Nature 387:253–260

Daszak P (2005) Emerging infectious diseases and the socio-ecological dimension. EcoHealth 2(4):239–240

Dobson A, Carper R (1993) Biodiversity. Lancet 342(8879):1096–1099

Ebi KL, Gamble JL (2005) Summary of a workshop on the development of health models and scenarios: strategies for the future. Environmental Health Perspectives 113(3):335–338

Ebi KL, Smith JB, Burton I (2005) Integration of public health with adaptation to climate change: lessons learned and new directions, London: Taylor & Francis Group

Epstein PR (2005) Climate change and human health. New England Journal of Medicine 353(14):1433–1436

Epstein PR, Mills E (editors) (2005) Climate Change Futures: Health, Ecological and Economic Dimensions. Published by the Center for Health and the Global Environment, Harvard Medical School. http://www.chge.med.harvard.edu/research/ccf. Accessed 26 December 2005

Epstein PR, Ford TE, Colwell RR (1993) Marine ecosystems. Lancet 342(8881):1216–1219

Haines A, Epstein PR, McMichael AJ (1993) Global health watch: monitoring impacts of environmental change. Lancet 342(8885):1464–1469

Haines A, McMichael AJ, Epstein PR (2000) Environment and health: 2. Global climate change and health. CMAJ 163(6):729–734

Hay S, Cox J, Rogers D, Randolph SE, Stern DI, Shanks GD, Myers MF, Snow RW (2002) Climate change and the resurgence of malaria in the East African highlands. Nature 415:905–909

Houghton JT, Ding Y, Griggs DJ, et al. (editors) (2001) Climate Change 2001: The Scientific Basis, Cambridge, UK: Cambridge University Press

IPCC (2007) Climate Change 2007: The Physical Science Basis. Available at http://www.ipcc.ch/. Accessed 10 February 2007

Kalkstein LS (1993) Health and climate change. Direct impacts in cities. Lancet 342(8884):1397–1399

Koppe C, Kovats S, Jendritzky G, Menne B (2004) Heat-waves: risks and responses. Health and Global Environmental Change, Series No. 2. WHO Regional Office for Europe, Rome

Kovats RS, Haines A (2005) Global climate change and health: recent findings and future steps. CMAJ 172(4):501–502

Last J (1997) Public health and human ecology, Stamford, CT: Appleton and Lange

Leaf A (1989) Potential health effects of global climatic and environmental changes. New England Journal of Medicine 321(23):1577–1583

Levitus S, Antonov JI, Wang J, Delworth TL, Dixon KW, Broccoli AJ (2001) Anthropogenic warming of Earth's climate system. Science 292(5515):267–270

Lloyd SA (1993) Stratospheric ozone depletion. Lancet 342(8880):1156–1158

Lubchenco J (1998) Entering the century of the environment: a new social contract for science. Science 279:491–497

Maskell K, Mintzer IM, Callander BA (1993) Basic science of climate change. Lancet 342(8878):1027–1031

McMichael A (1993) Planetary Overload: Global Environmental Change and the Health of the Human Species, New York: Cambridge University Press

McMichael A (2001) Human Frontiers, Environments and Disease : Past Patterns, Uncertain Futures, Cambridge, UK: Cambridge University Press

McMichael AJ (2006) Population health as a primary criterion of sustainability. EcoHealth 3:182–186

McMichael A, Campbell-Lendrum D, Corvalan CF, et al. (2003) Climate change and human health, Geneva: WHO/WMO/UNEP

McMichael AJ, Campbell-Lendrum D, Kovats S, et al. (2004) Global climate change. In: Ezzati M, Lopez A, Rodgers A, Murray C (editors), Comparative Quantification of Health Risks, Geneva: World Health Organisation, pp 1543–1550

Menne B, Ebi K (2006) (editors) Climate change and adaptation strategies for human health, Steinkopff, Germany: Springer-Verlag

Michaels D (2005) Doubt is their product. Scientific American 292(6):96–101

Millennium Ecosystem Assessment. Available at http://www.MAweb.org. Accessed 8 February 2006

Novacek MJ, Cleland E (2001) The current biodiversity extinction event: scenarios for mitigation and recovery. Proceedings of the National Academy of Sciences of theUnited States of America 98(10):5466–5470

Pascal M, Laaidi K, Ledrans M, Baffert E, Caserio-Schonemann C, Le Tertre A, Manach J, Medina S, Rudant J, Empereur-Bissonnet P (2006) France's heat health watch warning system. International Journal of Biometeorology 50(3):144–153

Pascual M, Ahumada JA, Chaves LF, Rodo X, Bouma M (2006) Malaria resurgence in the East African highlands: Temperature trends revisited. Proceedings of the National Academy of Sciences of the United States of America 103:5829–5834

Patz J, Hulme M, Rosenzweig C, Mitchell TD, Goldberg RA, Fitheko AK, Lele S, McMichael AJ, Le Sueur D (2002) Regional warming and malaria resurgence. Nature 420:627–628

Patz JA, Campbell-Lendrum D, Holloway T, Foley JA (2005) Impact of regional climate change on human health. Nature 438(7066):310–317

Pittock B (2003) Climate change: an Australian guide to the science and potential impacts, Canberra: Australian Greenhouse Office

Pounds JA, Bustamante MR, Coloma LA, Consuegra JA, Fogden MP, Foster PN, La Marca E, Master KL, Merino-Viteri A, Puschendorf R, Ron SR, Sánchez-Azofeifa GA, Still CJ, Young BE (2006) Widespread amphibian extinctions from epidemic disease driven by global warming. Nature 439(7073):161–167

Rogers DJ, Packer MJ (1993) Vector-borne diseases, models, and global change. Lancet 342(8882):1282–1284

Schellnhuber HJ, Cramer W, Nakicenovic N, Wigley T, Yohe G (2006) Avoiding Dangerous Climate Change. Cambridge, UK: Cambridge University Press

Sieswerda LE, Soskolne CL, Newman SC, Schopflocher D, Smoyer KE (2001) Toward measuring the impact of ecological disintegrity on human health. Epidemiology 12(1):28–32

Soskolne CL (2003) Measuring the impact of ecological disintegrity on human health: a role for epidemiology. In: Rapport DJ, Lasley WL, Rolston DE, Nielsen NO, Qualset CO, Damania AB (editors), Managing for Healthy Ecosystems, Boca Raton, FL: Lewis Publishers, pp 259–265

Soskolne CL, Bertollini R (1999) Global Ecological Integrity and 'Sustainable Development': Cornerstones of Public Health: A Discussion Document. World Health Organization, European Centre for Environment and Health, Rome Division, Italy

Soskolne CL, Bertollini R (2002) Global ecological integrity, global change and public health. In: Aguirre AA, Ostfeld RS, Tabor GM, House C, Pearl MC (editors), Conservation Medicine: Ecological Health in Practice, New York: Oxford University Press, pp 372–382

Soskolne CL, Broemling N (2002) Eco-epidemiology: on the need to measure health effects from global change. Global Change and Human Health 3(1):58–66

Soskolne CL, Sieswerda LE, Scott HM (2000) Epidemiologic methods for assessing the health impact of diminishing ecological integrity. In: Pimentel D, Westra L, Noss RF (editors), Ecological Integrity: Integrating Environment, Conservation, and Health, Covelo, CA: Island Press, pp 261–277

Stern N (2006) The economics of climate change, Cambridge, UK: Cambridge University Press

Sunyer J, Grimalt J (2006) Global climate change, widening health inequalities, and epidemiology. International Journal of Epidemiology 35:213–216

Swiss Re sigma catastrophe database (2006) Available at http://www.eesi.org. Accessed 2 August 2006

The World Commission on Environment and Development (1987) Our common future, Oxford: Oxford University Press

Thomson MC, Doblas-Reyes FJ, Mason SJ, et al. (2006) Malaria early warnings based on seasonal climate forecasts from multi-model ensembles. Nature; 439:576–9

Tong S (2000) The potential impact of global environmental change on population health. Australian and New Zealand Journal of Medicine 30(5):618–625

Tong S, Olsen J (2005) The threat to scientific integrity in environmental and occupational medicine. Occupational and Environmental Medicine 62:843–846

Tong S, Nicholls N, Weinstein P (2004) Assessment of the health impacts of global environmental change: Are we equipped to grasp the nettle? Epidemiology 15(4):S103

UNFCCC (2005) http://www.unfccc.int/meetings/cop_11/items/3394.php. Accessed 26 December 2005

World Health Organization (1992) Our Planet, Our Health: Report of the WHO Commission on Health and Environment, Geneva: World Health Organization

World Health Organization (2005) Ecosystems and Human Well-being. Health Synthesis. Available at http://www.who.int/globalchange/ecosystems/ecosystems05/en/print.html. Accessed 10 January 2006
Acknowledgments
The authors thank Prof. Tony McMichael, Dr. Colin Butler, the Editor, and two anonymous reviewers for their insightful comments. Shilu Tong is supported by a National Health and Medical Research Council Research Fellowship (#290515).
About this article
Cite this article
Tong, S., Soskolne, C.L. Global Environmental Change and Population Health: Progress and Challenges. EcoHealth 4, 352–362 (2007). https://doi.org/10.1007/s10393-007-0125-1
Received:

Accepted:

Published:

Issue Date:

DOI: https://doi.org/10.1007/s10393-007-0125-1
Keywords