Abstract
Prior to 1985, the open waters of Lake Malawi were free from schistosome transmission. Over the past decades, however, the prevalence of urinary schistosomiasis has increased dramatically in the southern part of the lake. We found the prevalence of human schistosomiasis in school-aged children to be negatively correlated with the density of molluscivorous fishes. Specifically, the increased infection rate in southern Lake Malawi between 1978 and 1991 is coincident with the reduction in numbers of snail-eating fishes. During 2003, we determined the relative abundance of molluscivorous fishes and snail density at 18 sites throughout the lake and schistosome infection in school-aged children living in selected lakeshore communities of Lake Malawi. At the 18 sites sampled in 2003, we found that snail abundance decreased with an increase in abundance of snail-eating fishes. Furthermore, the 2003 samples showed that the abundance of snail-eating fishes increased and there was a reduction in schistosomiasis in school-aged children in Chembe Village. We believe that we will not observe a return to the 1978 infection rates until these fishes continue to increase and inhabit shallower waters.
Access options
Buy single article
Instant access to the full article PDF.
USD 39.95
Price excludes VAT (USA)
Tax calculation will be finalised during checkout.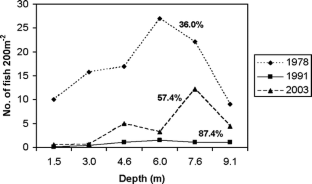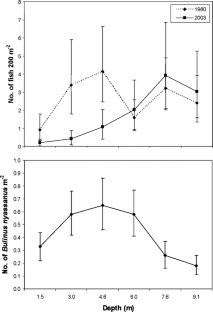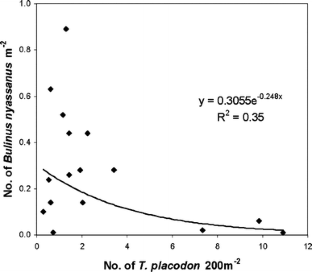 References
Centers for Disease Control (2005) Health information for travelers to East Africa. Available: www.cdc.gov/travel/eafrica.htm [accessed May 12, 2005]

Chiotha SS, McKaye KR, Stauffer JR Jr. (1991a) Prey handling in Trematocranus placodon, a snail-eating cichlid fish from Malawi. Ichthyological Explorations in Freshwaters 2:203–208

Chiotha SS, McKaye KR, Stauffer JR Jr. (1991b) Use of indigenous fishes to control schistosome snail vectors in Malawi, Africa. Biological Control 1991:316–319

Feldmeier H, Krantz I, Poggensee G (1994) Female genital schistosomiasis as a risk factor for the transmission of HIV. International Journal of STD and AIDS 5:368–372

Harms G, Feldmeier H (2002) HIV infection and tropical parasitic diseases: deleterious interactions in both directions? Tropical Medicine and International Health 7:479–488

Madsen H, Bloch P, Kristensen TK, Furu P (2001) Bulinus nyassanus is intermediate host for Schistosoma haematobium in Lake Malawi. Annals of Tropical Medicine and Hygiene 95:353–360

Mkoji GM, Hofkin BV, Kuris AM, Stewart-Oaten A, Mungal BN, Kihara JH, et al. (1999) Impact of the crayfish Procambarus clarkia on Schistosoma haematobium transmission in Kenya. American Journal of Tropical Medicine and Hygiene 61:751–759

Plouvier S, Leroy JC, Colette J (1975) A propos d'une technique simple de filtration des urines dans le diagnostic de la bilharziose urinaire en enquete de masse. Medecine Tropicale 35:229–230

Rollinson D, Simpson AFG (1987) The Biology of Schistosomes: From Genes to Latrines, New York: Academic Press

Stauffer JR Jr, Arnegard ME, Cetron M, Sullivan JJ, Chtsulo LA, Turner GF, et al. (1997) Controlling vectors and hosts of parasitic diseases using fishes. Bioscience 47:41–49

World Health Organization (2002) Prevention and Control of Schistosomiasis and Soil Transmitted Helminthiasis: Report of a WHO Expert Committee, Technical Report Series 912, Geneva: World Health Organization

Wright ED, Chimphangwi J, Hutt MSR (1982) Schistosomiasis of the female genital tract: a histopathological study of 176 cases from Malawi. Transactions of the Royal Society of Tropical Medicine and Hygiene 76:822–829
Acknowledgments
We thank the government of Malawi for giving us permission to work in Lake Malawi and the University of Malawi for providing us with the proper permits to collect fishes and snails. Funding was provided by the NSF/NIH joint program in ecology of infectious diseases (DEB-0224958) and the World Wide Fund for Nature, Finland.
About this article
Cite this article
Stauffer, J.R., Madsen, H., McKaye, K. et al. Schistosomiasis in Lake Malawi: Relationship of Fish and Intermediate Host Density to Prevalence of Human Infection. EcoHealth 3, 22–27 (2006). https://doi.org/10.1007/s10393-005-0007-3
Published:

Issue Date:

DOI: https://doi.org/10.1007/s10393-005-0007-3
Keywords