Abstract
The southern sea otter (Enhydra lutris nereis) is listed as "threatened" under the Endangered Species Act (ESA) and is a "keystone species," strongly influencing the abundance and diversity of the other species within its kelp forest ecosystem. This is accomplished primarily by preying upon urchins that eat the kelp stipe and holdfast, which can reduce a kelp forest to an urchin barren. Sea otters are very susceptible to marine pollutants such as petroleum, which may be directly toxic and/or alter their fur's insulating properties. Sea otters are an excellent sentinel species. They eat approximately 25% of their body weight per day in shellfish and other invertebrates, and can concentrate and integrate chemical contaminants. In addition, they appear to be susceptible to a number of diseases and parasites that may have anthropogenic origins, and shellfish may serve as an intermediary for some of these infections. Many of the shellfish the otters eat are also harvested for human food. In their role as sentinels, sea otter health has implications for human health, economic sustainability of shellfisheries, as well as overall marine ecosystem health. The recent southern sea otter decline has been viewed with some alarm by conservationists and, indeed, recovery seems a long way off. High mortality rather than depressed recruitment appears to underlie the decline. A good deal of debate has centered on the role of infectious diseases and parasites, exposure to contaminants, nutrition and prey availability, net and pot fishery interactions, and other sources of mortality. Current research is being done related to major classes of mortality, various types of pollutants and some specific organisms causing southern sea otter mortality, and their implications for marine ecosystem health and sustainability.
Access options
Buy single article
Instant access to the full article PDF.
US$ 39.95
Tax calculation will be finalised during checkout.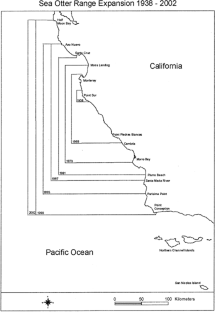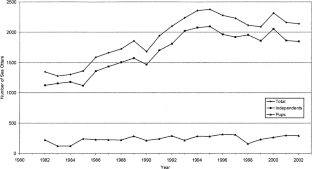 References
Epstein P, Sherman B, Spanger-Siegfried E, Langston A, Prasad S, MacKay B (1998) Marine ecosystems: emerging diseases as indicators of change. NOAA/OGP and NASA report on grant NA56GP 0623, 85 pp

TK Graczyk CA Farley R Fayer EJ Lewis JM W Trout (1998) ArticleTitleDetection of Cryptosporidium oocysts and Giardia cysts in the tissues of eastern oysters (Crassostrea virginica) carrying principal infectious diseases Journal of Parasitology 84 1039–1042

TK Graczyk R Fayer DB Conn EJ Lewis (1999a) ArticleTitleEvaluation of the recovery of waterborne Giardia cysts by freshwater clams and cyst detection on clam tissue Parasitology Research 85 30–34

TK Graczyk R Fayer EJ Lewis JM Trout CA Farley (l999b) ArticleTitle Cryptosporidium oocysts in bent mussels (Ischiadium recurvum) in the Chesapeake Bay Parasitology Research 85 518–521

DA Jessup (2003) ArticleTitleGood medicine for conservation biology: comments, corrections and connections Conservation Biology 17 1–4

DA Jessup FA Leighton (1996) Oil pollution and petroleum toxicity to wildlife AE Fairbrother LN Locke GH Hoff (Eds) Noninfectious Diseases of Wildlife Iowa State University Press Ames, IA 141–155

K Kannan KS Gurage NJ Thomas S Tanabe JP Giesy (1998) ArticleTitleButyltin residues in Southern sea otters (Enhydra lutris nereis) found dead along California coastal waters Environmental Science and Technology 32 1169–1175

Kannan, K, Nakata, H, Kajiwara, N, Watanbe, N, Thomas, NJ, Jessup, DA, Tanabe, S (2003) "Profiles of polychlorinated biphenyl congeners, organochlorine pesticides and butyltins in southern sea otters and their prey: implications for PCB metabolism" Environmental Toxicology and Chemistry (in press)

C Kreuder M Miller D Jessup L Lowenstine MD Harris J Ames et al. (2003) ArticleTitlePatterns of mortality in the southern sea otter (Enhydra Lutris nereis) from 1998–2001 Journal of Wildlife Diseases 39 495–509

JM Lapointe PJ Duignan AE Marsh FM Gulland BC Barr DK Naydan et al. (1998) ArticleTitleMeningoencephalitis due to Sarcocystis neurona-like protozoan in Pacific harbor seals (Phoca vitulina richardsi) Journal of Parasitology 84 1184–1189

KA Mayer MD Dailey MA Miller (2003) ArticleTitleHelminth parasites of the southern sea otter Enhydra lutris nereis in central California: abundance, distribution and pathology Diseases of Aquatic Organsims 53 77–88

MA Miller PR Crosbie K Sverlow K Hanni BC Barr N Kock et al. (2001a) ArticleTitleIsolation and characterization of Sarcocystis from brain tissue of a free-living southern sea otter (Enhydra lutris nereis) with fatal meningoencephalitis Parasitology Research 87 252–257

MA Miller K Sverlow PR Crosbie BC Barr LJ Lowenstine A Packham et al. (2001b) ArticleTitleIsolation and characterization of two parasitic protozoa from a Pacific harbor seal (Phoca vitulina richardsi) with meningoencephalitis Journal of Parasitology 87 816–822

MA Miller IA Gardner A Packham JK Mazet KD Hanni D Jessup et al. (2002a) ArticleTitleEvaluation of an indirect fluorescent antibody test (IFAT) for demonstration of antibodies to (Toxoplasma gondii) in sea otters (Enhydra lutris nereis) Journal of Parasitology 88 594–599

M Miller IA Gardner D Paradies P Conrad D Jessup (2002b) ArticleTitlecoastal freshwater runoff is a risk factor for Toxoplasma gondii infection of southern sea otters (Enhydra lutris nereis) International Journal of Parasitology 32 997–1006

H Nakata K Kannan L Jing N Thomas S Tanabe JP Giesy (1998) ArticleTitleAccumulation pattern of organochlorine pesticides and polychlorinated biphenyls in southern sea otters (Enhydra lutris nereis) found stranded along coastal California USA Environmental Pollution 103 45–53

DJ Rapport (1989) ArticleTitleWhat constitutes ecosystem health? Perspectives in Biology and Medicine 33 120–132

Riedman M, Estes J (1990) The sea otter behavior, ecology, and natural history. Biological Report 90(14), U.S. Fish and Wildlife Service, 126 pp

C Scholin F Gulland GJ Doucette S Benson M Busman FP Chavez et al. (2000) ArticleTitleMortality of sea lions along the central California coast linked to a toxic diatom bloom Nature 403 80–84

NJ Thomas RA Cole (1996) ArticleTitleBiology and status of the southern sea otter: the risk of disease and threats to the wild population Endangered Species Update 13 23–27

Wendell, FC, Hardy, RA, Ames, JA (1985) Assessment of the accidental take of sea otters, Enhydra lutris, in gill and trammel nets. California Department of Fish and Game (CDFG) Marine Technical Report #54
Acknowledgments
We thank the following organizations and individuals for their cooperation and support: the PKD Trust; the Morris Animal Foundation; the Oiled Wildlife Care Network; the Friends of the Sea Otter; National Sea Grant Program; the United States Fish and Wildlife Service (USFWS); Karen Worchester and Dave Parades of the Central Coast Regional Water Quality Board; Dr. Mike Murray, Michele Staedler, and Andy Johnson of the Monterey Bay Aquarium; Drs. Frances Gulland and Marty Havelena of The Marine Mammal Center; Dr. Jim Estes and Brian Hatfield of USGS/BRD—California Science Center; and Drs. Nancy Thomas and Mike Samuels of USGS/BRD—National Wildlife Health Center.
About this article
Cite this article
Jessup, D.A., Miller, M., Ames, J. et al. Southern Sea Otter as a Sentinel of Marine Ecosystem Health. EcoHealth 1, 239–245 (2004). https://doi.org/10.1007/s10393-004-0093-7
Keywords
ecosystem health

Enhydra lutris nereis

petroleum

pollutants

sea otter

sentinel species

toxoplasmosis