Abstract
Purpose
To conduct a systematic review of studies reporting prevalence rates of depression in women living in low-income in developed countries during the pregnancy and postpartum periods.
Subject and methods
Published and unpublished literature was searched for studies reporting prevalence of depression in women with low-income in developed countries. A subsection of studies taking place during pregnancy and postpartum periods was used for analysis. Using meta and metafor packages in R, a random-effects model to account for estimation was used.
Results
Sixty-four studies, involving 218,035 participants, were located through the search process. Among low-income women who were pregnant or postpartum, the prevalence of depression was 33.82%.
Conclusion
High rates of depression among women living in low-income conditions is of serious public health concern due to generational effects, with several possible adverse biological, psychological, and social effects on children. Women's social determinants of health need to be addressed, as these contribute to both depression and recovery.
Access options
Buy single article
Instant access to the full article PDF.
USD 39.95
Price excludes VAT (USA)
Tax calculation will be finalised during checkout.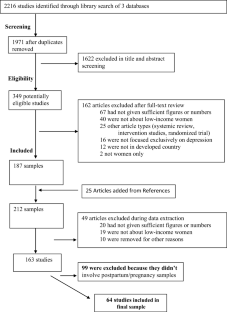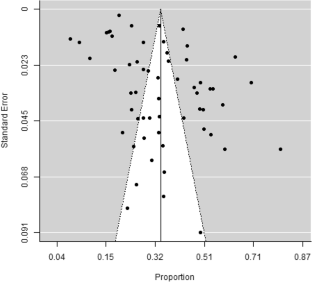 Availability of data and material
Data are available from the primary researcher upon request.
References
Abajobir AA, Maravilla JC, Alati R, Najman JM (2016) A systematic review and meta-analysis of the association between unintended pregnancy and perinatal depression. J Affect Disord 192:56–63. https://doi.org/10.1016/j.jad.2015.12.008

Alhusen J, Frohman N (2015) Purcell G (2015) intimate partner violence and suicidal ideation in pregnant women. Archives of Women's Mental Health 18:573. https://doi.org/10.1007/s00737-015-0515-2

Alhusen J, Ayres L, DePriest K (2016) Effects of maternal mental health on engagement in favorable health practices during pregnancy. Journal of Midwifery & Women's Health 61(2):210–216. https://doi.org/10.1111/jmwh.12407

Alhusen J, Gross D, Hayat M, Rose L, Sharps P (2012) The role of mental health on maternal-fetal attachment in low-income women. Journal of Obstetric, Gynecologic, & Neonatal Nursing: Clinical Scholarship for the Care of Women, Childbearing Families, & Newborns 41(6):E71–E81. https://doi.org/10.1111/j.1552-6909.2012.01385.x

Alhusen J, Bullock L, Sharps P, Schminkey D, Comstock E, Campbel J (2014) Intimate partner violence during pregnancy and adverse neonatal outcomes in low-income women. J Women's Health (2002) 23(11):920–926. https://doi.org/10.1089/jwh.2014.4862

Allen D, Feinberg E, Mitchell H (2014) Bringing life course home: a pilot to reduce pregnancy risk through housing access and family support. Matern Child Health J 18(2):405–412. https://doi.org/10.1007/s10995-013-1327-5

Badovinac S, Martin J, Guérin-Marion C, O'Neill M, Pillai Riddell R, Bureau JF, Spiegel R (2018) Associations between mother-preschooler attachment and maternal depression symptoms: a systematic review and meta-analysis. PLoS One 13(10):e0204374

Bauman BL, Ko JY, Cox S, D'Angelo DV, Warner L, Folger S, Tevendale HD, Coy KC, Harrison L, Barfield WD (2020) Vital signs: postpartum depressive symptoms and provider discussions about perinatal depression—United States, 2018. Morb Mortal Wkly Rep 69(19):575. https://doi.org/10.15585/mmwr.mm6919a2

Bennett HA, Einarson A, Taddio A, Koren G, Einarson TR (2004) Prevalence of depression during pregnancy: systematic review. Obstet Gynecol 103(4):698–709. https://doi.org/10.1097/01.AOG.0000116689.75396.5f

Cox EQ, Sowa NA, Meltzer-Brody SE, Gaynes BN (2016) The perinatal depression treatment cascade: baby steps toward improving outcomes. The Journal of clinical psychiatry 77(9):1189–1200. https://doi.org/10.4088/JCP.15r10174

DerSimonian R, Laird N (1986) Meta-analysis in clinical trials. Control Clin Trials 7(3):177–188. https://doi.org/10.1016/0197-2456(86)90046-2

Falah-Hassani K, Shiri R, Vigod S, Dennis CL (2015) Prevalence of postpartum depression among immigrant women: a systematic review and meta-analysis. J Psychiatr Res 70:67–82. https://doi.org/10.1016/j.jpsychires.2015.08.010

Freeman MF, Tukey JW (1950) Transformations related to the angular and the square root. Ann Math Stat 607-611

Gavin NI, Gaynes BN, Lohr KN, Meltzer-Brody S, Gartlehner G, Swinson T (2005) Perinatal depression: a systematic review of prevalence and incidence. Obstet Gynecol 106(5):1071–1083. https://doi.org/10.1097/01.AOG.0000183597.31630.db

Gentile S (2017) Untreated depression during pregnancy: short-and long-term effects in offspring. A systematic review. Neuroscience 342:154–166. https://doi.org/10.1016/j.neuroscience.2015.09.001

Hahn-Holbrook J, Cornwell-Hinrichs T, Anaya I (2018) Economic and health predictors of National Postpartum Depression Prevalence: a systematic review, Metaanalysis, and Meta-regression of 291 studies from 56 countries. Frontiers in Psychiatry https://link.gale.com/apps/doc/A525782156/AONE?u=upenn_main&sid=summon&xid=200617b8

Hardy RJ, Thompson SG (1996) A likelihood approach to meta-analysis with random effects. Stat Med 15(6):619–629. https://doi.org/10.1002/(SICI)1097-0258(19960330)15:6<619::AID-SIM188>3.0.CO;2-A

Jarde A, Morais M, Kingston D, Giallo R, MacQueen GM, Giglia L, Beyene J, Wang Y, McDonald SD (2016) Neonatal outcomes in women with untreated antenatal depression compared with women without depression: a systematic review and meta-analysis. JAMA Psychiatry (Chicago, Ill.) 73(8):826-837. https://doi.org/10.1001/jamapsychiatry.2016.0934

Joanna Briggs Institute (2017) Critical Appraisal Tool for Prevalence Studies. Retrieved from: https://joannabriggs.org/sites/default/files/2019-05/JBI_Critical_Appraisal-Checklist_for_Prevalence_Studies2017_0.pdf

Lipsey MW, Wilson DB (2001) Practical meta-analysis. SAGE publications, Inc.

Luca DL, Margiotta C, Staatz C, Garlow E, Christensen A, Zivin K (2020) Financial toll of untreated perinatal mood and anxiety disorders among 2017 births in the United States. Am J Public Health 110(6):888–896

Man KK, Chan EW, Ip P, Coghill D, Simonoff E, Chan PK, Lau WC, Schuemie MJ, Sturkenboom MC, Wong IC (2018) Prenatal antidepressant exposure and the risk of attention-deficit hyperactivity disorder in children: a systematic review and meta-analysis. Neurosci Biobehav Rev 86:1–11. https://doi.org/10.1016/j.neubiorev.2017.12.007

Martins C, Gaffan EA (2000) Effects of early maternal depression on patterns of infant-mother attachment: a meta-analytic investigation. J Child Psychol Psychiatry 41(6):737–746. https://doi.org/10.1111/1469-7610.00661

Mezzacappa A, Lasica PA, Gianfagna F, Cazas O, Hardy P, Falissard B, Sutter-Dallay AL, Gressier F (2017) Risk for autism Spectrum disorders according to period of prenatal antidepressant exposure: a systematic review and Meta-analysis. JAMA Pediatr 71:555–563. https://doi.org/10.1001/jamapediatrics.2017.0124

Mitchell J, Goodman J (2018) Comparative effects of antidepressant medications and untreated major depression on pregnancy outcomes: a systematic review. Archives of Women's Mental Health 21(5):505–516 http://dx.doi.org.proxy.library.upenn.edu/10.1007/s00737-018-0844-z

Myers ER, Aubuchon-Endsley N, Bastian LA, Gierisch JM, Kemper AR, Swamy GK, Wald MF, McBroom AJ, Lallinger KR, Gray RN, Green C (2013) Efficacy and safety of screening for postpartum depression. Agency for Healthcare Research and Quality (US), Rockville (MD)

Thombs BD, Arthurs E, Coronado-Montoya S, Roseman M, Delisle VC, Leavens A, Levis B, Azoulay L, Smith C, Ciofani L, Coyne JC (2014) Depression screening and patient outcomes in pregnancy or postpartum: a systematic review. J Psychosom Res 76(6):433–446. https://doi.org/10.1016/j.jpsychores.2014.01.006

Thorlund K, Imberger G, Walsh M, Chu R, Gluud C, Wetterslev J, Guyatt G, Devereaux PJ, Thabane L (2011) The number of patients and events required to limit the risk of overestimation of intervention effects in meta-analysis—a simulation study. PLoS One 6(10):e25491

Viechtbauer W (2010) Conducting meta-analyses in R with the metafor package. J Stat Soft 36(3):1-48. https://doi.org/10.18637/jss.v036.i03

Wang N (2018) How to conduct a Meta-analysis of proportions in R: A comprehensive tutorial. https://doi.org/10.13140/RG.2.2.27199.00161

Xue WQ, Cheng KK, Xu D, Jin X, Gong WJ (2020) Uptake of referrals for women with positive perinatal depression screening results and the effectiveness of interventions to increase uptake: a systematic review and meta-analysis. Epidemiol Psychiatr Sci 29. https://doi.org/10.1017/S2045796020000554
Acknowledgements
Grateful acknowledgment to Greer Bizzell-Hatcher and Siyuan Zhao for their assistance with this project.
Ethics declarations
Conflict of interest
All authors declare that they have no conflicts of interest to report.
Human rights
This study involves secondary analysis of primary studies; therefore, no work was performed with human subjects, and IRB approval was not necessary. All studies included were approved by an ethical board before publication, with original authors responsible for the protection of their data.
Ethics approval
NA
Consent to participate
NA
Consent for publication
NA
Additional information
Publisher's note
Springer Nature remains neutral with regard to jurisdictional claims in published maps and institutional affiliations.
About this article
Cite this article
Corcoran, J., Marinescu, I., Vogelsang, C. et al. Prevalence of depression during pregnancy and postpartum periods in low-income women in developed countries. J Public Health (Berl.) 30, 2473–2482 (2022). https://doi.org/10.1007/s10389-021-01662-3
Received:

Accepted:

Published:

Issue Date:

DOI: https://doi.org/10.1007/s10389-021-01662-3
Keywords
Depression

Postpartum depression

Prevalence

Low-income

Poverty