Abstract
Aim
In the presence of competing risks, patients with human immunodeficiency viruses (HIV) experience death by various causes, including co-infection with acquired immune deficiency syndrome (AIDS) with tuberculosis (TB), AIDS, and other causes in the follow-up. This study aimed to model the survival in patients with HIV in the presence of these competing causes of death utilizing sub-distribution hazard (SDH) and cause-specific hazard (CSH) models to overcome biased estimates of the classical analyses.
Subject and methods
In this longitudinal study, patients with HIV+ diagnosis (n = 2328) were recruited from Imam Khomeini and Zamzam consulting centers from 2003 to 2012. In the presence of the competing causes of death, the SDH and CSH models evaluated the effect of underlying predictors on the cumulative incidence and instantaneous hazards, respectively, with the cmprisk package in R4.1 software.
Results
The median survival time of patients with AIDS+TB, AIDS and other causes were 7.79 (SE .84), 11.57 (SE .98), and 14.1 (SE .91), respectively. In the SDH model, CD4(350+) [AIDS: sub-distribution hazard ratio (SHR) = .13, 95% confidence interval(CI) = (.08–.19)); AIDS+TB .10(.04–.25)], antiretroviral therapy (ART) [AIDS .44(.32–.61); AIDS+TB .57(.31–.99); other .07(.02–.23)], isoniazid prophylaxis therapy (IPT) [AIDS .47(.28–.78); AIDS+TB .08(.01–.58)], and cotrimoxazole prophylaxis therapy (CPT) [AIDS .38(.22–.68)], were inversely related to hazard of death, while being a male [AIDS 2.62(1.574.39); AIDS+TB 10.43(2.32–46.83); Other 9.48(1.95–45.99)] was directly related to hazard of death. The CSH model resulted in similar estimates except for CD4(350+) which was inversely related to hazard of death by other causes.
Conclusion
Taking into account the strong association of CD4(350+), ART, IPT, CPT, and being a male with the hazard of mortality caused by the competing causes of death in patients with HIV, in both SDH and CSH models, designing sex-specific policymaking and interventional programs are recommended to prolong the survival of patients with HIV. The future treatment program can utilize the results.
Access options
Buy single article
Instant access to the full article PDF.
USD 39.95
Price excludes VAT (USA)
Tax calculation will be finalised during checkout.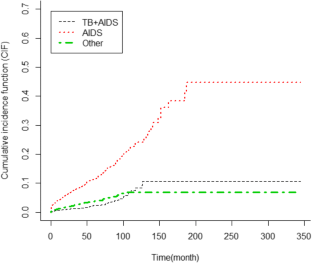 Availability of data and materials
The datasets generated during and/or analyzed during the current study are available from the corresponding author on reasonable request.
References
Afolabi SA, Bocquier P, Kahn K, Collinson MA (2017). A Longitudinal Study of the Relationship between AIDS/TB Mortality and Migration in the Context of Other Causes of Death in Rural South Africa. Thesis. University of the Witwatersrand, Johannesburg. Available from: https://hdl.handle.net/10539/24476

Alvarez-Uria G (2013) Factors associated with delayed entry into HIV medical care after HIV diagnosis in a resource-limited setting: Data from a cohort study in India. PeerJ 1:e90–e90. https://doi.org/10.7717/peerj.90

Andersen PK, Klein JP, Rosthøj S (2003) Generalised linear models for correlated pseudo-observations, with applications to multi-state models. Biometrika 90:15–27

Antiretroviral Therapy Cohort Collaboration (ART-CC) (2015) Sex differences in overall and cause-specific mortality among HIV-infected adults on antiretroviral therapy in Europe, Canada and the US. Antiviral Therapy 20:21–28. https://doi.org/10.3851/imp2768

Asghari Jafarabadi M, Pourhosseingholi MA, Hajizadeh E, Fatemi SR (2014) State of art the competing risks survival analysis for cancer patients. Transl Gastrointestinal Cancer 3:155–159

Ayele HT, van Mourik MS, Bonten MJ (2015) Effect of isoniazid preventive therapy on tuberculosis or death in persons with HIV: a retrospective cohort study. BMC Infect Dis 15:334

Beyersmann J, Dettenkofer M, Bertz H, Schumacher M (2007) A competing risks analysis of bloodstream infection after stem-cell transplantation using subdistribution hazards and cause-specific hazards. Stat Med 26:5360–5369

Brooks JT, Kaplan JE, Holmes KK, Benson C, Pau A, Masur H (2009) HIV-associated opportunistic infections—going, going, but not gone: the continued need for prevention and treatment guidelines. Clin Infect Diss 48:609–611

Burchell AN et al (2019) Cause-specific mortality among HIV-infected people in Ontario, 1995–2014: a population-based retrospective cohort study. CMAJ Open 7:E1–e7. https://doi.org/10.9778/cmajo.20180159

Dravid A et al (2019) Incidence of tuberculosis among HIV infected individuals on long term antiretroviral therapy in private healthcare sector in Pune. Western India BMC Infect Dis 19:714. https://doi.org/10.1186/s12879-019-4361-0

Escombe AR et al (2008) The infectiousness of tuberculosis patients coinfected with HIV. PLoS Med 5:e188. https://doi.org/10.1371/journal.pmed.0050188

Fine JP, Gray RJ (1999) A proportional hazards model for the subdistribution of a competing risk. J Am Stat Assoc 94:496–509

Gheibi Z, Shayan Z, Joulaei H, Fararouei M, Beheshti S, Shokoohi M (2019) Determinants of AIDS and non-AIDS related mortality among people living with HIV in Shiraz, southern Iran: a 20-year retrospective follow-up study. BMC Infect Dis 19:1094. https://doi.org/10.1186/s12879-019-4676-x

Gizachew KD, Chekol YA, Basha EA, Mamuye SA, Wubetu AD (2021) Suicidal ideation and attempt among people living with HIV/AIDS in selected public hospitals. Central Ethiopia Ann Gen Psychiat 20:15. https://doi.org/10.1186/s12991-021-00335-5

Grover G, Shivraj SO (2004) Survival Pattern of Repo of Delhi (India). J Commun Dis 36:83

Grover G, Swain PK, Ravi V (2014) A competing risk approach with censoring to estimate the probability of death of hiv/aids patients on antiretroviral therapy in the presence of covariates Statistics. Research Lett 3:7–16

Haller B, Schmidt G, Ulm K (2013) Applying competing risks regression models: an overview. Lifetime Data Anal 19:33–58.

Imani R, Roshanaei G, Poorolajal J, Molaeypoor L (2018) Identifying the Factors Influencing the Causes of Death in HIV/AIDS Patients Using Competing Risk Model. J Mazandaran Univ Med Sci. 28(165):170–174

Jarrin I et al (2008) Gender differences in HIV progression to AIDS and death in industrialized countries: slower disease progression following HIV seroconversion in women. Am J Epidemiol 168:532–540

Klein JP, Andersen PK (2005) Regression modeling of competing risks data based on pseudovalues of the cumulative incidence function. Biometrics 61:223–229

Kleinbaum DG, Klein M (2010a) Survival analysis. Springer, New York

Kleinbaum DG, Klein M (2010b) Survival analysis: a self-learning text, 3rd edition edn. Springer, New York

Latouche A, Allignol A, Beyersmann J, Labopin M, Fine JP (2013) A competing risks analysis should report results on all cause-specific hazards and cumulative incidence functions. J Clin Epidemiol 66:648–653

Manosuthi W, Chottanapand S, Thongyen S, Chaovavanich A, Sungkanuparph S (2006) Survival rate and risk factors of mortality among HIV/tuberculosis-coinfected patients with and without antiretroviral therapy. J Acquir Immune Defic Syndr 43:42–46

Najafi Z, Taj L, Dadras O, Ghadimi F, Moradmand B, SeyedAlinaghi S (2020) Epidemiology of HIV in Iran. Current HIV Res 18:228–236

National Aids Control Organization (NACO) National Aids Control Organization (NACO), Annual Report 2011–12. Available at http://naco.gov.in/sites/default/files/NACO%20Annual%20Report%202010-11.pdf. Accessed on 8 July 2012

Necho M, Tsehay M, Zenebe Y (2021) Suicidal ideation, attempt, and its associated factors among HIV/AIDS patients in Africa: a systematic review and meta-analysis study. Int J Mental Health Syst 15:13. https://doi.org/10.1186/s13033-021-00437-3

Pintilie M (2006) Competing risks: a practical perspective vol 58. Wiley, New York

Godfrey-Faussett P (1998) Policy statement on preventive therapy against tuberculosis in people living with HIV. World Health Organization, Geneva

Pourakbari B, Mamishi S, Banar M, Keshtkar AA, Mahmoudi S (2019) Prevalence of TB/ HIV co-infection in Iran: a systematic review and meta-analysis. Annali di igiene: medicina preventiva e di comunita 31:333–348. https://doi.org/10.7416/ai.2019.2295

Pradesh A (2013) Study of opportunistic infections in HIV seropositive patients attending Government General Hospital Vijayawada Indian J Public Health Res Develop 6:170

Prentice RL, Kalbfleisch JD, Peterson AV Jr, Flournoy N, Farewell VT, Breslow NE (1978) The analysis of failure times in the presence of competing risks. Biometrics 34:541–554

Rabirad N, Mohammad Nejad E, Hadizadeh MR, Begjan J, Ehsani SR (2013) The Prevalence of Tb in HIV Patients and Risk Factor With Frequent Referral (Iran, 2009–10). Iran Red Crescent Med J 15:58–61. https://doi.org/10.5812/ircmj.4401

Radfar S, Taheri K, Namdari Tabar H (2009) Practical guidelines on how to provide consulting services in behavioral disorders centers. Ministry of Health and Medical Education, Tehran

Shim E-J et al (2019) Suicide risk in persons with HIV/AIDS in South Korea: a partial test of the interpersonal theory of suicide. Int J Behav Med 26:38–49. https://doi.org/10.1007/s12529-018-9749-5

Srirangaraj S, Venkatesha D (2012) Opportunistic infections in relation to antiretroviral status among AIDS patients from south India. Indian J Med Microbiol29:395–400. https://doi.org/10.4103/0255-0857.90175

Stafford K, Nganga L, Tulli T, Foreit K (2018) Factors associated with outcomes of pre-ART HIV care. J Int Assoc Prov AIDS Care (JIAPAC) 17:232595821875960. https://doi.org/10.1177/2325958218759602

Tang Z et al (2017) Effects of high CD4 cell counts on death and attrition among HIV patients receiving antiretroviral treatment: an observational cohort study Scientific Reports 7:3129. https://doi.org/10.1038/s41598-017-03384-7

Timmerman V (2013) The effect of antiretroviral treatment on HIV associated tuberculosis incidence and outcomes in the Free State Province. University of Cape Town, South Africa

Tsegay L, Ayano G (2020) The prevalence of suicidal ideation and attempt among young people with HIV/AIDS: a systematic review and meta-analysis. Psychiatr Q 91:1291–1304. https://doi.org/10.1007/s11126-020-09851-1

UNAIDS (2016) HIV Fact Sheet 2016. Global Statistics, UNAIDS, Geneva, Switzerland

WHO (2007) Case definitions of HIV for surveillance and revised clinical staging and immunological classification of HIV-related disease in adults and children. https://apps.who.int/iris/handle/10665/43699

World Health Organization (2010) Global tuberculosis control: surveillance, planning, financing, vol 393. https://apps.who.int/iris/handle/10665/63835

World Health Organization (2019) Global tuberculosis report. https://www.who.int/publications/i/item/global-tuberculosis-report-2019

Xue X, Kim MY, Shore RE (2007) Cox regression analysis in presence of collinearity: an application to assessment of health risks associated with occupational radiation exposure. Lifetime Data Anal 13:333–350. https://doi.org/10.1007/s10985-007-9045-1

Zeng C et al (2018) A structural equation model of perceived and internalized stigma, depression, and suicidal status among people living with HIV/AIDS. BMC Public Health 18:138. https://doi.org/10.1186/s12889-018-5053-1
Funding
We would like to acknowledge the collaboration of the Research Deputy of Hamadan University of Medical Sciences for their appreciated contribution to this study. The Research Deputy of Hamadan University of Medical Sciences supported this work.
Ethics declarations
Ethical approval
The institutional review board of Hamadan University of Medical Sciences approved the protocol of the study. The participants were free to participate in the study, and privacy was preserved.
Consent to participate
All participants filled and signed the informed consent and assent.
Consent to publish
Not applicable.
Competing interests
The authors declare that there is no conflict of interest.
Additional information
Publisher's note
Springer Nature remains neutral with regard to jurisdictional claims in published maps and institutional affiliations.
About this article
Cite this article
Roshanaei, G., Imani, R., Poorolajal, J. et al. Modeling the survival in patients with HIV by the presence of competing risks for death: sub-distribution and cause-specific hazard approach. J Public Health (Berl.) 30, 1675–1683 (2022). https://doi.org/10.1007/s10389-021-01523-z
Received:

Accepted:

Published:

Issue Date:

DOI: https://doi.org/10.1007/s10389-021-01523-z
Keywords
HIV+

AIDS

TB

Competing risks

Sub-distribution

Cause-specific