Abstract
Introduction
Drug abuse, the driver of human self-destruction, is rapidly increasing among university students and is emerging as a global health concern. Students who abuse drugs are lagging in respect of academic performance, achievement, and other co-curricular activities. This study aims to investigate the differences in academic performance between drug abusers and non-abusers, and the factors associated with drug abuse among university students in Bangladesh.
Methods
The study was a cross-sectional survey among the students of five public and semi-public universities in Bangladesh. The sample size was drawn by using the snowball sampling technique. Face-to-face interviews were used to collect data, and the data were analyzed using SPSS 25.0.
Results
Of the 436 participants, 54.59% (n = 238) were drug abusers. Male students (68.43%) were found to be significantly (p < 0.01) more into drug abuse. Sociodemographic factors including residence status, academic year in university, father's occupation, and personal income were significantly associated with drug abuse. There was a negative correlation between drug abuse and academic performance, academic achievement, and maintaining good health.
Conclusion
The findings of this study reported a high prevalence and magnitude of psychoactive drug abuse among the university students in Bangladesh, and stress the negative impact of drugs on the abuser's academic life and physical well-being. Therefore, adequate campus-based initiatives should be extended for the prevention and treatment of drug abuse.
Access options
Buy single article
Instant access to the full article PDF.
USD 39.95
Price excludes VAT (USA)
Tax calculation will be finalised during checkout.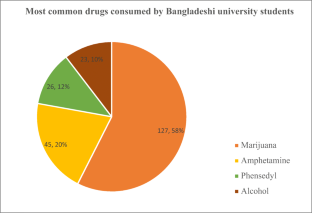 References
Akanbi MI, Augustina G, Theophilus AB, Muritala M, Ajiboye AS (2015) Impact of substance abuse on academic performance among adolescent students of colleges of education in Kwara State, Nigeria. J Educ Pract 6:108–112

Alimi KM, Olayiwola IO (2015) Personal variables as correlate of drug use behaviour among secondary school students in Osun State, Nigeria. J Educ Soc Res 5:205

Arria AM, Caldeira KM, Vincent KB, Winick ER, Baron RA, O'Grady KE (2013) Discontinuous college enrollment: associations with substance use and mental health. Psychiatr Serv 64:165–172

Bajwa HZ et al (2013) Prevalence and factors associated with the use of illicit substances among male university students in Kuwait. Med Princ Pract 22:458–463

DhakaTribune (2019) 43% of unemployed population addicted to drugs. https://www.dhakatribune.com/bangladesh/dhaka/2019/02/27/43-of-unemployed-population-addicted-to-drugs. Accessed September 27, 2020

El Ansari W, Vallentin-Holbech L, Stock C (2015) Predictors of illicit drug/s use among university students in Northern Ireland, Wales and England. Global J Health Sci 7:18

Gazibara T et al (2018) Illict drug use and academia in North Kosovo: prevalence, patterns, predictors and health-related quality of life. PLoS One 13:e0199921

Gjeruldsen S, Myrvang B, Opjordsmoen S (2003) Risk factors for drug addiction and its outcome. A follow-up study over 25 years. Nordic J Psychiatr 57:373–376

Hasam MA, Mushahid M (2017) Drug addiction in urban life of Bangladesh: a sociological study for exploring the causes. Asia Pac J Multidiscip Res 5:1–10

Hossain S, Anjum A, Uddin ME, Rahman MA, Hossain MF (2019) Impacts of socio-cultural environment and lifestyle factors on the psychological health of university students in Bangladesh: a longitudinal study. J Affect Disord 256:393–403

Islam A, Hossain MF (2017) Drug abuse and its impact on Bangladesh. Int J Sociol Anthropol 9:143–156

Islam SN, Hossain K, Ahsan M (2000) Sexual life style, drug habit and socio-demographic status of drug addicts in Bangladesh. Public Health 114:389–392

Kabir M, Goh K-L, Khan M (2015) Adolescent tobacco use and its determinants: evidence from Global Youth Tobacco Survey, Bangladesh 2007. Asia Pac J Public Health 27:NP1578–NP1590

Kamal M, Huq N, Mali B, Akter H, Arafat S (2018) Epidemiology of substance abuse in Bangladesh: a narrative review. J Ment Disord Treat 4:2471–2271

Mohammadpoorasl A, Ghahramanloo AA, Allahverdipour H, Augner C (2014) Substance abuse in relation to religiosity and familial support in Iranian college students. Asian J Psychiatr 9:41–44

Mohiuddin AK (2019) Drug addiction in Bangladesh:"A consequence of social demoralization rather than individual flaws." Int J Addict Res Ther 2:10

Rahman FN, Ahmad M, Ali M (2016) Socio-economic status of drug addicted young people in Dhaka City. J Armed Forces Med College, Bangladesh 12:15–20

Sani MN (2010) Drug addiction among undergraduate students of private universities in Bangladesh. Procedia Soc Behav Sci 5:498–501

Schulte MT, Hser Y-I (2013) Substance use and associated health conditions throughout the lifespan. Public Health Rev 35:3

Shazzad MN, Abdal SJ, Majumder MSM, Ali SMM, Ahmed S (2013) Drug addiction in Bangladesh and its effect. Med Today 25:84–89

Star TD (2013) Drug abuse alarmingly rising in Bangladesh. https://www.thedailystar.net/news/drug-abuse-alarmingly-rising-in-bangladesh. Accessed September 27, 2020

Suerken CK, Reboussin BA, Sutfin EL, Wagoner KG, Spangler J, Wolfson M (2014) Prevalence of marijuana use at college entry and risk factors for initiation during freshman year. Addict Behav 39:302–307

Yi S, Peltzer K, Pengpid S, Susilowati IH (2017) Prevalence and associated factors of illicit drug use among university students in the association of southeast Asian nations (ASEAN). Substance Abuse Treat Prev Policy 12:9

Yuasa K, Sei M, Takeda E, Ewis AA, Munakata H, Onishi C, Nakahori Y (2008) Effects of lifestyle habits and eating meals together with the family on the prevalence of obesity among school children in Tokushima, Japan: a cross-sectional ques-tionnaire-based survey. J Med Investig 55:71–77
Acknowledgements
We are very thankful to Md. Estiar Rahman and Mohosina Akhter from the Department of Public Health & Informatics, Jahangirnagar University; Saima Alam from the Military Institute of Science and Technology; Naznin Akter from the Govt. Titumir College; Amjad Hossen Hridoy from Dhaka University and Ariful Islam from Jagannath University for providing support in data collection. We also express our gratitude to all the participants in the study.
Ethics declarations
Competing interest
All the authors declare that they have no competing interests.
Ethics declaration
All procedures performed in this study involving human participants were in accordance with the ethical standards of the Department of Public Health & Informatics, Jahangirnagar University, Bangladesh and with the 1964 Helsinki Declaration and its later amendments or comparable ethical standards. This manuscript does not contain any studies with animals performed by any of the authors. Informed consent was obtained from all individual participants included in the study.
Additional information
Publisher's note
Springer Nature remains neutral with regard to jurisdictional claims in published maps and institutional affiliations.
About this article
Cite this article
Sujan, M.S.H., Tasnim, R., Hossain, S. et al. Impact of drug abuse on academic performance and physical health: a cross-sectional comparative study among university students in Bangladesh. J Public Health (Berl.) 31, 65–71 (2023). https://doi.org/10.1007/s10389-020-01428-3
Received:

Accepted:

Published:

Issue Date:

DOI: https://doi.org/10.1007/s10389-020-01428-3
Keywords